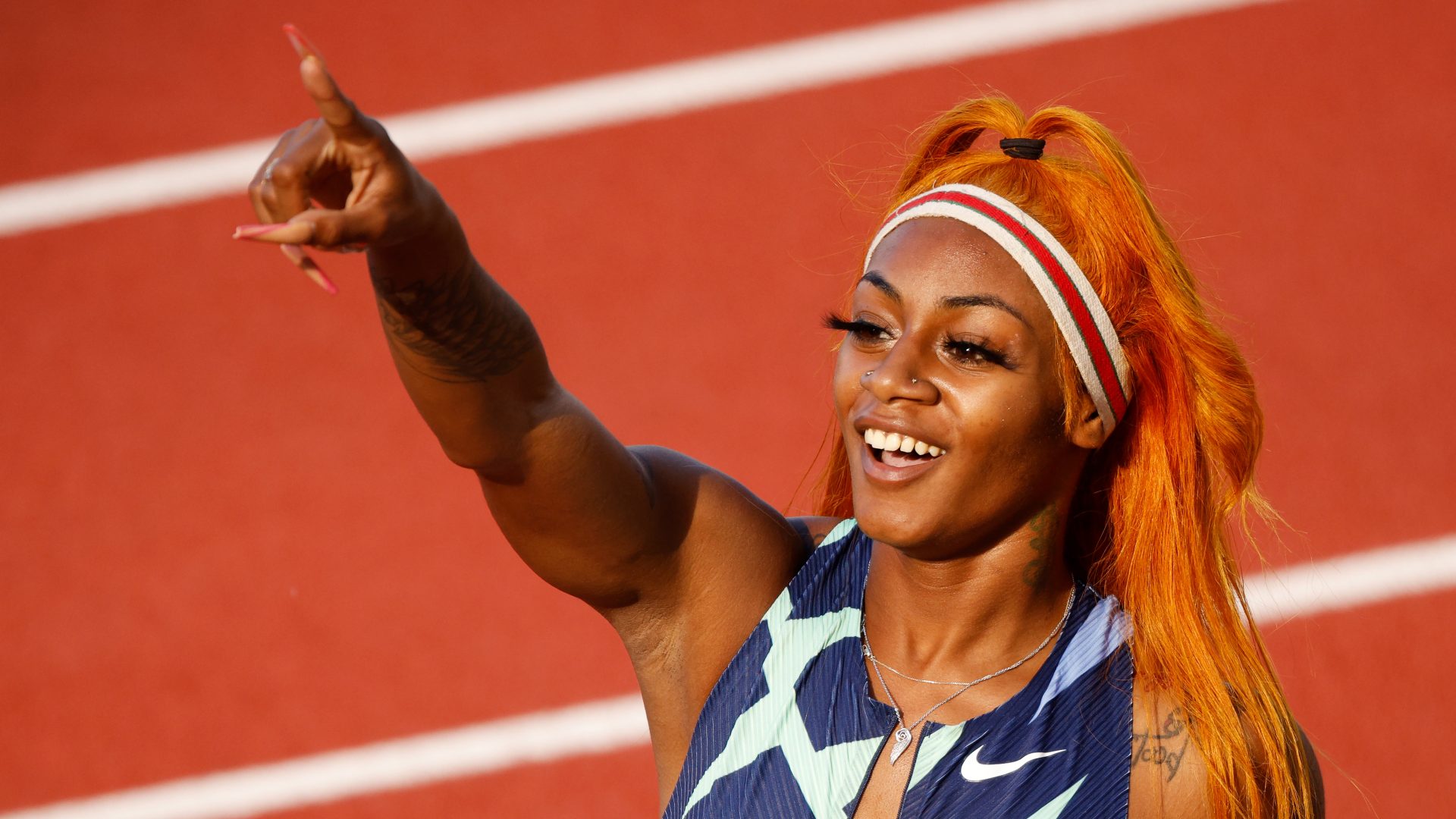 Sha'Carri Richardson Is Confident And Unapologetically Herself. We Can All Learn From Her.
On June 19, 21-year-old Sha'Carri Richardson won the Women's 100m at the U.S. Olympic Track and Field Trials, running at top speed as she pointed at the clock. In just 10.86 seconds, the Oak Cliff, Dallas-native changed her life and secured her spot in next month's Tokyo Olympics.
In the interviews following the race, Richardson was bubbly and full of energy, walking and talking with self-assurance and a forcefield of confidence. As a Black woman, watching her compete makes me feel a certain freedom. Her existence is a silent push of encouragement to step into the power that I also possess.
In addition to her talent on the track, Richardson carries on the legacy of fly girl athletes like Florence Griffith-Joyner, Gail Devers and Ashley Spencer, women who used their style as a means of self-expression. Richardson, who always competes in freshly laid do's, lashes and perfectly sculpted nails, is unapologetically herself and empowers other Black women to do the same.
After watching Richardson's interviews and scrolling through the sea of comments, one thing is apparent: Richardson exudes confidence—as she should. She told NBC during the Olympic Trials: "I just want the world to know I'm that girl."
Unfortunately, where Black joy abounds, there are often haters not far behind. Richardson has received hate from people who claim that her personality is too brash and arrogant. This issue is not a new one for Black women, of course. In 2000, an essay was published to the Cornell Sun with the headline, 'Why the Arrogant Venus Williams Has Ruined Women's Tennis.' In it, the writer says that over the course of her then-six year career, "Venus..brought a hearty sense of arrogance and an unhealthy amount of cockiness, both of which have helped spawn the degeneration of tennis." It's reminiscent of when a journalist questioned Williams' confidence and her father had to step in and defend her.
Black women and girls, are often expected to behave a certain way and to have endless humility in regards to our talent; as if standing tall in our accomplishments somehow diminishes the value or effort of our peers and competitors. But the truth of the matter is that Black women have to show up for ourselves and for each other, like we always have and always will.
Despite the best efforts of her naysayers, Richardson remains unfazed. Her belief in herself and her power serve as an alert to Black women everywhere that we don't have to shrink ourselves. We can be proud of the work that we do and who we are and demand respect. In a society where the voices and contributions of Black women are frequently overlooked, we owe it to ourselves to celebrate our wins.
Watch Sha'Carri's incredible performance at the Olympic trials here.