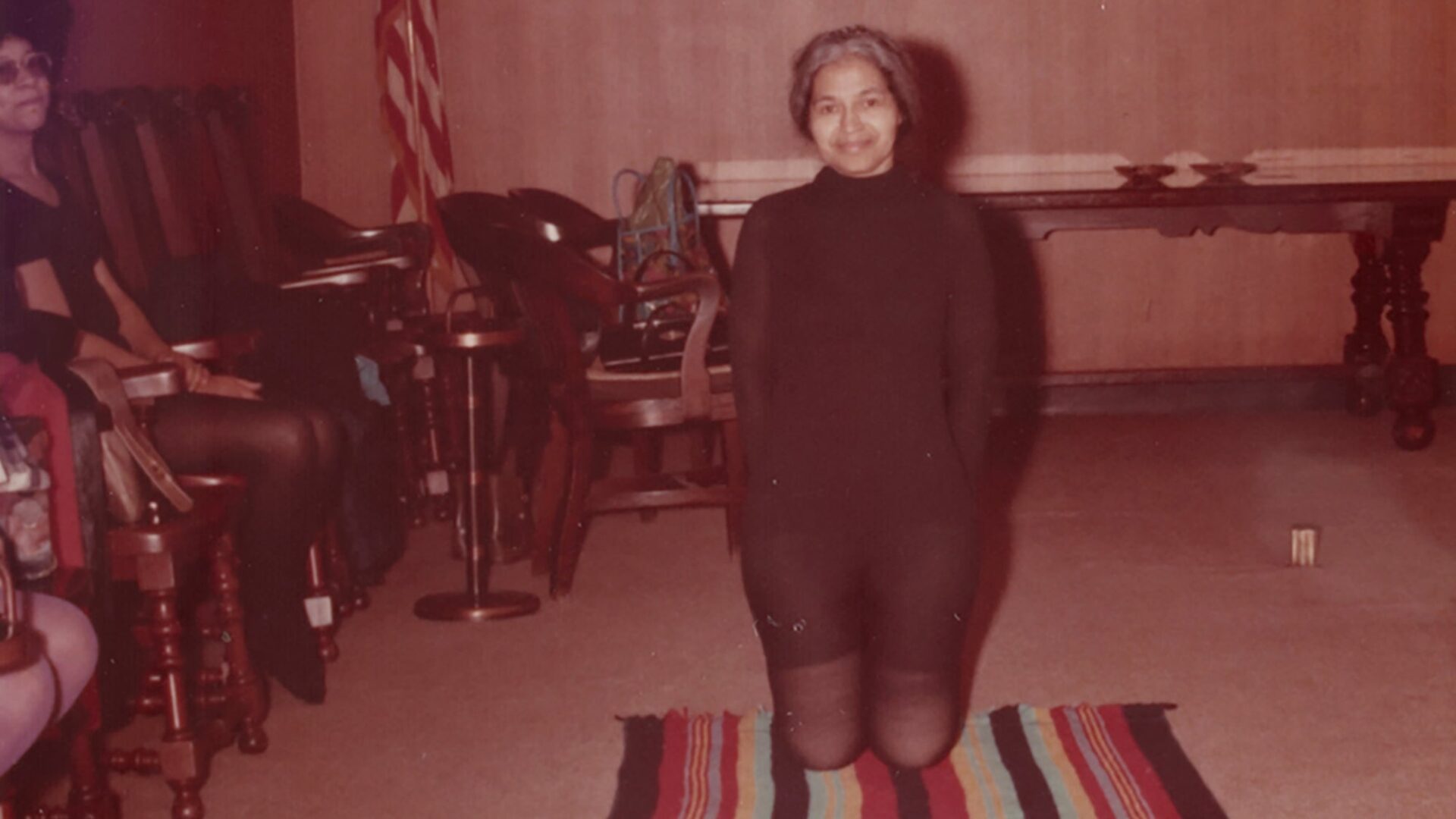 Rosa Parks Practiced Yoga—This Is Why That's Important.
Dr. Stephanie Y. Evans is a Professor of Black Women's Studies at Georgia State University and also serves as the director of the Instituter for Women's, Gender, and Sexuality Studies at GSU. Her latest book, Black Women's Yoga History: Memoirs of Inner Peace, examines how Black women elders have managed stress throughout their lives with a focus on the self-care practices that are rooted in African traditions. The book refers to iconic entertainers such as Tina Turner and Eartha Kitt and civil rights activists like Angela Davis and Rosa Parks to archive how each woman defined self-care for themselves.
Read about what Gen Z can learn from Angela Davis.
Photos of Parks practicing yoga have gone viral on social media, with many delighted to see the activist displayed in such an intimate light. As has been said with color photos of figures like Dr. Martin Luther King, we need to see images of activists and change makers living life. Too often, we restrict them to who and what they were to the world, without realized that they were people with families, dreams and hobbies beyond what we regularly see.
Parks used yoga as a way to preserve her own well-being in the midst of her activism beginning as early as the 1960s, which Dr. Evans believes is important for all Black women to follow.
Through exercise, meditation, and self-reflection, Black women have curated their own definition of inner peace over the years that is both radical and compassionate.
"The struggle for human rights is a marathon, not a sprint," Evans writes in her book. "Self-care and inner peace are imperative if the fight for justice and global peace is to be sustainable. Fortunately, there are several models, paradigms, and examples of how Black women are able to do good and be well."
Studies have shown that Black people are disproportionately more likely to suffer from higher levels of anxiety and stress. This is due to the socio-economic factors and internal stressors that affect our everyday life. Black women in particular are even more prone to struggling with their mental health, despite being less likely to seek help. However, now, there has been an increase in Black women creating spaces dedicated to centering their own well-being.
"Self-care is too often discussed as selfish," Evans said in an interview with Yoga Journal. "I wanted to share the photos to underscore self-care as a black women's public health imperative. I see meditation and yoga as helpful factors in race, gender, activism, and the sustainable struggle for human rights. Mrs. Parks is part of a larger story of black women's sustainable self-care and stress management."
Everyone — especially Black women — deserves the time and space to heal and restore themselves, and yoga just might be the perfect way to pour into yourself.