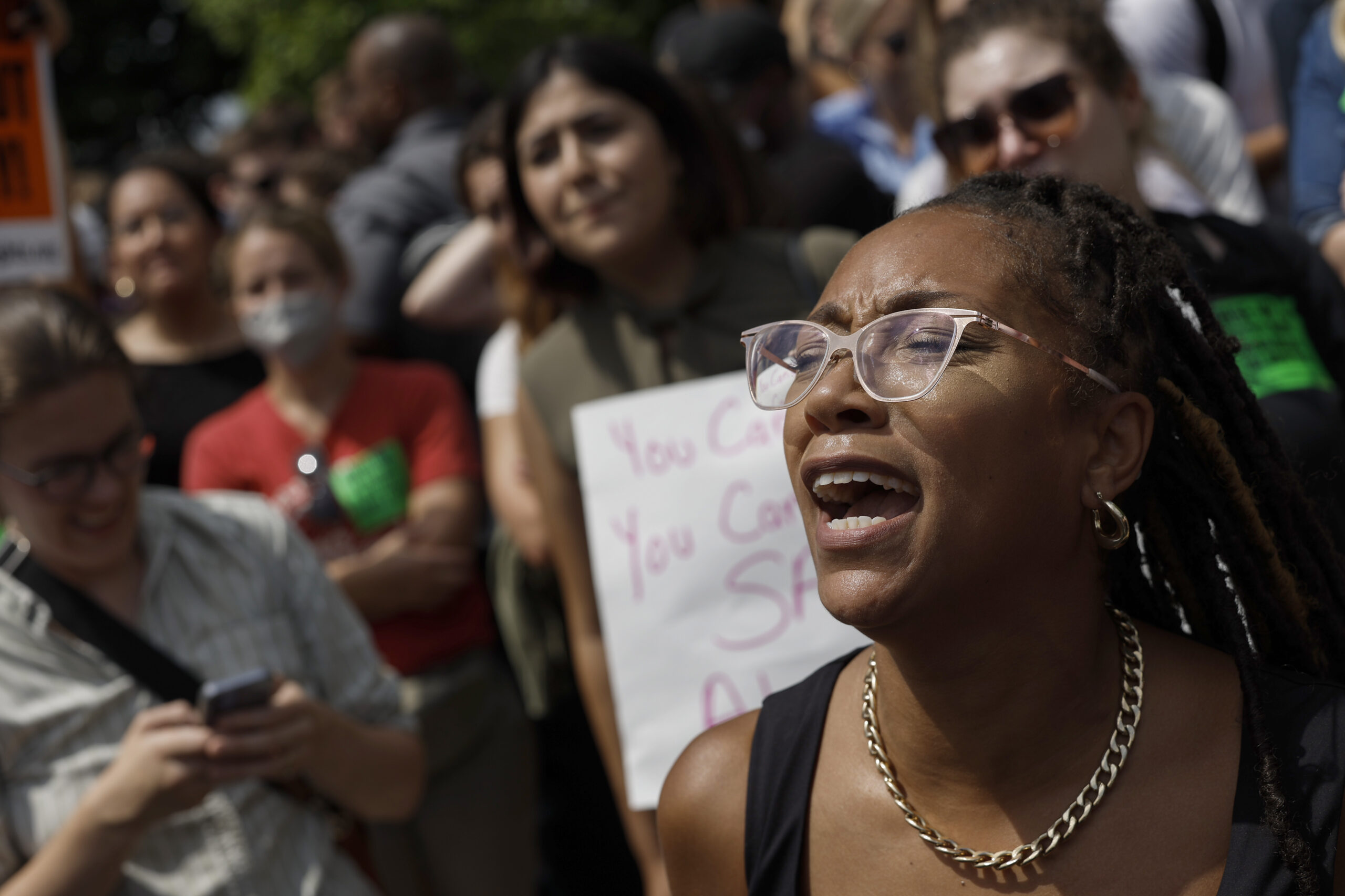 The Supreme Court Overturned Roe v. Wade. Here's What That Means, What You Can Do And What Comes Next.
Abortion is no longer a federal constitutional right. States now have complete autonomy over whether abortion remains legal or not.
On June 24, the Supreme Court of the United States overturned Roe v. Wade, the landmark 1973 decision to protect a woman's right to an abortion. This means that abortion is no longer a federal constitutional right. States now have full autonomy over whether abortion remains legal or not.
Below, we've broken down everything you need to know about the decision, as well as a list of helpful resources to turn to if you're seeking reproductive health care.
Why was Roe v. Wade overturned and what does it mean?
The process of overturning Roe v. Wade started when Mississippi's ban on abortion after 15 weeks was struck down by a federal court. The state asked the Supreme Court to overturn the 1973 ruling or allow states to independently make their own abortion laws, according to People.
Mississippi is only one of many states to recently have signed abortion bans. Texas, Florida, Oklahoma and Arizona are among the states that have passed abortion laws in recent months.
On May 2, a Supreme Court document indicating that Roe v. Wade would be overturned was leaked to Politico. On June 24, the decision was made official. The right to abortion will now be determined state by state unless Congress acts to protect it. President Joe Biden does not have the power to overturn the Supreme Court's decision.
Currently, 13 states have "trigger" laws in place that will go into effect now that Roe v. Wade has been overturned. More states are expected to follow suit.
"That would make it very hard for a large percentage of women in the country to access abortion care in their own state. It means a lot more people would have to travel for care," Elizabeth Nash, a state policy analyst at the Guttmacher Institute, an abortion rights research group told People. "The people who are most impacted by these abortion restrictions and bans are people of color, low-income individuals, young people and LGBTQ individuals — people who are already burdened with insufficient access to healthcare."
National and world organizations have criticized the overturning of Roe v. Wade. The United Nations High Commissioner for Human Rights Michelle Bachelet said the Supreme Court decision "represents a major setback after five decades of protection for sexual and reproductive health and rights," according to CNN. "It is a huge blow to women's human rights and gender equality."
The Congressional Black Caucus has called on President Biden to declare a state of emergency following the ruling. Some states have started taking action. Michigan Governor Gretchen Whitmer has filed a motion to her state's Supreme Court to protect the right to abortion.
Resources for safe reproductive health care
If you are worried about your access to safe abortions, there are a wide variety of resources you can turn to. Make sure to call beforehand to ensure the clinic isn't an anti-abortion clinic.
Planned Parenthood published a map with state-by-state information on the status of abortion access. The organization also lists safe clinics on its website. To find a clinic or get in touch with a reproductive health care specialist, you can also consult Abortion Finder, the Abortion Care Network, the National Abortion Federation and INeedAnA.com.
Depending on your state's law, you may be able to use tele-medecine for abortions. Organizations such as Abortion On Demand, Just The Pill, My Choix, TelAbortion, Hey Jane and Carafem are here to help.
If you are seeking information about abortion pills and how to take them, you can consult Plan C's website.
You can also get help if you can't afford an abortion or don't have access to a clinic. Abortion Fund is an organization that helps people pay for their abortions and find local clinics. You can also call the the National Abortion Federation for help with financial assistance and discounts.
For any legal questions surrounding abortion rights and access, the Repro Legal Helpline is here to answer your questions.
What happens next?
The overturning of Roe v. Wade means that other landmark rulings could also be at risk of being overturned. Justice Clarence Thomas suggested that the Supreme Court should reconsider rulings that protect the right to buy and use contraceptives, the right to same-sex relationships and the right to same-sex marriage, reported People.
President Joe Biden vowed to protect the right of women to travel from state that ban abortion to those that allow it. He also pledged to protect women's access to medication approved by the FDA and contraception, according to CNN.
"If any state or local official — high or low — tries to interfere with a woman exercising her basic right to travel, I will do everything in my power to fight that deeply un-American attack," he said in an address on June 24.
President Biden urged voters to head to the polls next November to make their voices heard when it comes to the right to abortion. "This fall, you must elect more senators and representatives who will codify a woman's right to choose into federal law once again," he said.
"This fall, Roe is on the ballot. Personal freedoms are on the ballot. The right to privacy, liberty, equality — they're all on the ballot. Until then, I will do all in my power to protect a woman's right in states where they will face the consequences of today's decision," he added.