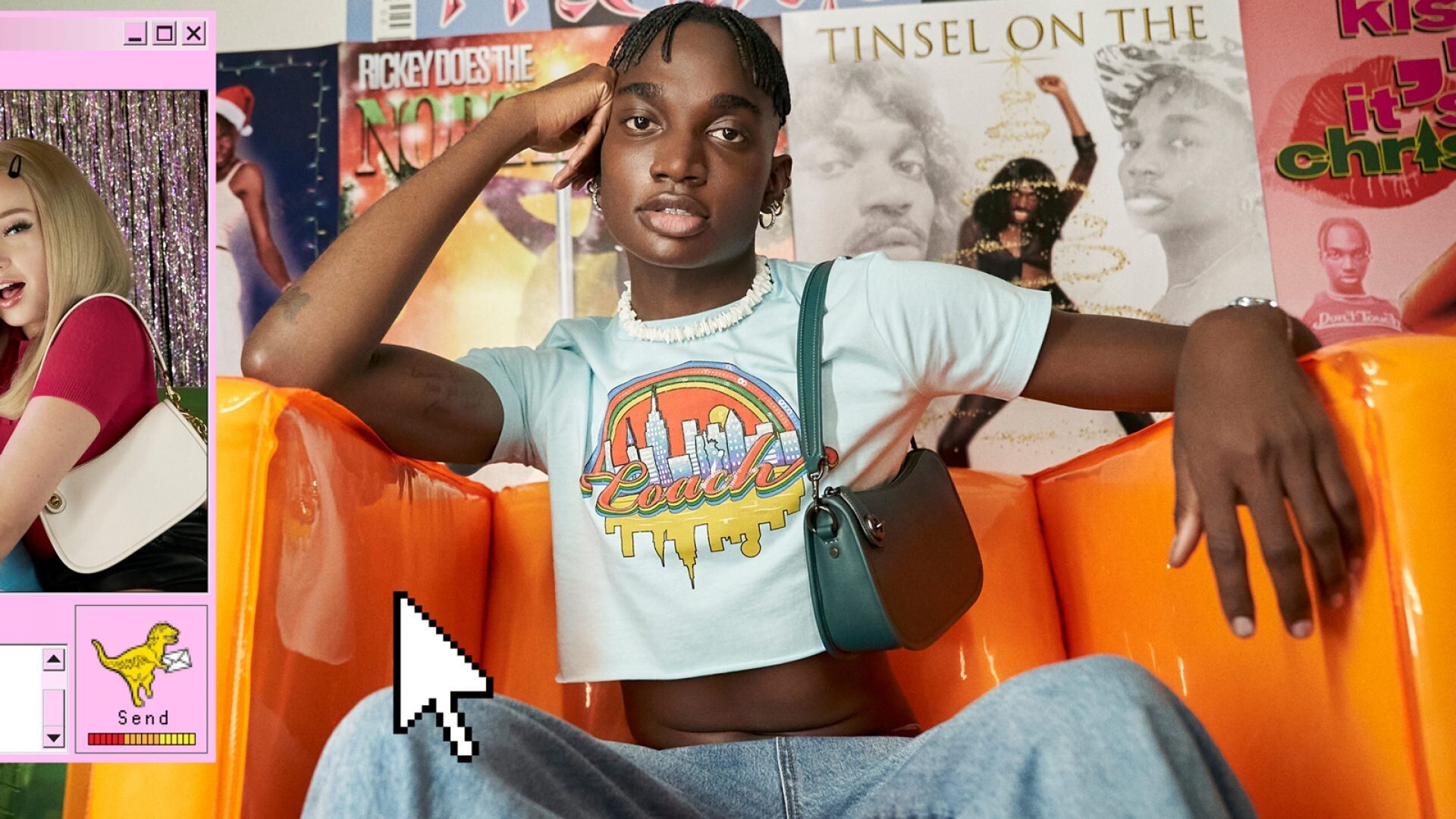 How Rickey Thompson Is Staying Sane During Quarantine
The content creator recently partnered with Coach for their latest holiday campaign.
If there is anyone that can help you get into the holiday spirit, it's content creator Rickey Thompson, who was tapped by luxury fashion house Coach for their latest holiday campaign. "It's been amazing, I've been working with Coach since last year and honestly, I love them so much," the influencer tells GU. "I am so happy to be apart of their family."
Last week, Coach unveiled its latest ad for its Swinger Bag, featuring cool talent like Thompson and Kim Petras, while starring Paris Hilton. Including a throwback VHS theme to go along with the 00's-inspired selects, it's a film that pays homage to the early aughts and shows the cast staying connected this holiday season. "Coach is just so easy to work with and they always treat me well," Thompson said. "Anytime I shoot with them, the shoots are so much fun."
An archival Coach style, the Swinger bag nods to the mini-bag moment of the 2000s. Reintroduced in Glove tanned leather, it reflects a reimagining of Creative Director Stuart Vevers' vision of heritage and touches on the brand's nostalgic hold on new age shoppers." When I was younger my mom, grandma, aunt loved Coach bags. A Coach bag was the bag," Thompson shared. "So now fast forward to working with them, I think that is so cool."
The content creator can be seen posing with his select in a crop top and jeans, a casual moment he considers to be a perfect style for the Swinger Bag. Adjusting to the pandemic, Thompson curated this project from his home, and details how he is preparing to go into other lockdown while staying busy with work.
"The pandemic is getting crazier and crazier and LA is going back into lockdown, so that's rough," he said. "Other than that, I am healthy, my family is healthy and my friends are healthy. Your health is so important right now," Thompson concluded.
The Swinger Bag is priced at $275 and can be purchased here.