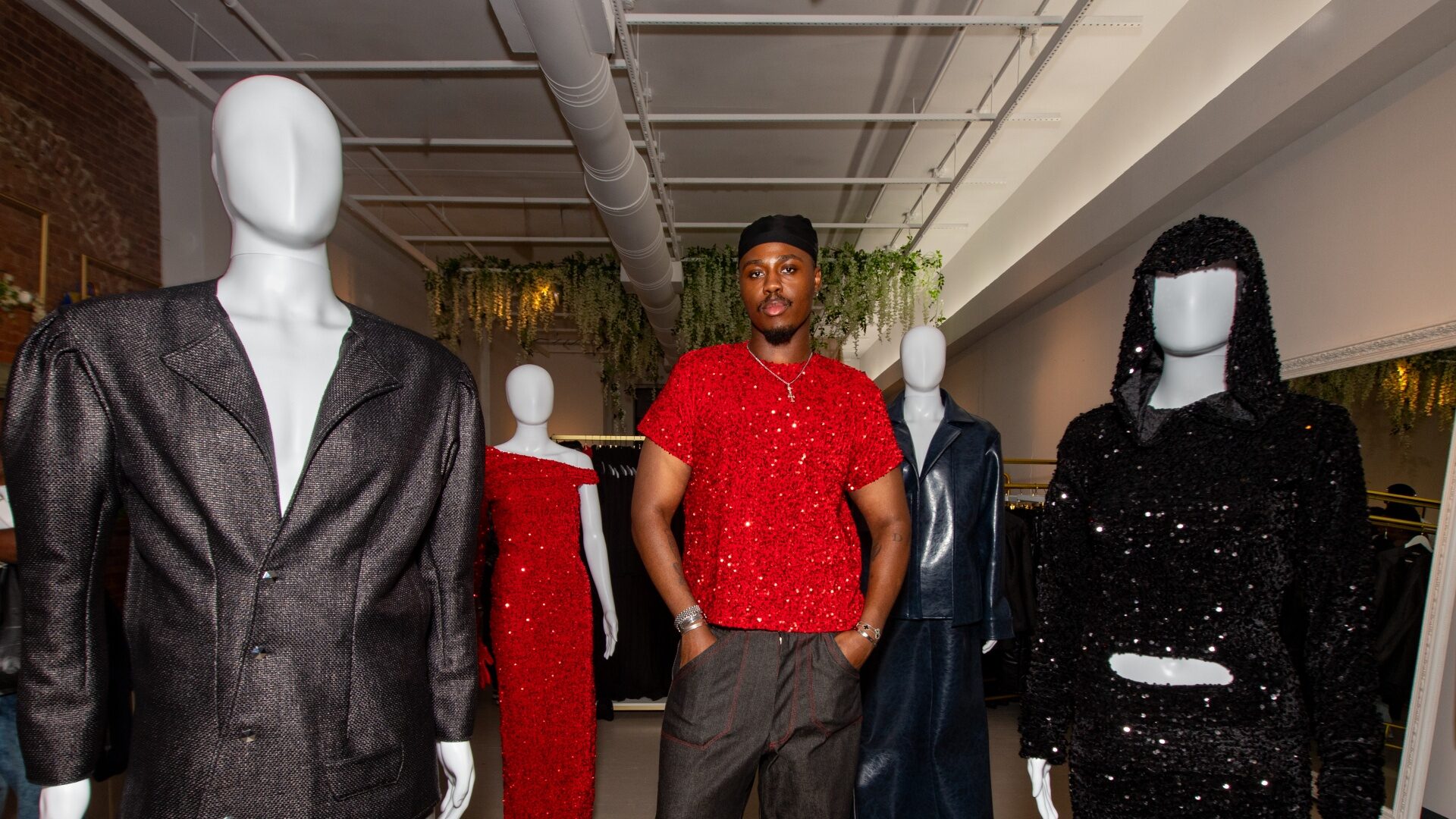 NOiD Takes A Nontraditional Route To Staple Items
An inclusive approach to luxury fashion
Denzel Dion is a charismatic, no-filter-having, life-of-the-party who will surely make you laugh from his personal stories or takes on life. He's one-half of the WE SAID WHAT WE SAID podcast, where he discusses all things with his best friend and influencer Rickey Thompson. Though usually known for that venture, Dion is a popular solo.
He garners over two million followers on Instagram and 500,000 on TikTok. His vulnerability and transparency as he documents his journey of health and entrepreneurship have led the masses to flock to him. Even though he and Thompson are usually inseparable, Dion has started to be recognized as an individual, mainly from how he's paved his way in the world of fashion.
His debut runway show for NOiD was held at New York Fashion Week earlier this year. Dion's gender-fluid and size-inclusive brand went viral, resulting in fans desiring to buy what was in the show in person. That prompted his team to host a New York Fashion Week pop-up this fall, which we had the pleasure of attending.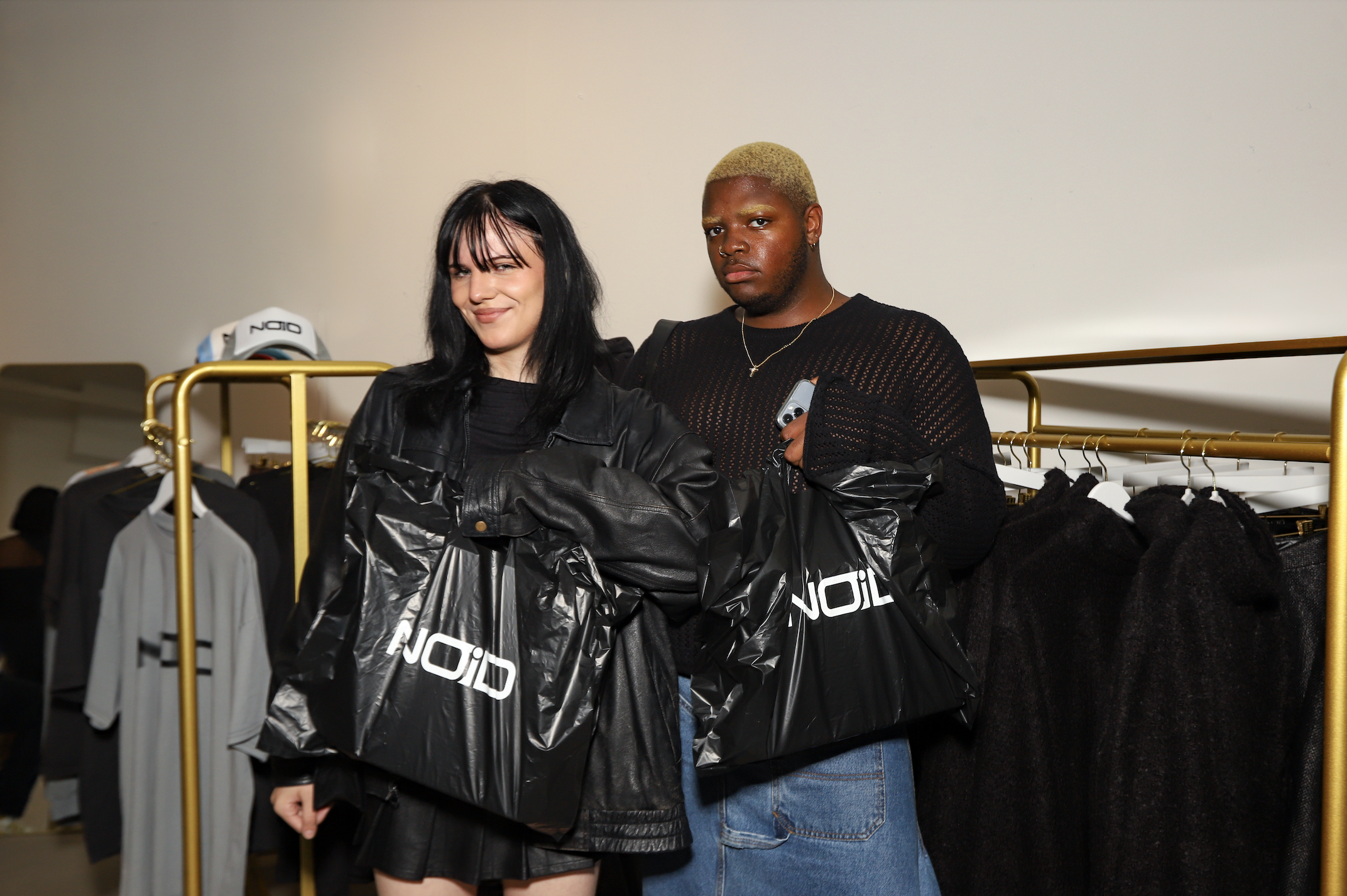 Photo Credit: Kimani Worghs
As Essence GU was given a tour, the theme of belonging stood out. His items represented "the evolution and the change he's going through and his own experiences," Karen François, Project Director at NOiD, told us. There was a time when Dion wanted luxury fashion items but couldn't afford them. Now, he doesn't overcharge for the quality of his items. Before losing a lot of weight, Dion remembers when he didn't like the fit of luxury items.
That inspired him to adapt materials into his collections that snatch at the flattering areas of the body so that all can feel confident in his pieces. His collections represent his story of being an outcast but desiring others not to experience the same things.
Here are our favorite items from his collections that embody that mission.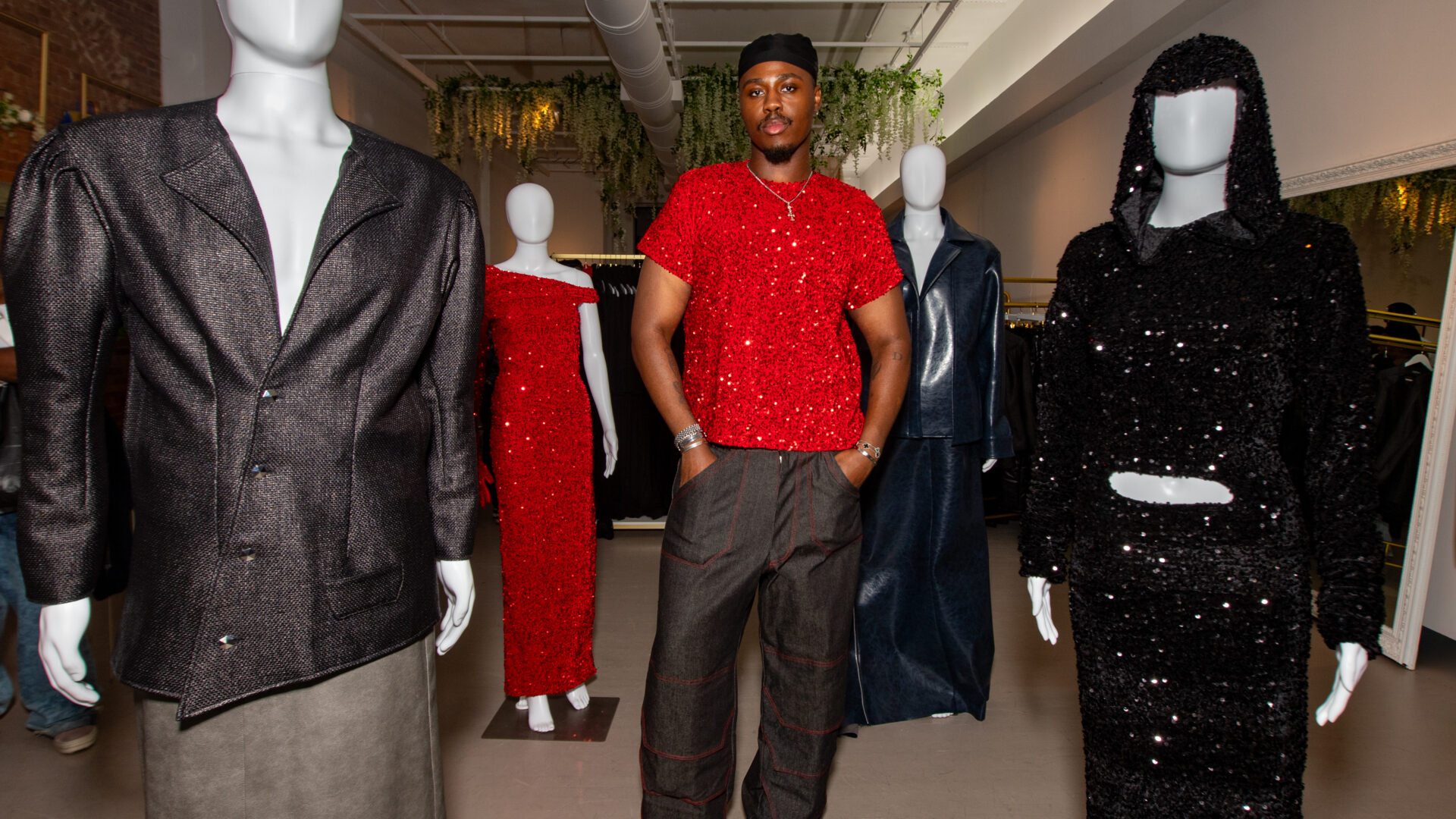 Photo Credit: Kimani Worghs
In the front right corner, you'll notice an all-black, sequin, hooded dress that will look good on any body type. The way the dress flows, it hugs all favorable areas. There's a cutout at the abdomen area, in which eyes are naturally drawn. The design is a play on the 'simple black dress' that everyone is encouraged to have as a staple in their closet.
In the front left corner is a black padded blazer with puffed sleeves. The architecture allows the blazer to shape the person and not the person to shape it. Once again, accomplishing the goal of enabling the item to cater to all body types. The jacket can be used for dinner dates and corporate presentations, allowing flexibility, which is hard to find in luxury fashion.
Lastly, we had to highlight an accessory. Their hex bag is a perfect addition to a night-out outfit.. It's crafted with 100 percent genuine pebbled leather with silver hardware. As stated earlier, Dion remembers desiring luxury bags and not being able to afford one.
For that reason, he ensured the price point was not too exclusive to where young fashion enthusiasts could not afford to purchase them. The bags sell for $350 compared to a leather Louis Vuitton that can sell for upward of $3,000.
NOiD is genuinely for nonconformists, which is the brand's mantra. From being gender-fluid to inclusive of all body types, he's breaking barriers in luxury fashion one item at a time.
About the author: Shelby Denise Smith is a full-time Social Media Editor and part-time Freelance Writer. She loves writing about news, wellness, and beauty and hosting impactful conversations with influencers and experts on those subjects.