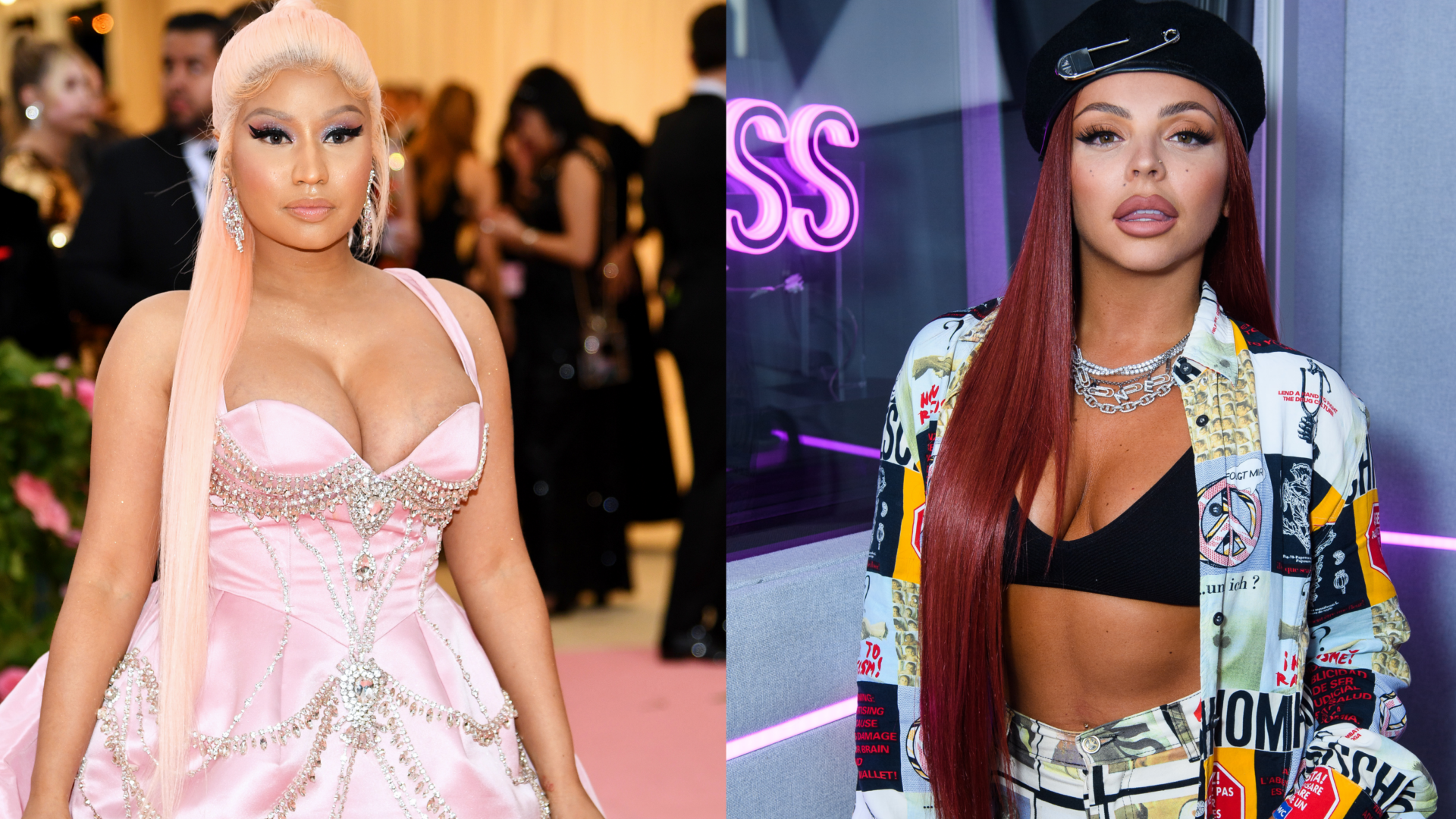 Nicki Minaj Defends Jesy Nelson Over Blackfishing Controversy: 'That Means The Black Girls Can't Wear A Long Blonde Weave,'
The rapper went live with Nelson on Instagram following the release of their "Boyz" music video.
During an October 11 Instagram live, rapper Nicki Minaj defended Jesy Nelson after Nelson was accused of blackfishing in her latest music video for her single "Boyz".
"Boyz" features Nicki Minaj and is Nelson's first solo track after announcing her departure from Little Mix last year. The song samples Diddy's song "Bad Boy for Life."
In "Boyz", Nelson sports a heavy tan, a curly wig, as well as clothes and accessories typically associated with Black culture, like grills and a durag. In the song, Nelson also boasts about wanting a man who is "so hood, so good, so damn taboo." She immediately faced backlash for "blackfishing," a term used to describe someone who is trying to appear Black or biracial.
Read our critique of Blackfishing here.
"There's a lot of women out here in the United States that tan, get bigger lips. I wear straight blonde hair when I want to," said Minaj in an Instagram live. "Don't wait a decade after you've made millions with the person," she added, referring to Jesy Nelson's former bandmates who accused her of blackfishing.
The singer isn't the first person to be accused of profiting from Black cultures, as additional controversies have included Rita Ora, Bebe Rexha, and the Kardashians.
"My intention is never to offend people of colour with this video and my song. When I was in the video with [Nicki], I didn't even have any fake tan on. I'd been in Antigua prior to that for three weeks," added Nelson. "I'm just really lucky that as a white girl, when I'm in the sun I tan so dark. My hair's naturally curly, I've always had curly hair. I wanted to get a wig that emulated the same texture as my hair, I genuinely didn't think I was doing anything wrong," she said.
Following Nelson's public plea, Minaj chimed in to share her thoughts about former bandmates Leigh-Anne Pinnock, Jade Thirwall and Perrie Edwards' claims that Nelson blocked them on social media. Little Mix has also been accused of allegedly sending DMs to U.K. comedian NoHun about Nelson, which Nicki also shared her thoughts on.
"Sweetheart, take them text messages and shove it up your f—— a–," Minaj said. "Don't try to come out and ruin anyone. Let her enjoy this time. If you was in this woman's group and you ain't taking about this s— for 10 years, and as soon as you see she got a video come out with Nicki Minaj and Puffy, now you sending the stations text messages and all this s— … print them text messages out, bust your a– open and shove it up your mother——- a–. And stop trying to hurt people and kill people's lives and careers. … If you want a solo career, baby girl, just say that."
In a recent interview with Vulture, Jesy Nelson said she was never accused of blackfishing while still a part of Little Mix. "I wasn't on social media around that time, so I let my team [deal with it], because that was when I'd just left. But I mean, like, I love Black culture. I love Black music. That's all I know; it's what I grew up on."

Nicki Minaj Photo Credit: Photo by Neilson Barnard/Getty Images
Jesy Nelson Photo Credit: Photo by Joe Maher/Getty Images for Bauer Media