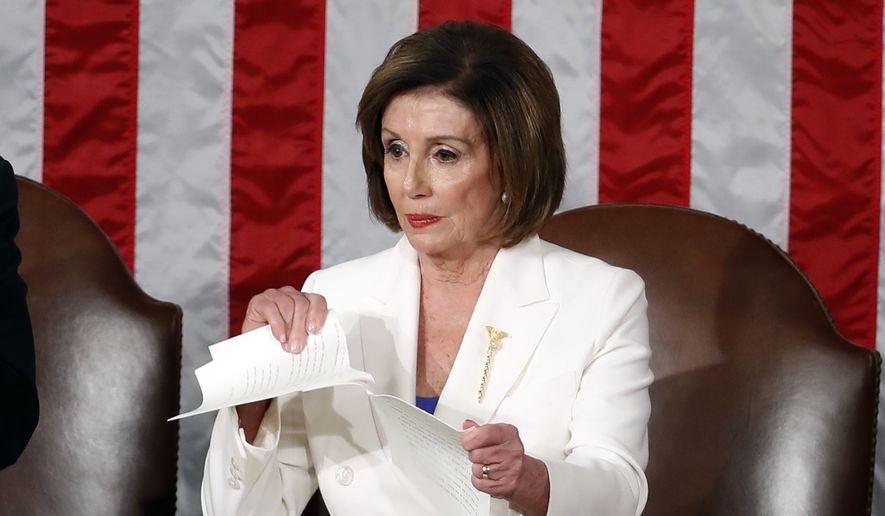 Nancy Pelosi Responds To Angry Trump Supporters After Tearing Up Speech
Republicans are not happy about her act of defiance.
#PelosiTantrum is the latest hot hashtag that's circulating on Twitter, and it's co-signed by President Donald Trump. Why? Because last night during the State of the Union Address, Nancy Pelosi, the current Speaker of the House, tore up her copy of the president's speech.
The moment was caught on camera and immediately became a viral meme.
Several of the President's staunch supporters, including former United States ambassador to the United Nations, Nikki Haley, and radio hosts Chicks on the Right, began speaking out against Pelosi for her perceived disrespect. Newt Gingrich, the former Speaker of the House, also shared his thoughts on the matter on Twitter.
The official Twitter account for The White House expressed disdain as well.
"As Speaker of the House for four State of the Unions by a President of the other party I am disgusted and insulted by the viciously partisan action of Nancy Pelosi tearing up the speech," Gingrich tweeted last night. "She isn't clever or cute her childishness insults our American traditions-should be censured."
It's also worth mentioning that during the president's speech, which lasted a little over an hour, he did not mention the impeachment inquiry, of which Pelosi has openly led the charge.
However, Pelosi responded to all of the recent heat with a statement of her own.
"The manifesto of mistruths presented in page after page of the address tonight should be a call to action for everyone who expects truth from the President," reads an excerpt from Pelosi's statement. "…The American people expect and deserve a President to have integrity and respect for the aspirations for their children."
Read Pelosi's full statement here.
Photo Credit: The Washington Post