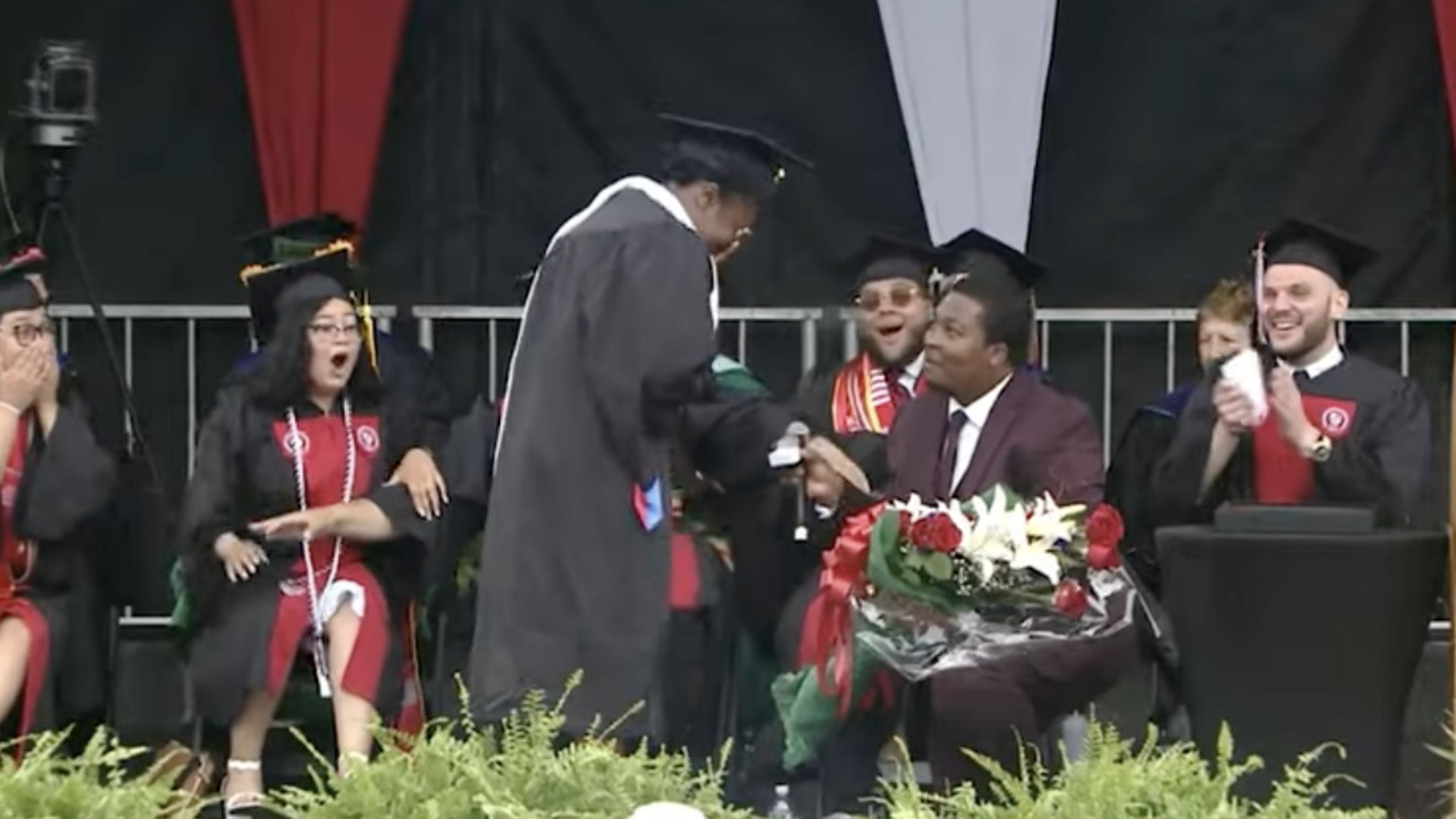 College Student Gets Surprise Proposal At Her Graduation From Longtime Boyfriend
Congratulations to the happy couple! Kathey Fevrius and Hendy Joseph, two graduates of Montclair State University, got engaged on stage at their graduation ceremony.
The proposal was something out of a romance movie. During the ceremony, Fevrius was unexpectedly called to the stage. There, Joseph was waiting for her holding a giant bouquet of yellow flowers.
Joseph then proceeded to get on one knee in front of 350 guests gathered for Montclair's College of Education and Human Services ceremony. Fevrius immediately said yes before her now fiancé handed her the bouquet.
"Kathy, no words can express my love for you. I love you," said Joseph after his proposal. "Congratulations Kathy and Hendy. We wish you a lifetime of happiness and love," added the graduation's speaker.
Prior to their engagement, the couple already had marriage plans set for next year. They both had agreed to an engagement in front of their families at their church in Newark, NJ on June 25. Joseph's proposal took Fevrius by surprise. "I didn't know he was going to do a surprise like that," she told NJ Advance Media. "He said he wanted to make me happy," Fevrius shared after the couple's engagement dinner.
Joseph wanted to make Fevrius' dream come true. Years ago, she shared with a friend that getting engaged at a graduation ceremony would be nice. Fevrius's friend told Joseph, which led him to coordinate a proposal with officials at Montclair State University.
The couple decided to still move forward with their planned engagement ceremony at their church in Newark. "My family will come and his family will come," she said. After all that is where their story began. They met at church and started dating seven months later.
Today, the happy couple is planning their honeymoon. They're hesitating between Paris and Hawaii, according to Blavity.
Congratulations to the happy couple!