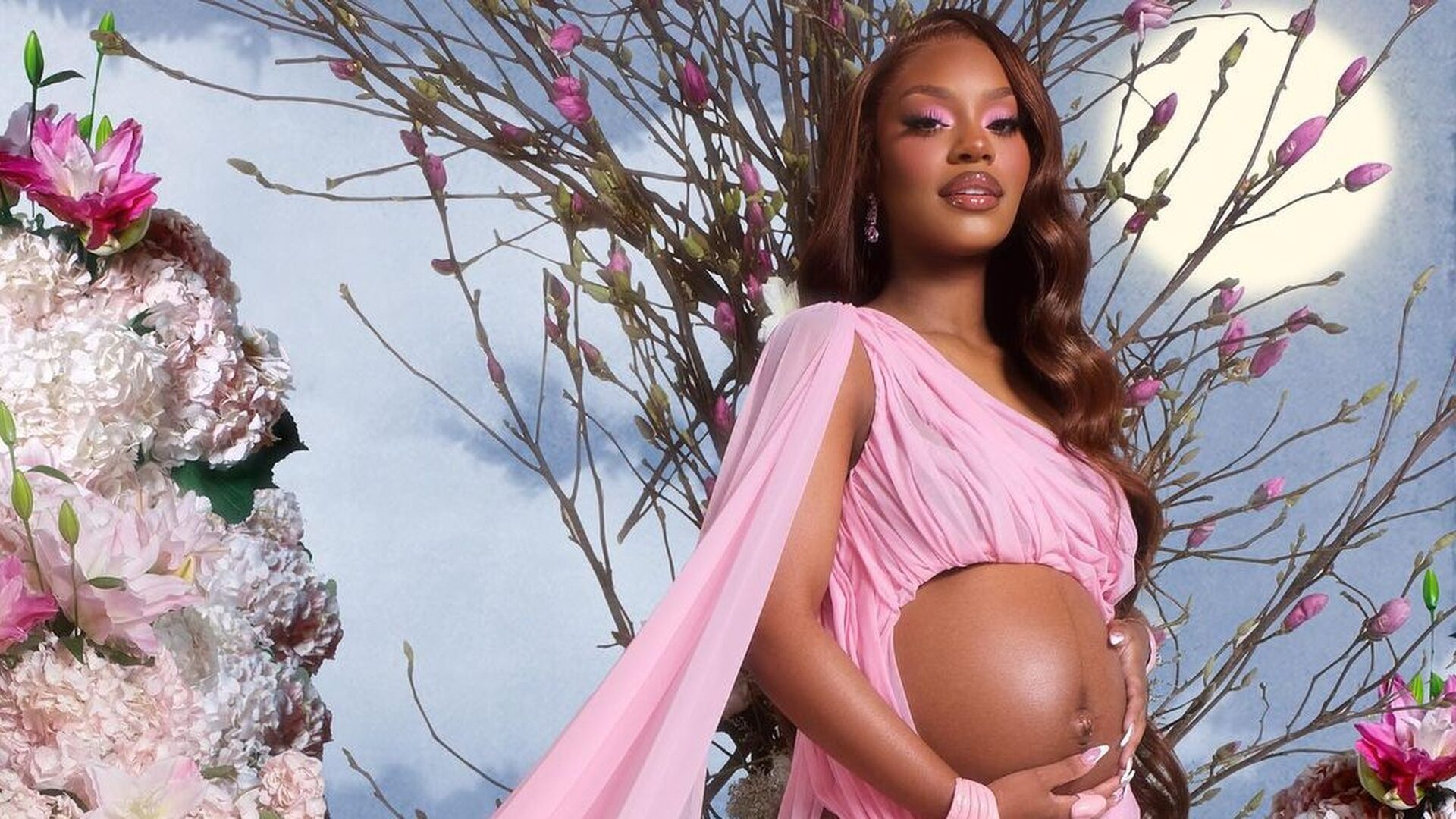 How Monaleo Overcame Depression And Problematic Laws During Pregnancy Journey
"It was a beautiful experience to share with my whole family because they had never seen anything like that."
12 years ago, fellow Houston legend Beyoncé, in everything-bigger-in-Texas fashion, unveiled her daughter Blue Ivy as a mere baby bump at the 2011 MTV VMAs. She set the precedent for the women who would come after her that female artists don't have to sacrifice their careers for motherhood as they can have both.
Over a decade later, the H-Town spitter who appeared in Bey's IVY PARK campaign in 2021, Monaleo, is living that same reality. She gave birth to a healthy baby boy in her Houston home this past May with the help of an all-Black delivery team, the presence of her concerned family, and her partner Stunna 4 Vegas. Right before her vulnerable debut project, Where The Flowers Don't Die, dropped that week.
"It was a beautiful experience to share with my whole family because they had never seen anything like that," she told GU via Zoom after spending the day getting her child scheduled immunization shots and bringing a family member to urgent care in Houston. "Everybody in my family had an epidural, but everybody also had very traumatic birth stories, So they were terrified for me to have the baby at home."
The 22-year-old shared that she went through her two-day labor with Stunna independently. "As soon as I felt his head coming out, I instantly just snapped into this different mode, and he came out, and the umbilical cord was wrapped around his neck, and immediately I just unwrapped the cord from around his neck," she says. "I just started doing my own thing, and the midwife was just kind of there watching me maneuver. It was very beautiful."
Read 'Monaleo Is The Rapper From Houston You Need To Know'
It's especially true as the rapper is living in a time when Black women's social, political, and healthcare climate is far more extreme than it was over a decade ago. Texas has been a hotbed for harsh anti-woman, anti-abortion, anti-trans legislation, poor funding for child care, and horrid disparities in maternal care for Black mothers.
That's why Monaleo decided to have an all-Black birth team and do an in-home birth where she felt safer in an environment she could control rather than trust her local medical system that reportedly ranks third in excess Black infant deaths.
She decided to take matters into her own hands after scheduling surgery to remove one of her ovaries after a cyst was discovered, as her white service provider advised, feeling like she was not handled properly. "When I found out that I was pregnant, I wanted to take my care into my own hands because I didn't feel like they were handling me the best at the facility that I was going into, she said.
The "We Not Humpin'" rapper finds herself thinking about how she was fortunate to have the means to hand-pick medical practitioners, doulas, and midwives to create her own safe environment as the rapper compared to how things would have been had her pregnancy in the hands of the state.
"If I didn't have funds or anything like that, I personally wouldn't be having a baby. It would have been even more stressful because it was already very stressful for me to begin with. Having all of the resources that I had," she said. "It could have been a lot more strenuous because there are women who are pregnant, they get up and go to work every single day throughout their entire pregnancy, and have other kids and things that they have to juggle."
A big part of that stress was from her battle with physical and pre-existing mental health conditions, including depression, anxiety, and suicidal ideation that were significantly exacerbated by the pregnancy. Her hormones were spiked to levels she'd never experienced before, combined with the chemical imbalance that triggers mental illness.
"I had difficulty maintaining my emotions. Even felt suicidal throughout my pregnancy, but obviously knowing I can't," she said. "That would be crazy for me to do [to] have a baby and kill myself, that would have been insane, but those thoughts felt logical at the time because my hormones were spiked to levels I had never felt before. And it was only getting more and more intense."
The journey to that heartwarming, tear-swelling video of Monaleo giving birth in a large pool of water and Stunna overwhelmed with relief and emotion, yelling, "You a Superhero!!!!" was rocky. Monaleo was pushing through nine months of touring, shooting videos, recording, and promoting her music, all while overcoming unfathomable scrutiny from people around her who knew.
Without taking a single day off, she was moving on a different type of time despite being extremely exhausted, sick, and anxious most of the time. "I felt like I was operating outside of my body and I was doing things that I didn't even realize I was capable of throughout that whole pregnancy.  I don't know if it was the smartest thing to do. But it definitely showed me that I'm capable of doing whatever I can put my mind to," she said.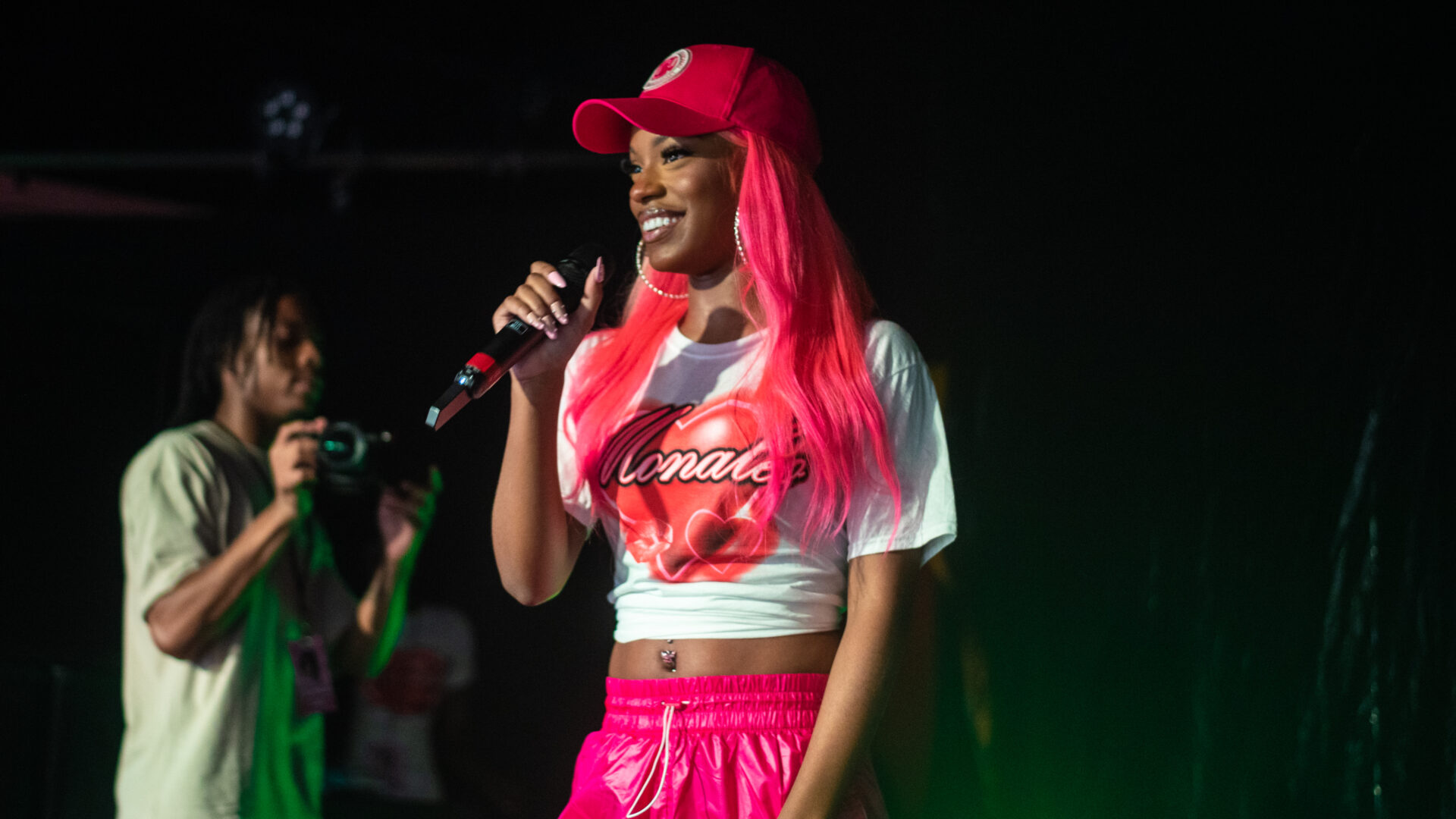 Photo Courtesy of Mark Braboy
To put this in perspective, in December 2022, Monaleo opened for Flo Milli during her Girls Wanna Have Fun tour when she arrived in Chicago early in her pregnancy last winter. And she rocked the house as if she was a headliner, donned in an airbrushed white t-shirt, hot pink jogging pants and matching hot pink and white Air Force Ones. The excited crowd didn't know she was remotely anything other than healthy, let alone pregnant.
"They had no clue. And I could tell that, and that's when, towards the end of the tour, I started to remind myself I have to stay in this moment because I'm never gonna get a moment like this back. I have to just be more present in this moment, and I know that shit stacked up against me, but that's why I have to go even harder," she said.