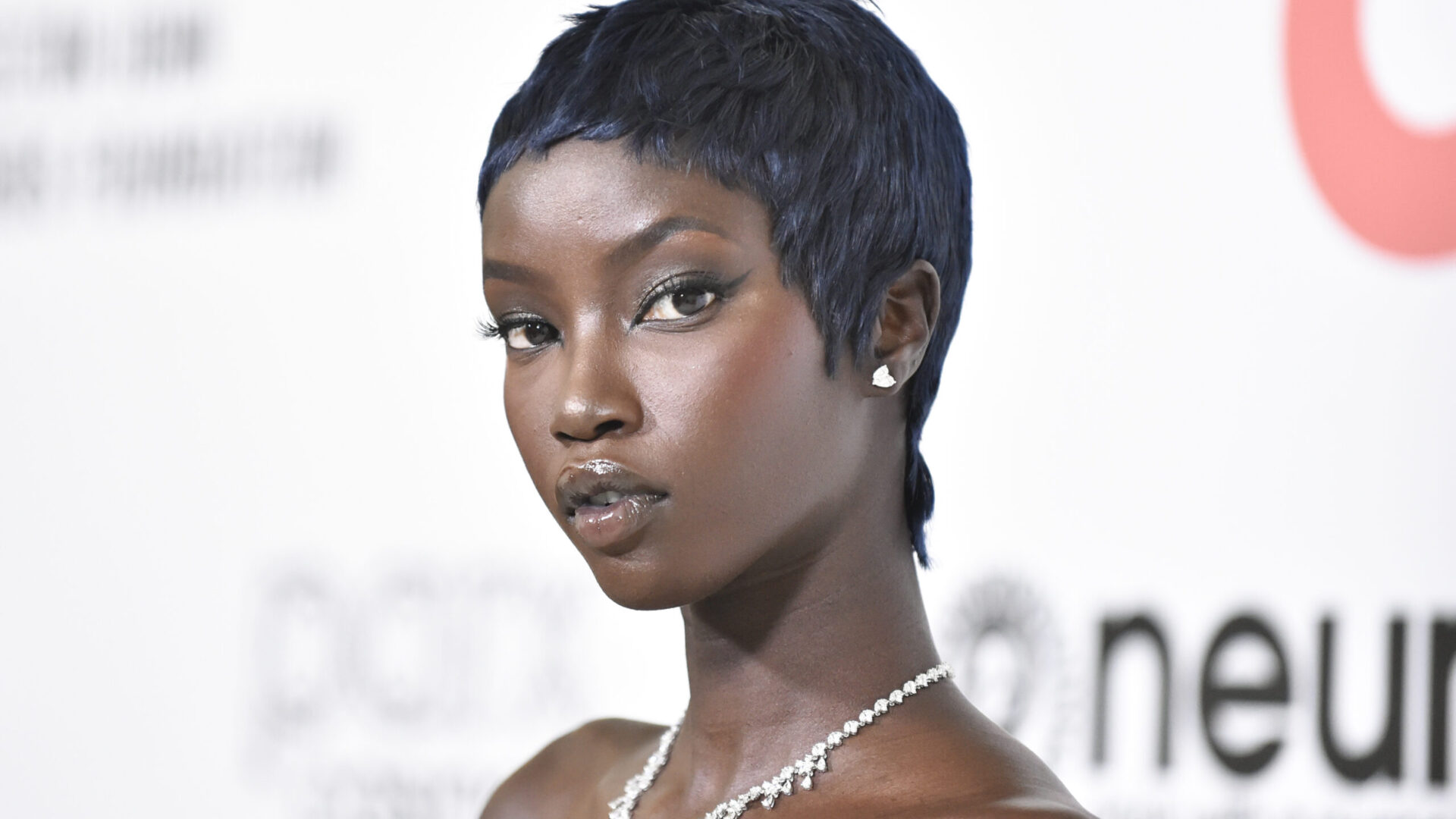 Meet Model Anok Yai, Social Media's Favorite It Girl
She was discovered at Howard's homecoming in 2017 and has since gone on to make fashion history.
When Anok Yai decided to attend Howard University's homecoming concert in 2017, she didn't expect the moment to launch her into supermodel stardom. Photographer Steve Hall snapped her photograph and posted it on Instagram. Shortly after, her portrait went viral and Yai started getting calls from modeling agencies.
"I didn't think anything of it until the next day when my phone started blowing up. My first thought was that my friends had put up an embarrassing photo of me on Twitter, and I thought I'd become a meme," she told Vogue. "I was really happy when I found out it wasn't that. I started off with 150 followers on Instagram and that night it was 30,000. The next night it was 50,000, and then I started getting calls from agencies."
Since then, the 24-year-old has gone on to model for some of the world's biggest fashion brands and has been featured on numerous magazine covers. In 2018, she became the second Black model after Naomi Campbell to open a Prada runway show. Most recently, she was photographed for the February 2022 cover of British Vogue, a moment that is regarded as groundbreaking for featuring an all-Black crew of models.
"Words can't explain the importance of this cover," she wrote on Instagram, reflecting on the special moment. "My entire career I've fought to command my space in this industry while trying to affect change. Can't begin to explain the anxiety ridden nights where I felt I'd put my career on the line fighting for something I believed. Had I pushed too hard? Was I demanding too much? Did I make the right decisions? Was it worth it?"
Yai sees being featured in the cover as the validation she sought as a Black model in an industry often criticized for its lack of diversity. "There were moments where I felt like I was in this never ending battle, but its moments like these that make it all worth it," she added. "My message for any little Black girl reading this – remain in your essence, never conform, and don't you dare shrink yourself. All you have are your dreams and your joy. Don't ever let that be taken from you."
Born in Cairo, Egypt, Yai's family is originally from South Sudan. She was born a refugee during the second South Sudanese civil war. "Being a refugee myself, I know the kinds of struggles my own family went through," she told Forbes. "When we came to the US I was around 3 or 4 and we stopped in New York City first and then went to New Hampshire because they had the most benefits for immigrants. We were given government housing and assistance. Had we not been given that I don't know where we would have ended up."
Her parents worked long hours to support their family. This made Yai and her siblings quickly learn how to be independent. Growing up in New Hampshire, Yai says that racism was a challenge she constantly had to deal with. "As I grew up in school I was bullied for my skin color. I had to develop thick skin and I had to learn the language, be able to take care of my little siblings, then go to school. In order to fend for myself I had to develop thick skin," she told Forbes. 
Yai grew up watching America's Next Top Model and revering fashion icons such as Naomi Campbell and Grace Jones. "Everywhere I looked, I saw people praising lighter skin and mocking people with dark skin," she told Vogue. Today, it's her turn to inspire young girls and show them that being Black and a model is possible. "Now that I have this platform I can hopefully be the person I wanted to look up to. The industry is changing. It's really slow, but it is changing."
She credits social media for driving change in the fashion industry and holding brands and creatives accountable. "During the [2020 Black Lives Matter] protests, I was very active. I posted the photo of me at a protest to support [the movement] after the killing of George Floyd. I remember there being so much pushback from some creatives and brands trying to force me to take down the post because of how controversial it was," she told V Magazine. "I got pressure from all sides. It's just one of those things where you have to stand your ground regardless of who's against you."
Yai is always surprised to hear about so many Black creatives being the first in their field. "It makes me think, 'This whole time, you've never had a Black person do this?'" When interviewers ask her about inclusivity on the runway, she says that this question should be directed to casting directors instead of models. Ultimately though, Yai tells V Magazine that she tries to drive change whenever she can. "I make an effort to hire as many people of color as I can to be on my team. Whether it's glam or finance or photography, everything. Whenever I see someone talented, and people don't appreciate their art, I'm like, 'Let's work together. I'll bring you up with me and we can do this together.'"