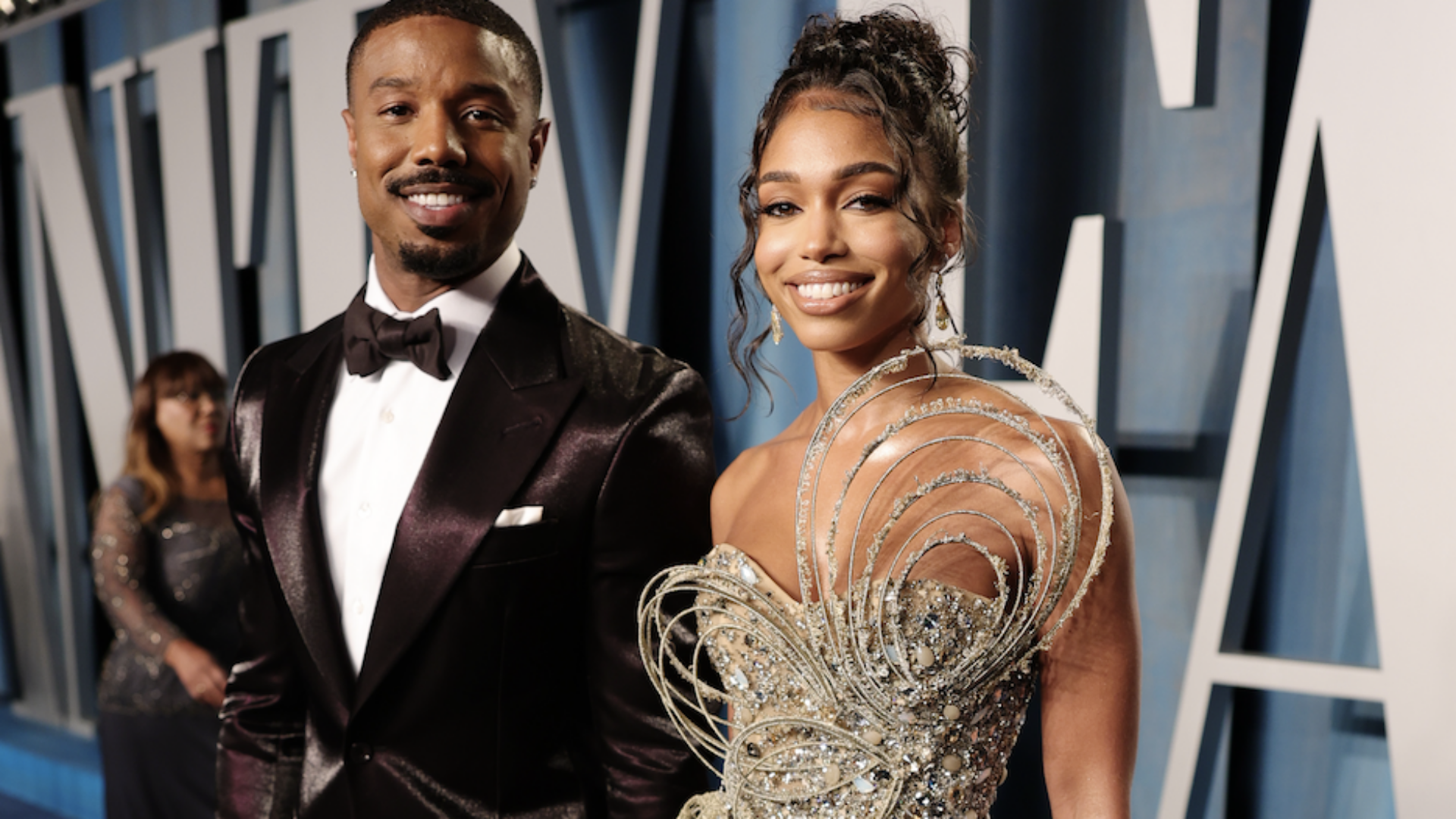 We're Still Swooning Over Lori Harvey And Michael B. Jordan's Red Carpet Debut
The couple attended this year's Vanity Fair Oscars party.
Michael B. Jordan and Lori Harvey are red carpet official! On March 27, the couple attended Vanity Fair's annual Oscars after-party, making their red carpet debut. The event took place at the Wallis Annenberg Center for the Performing Arts in Beverly Hills, California. Jordan and Harvey were photographed smiling and posing for the cameras upon their arrival.
Jordan, 35, swapped a classic tuxedo for a metallic black suit and tie with matching shiny shoes. Harvey, 25, stunned in a gold and intricate couture gown designed by Tony Ward for his Spring 2022 collection. The dress featured a strapless corset-style bodice and see-through skirt trailing behind her. Sparkling details were appended to Harvey's dress, which also featured circular and sculptural detailing. The 25-year-old wore a pair of metallic Jimmy Choo platform pumps to match the dress.
Harvey referred to the outing as a "date night" in an Instagram post. "Finally a Night out," captioned the couple in a second post.
Jordan and Harvey made their relationship official in January 2021 after rumors of them being an item started circulating in late 2020. Jordan, who had kept his love life private prior to dating Harvey, opened up about his relationship being in the public eye.
Read the dating advice Lori Harvey received from her parents.
"The situation for me was real enough [to share]," he told The Hollywood Reporter. "There's a premeditated planning of staying out of the way [of the public eye] that sometimes kills spontaneity and intimacy. I wanted to take that away and give this the best chance it had, in this weird world that we live in, to be somewhat normal."
In the past, Harvey shared that putting her relationship in the public eye was a way to take control of her own narrative. "Before, I have been more so quiet and let the media run with whatever story they've felt like running with and didn't give it any attention; no confirmation, no denial, no anything," she told PopSugar. "Now that I'm getting older and coming into my own and starting my businesses, I want to take control of my narrative. I want to let people get to know me — who I really am, not necessarily who people think I am."
Keep scrolling to see some gorgeous shots of Michael B. Jordan and Lori Harvey on the red carpet.