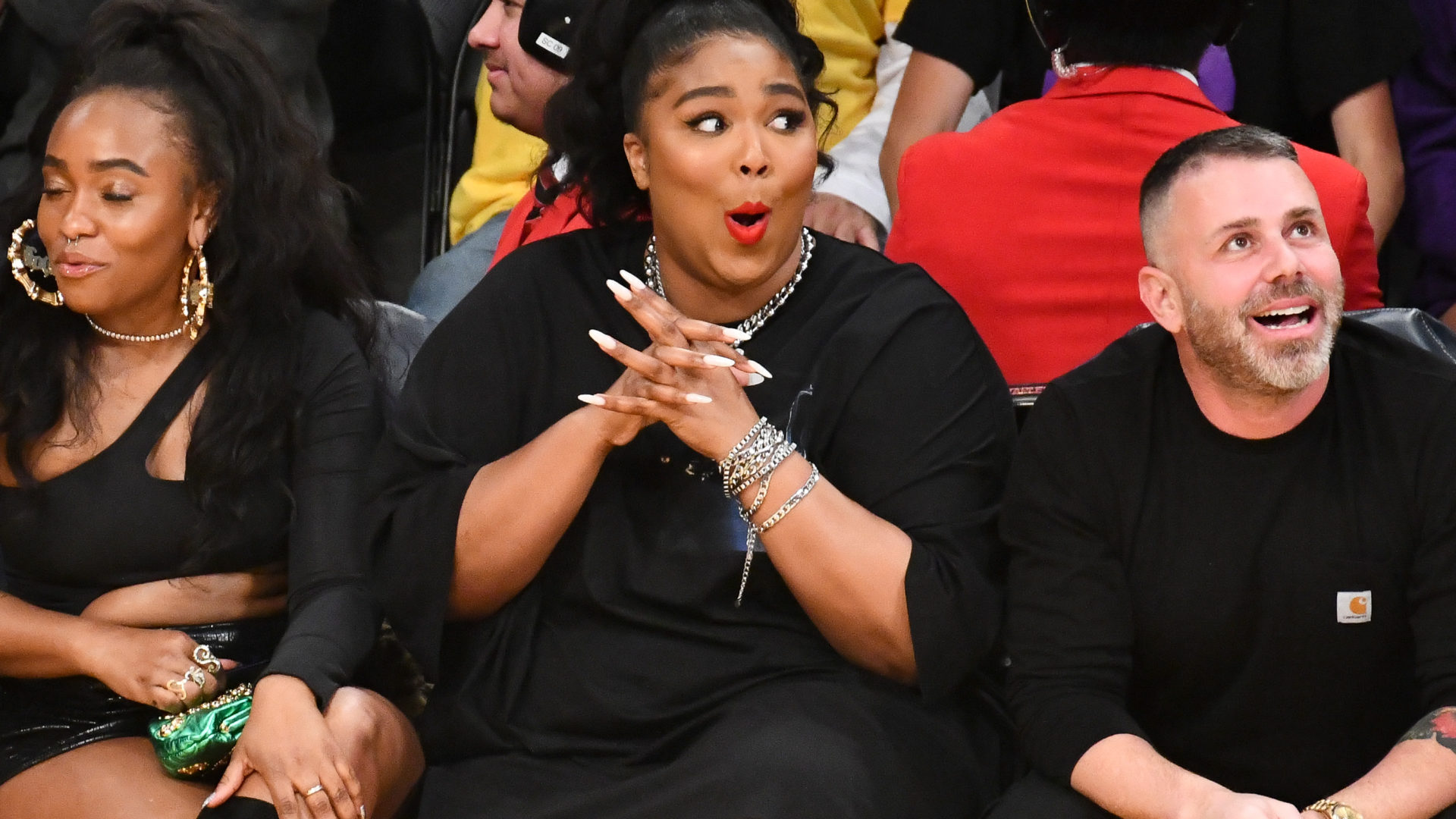 You Shouldn't Be Body Shaming Lizzo For Her NBA Courtside Look
Some Twitter users are shaming the singer for her thong-baring outfit at last night's Lakers' game.
Lizzo was courtside when the Los Angeles Lakers took on the Minnesota Timberwolves inside the Staples Center Sunday night. When the Lakers' cheerleaders started dancing to her Billboard-charting song, "Juice," Lizzo joined in, twerking near her seat and sharing some of the unbridled joy for which she's famous.
Now the 31-year-old singer is being bullied and body shamed for her booty shaking and her outfit choice. At the game, Lizzo wore a black T-shirt with the backside cut out, which she accentuated with a matching thong and fishnet tights.
Some people are saying that her look is "inappropriate" for a family event, even though she's never been one to hide her body. Also, worse things have happened at sports events.
Fans and activists are firing back at the hate, saying that Lizzo's outfit wouldn't be critiqued as heavily if she were skinnier. Though criticizers claim that their stances have nothing to do with her size, we can't shake the feeling that that's not true. Lizzo has been so vocal about loving her body and relishing in her sexuality, why can't everyone else follow suit?
Fat women, especially fat Black women, are forced to abide by nonsensical fashion ethics for the comfort of others. We aren't allowed to be sexual (and even when we are sexual, it's erased), and we certainly aren't allowed to wear outfits that show off our bodies. Fat Black women are still unfairly tied to the mammy trope – a stereotype that reduces our lives to the uplifting of other people, and also deprives us of the freedom to be sexual.
Hypervisible, fat Black women shouldn't have to wake up to hateful comments and trending stories that make fun of their bodies. It's just not fair.
We know that the concern for the protection of familial units may not be the real reason famous fat women are attacked. People simply can't take Black women who are comfortable with their bodies.
But that's y'all's problem, not Lizzo's.