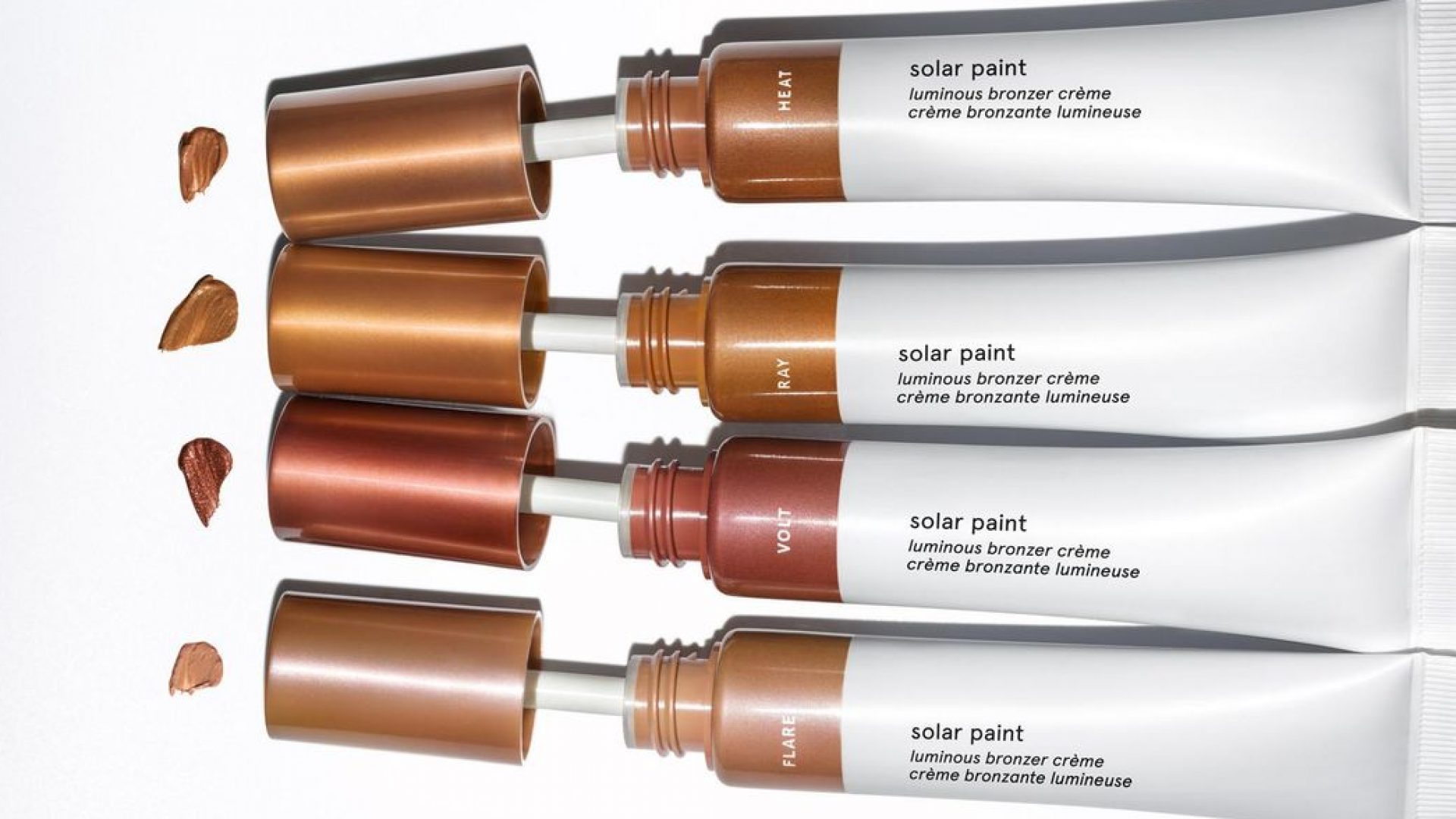 Glossier Launched A New Liquid Bronzer In 4 Shimmering Shades
Bronzers are one of the most underrated steps of any makeup routine, especially with the use of highlighters and blushes. They add a soft russet glow to your face though, bringing your melanin back to life from concealers and baking. If you aren't a fan of powdered bronzers, Glossier has you covered with the all new liquid Solar Paint.
Meant to replicate a day spent in the sun, Solar Paint adds an instant look of summer skin with its weightless, seamless 100% blend, as stated in a clinical trial.
Four shades have been released including: Flare, a light, neutral bronze, Ray, medium warm bronze, Heat, rich brown bronze and Volt, a deep red bronze. All tubes are affordably priced at $20 each.
Described by Glossier as an "almost whipped gel créme," the bronzer is infused with Desert Milk (a a micro-emulsion of plant oils and extracts like Jojoba and Aloe), and Ayursence, a botanical extract blend traditionally used in Ayurvedic medicine. This allows the bronzer doubling as skincare to condition and nourish skin while boosting skin's luminosity.
Solar Paint also contains Light-Reflecting Pearls, which are ultra fine pearls used to create a realistic sun-kissed effect and serves behind-the -scenes of the gold and copper hues.
Although it's categorized as a creme nonetheless, the product appears more liquified in comparison to Fenty Beauty's Cheeks Out Freestyle Cream Bronzer that comes in a compact.
Solar Paint's packaging is a mini tube, which also includes a doe foot granting versatility and ability to bronze where you want when you want.
To note, a little goes a long way with this formula so it's suggested to build to your liking.
Just like the rest of the Glossier line, Solar Paint is vegan, beginner friendly and of course, cruelty free.
Shop Glossier's new Solar Paint here.
Photo credit: Glossier