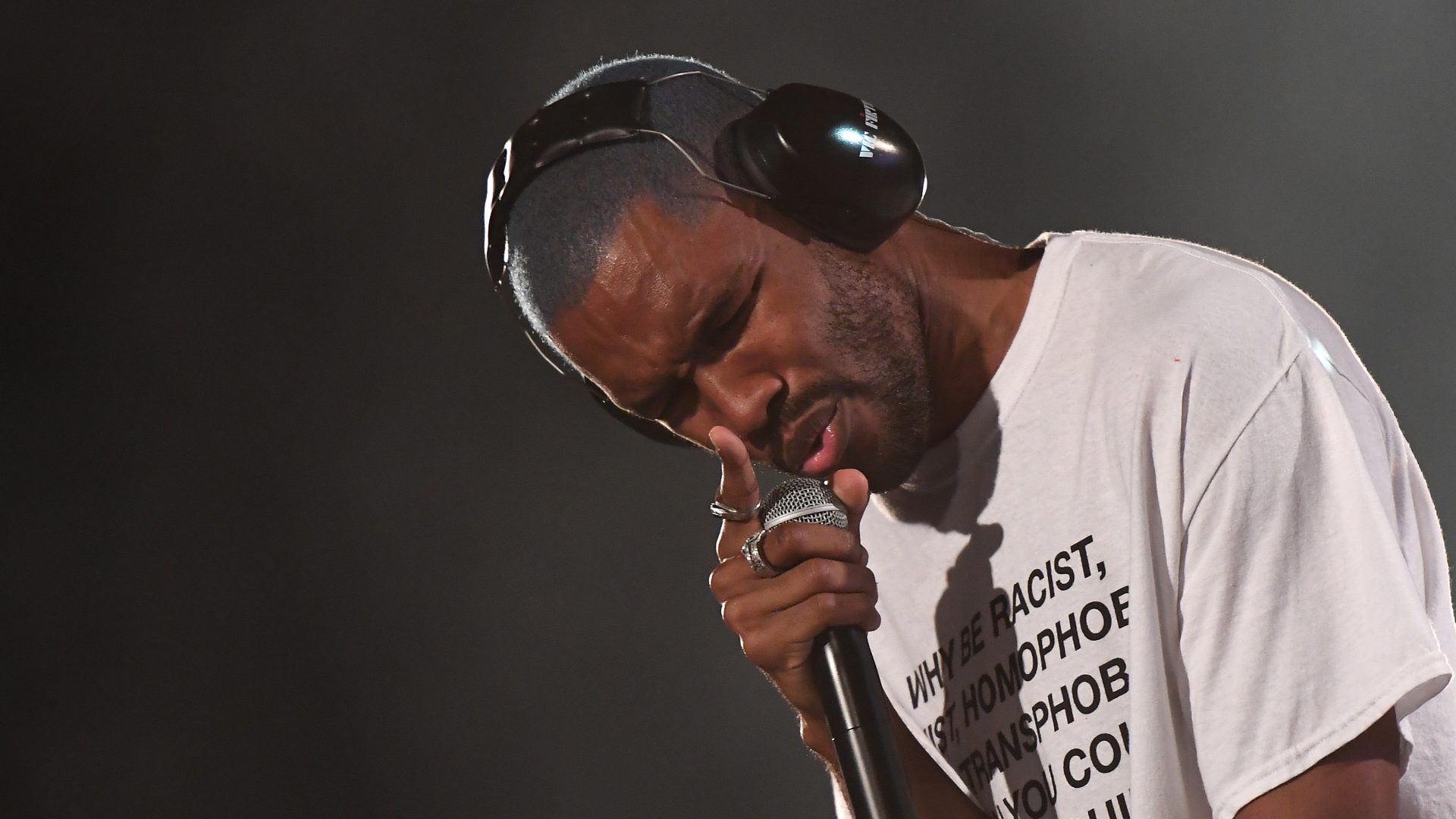 Frank Ocean's 10 Best Songs, Ranked
Ocean is a skilled musician but above all, he is a human with a subtle, genius authority on relations.
Frank Ocean speaks to matters of the heart like few others. Through his music, he explains his relationship with his emotions and the effect they have on others, spinning tales of love, hedonism and external complexities. With the braggadocio of a new rapper and the gentility of a butterfly's wing fluttering against a check, Ocean takes fresh lovers to the mountaintops and crushed exes into the caverns of solitude.
He is more than his romantic anecdotes, though. He also provide valid societal critiques, primarily how some have failed to relate to one another due to differences of religion, race and class. Each story is intricate and sometimes terrifying, but the virtuoso doesn't lose sight of what I believe is his intent—greater understanding of the people we love and the ones we may believe are just too unrelatable. He is a talented instrumentalist, singer and writer but above all, he is a human with a subtle, genius authority on relations.
Keep scrolling to check out our ranking Frank Ocean's 10 best songs.
10. Crack Rock
The effects of the crack epidemic are still widely felt. Black music has chronicled the anguish brought on by the increase in use of the drug, from Grandmaster Flash and the Furious Five's "The Message" to N.W.A.'s "Dope Man." This offers a more compassionate, but painfully real, look into the life of an addict and how society disregards him for his humanity.
9. Songs for Women
A song ripe for the summer, "Songs for Women" allows us to bear witness to an unraveling young love. It was the song that let me know Frank Ocean was going to be a force in music. Here we are.
8. At Your Best (You Are Love)
Covering The Isley Brothers is a bold move. Covering an iconic cover of one of their classics is reserved for only the best. Released via Tumblr on what would've been Aaliyah's 36th birthday, Ocean gives us access to love's aura and its warm emanations, enveloping us in a passion most sincere.
7. White
Electric pianos suit Ocean. When a song is nearly stripped down to just him and the keys, there's a breathability present that makes it soar. If you haven't heard Odd Future's 2012 compilation project, OF Vol. 2, this is a great place to start. "Analog 2" is pretty good, too.
6. Nikes
The thought that millennials and Gen Z-ers are so far removed from our parents and grandparents is tacked to some truth. We're also deeply connected by a few of our most basic desires: comfort, security and feeling good. "Nikes" explores who we are and the wants and needs we bow to.
Read about the music festival Frank Ocean is headlining in 2023.
5. Sierra Leone
I've read that this is one of the singer's biggest homages to the late transcendent icon Prince. I can see it. I love that he croons about the beauty of parenthood and let the backing vocals provide some of the sweetness, too. What a glorious lullaby.
4. Pyramids
Ocean is a strong storyteller with a knack for sonic transitions. Both skills shine on this track. Slowly weaving the narrative of queen Cleopatra into the story of a modern day sex worker, he outlines the cinematic stories of two women and the fantasy-driven people who surround them.
3. Godspeed
The most painful separations are like coal to flesh. It's kind that for this breakup ballad, Ocean offers his former other half a place to call home forever—his bruised, sturdy heart. It's an implication of the beauty of the romance, and the calm note it may have ended on, when you can wish them well and continue to save space for them. Or possibly it's just the loneliness talking. We may never know.
2. Solo
Ocean knows how to clasp an emotion in his hands and suspend it in air for all to see. This song is about being down and coming up, but losing the person who was there from the start.
1. Thinkin Bout You
Ocean's Grammy-nominated breakout hit was originally written for Bridget Kelly's debut album. Deeming it too personal, he leaked it on his blog and the rest is history. There's nothing like the first drop of rain or the first "I love you."
*Honorable Mention*
Hublots
Real ones have known about Jazmin Sullivan's distinct soul magic for years, but the release of her 2021 project Heaux Tales was a wake up call for some. How sweet it is to hear her alongside Ocean, nearly two years into her 6-year break from releases. Ocean's ear is wise. Real recognize real.
Read ESSENCE's interview with Jazmin Sullivan here.
Super Rich Kids
Featuring one of Earl Sweatshirt's first verses since he returned from a stint in an all-boys school, "Super Rich Kids" peels the shine off of a life of luxury.