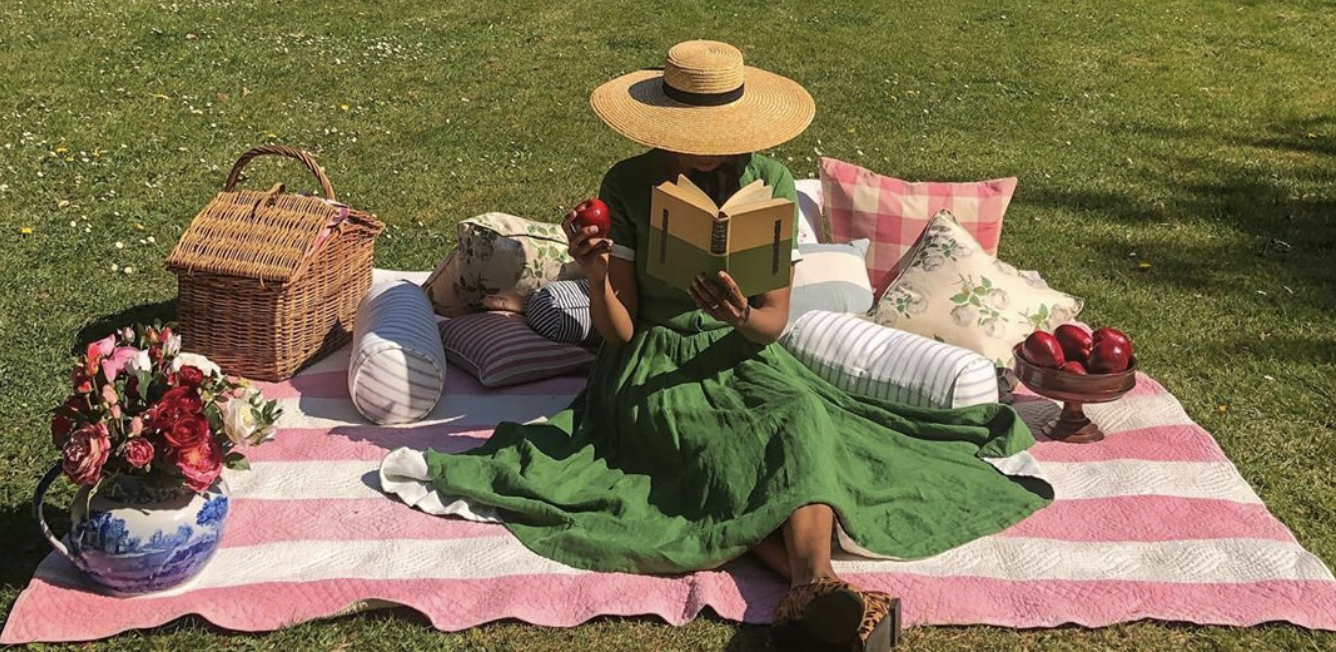 Please Let Black Women Express Joy
It's not a flex—it's about finding happiness during these uncertain times.
On April 24, Paula Sutton, a Black influencer, was indirectly called out last week by writer Liv Siddal.
Siddal took screenshot of Sutton's Instagram and posted it to Twitter, writing "Deleted Instagram for the first time ever (eight years!). Don't know when I'll be back, but let it be known that this was the image that did it." The photo in question featured Sutton having a picnic and reading in front of a cute cottage. People were quick to point out that white women run these kinds of vintage accounts all the time and receive no commentary, while a Black woman is bashed for being happy in the middle of a global pandemic.
Sutton is behind the Instagram account Hill House Vintage, which she uses to showcase her love for English country house styles. Sutton didn't do anything other than live her best life and document it for Instagram, which is basically what the social media platform is for. Also, Sutton's homey, 50s and 60s-inspired lifestyle is her thing, and it clearly makes her happy.
Since the COVID-19 pandemic began, critics have been demanding that celebrities (and people with large platforms) express some sort of solidarity with the working class. It quickly became clear that a celeb rendition of John Lennon's "Imagine" did not count, and that a collective "opening of the purse" by the rich and famous would suffice. The handling of the pandemic itself has also further exposed class divides since some people who were exposed to COVID-19 have died, while asymptomatic stars were granted access to tests. People are watching their faves closely online, as they flaunt their lifestyles and talk about how blessed they are in comparison to others. It's not a good look and people have a right to be upset.
But with that, there's a difference between flexing and genuinely being happy online. It's pivotal that we allow ourselves, and others, to express simple joys.
"I – like many people – started this account to talk about the things in life that make me happy; Architecture, A styled room here, a cushion there, a baked cake, a summer dress or a bunch of flowers…," Sutton wrote on Instagram after the incident. "It turned into a space where I felt comfortable to show my face and to also write a little about my feelings of positivity and being grateful, and more recently exploring my feelings of loss in losing my mother whilst still trying to seek out joy." Support poured from fans, new and old, as they defended Sutton's desire for small pleasures.
"I…REALLY love that Paula was like "I know what my page is and what it's for and you'll be aight," wrote music industry veteran Naima Cochrane on Twitter.
The digital fun police shouldn't try to drag anyone, especially a Black woman, for doing her best to make herself happy right now. There's enough plaguing us during this pandemic, and beyond.
Photo credit: Instagram