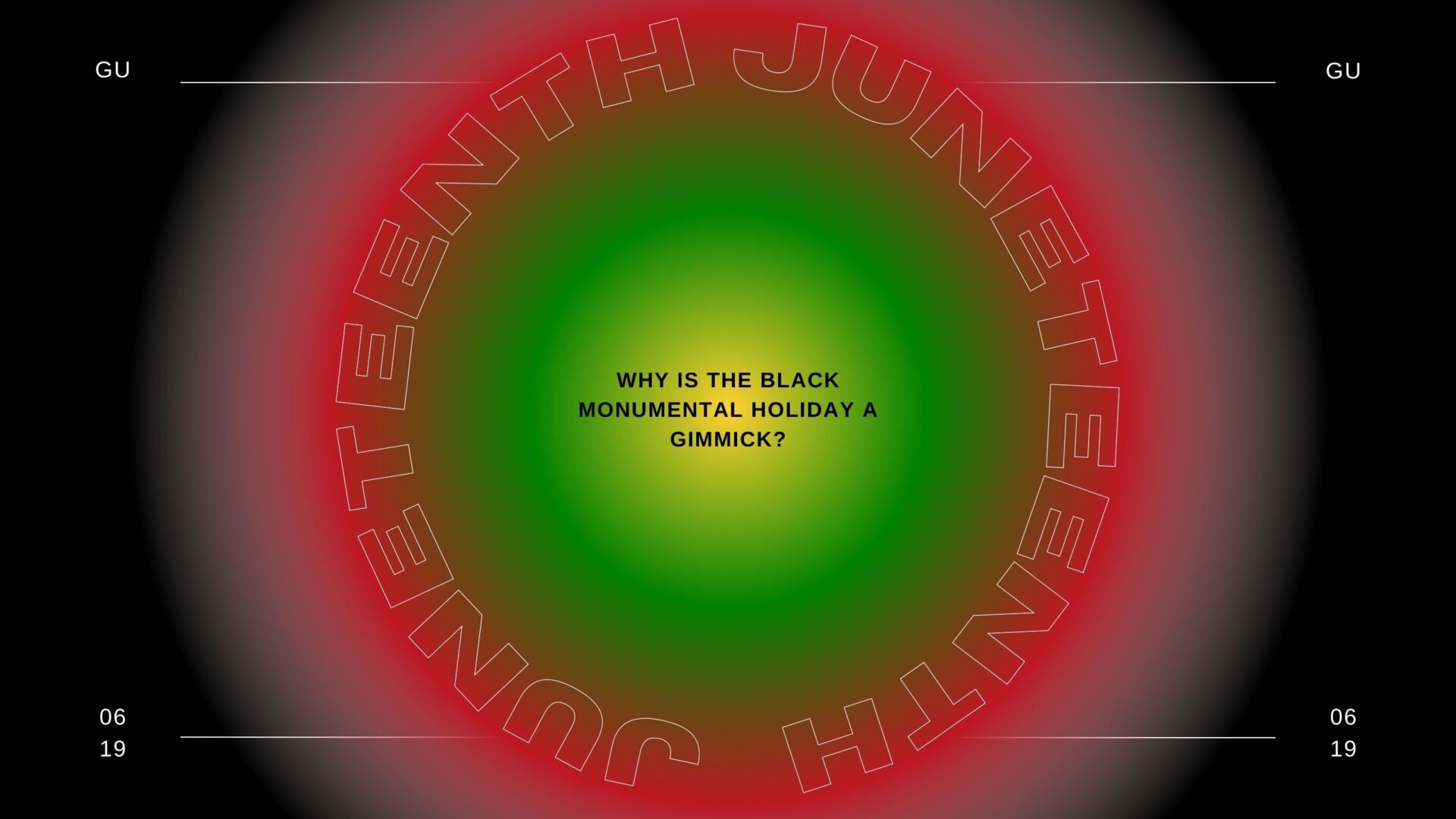 America Has A Problem: The Exploitation of Juneteenth
Why is the monumental Black holiday full of gimmicks?
How much did you know about Juneteenth before it became a federal holiday in 2021? If your response is very little, then your response is right in line with most Americans.
According to the Gallup Study on Black Voices, over a quarter of Americans admitted to having little to no knowledge about this pivotal moment in American history. Although Juneteenth has been celebrated by Black Americans since 1865 to honor the emancipation of enslaved individuals, it has unfortunately remained largely overlooked by the broader public, reflecting a wider pattern of neglect and omission of Black history.
Juneteenth – also known as Freedom Day, commemorates the historic moment on June 19th, 1865, when Union troops arrived in Galveston, TX, proclaiming the emancipation of enslaved individuals. This news arrived two years after President Abraham Lincoln signed the Emancipation Proclamation, legally freeing all slaves. Ever since, people in Texas and various other states have observed this day with meaningful traditions such as family gatherings, parades, and music festivals.
How did this event, once centered around freedom and celebrated by Black Americans, devolve into an exploitative and profit-driven enterprise for companies that disregard the true significance of this day to the Black community?
Read 'The History Of Juneteenth'
In 2020, the tragic death of George Floyd at the hands of police officers reignited long-standing issues of racism and violence against Black individuals in America. As Juneteenth arrived just three weeks after this incident, the atmosphere shifted from celebration to contemplation and vocal opposition against police brutality and the ongoing struggle for true freedom in a country that continues to oppress marginalized communities.
The Seattle Times highlighted the sentiment expressed by LaNesha DeBardelaben, President and CEO of the Northwest African American Museum, who organized a nine-day Juneteenth celebration in 2021. She stated, "It was a time of questioning. We had to question what freedom truly meant and are we really free? Now it's in front of everybody and on everybody's minds."
In an attempt to address the concerns of Black Americans through a symbolic gesture rather than implementing effective solutions to address police brutality, President Joe Biden pushed through legislation to make Juneteenth a federal holiday on June 17, 2021. During the commemorative event held at the White House, Opal Lee, an esteemed 89-year-old activist, was rightfully acknowledged as the "grandmother of the movement to make Juneteenth a national holiday."
Read 'Walmart Pulls Juneteenth-Inspired Ice Cream And Apologizes'
With more people now aware of the holiday, America's inclination to capitalize on such occasions came to the forefront, diluting the true significance of the holiday in pursuit of profit. Moreover, this heightened awareness of Juneteenth prompted various organizations to partake in its celebration without the meaningful inclusion of Black individuals. One notable instance was a soul food Juneteenth event in Arkansas, where an all-white panel was chosen as hosts, sparking a viral conversation on Twitter that eventually resulted in the event's cancellation.
Last year, Walmart faced backlash for its Juneteenth ice cream collection titled "Celebration Edition: Juneteenth Ice Cream." The packaging depicted Pan-African colors and Black and brown hands, sparking widespread criticism and public conversations on social media. Following the backlash and public outcry over its insensitive marketing approach, Walmart apologized and later removed the ice cream from its shelves. Similarly, Dollar Tree also attempted to capitalize on Juneteenth by introducing a product line of napkins, cups, and other utensils.
These actions showed a lack of thoughtfulness in marketing these products, as they failed to consider the holiday's true significance for Black people. Instead of launching its own generic brand, Walmart could have readily partnered with a Black-owned company to distribute Juneteenth products or even allocated profits from the Juneteenth line to support and contribute to a Black organization.
These types of exploitative marketing are not unique to Juneteenth, though. America has a problem of using marginalized groups for profit while doing nothing to enact policies that will protect and support these groups. This pattern is evident during observances like Pride Month, Black History Month, and others, where companies change their logos, issue diversity statements, and offer merchandise, only to revert to their discriminatory practices once the month ends. Malcolm X said best that "the white man will try to satisfy us with symbolic victories rather than economic equity and real justice."
Juneteenth was designated a holiday to commemorate our freedom while acknowledging the urgent need for policies and systemic change to protect Black lives. However, not much has been done to address the issue of police violence against Black individuals. Incidents like George Floyd are still happening in the cases of Tyre Nichols, Keenan Anderson, and Darryl Tyree Williams. The provision of Juneteenth-themed ice creams, shirts, and kitchen utensils does little to address the underlying concerns. Black people want racial equity and the freedom to live without the constant fear of losing their lives at the hands of law enforcement.
According to Lizette Williams, a marketing and advertising executive, companies that genuinely want to make a difference and uplift Black communities should prioritize supporting Black-owned businesses by engaging them as contractors and suppliers.
Additionally, they should create systems that empower their Black employees through sustainable recruitment and advancement programs. Lastly, companies can significantly impact by contributing scholarship funds to Historically Black Colleges and Universities (HBCUs) to support students. Meaningful change and equitable practices stem from actionable measures rather than product sales that do little to improve the lives of Black Americans.