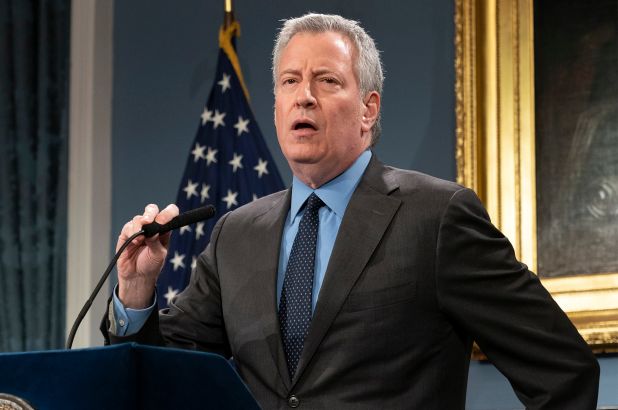 Mayor de Blasio Has Ordered That New York City Schools Be Closed
It will go into effect today.
Last night, New York's mayor, Bill de Blasio announced that all schools in New York were to be closed, effective immediately. De Blasio said during a press conference that this decision was a tough one.
"To say the least, this is a very troubling moment, a moment where I am just distraught at having to take this action," he said.
He shared that there are 329 cases of COVID-19 in New York City, and that 5 people have succumbed to the illness.
Public schools will stay closed until April 20, while de Blasio also made it known that there's a possibility that they be closed for the rest of the school year. Students will begin learning remotely starting on March 23. From March 17 – 19, students will be able to pick up the technology that will enable this transition into digital learning.
Free meals (breakfast and lunch) will be available to students for the next week only. De Blasio shared that these "grab and go" meals will be able to be procured without students having to enter their schools.
His apprehension to close schools stemmed from the knowledge that essential workers who are parents might have a hard time securing child care, which was a valid concern.
"Regional Enrichment Centers will be available for the children of first responders, healthcare workers, transit workers, and our most vulnerable student populations, with more details to follow," New York City's site for public schools reads.

Another primary concern is how homeless children and their parents will cope with this new reality.
According to a 2019 report from Advocates for Children, over 100,000 students were homeless last year. The majority (roughly 74,000) were staying with family members, while approximately 34,000 lived in homeless shelters. The spread of COVID-19 will undoubtedly affect family dynamics and shelters. We also must consider children who are living in cars, abandoned buildings, subway stations and other equally precarious situations.
With some students are living in such intense conditions, it's not a stretch to say that learning may be impaired by this crisis.
COVID-19 is affecting businesses as well.
Last night, Mayor de Blasio released a statement that he was ordering the shutdown of all entertainment venues, clubs, movie theaters, and small theatre houses. "Our lives are changing in ways that were unimaginable just a week ago," the statement began.
Restaurants, cafes and bars will also be restricted to delivery and take out. Occupancy of restaurants must remain at 50% or below, or establishments will be fined. This matters, as restaurants (and other spaces) with wifi are how students have no other ways access to internet may have been completing work.
It is imperative that we comply with these new regulations, as well as have serious conversations about how all of these ordinances will affect school-age students.
Photo credit: New York Post