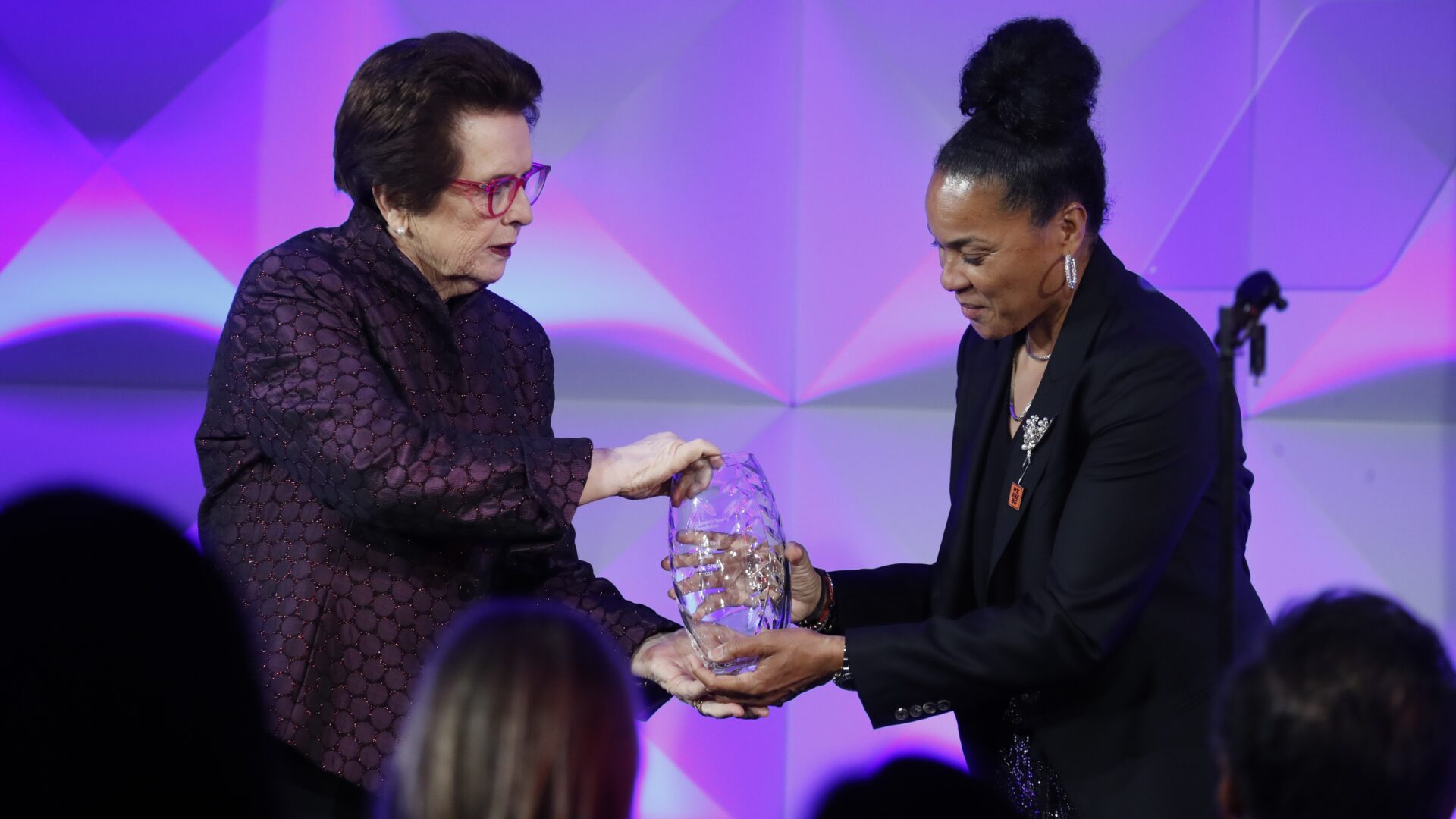 WNBA Legend Coach Dawn Staley Receives Two Awards Honoring Her Career
The University of South Carolina's head coach is crushing it.
Congratulations to coach Dawn Staley! The University of South Carolina's head coach is being recognized for her achievements in sports.
On October 12, she received the Billie Jean King Leadership Award at the Women's Sports Foundation's Annual Salute to Women in Sports. Named after the tennis icon Billie Jean King, the award recognizes those "who champion equal rights, opportunity and access in sports, regardless of race, gender or any other factor," according to Ebony.
Staley has been committed to equality on and off the court. "We've been having some pretty good success partnering with people who feel all-team deals are a great thing. We just signed a deal giving all our players a minimum of $25,000," she said, according to Ebony. "We partnered with a company called Rewind that has given our players equity in ownership. It's a startup company (concerned with) diabetes because diabetes is very prevalent in South Carolina. Our players will bring awareness to Type 2 diabetes, so there will be generational health in people of our community."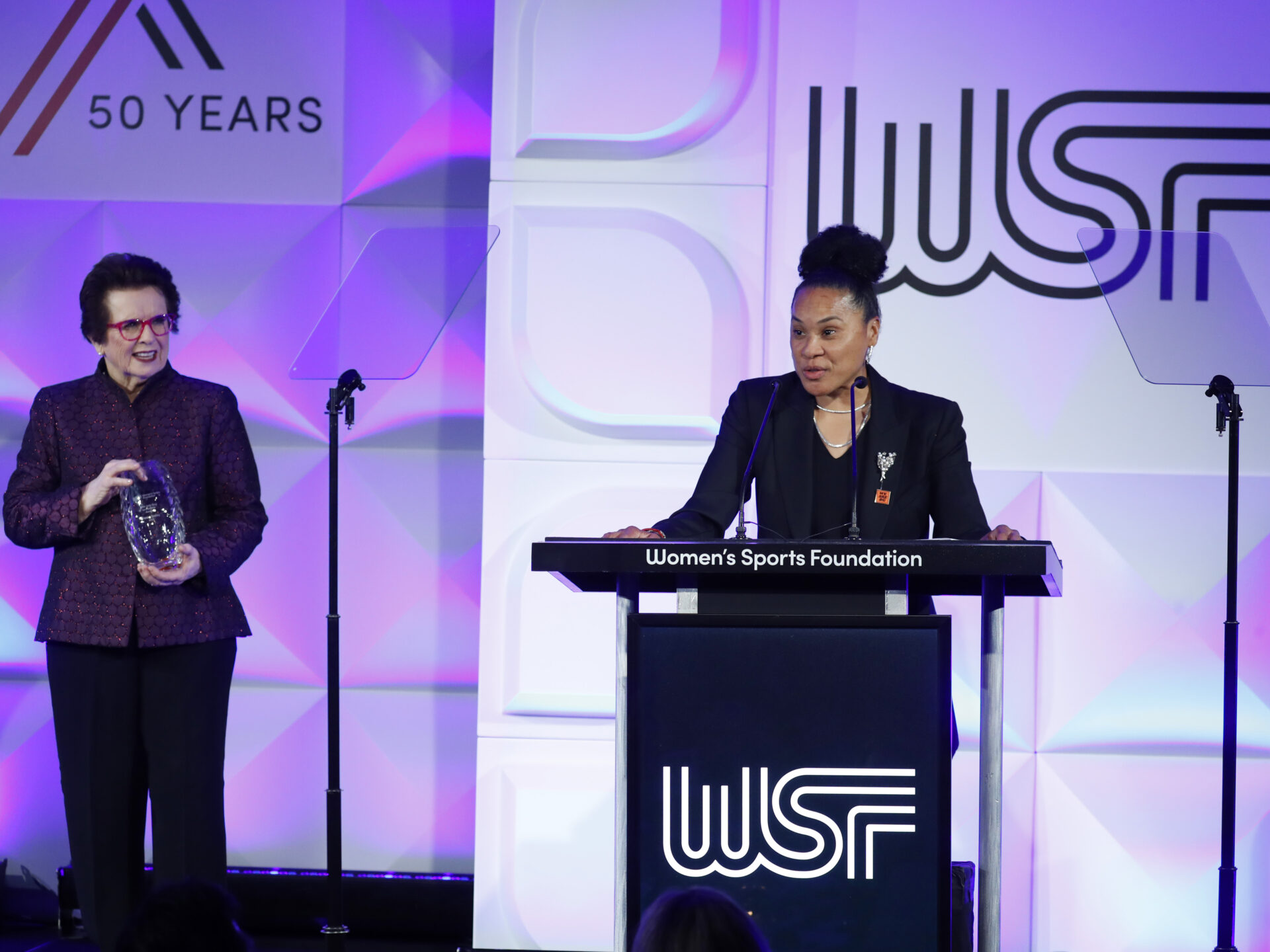 Pictured Above: NEW YORK, NEW YORK – OCTOBER 12: Women's Sports Foundation Founder Billie Jean King presents Billie Jean King Leadership Award to recipient Dawn Staley on stage during The Women's Sports Foundation's 2022 Annual Salute To Women In Sports Gala at Pier Sixty at Chelsea Piers on October 12, 2022 in New York City. (Photo by John Lamparski/Getty Images for WSF)
The coach was also the recipient of the 2023 John R. Wooden "Legends of Coaching" Award.
Dawn Staley recently led the U.S. women's basketball team to its seventh gold medal at the Tokyo Olympics, according to the AP. She is herself a six-time WNBA All-Star and has won three Olympic gold medals during her playing career. 
Staley is the highest-paid Black head coach in women's basketball. When she arrived at the University of South Carolina 14 years ago, she made history by becoming the second Black woman to win an NCAA women's basketball title in her first year, according to Because Of Them We Can. Just this year, she made history again by becoming the first Black coach in Division I to win multiple championships.
Off the court, Staley likes giving back to the community via INNERSOLE, a non-profit she started to "provide new sneakers to children in need."
Online, she has been advocating for the safe return of WNBA star Brittney Griner, who has been detained in Russia since February 2022.
About Kyra: Kyra Alessandrini is a news writer at Girls United and a freelance journalist. Her work has appeared in publications such as Time, The Hollywood Reporter, InStyle, and Elle. Born in New York and raised in Paris, France, she is passionate about culture, street photography, and travel.
Photo Credit: NEW YORK, NEW YORK – OCTOBER 12: Women's Sports Foundation Founder Billie Jean King presents Billie Jean King Leadership Award to recipient Dawn Staley on stage during The Women's Sports Foundation's 2022 Annual Salute To Women In Sports Gala at Pier Sixty at Chelsea Piers on October 12, 2022 in New York City. (Photo by John Lamparski/Getty Images for WSF)