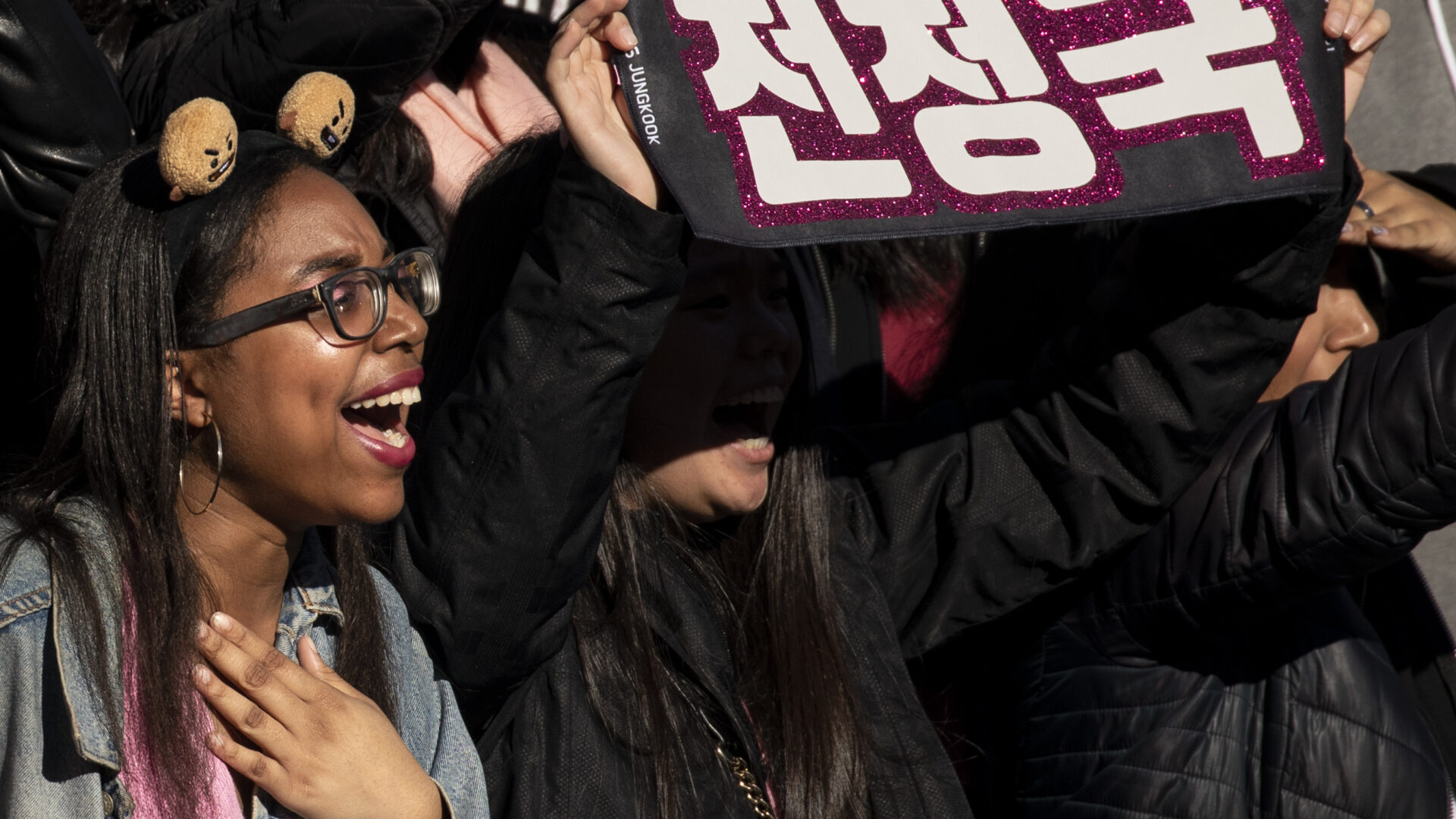 Why Black K-Pop Fans Need Safe Spaces
Black K-pop supporters have long needed a virtual expanse to be themselves without judgement.
Participating in fandoms provides a chance to communicate with those who have overlapping interests. For some Black K-pop fans though, this is not universal. From experiencing racism to cultural appropriation at the hands of stars, Black women sometimes have a difficult time finding safety with these online communities. Fortunately, we're able to carve out safe spaces for ourselves. 
Whether you're a ReVeluv (a fan of the girl group, Red Velvet) or a multifan (being a fan of multiple K-Pop groups), there's an online space for you to interact with other Black fans, even if they live halfway across the world.
When speaking to Debbie, she tells me that her Twitter timeline brings her joy. As a fan of BTS and BLACKPINK she says, "I prefer to follow stan accounts run by Black women because it's easy to avoid any insensitive topics. Also, whenever a new song has more of an R&B or hip-hop vibe to it, the commentary from some Black stan accounts is much more fun and very funny. For me, it's more community [oriented]." 
Stitch, a digital culture analyst, notes that Black fans are creating their own outlets, citing the rise of Black K-pop podcasts such as 106 & Seoul, It's the Melanin For Me and HallyuAtYou. With these havens, Black fans are able to dive into their love for K-pop and the complexities within the larger community and most importantly, create a conversation.
Stitch also mentions the rise of 'reader inserts', e.g 'Y/N' ("your name") in fanfiction is another way some Black K-pop fans organize their spaces. Essentially, fans get to insert themselves into the stories they create and connect with other readers and writers. For Stich, it's about creators being seen, focusing on the Black reader and maintaining a connection with fanfiction readers. Fanfiction is overwhelmingly white and for Stitch, it's more so about "I couldn't see myself in fanfic, I would like you to see yourself." 
"These tense moments are why Black fans need their own spaces."
There is no denying that non-Black fandom spaces can be racist at times, with Black fans having called out digital racial violence over the years. In July 2021, Black fans of Enhypen were attacked on social media after saying that a member, Heeseung, allegedly mouthed the N word while listening to SZA's 'Love Galore'. The majority of the abuse took place on Weverse, an app where fans can connect with their favorite K-pop artists. Black ENGENEs experienced so much stress and racist abuse that a protective account, the Black Engene Protection Team, was formed to monitor and report any anti-Blackness.
It's also not uncommon for Black fans to stop supporting certain artists following problematic instances, be it cultural appropriation or culturally insensitive situations. One controversial moment was when Hongjoong from the group ATEEZ wore cornrows in 2020. An apology was then issued by his company, which was met with mixed responses from fans. Some didn't see the harm in the recreation of a hairstyle with deep roots in the Black community, while others were deeply offended. "I think when Black Americans see others wear our traditional hairstyles, it's communally triggering to us on a conscious and subconscious level," wrote Monique Jones, founder of Color Web Mag, in a post about the incident. This, like many contentious moments, led to debates within the wider Black K-pop community over people letting their favorite artists pass over a Black beauty method. 
These tense moments are why Black fans need their own spaces.
To celebrate the diversity of K-pop fans, specifically Black ones, there are SELCA days designated for Black listeners, such as BlackOutBTS. Since it was created in April 2020, it's become K-Pop Twitter tradition to post a selca (selfie), imitating a selca from your favourite K-pop idol, once a month.
"BlackOutBTS is made for the fans who get the most silenced within the army: [B]lack people," one Tumblr user wrote. "We get constantly ridiculed, ignored, attacked and disrespected within the army and we as a cohesive unit are sick of it. #BlackOutBTS is a selca day for just us to showcase our beauty, admire our bias in any way we choose to and for once get some shine. This… isn't to exclude anyone, this is to raise up those who don't receive inclusion." The monthly occurrence is looked forward to and is a positive moment of connection amongst fans.
There's also a growing community of Black K-pop fans on TikTok. In March 2020, three Black NCTzens (NCT fans) created a viral TikTok dance, called the "Kick It" challenge based on NCT's song of the same name. The Chicago natives got noticed by NCT themselves when they created their own video. The girls behind the dance challenge (Kia, Ariana and Georgay) became close in high school and have since allowed their in-person connection to make way for others to find friends online. "The girls now have a 'concert family' of other fans from Twitter that they meet up with for Chicago shows," wrote a 2020 Teen Vogue article.
Black K-pop supporters have long needed a virtual expanse to be themselves without judgement. This is where curated profiles and clubs have come in, offering creative hubs to celebrate ourselves and our interests. With the flaws of fandoms overall, these spaces are necessary and provide various communities for Black fans. I hope these lanes continue to grow, so all Black K-pop fans feel seen and heard.