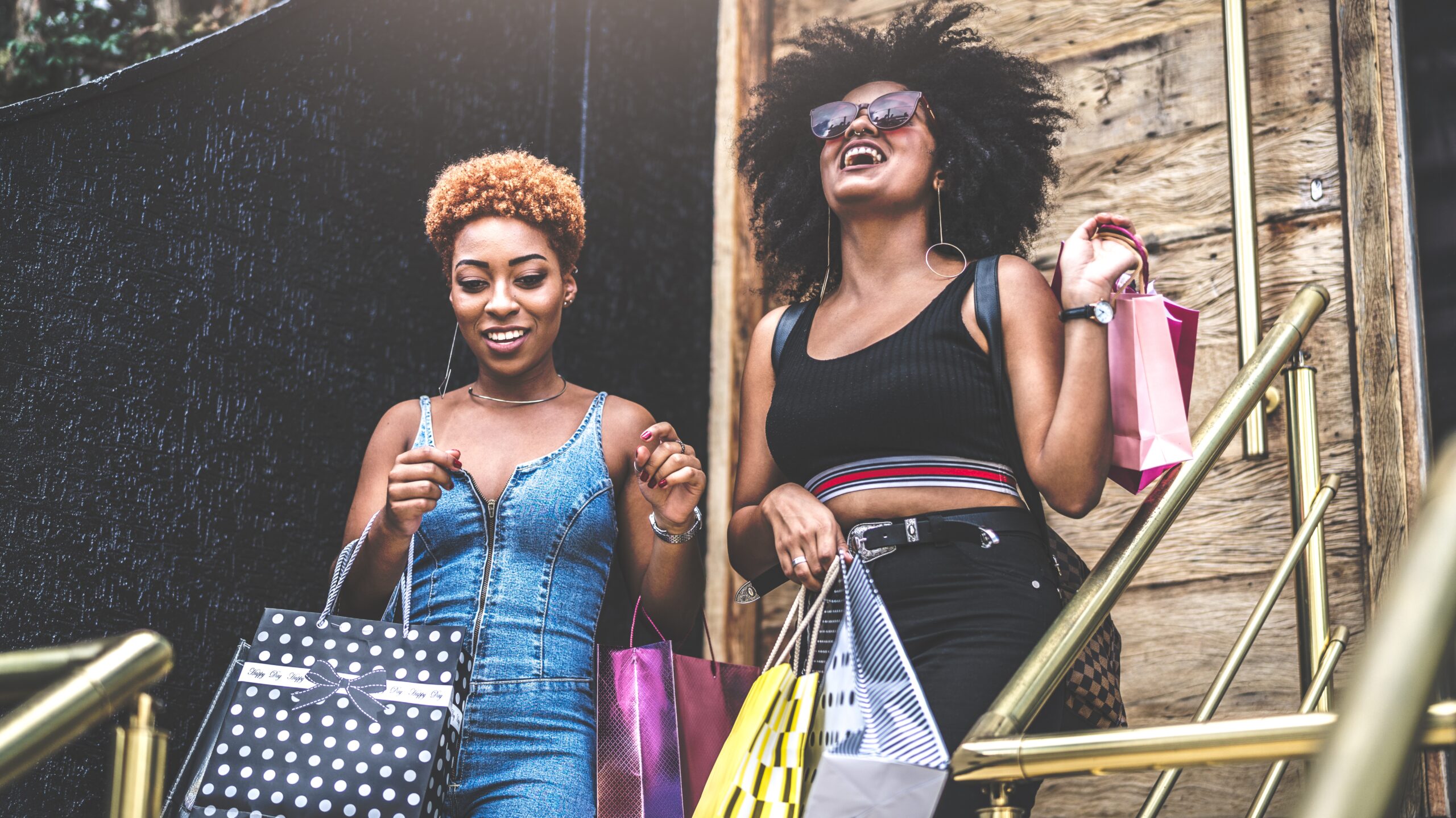 24 Of Our Favorite Black Girl Generation Z-Owned Businesses
Just in time for Black Business Month, we selected some of our favorite businesses that are for us, and by us.
As you may, or may not know, August is National Black Business Month. Created from passions, dreams, and goals, Black people – Black women – are the epitome of the entrepreneurship world, right now. We see our favorite influencers and celebrities creating their own unique brands from Lori Harvey's SKN by LH skincare brand to Reginae Carter's I Fit In athleisure brand. We see Black girls lead the pack as the most innovative, creative, and forward-thinking group in entrepreneurship, so why not uplift those young girls who are doing everything to make their entrepreneurial dreams come true?
From beauty to fashion and wellness, we've compiled some of our favorites. Let's celebrate them not only this month but the other eleven as well:
Beauty:
OMG J Collection is a lipgloss company, created by influencer @OMGJackieee. From shades available from pink lemonade to rose quarts, the OMG J Collection will have your bubble gum poppin' all day long! Did we mention that she also sells lashes and body butter? Follow @omgjcollection.
Nails by Nixxie is a press-on nail company, specializing in hand-painted and made-to-order nails. With custom options available, Nails by Nixxie will have your nails poppin' in the click of a button and no wait at the nail shop! Follow @nailsbynixxie.
Nude Cosmetics give you the perfect nude lip, no matter your skin tone. Ranging from light and sheer nude color lip glosses, to their recently added red, Nude Cosmetics has the nude for you. Follow @nudecosmetics.co
Buttercreme Beauty is the "dessert for your body." Known mainly for their "body frosting," which are a range of scented shea butter-based body butters, Buttercreme will leave your skin feeling and smelling good, all day long. Follow @buttercremebeauty
Imania Beauty is a haircare brand that focuses on all hair types, encouraging hair growth with their hemp-based high-maintenance elixir. With a blend of healthy oils, Imania's customers have seen regrowth of edges, relief of dandruff, and more. Follow @imaniabeauty
The K'Luxe Experience is a vegan and cruelty-free cosmetic line that creates highly-pigmented lip products with the everyday woman, of all shades, in mind; in addition to handbags and totes celebrating everyday Blackness. (Note: The K'Luxe Experience's founder is the author of this story!) Follow @kluxe.experience
Fashion/Style:
Goddess Expressions is a luxury loungewear brand that encourages others to embrace their inner goddess. Known for their satin-lined caps, Goddess Expressions' caps protect your hair on good and bad days while still making you feel like a goddess. Follow @goddessexpressions
More than Peach was created with one goal in mind: to change the world, one crayon at a time. When an elementary schooler realized that her crayons didn't have diverse colors like the people around her, she vowed to make a change; and the change is now in crayon boxes online and in Target stores. Follow @morethanpeach
Pretty Dope Society is a line of back-to-school items, created with Black children in mind. While many young Black kids have yearned to see themselves represented on backpacks, notebooks, and other school supplies, this mother and 9-year-old daughter duo have filled that gap. Follow @prettydopesociety
Belle Business Wear allows women to serve looks while remaining professional. With their colorful and fashionable suits, every woman walks into boardrooms in stride. Follow @bellebusinesswear.
Harper Ray is an accessories brand that features water and tarnish-resistant jewelry that'll make your skin shine. From custom jewelry to everyday pieces, Harper Ray has the iciest jewelry around. Follow @shopharperray
Flexin' In My Complexion was founded by none other than Kheris Rogers. The clothing brand includes tee shirts, hoodies, and more celebrating the diversity of melanin amongst beautiful young Black queens. Follow @officialflexininmycomplexion.
Haute Boutik features outfits that are for sure conversation starters. With bright colors and patterns, Haute Boutik's clothes will pop on all shades of melanin. Follow @hauteboutik
Services/Consultations
Proxie is a small business coaching organization that focuses on providing Black women with business funding resources, technical assistance, and more. Creating a community of over 1,700 business owners, Proxie uses consultation funds to give back to the Detroit community. Follow @goproxie
Ki Takeaways is a communications and branding agency that gives PR tips and has a goal of elevating brands through content creation and communications. Clients range from wellness, food, and beverage to nonprofits; landing them coverage in national and local media outlets. Follow @kiana_thepublicist
Jas Talks Law provides law school preparation and coaching for aspiring lawyers, as well as legal advice for small business owners. Follow @jastalkslaw
The Selfie Showroom is Florida's first Black woman-owned selfie museum and the photographer behind the business has a 2,400 sq. ft. space that is Insta-ready. With scenes from airplanes to gardens, this spot is two words: picture perfect. Follow @selfieshowroom
J.McKee & Co. (JMC) is a public relations agency focused on building their clients' brands through marketing, brand management, crisis communications and more. JMC has worked with brands from Facebook to MTV and landed clients in major outlets like GMA and Vogue. Follow @j.mckeeandco
Created 2 Create (C2C) is a space for creatives to do what they do best: connect and create. With a host of events, career tips, and motivational posts, C2C is the perfect place to get – and keep – creative juices flowing. Follow @c2c.nyc
Wellness, Mental Health, and Self-Care
Eye of the Storm Candles creates natural soy wax candles to "soothe the storm in you." With scents meant to be relaxing and fresh, Eye of the Storm's candles, wax melts, and body products are designed and handmade with the intention of a good scent to give all the luxury feels. Follow @eyeofthestormcandles
Evolving Still is a lifestyle brand offering guided journals, mood calendars, apparel, and more. Focusing on self-care, Evolving Still is a reminder to put yourself first, even as you're evolving! Follow @evolvingstill365
BYOC, or "Be Your Own Cheerleader," is a personal training company that teaches others about healthy lifestyles and staying fit – even if you have to cheer yourself on. BYOC hosts an encouraging chat room for those in need of encouragement through their health journey, as well as in-person training sessions in the Metro Detroit area, and occasional ZOOM fitness sessions. Follow @byoc.fit
BW Cultivates encourages Black women to ignore the noise in the outside world, and truly focus on making themselves better. With Self-Discovery and healing programs, a healing journal, and Instagram Live sessions, BW seeks to inspire others through their work and support. Follow @bwcultivates
W is an athleisure brand focused on providing athletic wear for women in their everyday lives. W promotes healthy lifestyles, fitness, and more, but the clothes are so cute that you may not even make it to the gym! Follow @wbycrystalwhite
About Kyla L. Wright: Kyla L. Wright is a contributing writer at Girls United and was born and raised in Detroit, Michigan. She is a proud graduate of Hampton University and Syracuse University and her beats include opinion, entertainment, sports and lifestyle.