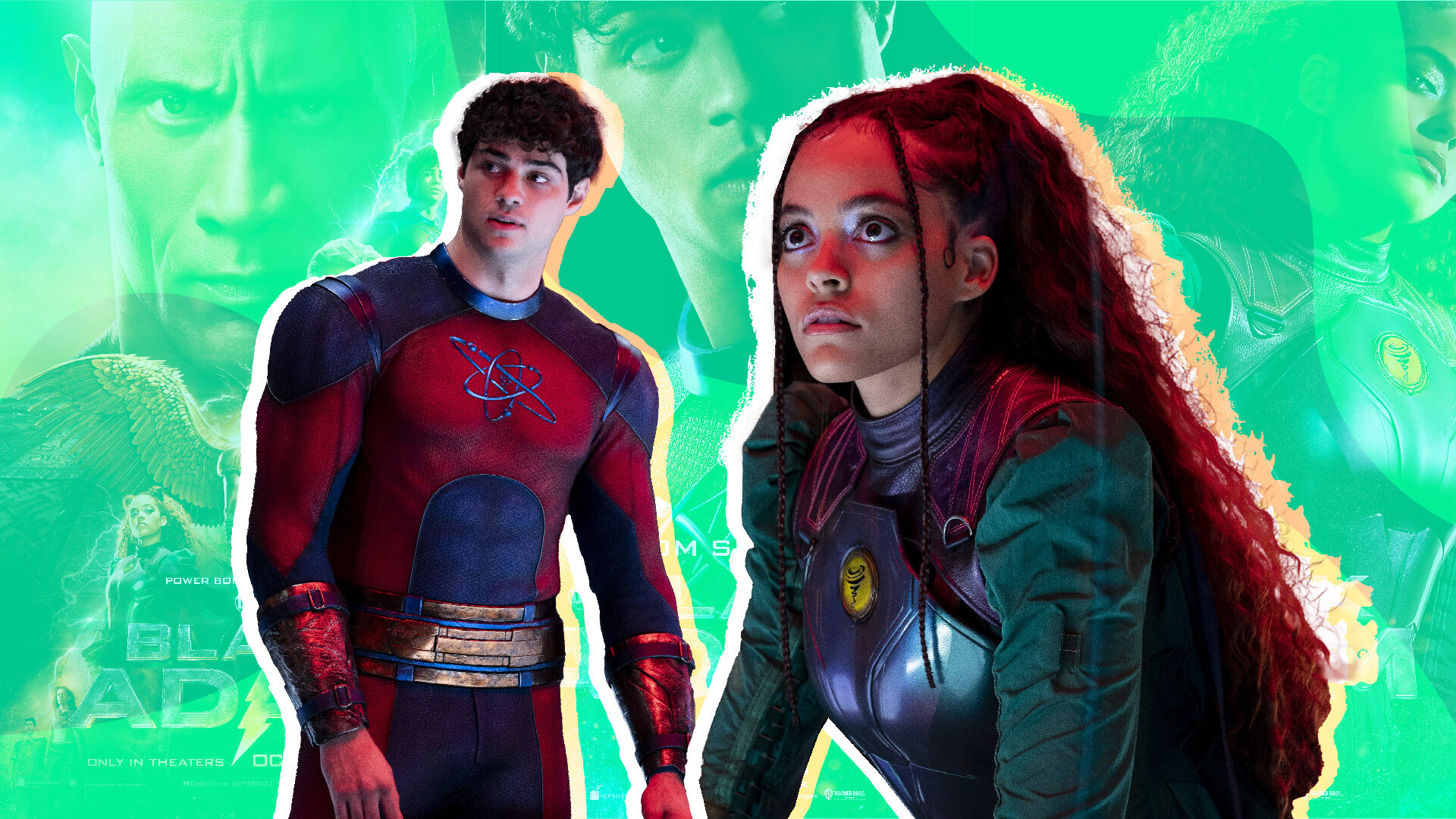 Quintessa Swindell Reflects On Chadwick Boseman's 'Monumental' Impact In Superhero Universe Representation
The former 'Trinkets' actor will star in DC Comics' 'Black Adam', premiering Friday, October 21
There are movies and then there are highly-anticipated surefire blockbuster hits. Black Adam is predicted to be the latter. The DC Comics film starring Dwayne "The Rock" Johnson, Aldis Hodge, Noah Centineo, and Quintessa Swindell is slated to release on Thursday, October 21 via Warner Bros. Pictures and will follow the story of Teth Adam, who has been bestowed powers from the gods in Ancient Egypt. After using his powers for vengeance, Black Adam is imprisoned for 5,000 years, wakes up to the label of an anti-hero, and crosses paths with Swindell's Cyclone and Noah Centineo's Atom Smasher, who are part of the Justice Society of America.
When I spoke with Swindell and Centineo about their decision to join the DC family, Swindell first chimed in to note their gratitude for the opportunity to be part of something as large as this film. "I auditioned for it; I feel like a lot of people did. Then, [I] had a little meeting with my boy here and that was amazing," the former Trinkets star told Girls United as they playfully pat Centineo on the back while he smiled.
"Next thing I know, I was going to be shooting it. I don't know, it's honestly the biggest blessing I feel like I've had so far in my career. The amount of trust that I think was given to me to play the character, I just really respect and I'm very thankful for." As Centineo smiled and turned to his right to look at Swindell, the former The Foster actor reminisced on his decision to be part of the film. After meeting with director Jaume Collet-Serra to discuss the Black Adam vision a few years ago, Centineo was honored to be part of a film that Johnson would consider his baby "for almost a decade, maybe longer now," he said.
"Even to be sitting at a table with a director like Jaume and to have an open conversation about the film was mind-blowing to me," the To All The Boys I've Loved Before actor said. "Of course, I was like, 'well, listen, if you'll have me, I would love to,' and somehow that occurred. We did a chemistry read and when Q and I read it was over zoom, it didn't feel like it was over zoom. Q came in with such an energy, a presence, a demand, and like a control of the character in a way that just stood out. When we finished the session, it was unanimous. It was simple. And so then, here we are."
After praising his co-star for their incredible audition, Swindell returned the favor by referring to Centineo as their "brother." Centineo added, "That's the best part of the job. You're lucky when that happens," as he referred to the natural chemistry between himself and Swindell that translates into the film.
Ahead of the Black Adam premiere, I had a chance to exclusively catch up with Swindell and Centineo about tapping into the roles of Cyclone and Atom Smasher, working on stunts, and the importance of representation in DC, Marvel, The CW, and all superhero universes.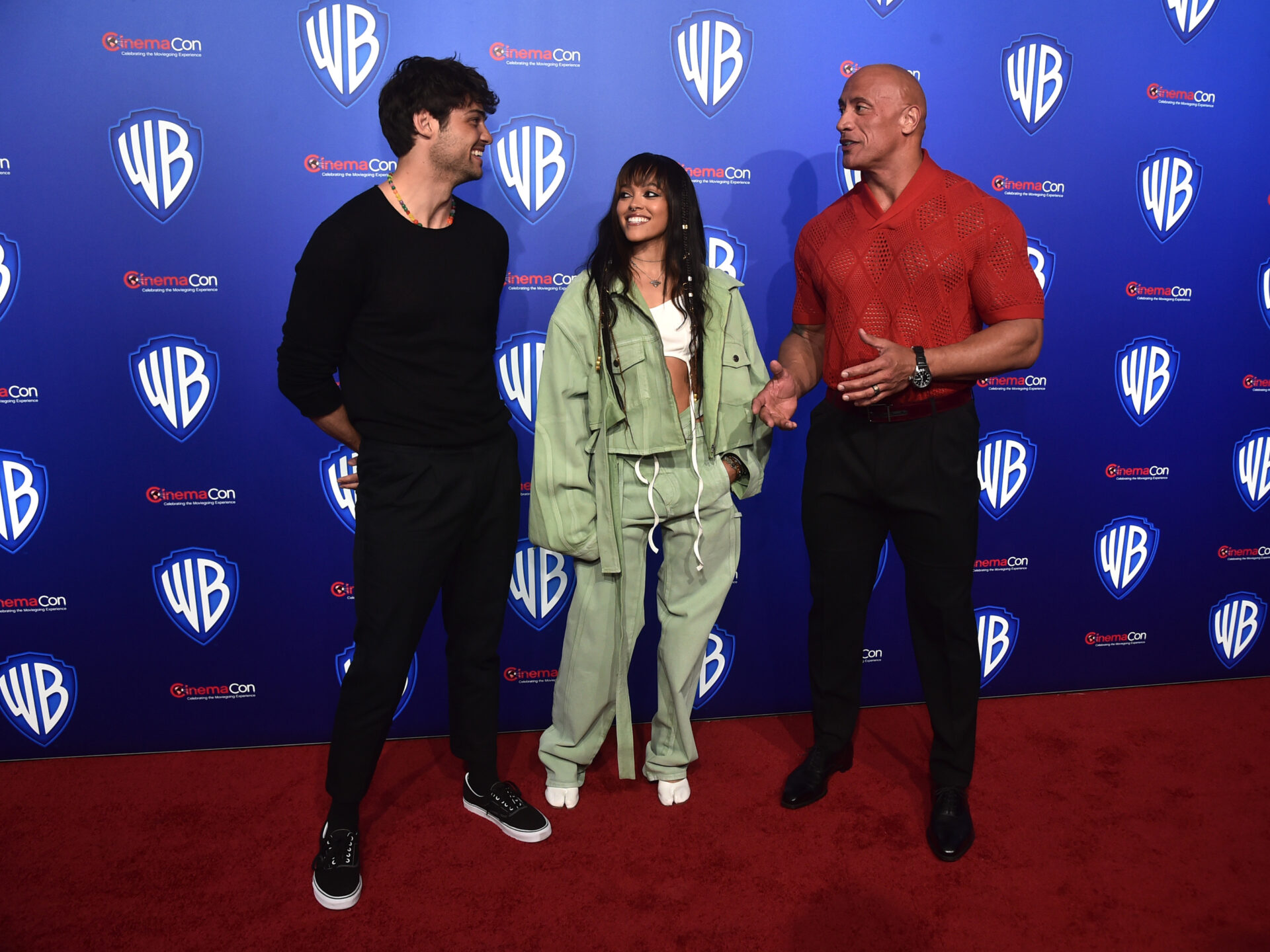 LAS VEGAS, NEVADA – APRIL 26: (L-R) Noah Centineo, Quintessa Swindell and Dwayne Johnson attend CinemaCon 2022 – Warner Bros. Pictures "The Big Picture" Presentation at The Colosseum at Caesars Palace during CinemaCon, the official convention of the National Association of Theatre Owners, on April 26, 2022 in Las Vegas, Nevada. (Photo by Alberto E. Rodriguez/Getty Images for CinemaCon)
On how their roles as Atom Smasher and Cyclone challenged them as actors:
Centineo: "Acting to a blue wall is pretty fun, right? That was definitely a new world. They did an excellent job with practical effects as well to build the world. If you have this massive thing coming at you, they would put a light up to help you react, which I know a lot of actors didn't have decades ago. It really felt like I was weirdly at my performing arts middle school, like a kid again on stage when they're like, 'Alright, this is happening, and this is happening. React!,' and it's just all imagination.
"I would say that was so new to me personally, but also incredibly fun. Atom Smasher's character's superpower is he can control his molecular structure and density, so he gets really big. I can't grow to 70 feet as a human being. I'm working on it. It's a sensitive subject. I'm working on it, but it's fine. Being able to figure out what that would be, the physics of it, the feelings of it, that was pretty cool."
Swindell: "I feel like when we first started to do like, 'The space is shaking. There's something coming at you,' I felt like I would try to do it and that felt so strange. Then I would look over to Noah and be like, 'what's he doing?' If he was doing it, I looked to Noah just as inspo and just as a guide to how to navigate all of this. For Cyclone, the way that Cyclone moves and emits her superpower is so unique and it's almost kind of a dance. There's a lot of modern dance that I was looking at for reference on movement and how you can not just do a typical I'm summoning up a tornado, but how does that influence the body and how could you do that in a really unique way?
"Doing that with the practical effects in the blue screen and smashing things as I'm going was difficult. At the same time, I started to realize how much I loved doing action sequences, getting comfortable with my body, and getting stronger and that comfortability. I would be [suspended in ropes] when they were still trying to figure it out as well. It was a whole collab. I would be suspended in the air, just with these two ropes and then they'd be like, 'Alright, cool. You're going to spin.' For I don't even know how long, so it was getting comfortable with spinning, which I didn't know I had a problem with. I was like, 'I'm not going to throw up,' and I didn't."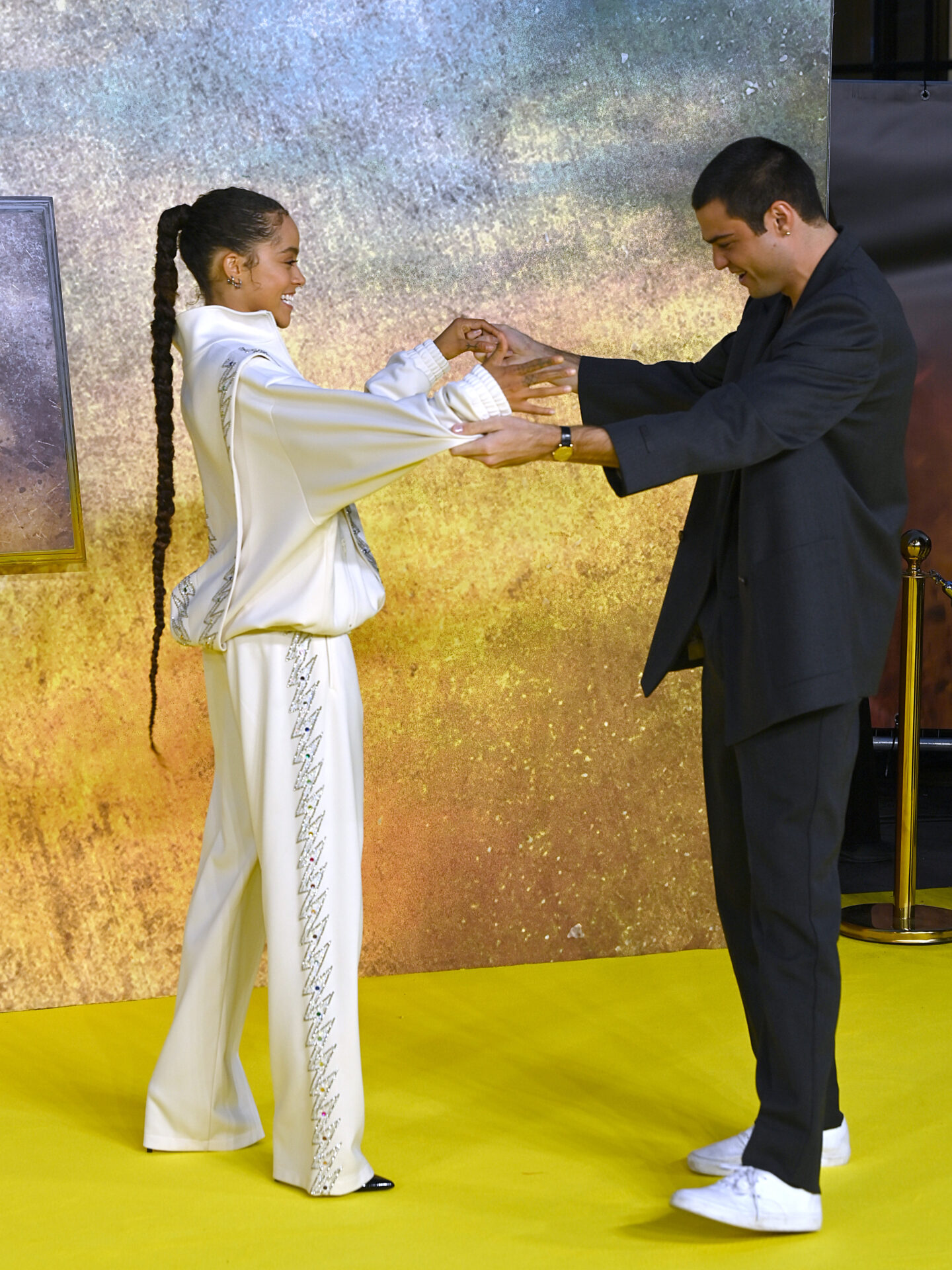 LONDON, ENGLAND – OCTOBER 18: Quintessa Swindell and Noah Centineo attend the UK Premiere of "Black Adam" at Cineworld Leicester Square on October 18, 2022 in London, England. (Photo by Eamonn M. McCormack/Getty Images for Warner Bros. )
On the incorporation of diversity and representation in fictional superhero universes:
Centineo: "I mean, it's the utmost important thing. I think if we're not striving for inclusivity, what are we striving for as a race, as an entire species? I mean, on this planet."
Swindell: "When we were shooting some of the scenes at the beginning, it was just my character going up to Hawkman (Aldis Hodge) and then seeing, 'This is what he has. These are the artifacts that he's cultivated, even from a character place.' I know this affects this character so much and Cyclone so much, and this is a living example of who she can be and what she can do, the good she can do with her powers, and different things like that. Even recently, when I saw that Hawkman has his own comic now, or the most recent Justice Society rendition of it, and then seeing my own and flipping to the first page, and then seeing a young version of Cyclone with these two women at the opposite end of the tables.
"Representation-wise, what does this do to young Black girls growing up who get to see themselves in comics and get to see a complex story of themselves and this beautiful portrayal of them that counts for something? It's not just one particular world versus another DC or versus Marvel or the CW. Collectively, representation gives people the opportunity to just truly see themselves in their dreams. Even with Chadwick [Boseman], may he rest, what that did for everyone was monumental. What that did for young Black boys, young Black girls, all different types of people, it matters. Even for me, Tessa Thompson is a massive representation too because this is another woman of color that I get to see her experience her superhero character and how that can inform mine. This matters.
Watch Centineo, Swindell, Aldis Hodge, and Dwayne "The Rock" Johnson star in 'Black Adam,' officially in theatres on October 21st. See the official trailer presented by Warner Bros. Pictures below!
About D'Shonda: Born and raised in Brooklyn, NY, D'Shonda Brown is the Associate Editor at Girls United. When she's not interviewing or writing, she enjoys running, dancing, buying sneakers, and binge-watching Lifetime movies.