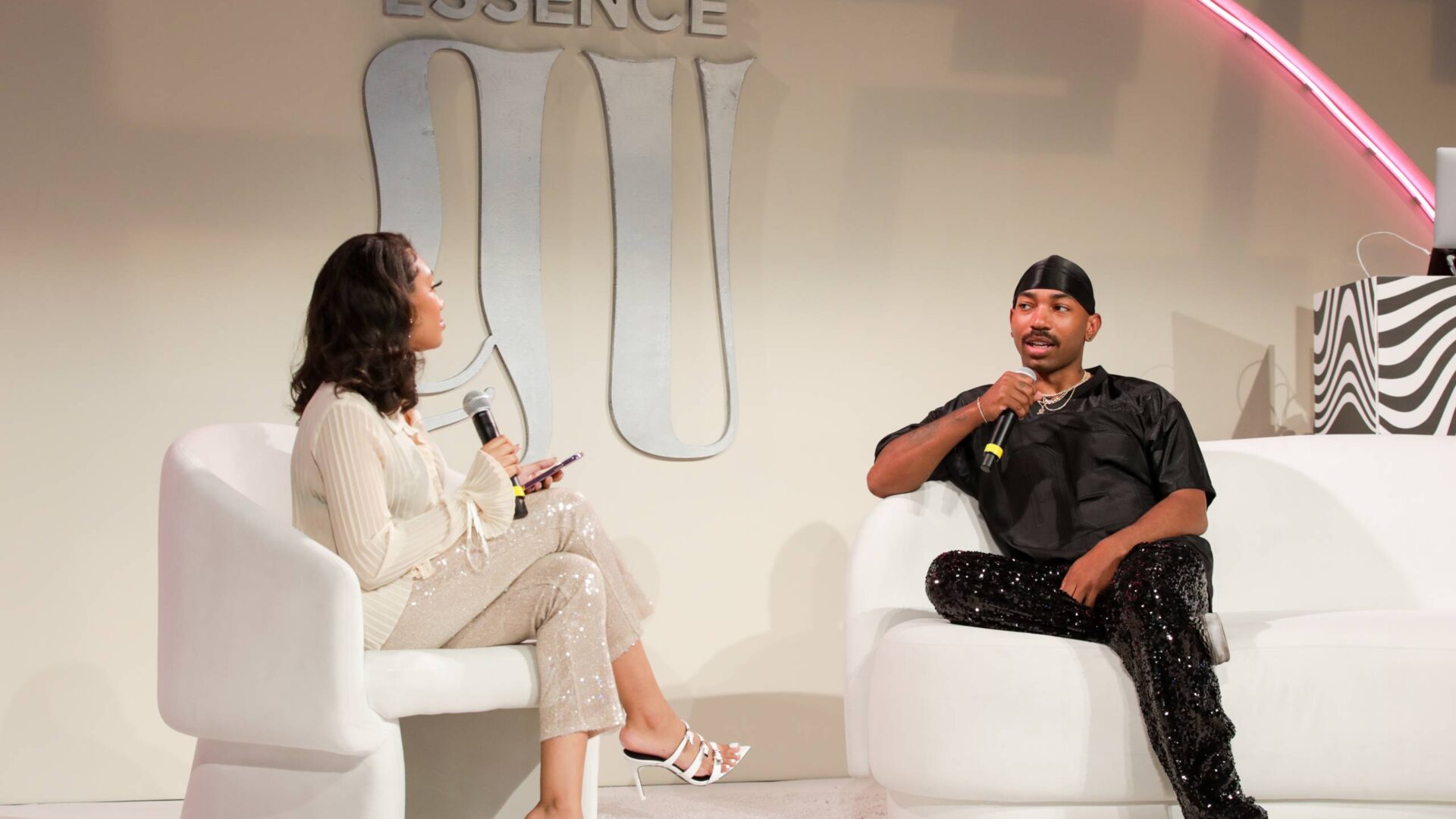 GU Creator's House Goes Behind The Seams In Black Fashion
"We're at the forefront, we're taking credit for what we own," Antoine Gregory says
Essence GU spoke with multi-hyphenate fashion creative Antoine Gregory about being Black in the fashion industry during the first day of Creator's House.
Gregory serves as a fashion pillar in the industry for the next generation, so it only makes sense to continue to keep the conversation going as our Content editor Danielle Wright hosts an intimate conversation with the fashion connoisseur himself on all things inclusivity, futurism and advice for the next generation. Here are the gems we picked up during their conversation.
Want to see more moments? Click here for a full photo recap
Know Your Worth And Stand On It
When working with brands, Gregory encourages Black creatives to set and enforce boundaries in their partnerships. "We were for a long time not in the space of asking, just accepting the first offer, accepting what's been given to us. Now we kind of have the power to say hey, this is not enough," he told GU. "When you have that specific partner that says hey, we're going to tell you what to do but no, I have a following and people who are looking for a very specific thing. You have a brand image, you have a culture behind it. That's what young designers need to do even more."
Black Fashion Fair Is Working On Amplifying Black Creatives
Antoine runs Black Fashion Fair, an e-commerce platform that houses a shoppable directory of Black-owned brands. "It was truly the first time where you could go online and say 'Hey, I want to buy from a Black designer' I put them all in one place. From there, obviously, retailers reached out like 'Hey, how can you help us black designers?' And that's why you'll see designers at Saks and at Nordstrom. We did a lot of that work."
Community Is Everything
When battling imposter syndrome, as we all do, Gregory looks to his community for empowerment. "I think it's important to have a good network of friends. We all go through imposter syndrome and we go through it together, having a good network has helped me to be like 'ok, you're doing this work, it's hard, and sometimes you don't get enough credit for the work that you do but like we believe in you, we see you and we trust in your vision. So that's always been super helpful."
Black People Lead Fashion
He encourages Black creatives to never shy away from going "over-the-top" with their style.
"When it comes to fashion, I feel like Black culture and people, really lead trends. If we weren't as creative as a people, we wouldn't have all these cool ways to dress and express ourselves," he said."We spent so many years not being able to so now we have the freedom to do that and we do it in such a beautiful way. Gregory also added statement pieces are IT right now."
Take Advantage Of Every Opportunity
"We're at the forefront, we're taking credit for what we own, and the younger generation, they have a lot more ownership over the marketing production," Gregory said. "They're owning it, they're on Tiktok like 'this brand is that.' They're very honest about what's happening in fashion. They have so much access that we didn't have."
Read 'The Best Dressed Black Creatives On Instagram This Week'