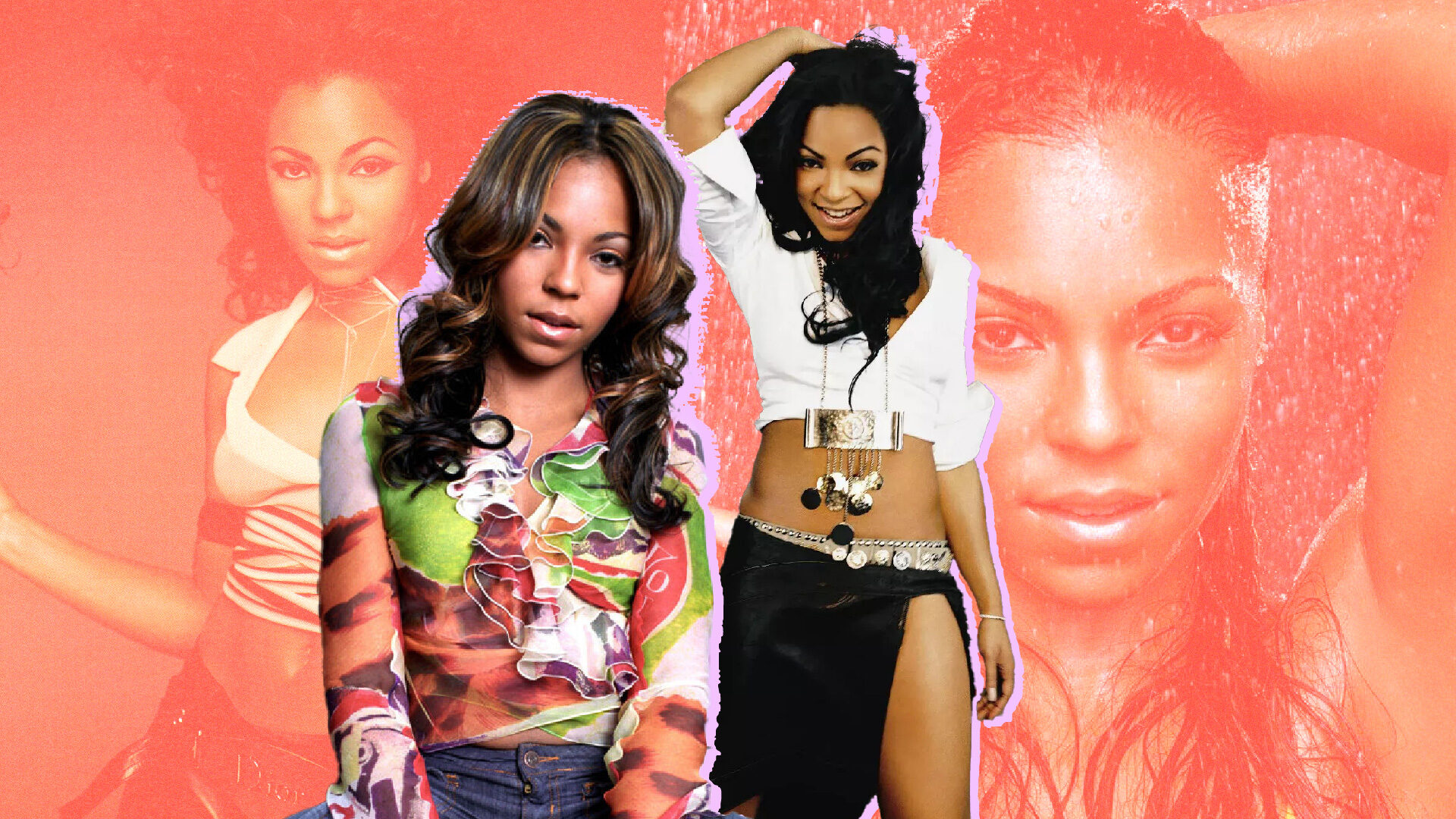 This Ultimate Ashanti Playlist Will Be Sure To Make You 'Happy'
The R&B princess turns 42 years old today.
Ashanti's chart-topping, record-breaking career has disrupted the music industry ever since her legendary 2002 self-titled debut album. In the midst of the 2000s, you couldn't turn on the radio nor hear a ringtone without your ear catching Ashanti's decade-defining R&B-infused hip-hop records. Influencing the musical girlies of today, SZA considers Ashanti an inspiration, once waiting for 10 hours to proudly secure her autograph.
The self-proclaimed "girl from Long Island," who never predicted the magnitude of her success, has now sold over 27 million records and won a Grammy award for Best Contemporary R&B Album. Performing in her first talent show at the age of 12, Ashanti never woke up and professed her desire to be a singer. Rather, while cleaning the house one day, Ashanti's mother confused her singing with the radio helping her realize her talent.
Infused with the type of self-belief that DJ Khaled discusses non-stop, a number of failed record deals as a teenager couldn't stop her from what was destined. Even turning down scholarships to both Hampton and Princeton University, the R&B songstress, who was once scouted for the Olympics, made a thorny decision to pursue stardom. All worthwhile, at the tender age of 21, Ashanti matched The Beatles' record of scoring her first three songs within the top 10 of Billboard's Hot 100 entries, at the same time.
In 2022, the Grammy award-winning mogul is still setting the bar for women in music. As Ashanti celebrated the 20th anniversary of her debut album, she also received a star on the Hollywood Walk of Fame and released her first children's book – "My Name Is a Story: An Empowering First Day of School Book for Kids." Taking ownership of her coins, Ashanti is set to release a re-recorded version of her debut album, "Ashanti," before the end of the year, alongside a documentary, and produce and star in a feature film. Serving as a co-founder of EQ Exchange, a Web3 company dedicated to the musician-fan relationship that utilizes blockchain technology, Ashanti makes history, again, as the first Black woman to hold the title at a Web3 company.
"Foolish" (2002)
The perfect anthem for women who are caught in the middle of being deeply in love and still considering leaving their trifling boyfriends, Ashanti left no crumbs on this masterpiece. Spending ten weeks at number one on the US Billboard Hot 100 and on the Hot R&B/Hip-Hop Songs chart, the singer wanted women to know that "All the things that we accept, be the things that we regret."
During an interview with ASCAP, Ashanti discusses the inspiration behind the song saying, "Talk about being in a relationship. Talk about what women go through, you know. So, I'm sitting here like, we go through a lot, you know what I mean. And, I think just me being vulnerable and showing off the bat – I'm hurting while I'm with you, I still wanna be there, I'm cold without you, I don't know what to do, it's foolish. I'm running back. That's what we do, you know, especially at that age."
"Baby" (2002)
Introduced with a sharp piano hook, then transcending into a reminiscent letter to her lover, Ashanti's vulnerability describes the crash we feel when falling fast into love. As the third single off her debut album Ashanti, she released a seductive music video that featured the likes of Nia Long, emotional cues of rain, and all the feels. 
Admitting to Vibe Magazine that she initially didn't want "Baby" on her album, Ashanti confesses, "I didn't like "Baby." Yeah, that was an argument. It was crazy. I don't know. I felt like I liked what I wrote, but it was a different vibe because it's such a low register, you know, slow. But it was a vibe and I was a little nervous."
"Happy" (2002)
Following Ashanti's 10-week stay at #1 with debut single "Foolish," the pressure was brewing for the then-newcomer to deliver a successful follow-up – and "Happy" didn't disappoint. Sampling The Gap Band's "Outstanding" 1982 record, the singer's happiness with her love story can be felt through the merge of old-school melodies and an urban beat.
"Only U" (2004)
Departing from her soulful harmonies, Ashanti's single, "Only U" from her third studio album, Concrete Rose, added an edge to her discography. Infused with a sample from Club Nouveau's 1986 song "Why You Treat Me So Bad," the song was a hit, peaking at #1 in the UK. Showing emotional and lyrical maturity, Ashanti made it clear that she was making grown woman music. 
"The Way That I Love You" (2008)
In 2008, an iconic year for R&B, Ashanti released this song as the lead single off of her fourth album, The Declaration. Backed by a powerful piano, guitar, and horns, "The Way That I Love You" is a mid-tempo R&B ballad whose lyrics sorrowfully tell of betrayal.
"Good Good" (2008)
Chosen as the second single from The Declaration, the lyrics revolve around sexuality allowing Ashanti to further explore her sound with fans. Receiving positive reviews from music critics, and being cited as the best track from the album, it remained on the Billboard charts for 20 weeks.
"Rock Wit U (Aww Baby)" (2003)
Released in time to be a summer hit, this song was accompanied by a tropical music video as she rides into the sunset with her "baby." A single released on Ashanti's Chapter II album, the lyrical gem that is reminiscent of good times with your bae, managed to reach #2 on the Billboard Hot 100 charts.
"Rain On Me" (2003)
Regretfully addressing the pains and challenges of facing, and eventually overcoming, an abusive relationship, the song earned Ashanti a Grammy nomination for Best Female R&B Vocal Performance. 
Reaching number seven on the US Billboard Hot 100 chart, the singer used the accompanying music video to tell a story, telling Yahoo that she used, "a traumatic experience to elevate and turn around and create this holistic brand that is all about women empowerment and creating a safe place — proving your self-esteem up and being happy about your life and making a change, and having the strength to admit things and overcome things"
"Body On Me" (2008)
If it isn't clear, Ashanti's album The Declaration', was filled with bops as this was released as her third single. Paired with lyrical additions from Nelly and Akon, the song peaked on the UK Singles Chart at number 17.
"Always On Time" (collaboration with Ja Rule) (2001)
Earning her big break when she was featured on Ja Rule's 2001 single "Always on Time," Ashanti didn't leave the charts for years following. Skyrocketing all the way to No. 1, this song helped turn Ashanti into a household name.  In an interview with New York Post, Ashanti admitted, "To be honest with you, I think that song was supposed to be for Brandy, and she ended up not doing it," she said. "And Ashanti came in and alley-ooped!"
"Put A Little Umph In It" (collaboration with Jagged Edge) (2007)
Entering towards the end of the song, Ashanti's seductive verse proves that a feature from the R&B legend can do no wrong. Entering towards the end of the song, her passionate yearning for a good night is expressively paired with a mellow beat.
"What's Luv" (with Fat Joe) (2002)
Featured on one of Fat Joe's most iconic hits, Ashanti's sweet, sultry voice turned this record into gold. Released at the top of 2002, just 10 days before Valentine's day, this song made fans realize that if the love doesn't sound like R&B music, we don't want it.