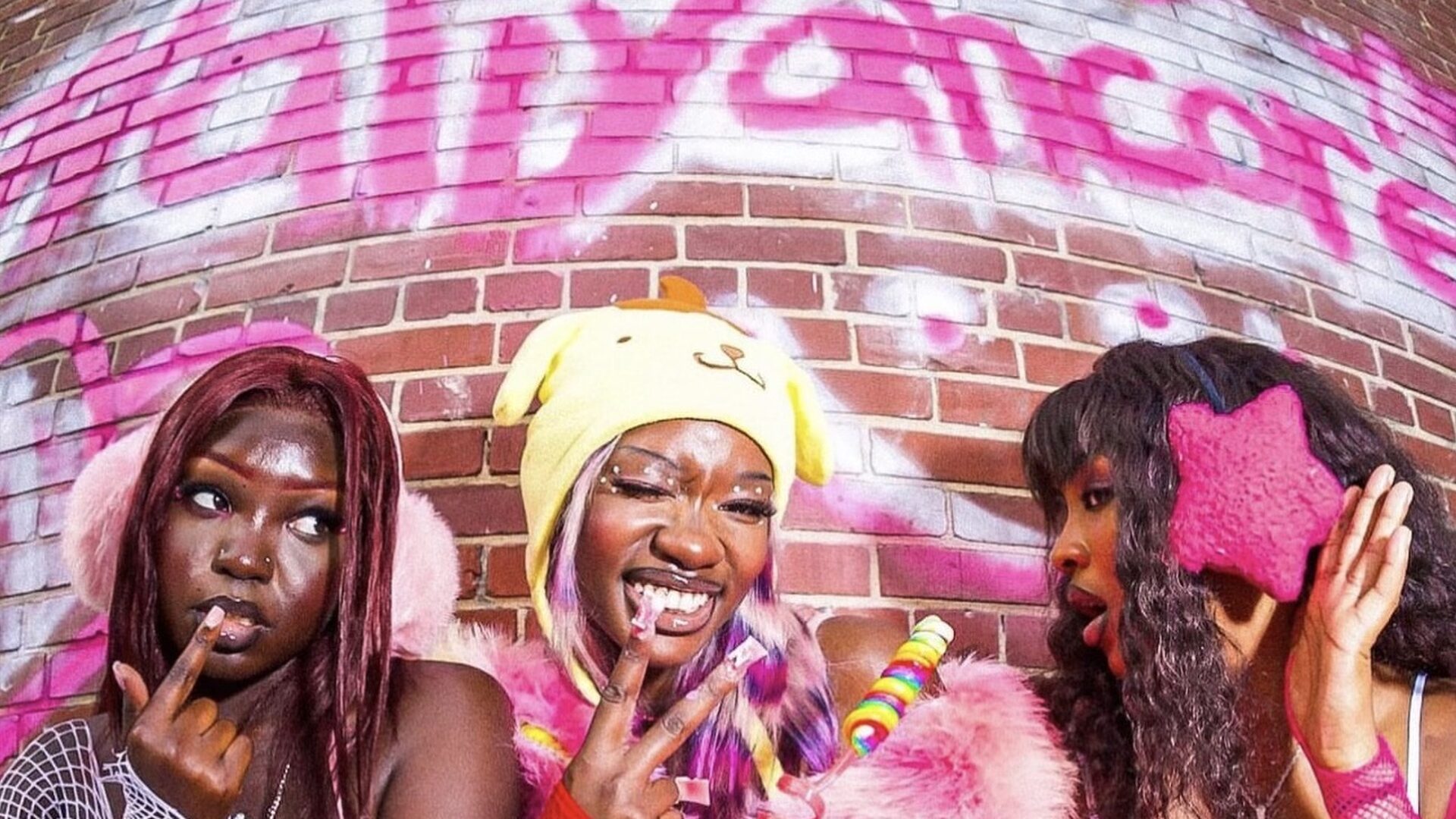 Aliyahsinterlude Is Entering Her Pop Star Era With Debut Single 'IT GIRL'
The 20-year-old opened up about writing, meeting Doja Cat and more.
It's been a year since Girls United spoke with Aliyah Bah when she was disrupting the metaverse through her infamous boots and bikini looks. What started as a hot topic online has become a movement with #aliyahcore.
"All of the things I've manifested for myself are coming to fruition," she says."It's nice that people are enjoying Aliyahcore and the creative things I'm getting ready to put out."
Though the 20-year-old is still repping her signature style Aliyahcore, she's ready to enter her pop star era as she gears up to debut new music. Her song, "IT GIRL," is her public introduction to the music world outside social media.
Hearing an exclusive preview of the full song, Bah brings her bubbly yet cocky energy into the music. Starting with the catchy viral hook going around on TikTok, she's already created buzz and excitement through a booming house beat. "B-tch you know I'm sexy, don't call just text me/ B-tches slow can't get on my speed/ They stare cause I'm the I-T G-I-R-L/ You know that I'm that girl," she raps in the song.
Read 'Aliyah Bah Talks Her Viral Bikini And Boots Look'
"I've always been into house music, and I think that moving to New York and being in the LGBTQ and the ballroom scene [I heard] that music all the time," she tells GU. "Before, the song wasn't even going to be on a house beat, but I found the beat, and I was like, 'this is what I have to do, and it's just gonna be so perfect."
Along with hearing the beat, she became inspired after hearing Beyoncé's album Renaissance and saw this as her sign to enter the house music realm. Having the song already done, she knew the beat complimented the empowering message she wanted to send to her listeners.
Whether performing at the VMAs or festivals, Bah's goal remains to inspire young Black girls to be boundless in the way artists like Grace Jones and Azealia Banks did for her. Though most people know her as Aliyahsinterlude online, for this next chapter, she wants her words to speak for her the most.
"I've always been like a writer," she says. "Ever since high school, I've been so good at writing. I write poems, stories, and in my diary all the time."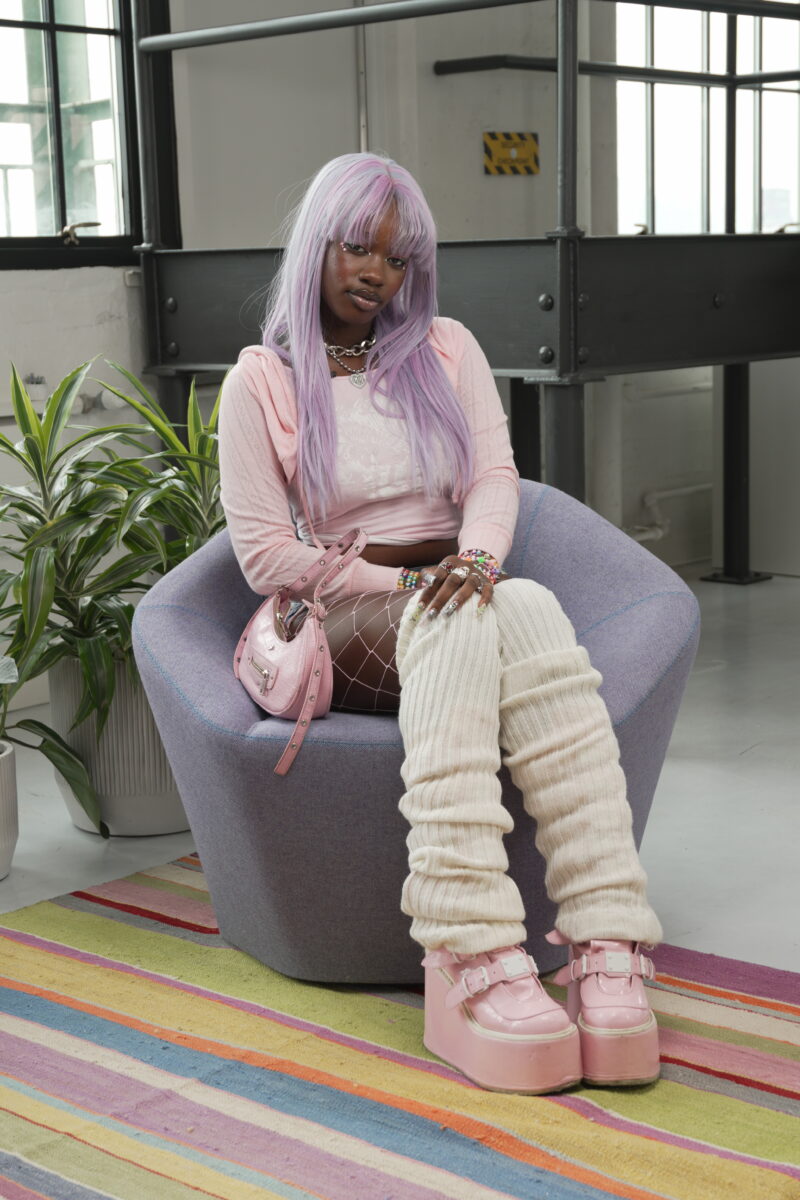 Through her music journey, she realized she doesn't have to be in a box and choose between fashion and songwriting but can utilize both to take the Aliyahcore movement to the next level. "One person that comes to mind with that is definitely like A$AP Rocky, with him and A$AP Mob and how they're all about fashion, but also big music, too," she says. "I just realized that you don't have to stick to one way and can do anything you want."
Though music is the lane she's driving in right now, you must also acknowledge how Aliyahcore has disrupted the fashion industry and allowed her into rooms with notable brands and fashion houses.
"I know, as a dark-skinned Black woman, we don't get these opportunities very often," she says. "I have a big responsibility to do my best at everything I do to show other dark-skinned Black girls that this is possible, and you just have to find your own lane."
When the name Aliyahsinterlude hit our timeline, there was nobody like her doing what she did, and now there's a niche for young girls to experiment with their style and sound at a level never seen before. "I created my own niche essentially," she says. "So I think that means taking a risk on myself and being authentic and unique was like one of the best decisions I've ever made."
Thanks to her raw energy, she's been able to score major opportunities, including appearing in Doja Cat's newest video for "Agora Hills." She nearly missed out on being a part of it due to a scheduling conflict related to an upcoming event for her fans, but she still managed to make her debut as a video girl.
"Doja Cat is one of the nicest celebrities I've ever met," she says. "We should not judge people off social media because she's one of the nicest people ever and was so grateful for everyone there. It was a really good experience."
Through stars like Doja Cat, she's learned to tune out the outside noise from trolls and gravitate toward those who truly support her movement as a disrupter in the music industry.
As she gears up to embark on this new journey, she's excited for all the accouterments of being a musician. From shooting her debut music video to picking a nickname for her fanbase, Bah is making her mark in pop culture for young, dark-skinned Black women.
"Everything I say in my music, there's always going to be an inspirational part, even if I'm just talking to my sh-t on the side," she says. "Me even doing music is inspiring to a lot of girls, too, and I already know that I will be extremely successful, and I think that's gonna be inspiring."
With a goal of dropping an EP by the end of the year, she's ready to shake up the culture and be a part of the new generation ushering new sounds and styles into the music industry.
About Kenyatta: Clark Atlanta University and Medill School alumna Kenyatta Victoria is the Girls United writer covering everything from news, pop culture, lifestyle, and investigative stories. When not reporting, she's diving deep into her curated playlists or binging her favorite comfort shows.