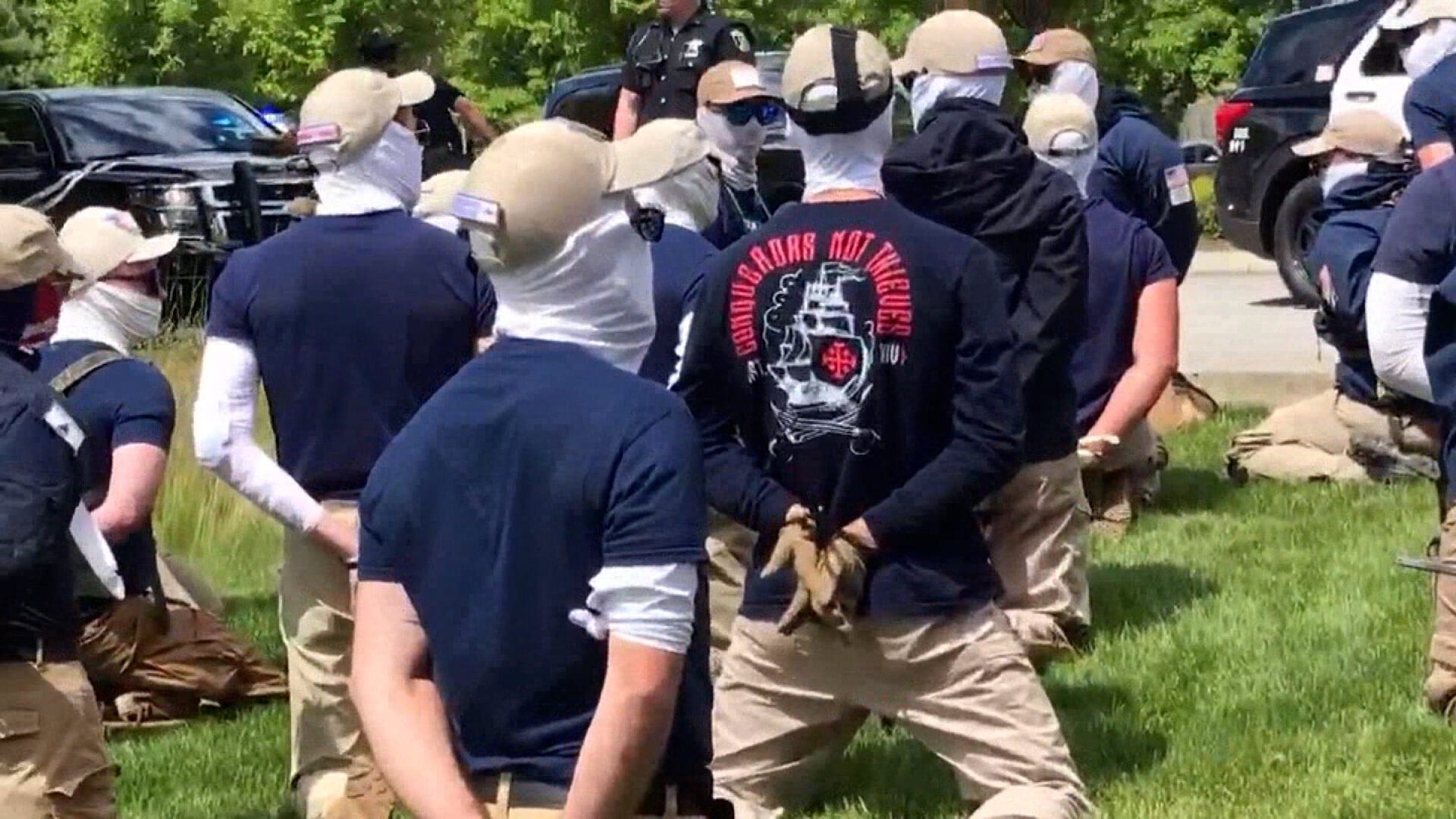 31 Suspected White Nationalists Arrested Near Idaho Pride Event
The group was apprehended near a Pride event in Coeur d'Alene, Idaho.
On June 11, law enforcement responded to a 911 call about a group of men planning a riot at a Pride event in Coeur d'Alene, Idaho.
The men were seen getting into a U-haul truck with riot gear, according to CNN. Ten minutes later, the police stopped the truck and detained 31 people. They were charged with misdemeanor conspiracy to riot, said Lee White, Coeur d'Alene's Police Chief.
The group was driving to a Pride event in Coeur d'Alene City Park, which included a Pride walk, music performances, dancers and drag artists.
"It is clear to us, based on the gear that the individuals had with them, the stuff they had in their possession in the U-Haul with them, along with paperwork that was seized from them, that they came to riot downtown," said White, according to CNN. The group was equipped with shields, shin guards and other riot gear, such as at least one smoke grenade.
"I think some of us were a bit surprised by not only the level of preparation that we saw, but the equipment that was carried and worn by those individuals, along with the large amount of equipment that was left in the van when the stop happened," added White. "That level of preparation is not something you see every day," he said.
The men were released after posting bond, according to Kootenai County's Sheriff's Office. They are due back in court at a later date. The FBI is reportedly helping the Coeur d'Alene police with the investigation.
"We are deeply grateful to law enforcement agencies who were present and professionally responded," wrote The North Idaho Pride Alliance, the event's organizer, in a June 12 statement. They added that their members are resting "after successfully organizing a momentous, joyful, and SAFE Pride in the Park community celebration under the most challenging of circumstances".
It is currently unclear why the group picked the event in Coeur d'Alene. In fact, all individuals are from outside the local area and only 2 are from Idaho, according to the Kootenai County Sheriff's Office.
Most of the men arrested had arms patches and logos associated with the Patriot Front, a white nationalist organization. The Anti-Defamation League has described the Patriot Front as having fascist and anti-Semitic beliefs. The Texas-based organization was created after the 2017 United the Right rally that left one dead in Charlottesville, Virginia. Thomas Ryan Rousseau, the Patriot Front leader, was among those arrested, said Sgt. Shane Molin, Kootenai County sheriff's, according to CNN.