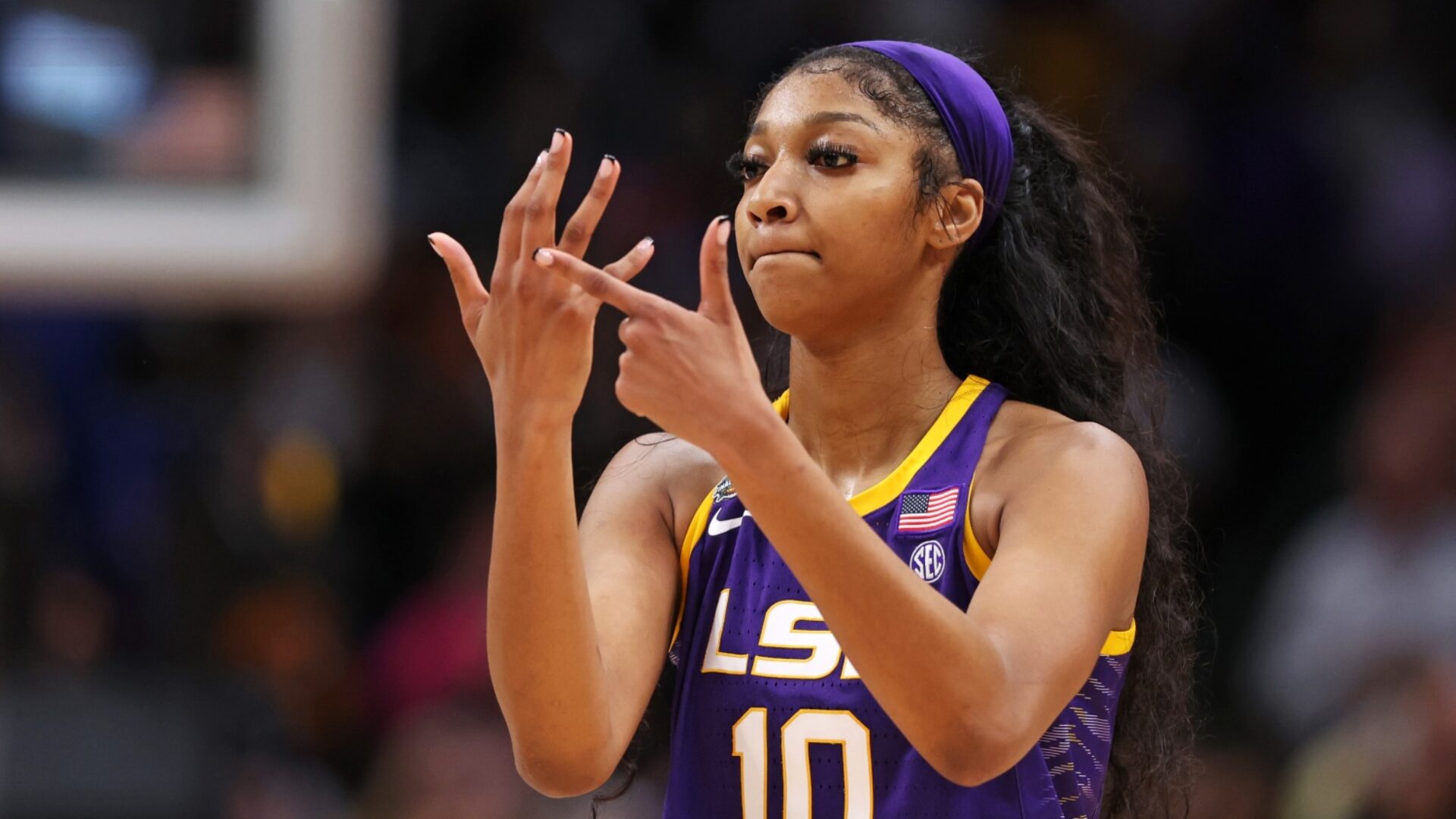 Stop Trying To Humble Black Women In Sports
"All year, I was critiqued for who I was. I don't fit the narrative," Angel Reese said.
From our hair to down to our confidence, today is the day to stop forcing classism on Black women in sports.
Louisiana State University scored a major win over the weekend after taking home the NCAA women's basketball national championship trophy. The game ending in 102-85 conjured up some major discourse surrounding the LSU star Angel Reese after her boastful and confident "You Can't See Me" motion at Caitlin Clark.
Initially, Clark started the gesture toward another player earlier during the game, however, it didn't draw the same sort of outrage.
Since, Reese has had social media in an uproar as Twitter users called her classless, childish, and a bad winner. The digital tension opened up a conversation around the double standard Black women in sports face. Critics have continued to project their racist and sexist views on how athletes should carry themselves causing a mass amount of hate and negativity being spewed. Players and coaches have highlighted the discrimination their teams face from critics and social media.
"You can not like our team, and you can not like me. But when you say things that you probably should be saying in your home on the phone or texting out in public and you're being heard and a national writer for our sport, it just confirms what we already know," said Dawn Staley, South Carolina women's basketball coach. "So watch what you say when you're in public and you're talking about my team in particular."
Simone Biles and Naomi Osaka have become advocates for women in sports regarding their mental health and knowing when to step away when the outside noise becomes too much. In the past few years, Black girl athletes have endured unwarranted opinions on what they wear, how they behave, and prioritize their mental health.
"It's really important to use that support system and know they're there for you and not against you, because at the end of the day, us as humans, we hate asking for help," Biles said. "We think we can do it on our own, but sometimes we just can't. So use every outlet given to you."
Seemingly feeling like the butt of the joke regarding their performance capabilities and how they handle conflict while receiving arbitrary labels like being emotional, unstable or both.
In 2018, Serena Williams faced backlash after breaking her racket during the U.S. Open final against Naomi Osaka. Williams got into a dispute with the chair umpire after giving her a code violation. "I don't cheat to win," she said to the umpire. "I would rather lose."
Instead of giving her grace and being empathetic toward her frustration, The Herald Sun published a demeaning and racially charged cartoon in response to Williams's actions during the game.
Sunday night's extensive discourse continues to prove that Black women cannot be humanized for their talent. Society will not hesitate to pessimistically gaslight a women's impact, athletes in particular, on the culture.
During the 1988 U.S. Summer Olympics, legendary track and field Olympian FloJo broke several records during the trials. What should've been a monument to her legacy was partially tarnished by the public's accusation of steroid use when she was just a phenomenal athlete.
Decades later, this deplorable history would repeat for Sha'Carri Richardson. During the "building momentum" phase in her career Richardson was defined as "the people's champ," but like clockwork, the internet turned on her after losing the women's 100M Diamond League race and her marijuana usage scandal. Social media users took to Twitter with unwarranted tweets of the humbleness Richardson needed to be while discrediting her capabilities.
Countless times Black women are being scrutinized for their talents. Fast forward to today, that same treatment is being placed upon our girls. While this conversation is ongoing, girls like Angel Reese and Flau'jae Johnson are unapologetically speaking up for themselves and refusing to conform to historical societal torture.
"I don't fit the box that y'all want me to be in. I'm too hood. I'm too ghetto. Y'all told me that all year. When other people do it, and y'all don't say nothing," Reese said. "So this is for the girls that look like me. For those that want to speak up for what they believe in. It's unapologetically you. And that's what I [did] before tonight. It was bigger than me tonight. And Twitter is going to go into a rage every time."
As long as we've watched men's sports, we can all recall memorable moments of our favorite male players talking smack to each other without repercussions. For Black women in sports, that narrative is entirely different.
Sports fans and associations continue to force respectability politics on Black women athletes regarding their passion for the game. Misogynoir is projected on these competitors to fit the mold and cater to the male gaze. A gif of Kobe Bryant has resurfaced of him doing bold "ring" gestures like Reese, yet received no backlash at that time. The label of "doing too much" or being "too cocky" has run its course for Black women in sports. Men are granted the space to be as aggressive and boastful as they want, and it's time to show that same energy for women.
Black Gen-Z'ers are at the forefront of all aspects of culture, and the time has come for the next generation of Black girl athletes to fully embrace who they are without the unfortunate domino effect of being doxxed online. These players are shifting the narrative and still receive the most backlash for giving their all to the game they love, with fans who don't love them back.
"I feel like I've helped grow women's basketball this year. I'm super happy and excited," Reese said. "I don't care about anybody else and what they have to say about me. I don't care to be All-American. I don't care to be defensive player of the year, player of the year. The biggest goal is to be a national champion, and that's what I did."
Black women continue to dominate all industries, but in sports, a transformation is happening where being ladylike doesn't have to be on the court because talent speaks for itself. A new era has arrived where women are choosing to take up space by being even more loud, confident and bold.
"If you take away the 'Black' in front of the 'woman' and another woman reacts the same way, it's not considered 'sassy,'…[or] 'aggressive,'" Sha'Carri Richardson told Teen Vogue. "One of the most powerful Black men said it, but the most disrespected person in the United States is [the] Black woman."
About Kenyatta: Clark Atlanta University and Medill School alumna Kenyatta Victoria is the Girls United writer covering everything from news, pop culture, lifestyle, and investigative stories. When not reporting, she's diving deep into her curated playlists or binging her favorite comfort shows.