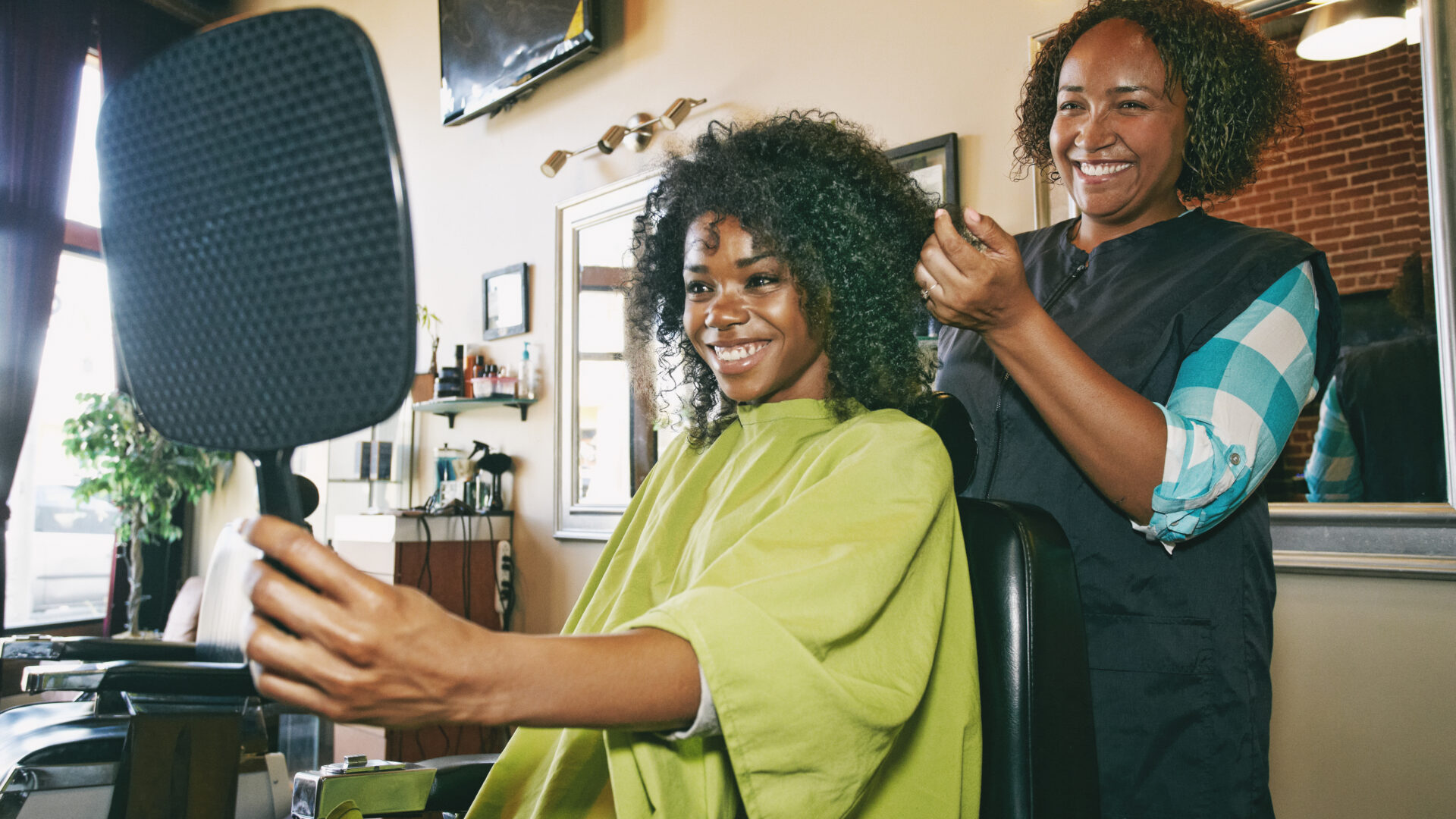 Let's Talk About The State Of Beauty Salons
Here's how people are finding compromise in the Black hair care industry
The iconic beauty salon model has undergone many changes since its inception in the early aughts. Today, viral videos of everyday women discussing bad experiences in the hair industry have exposed how new spaces changed how Black women engage with beauticians and hair care.
After the COVID-19 pandemic, women returning to salons had seemingly high expectations challenged by new-age stylists who need more professionalism, education and empathy for their clientele. 
These issues have become more prevalent as beauty salons have transitioned from community-based spaces into more private places where the experience provided is at the stylist's discretion. As a recent graduate of Paul Mitchell Cosmetology School in Atlanta and former beauty influencer, Nia Imani was open to learning foundational skills such as safely coloring and cutting textured hair.
According to Imani, although the cosmetology industry hasn't fully adapted its curriculum to caring for textured hair, part of its education is centered around teaching stylist professionalism and how to provide good customer experiences. Imani, who opened her salon suite in March of 2023, viewed it as an opportunity to be more personable with her clients because the one-on-one time allows her to "speak life over [her] clients, no matter where they are in their hair journey."
Debates centered around stylist credibility raise the question of whether having a cosmetology license affects their ability to provide the hair care services advertised. Founder of Flourish Curls Academy, Sess Cannon, admits that teaching unlicensed stylists how to maintain curly clients is harder but not impossible.
After quitting her corporate job and attending cosmetology school, Cannon found her purpose in providing proper education on maintaining all textured hair types. "I wanted to create a salon where the stylist who came to me didn't have to know how to do hair. I just hired based on spirit and passion," Cannon said. "I can teach you anything technical, but I can't teach personality. I can't teach care."
Similarly, she believes there should be transparency about whether a stylist is licensed and what prospective clients can expect from their appointment. "It gives the client the decision of their own to make if they want to go or not to go and understand what comes with that," Cannon said. 
Aside from technical ability, finding a stylist passionate about hair care for all textures and educating clients is essential to having a good hair experience. "Some people enter this space without a passion for it, they're entering it because they see it as a way to make quick money," Imani said. "It's important we strengthen our discernment when it comes to whoever we receive services or goods from."
Individual salon suites allow stylists to set their own business hours and policies, ideally creating a space for a stylist and client to foster a healthy relationship. However, most social media conversations about bad experiences usually begin before clients enter the salon.
There is an increasing trend of salon suite stylists including a variety of egregious rules on their booking sites, including coming to an appointment washed and blow-dried, discriminating against hair types such as 4C kinky coily hair and requiring clients to have a certain amount of hair.
Operating under these parameters can be unappealing to clients like Ferriera and make the relationship feel purely transactional. In addition to booking site restrictions, prices for styles such as braids or sew-ins have risen when inflation is hurting women's wallets everywhere. These issues, combined, unintentionally restrict and alienate the exact people the services were created. 
Florida native Trenise Ferreira found her stylist, Marlon, at Dare To Be Noticed salon in Inglewood through a recommendation from a friend. For women like Ferreira who don't know how to do their own hair, going to a professional is a necessity she can't afford as frequently as she could in the past. As a Los Angeles resident, Ferriera maintains the prices she pays for hair care have been fair but feels that stylists need to be more mindful of who their clientele may be.
"It's a shame because we all know our hair requires work," Ferreira said. "It is becoming a distinction between the haves and the have nots. Can you afford to get your hair straightened or relaxed every few weeks? Can you afford to be in braids all the time?"
Setting boundaries through booking sites and prices as a means of preservation and what that looks like varies by stylist. Regardless of whether clients are seen in a salon or salon suite, it is important to emphasize creating experiences that match the price point. Luxury prices need to beget luxury experiences.
Despite viral mishaps in the beauty salon industry, there is still hope in finding passionate stylists and salons to call home. Those looking to continue providing meaningful experiences through hair cair with returning and future clientele will be a part of the shift in the salon industry as open floor concepts make their return,
"We're starting to see a turn again, where an open floor concept is coming back, but with better rules and more professionalism," Cannon said.