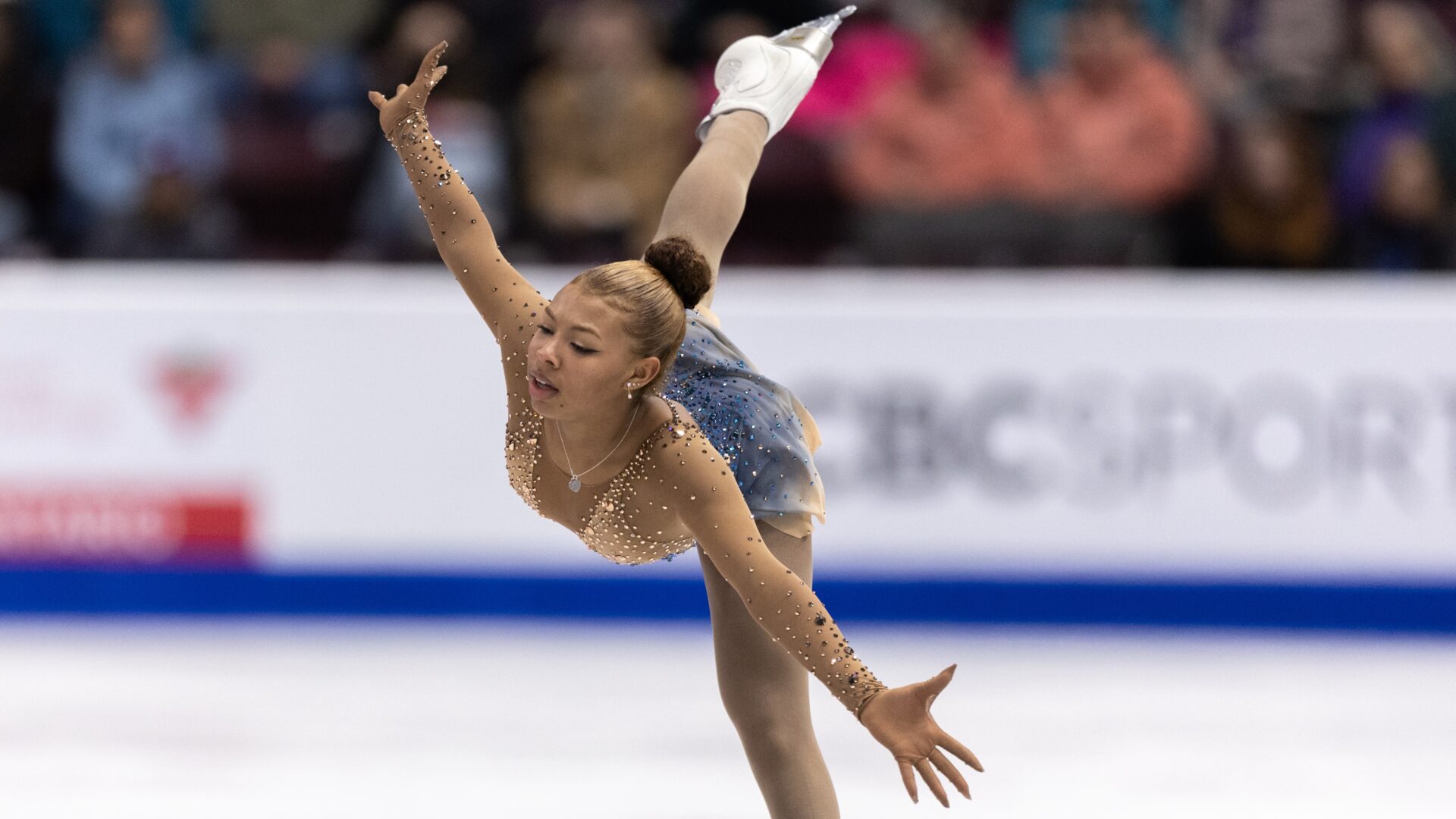 Starr Andrews Makes History As First U.S. Black Figure Skater To Win Grand Prix Medal
The 21-year-old won a silver medal with her free skate performance to Lara Fabian's "Je Suis Malade."
Congratulations Starr Andrews! On October 29, the 21-year-old figure skater won a silver medal at the ISU Grand Prix in Mississauga, Ontario. She made history as the first Black U.S. figure skater to earn a Grand Prix medal since the series began in 1995.
"I can't even put into word how I feel right now!! I couldn't be more proud of how I skated in Canada," she wrote on Instagram. "Thank you to all the support I've gotten even on the skates that weren't my best. This is a dream come true."
Andrews performed six triple jumps, including a challenging double axel euler triple salchow, according to The Root. She completed her performance to the rhythm of the viral song "Je Suis Malade" by Lara Fabian.
"When I first heard ("Je Suis Malade"), I was just scrolling on YouTube because I had trouble picking my programs this year," Andrews told Team USA. "When I heard (Fabian) sing it live, I thought, 'That's incredible to be able to hold the notes like that.' I thought it would be awesome in an arena and make a beautiful program."
Music is an essential component to figure skating. In the past, her choice of songs have gone viral. In 2010, Andrews figure skated to Willow Smith's "Whip My Hair" when she was 9 years old. To this day, the video has racked up over 57 million views.
Today, her silver medal is the highest finish at a Grand Prix event. She placed in fifth place at an event in France in 2019 and arrived in ninth at the U.S. championships last season, according to Team USA.
"I've gone into this year with a different mindset, trying to not be so caught up in my head," she told the outlet. "It helps a lot when I don't think so much. It's definitely paid off, even though my season didn't start off so strong (at Nebelhorn Trophy last month). I was still getting used to my programs."
Andrews has been benefiting from improved health. In November 2021, she withdrew from the competition for health reasons. "It was an electrical issue with my heart — I had an extra nerve and they burned it away (in surgery)," she said. "Once I had surgery to fix the problem, that helped a lot with the anxiety it gave me. I was always thinking, 'Is it going to start now?' It was very unpredictable. Now, it's one thing less on my mind."
Andrews recognizes the significance of her making history by winning a silver medal. "I think it's a huge deal, to be a woman of color in figure skating," Andrews told Team USA. "I'm so proud I could represent. (It makes) bringing home a medal even more special."
Her coach agrees. "It's really, really important, especially with everything that's going on in the world right now," added Derrick Delmore. "She stepped up to the challenge. The fact she made so much of a statement this week does wonders for the community and it will continue to solidify her as a role model."
Next, Andrews will be competing during the NHK Trophy, held in Sapporo, Japan from November 18 to November 20. It will be her second Grand Prix event of the season.
Photo Credit: MISSISSAUGA, ONTARIO – OCTOBER 29: Starr Andrews of the United States performs women's free skate during the ISU Grand Prix of Figure Skating – Skate Canada International at the Paramount Fine Foods Centre on October 29, 2022 in Mississauga, Ontario. (Photo by Dustin Satloff – International Skating Union/International Skating Union via Getty Images)
About Kyra: Kyra Alessandrini is a news writer at Girls United and a freelance journalist. Her work has appeared in publications such as Time, The Hollywood Reporter, InStyle, and Elle. Born in New York and raised in Paris, France, she is passionate about culture, street photography, and travel.