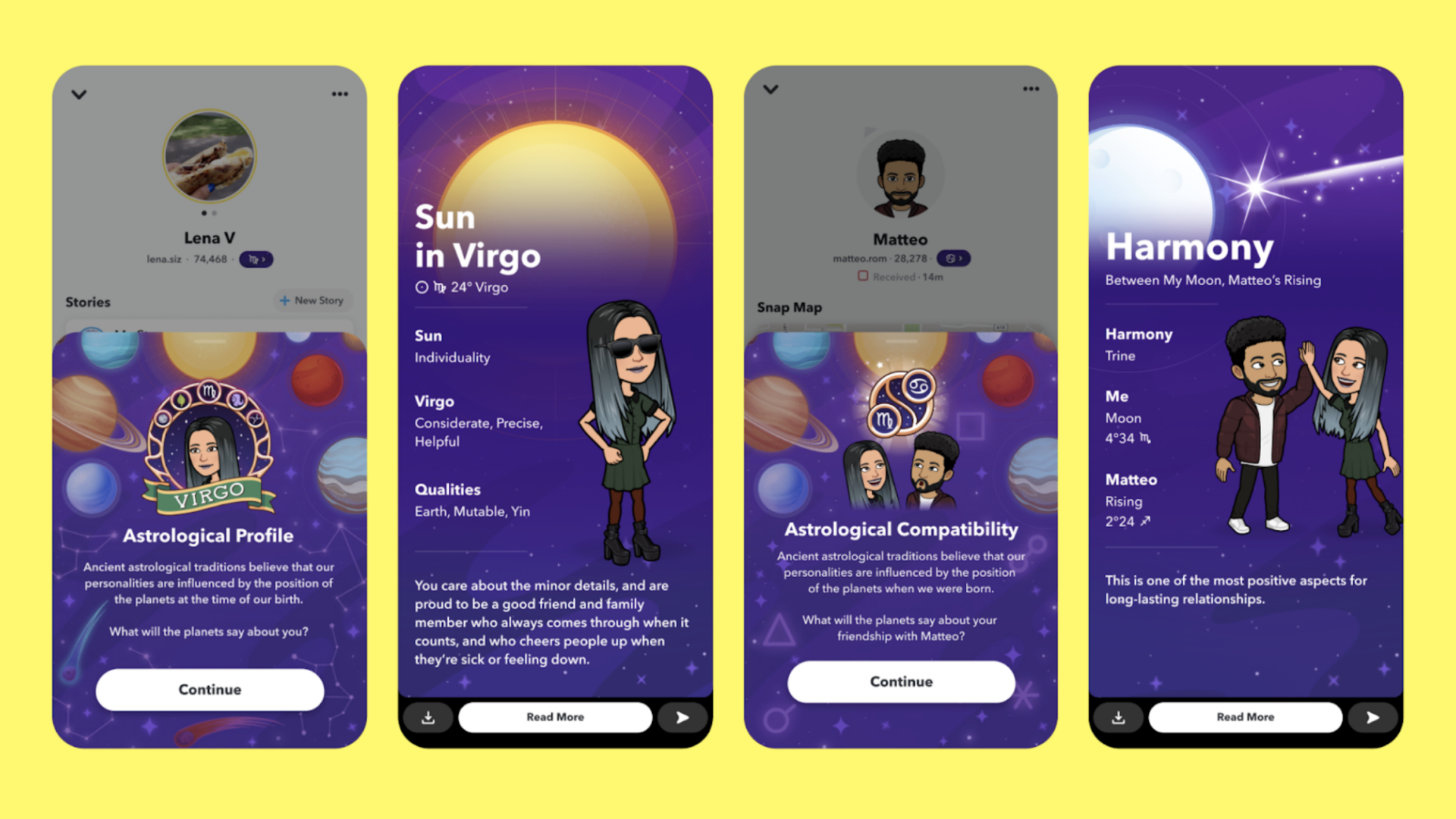 Snapchat Is Rolling Out Two New Astrology Features—And We Have All Of The Details!
The app is giving you a chance to learn more about yourself and your closest friends through astrology.
Astrology has become a preferred method of connecting with others in the digital age, especially in the wake of COVID-19. It's how we cope with stressors, prepare for the future and of course, connect more deeply with ourselves and others. Snapchat is leaning into this ethereal reality by sharing two new astrology-based features on the app.
The first addition will allow you to learn a bit more about yourself. All you have to do is share your birthdate, birth time and birth location for a full chart that maps out your existence—through astrology, of course. Snapchat worked with leading astrologist Aurora Tower to circumvent some of the more complex language that can become a barrier, making the information easier to understand.
Then, since Snapchat is an app based on communicating with friends, you'll be given the opportunity to check out how compatible you two are. "Relationship traits will be detailed across 10 different planetary dimensions," Snapchat said in a press release. "[A]ll Astrology info is presented in Stories format and can be easily downloaded to camera roll, or shared to anyone on Snapchat."
How to set up your astrology profile
 Open Snapchat and then click on your Bitmoji Image in the top right corner of the main camera screen. Then, next to your name and Snap Score, you should see a purple symbol with you zodiac sign on it. Give that a tap.
You'll then be asked to share your birth date, time of birth, and the city and state you were born in. After this is done, you'll be able to check out your personal birth chart. If your friend has theirs filled out, you can check out their charts, too.
How to view your Astrological compatibility with a friend
In order to check out your compatibility with someone else, they must first fill out their profile. Then, all you have to do is tap on the zodiac sign by their name.
Snapchat tapped besties Rickey Thompson and Denzel Dion to share their experiences with the new feature—check out the video below!
Photo credit: Snapchat