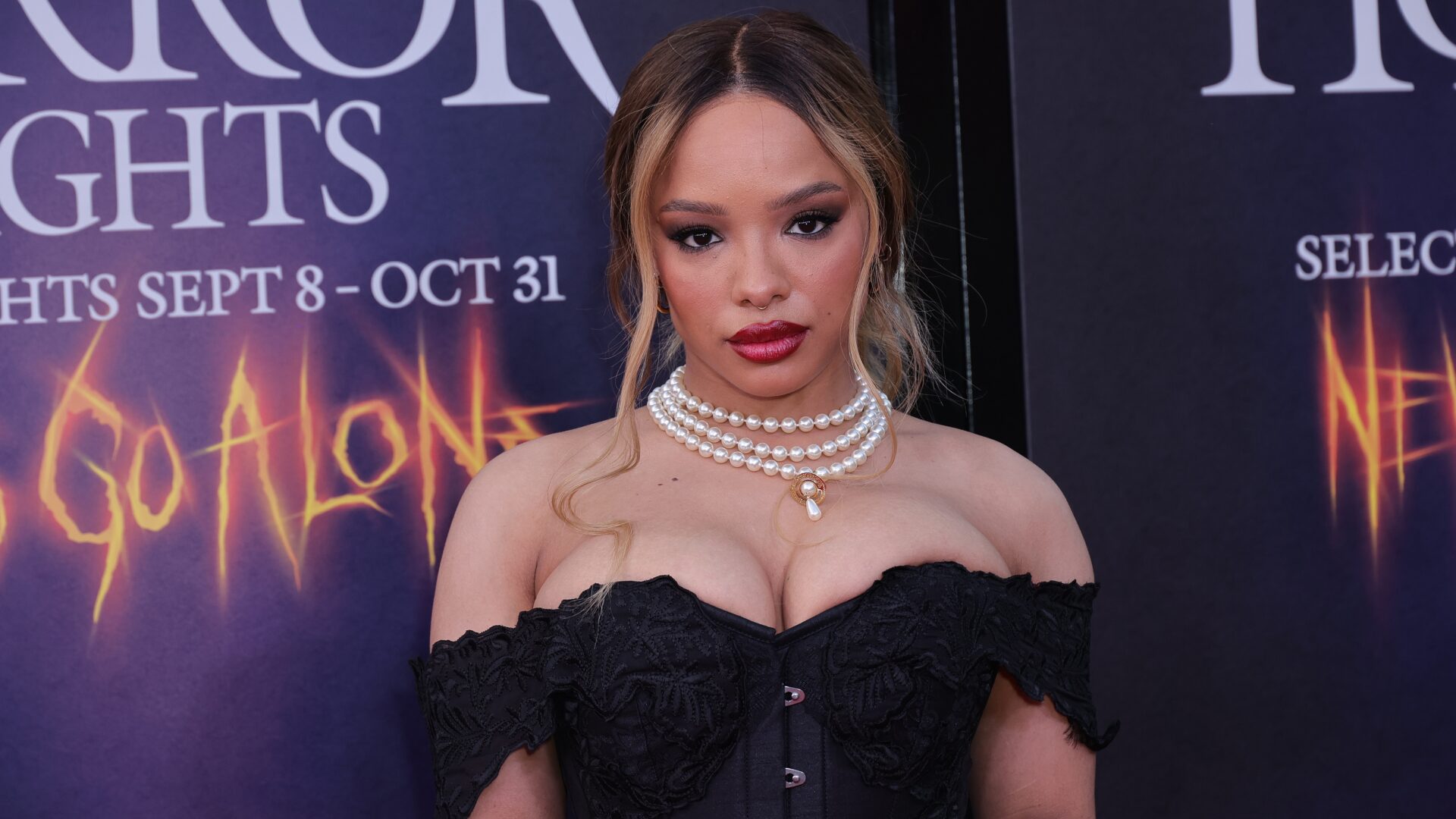 Sisi Stringer Loves 'Vampire Academy's 'Authentic' Diversity Without Blatant 'Tokenism'
The fantasy-action series is now streaming on Peacock, starring Stringer herself.
Want the drama of high school and the forbidden romance of Twilight and 90210, but the fantasy and wonder of the Winx Club and First Kill? Well, a certain streaming platform may have just what you need.
Created by Julie Plec and Marguerite MacIntyre, who were both notable for their work on The CW's cult-favorite Vampire Diaries starring Nina Dobrev and Kat Graham, the latest Peacock series brings all the fantasy, drama, and romance to the fictionalized world of vampires where the societal class system is strict and the tea is hot. Though Vampire Academy was made into a movie back in 2014 starring Zoey Deutch as Rose, Mortal Kombat star Sisi Stringer is now taking the lead as a talented Black woman with talent worth sinking your teeth into.
An admitted fan of the original Vampire Academy: Blood Sisters books, it was a no-brainer for Stringer that she wanted to take part in Peacock's adaptation for the role of Rose Hathaway. As the audition process moved along, the 25-year-old Australian star felt herself inching closer and closer to her next dream role. "I'm like, 'I might actually be able to pull this off. This actually could happen for me.'," she said. Following a few chemistry reads, which Stringer said she did "really, really well" in, she continued to pray that she would get the role she'd been in the ringer for.
Fast forward to 4:00 AM, Stringer's prayers were answered. "I screamed and cried and danced around and the rest is history," she told Girls United with a smile.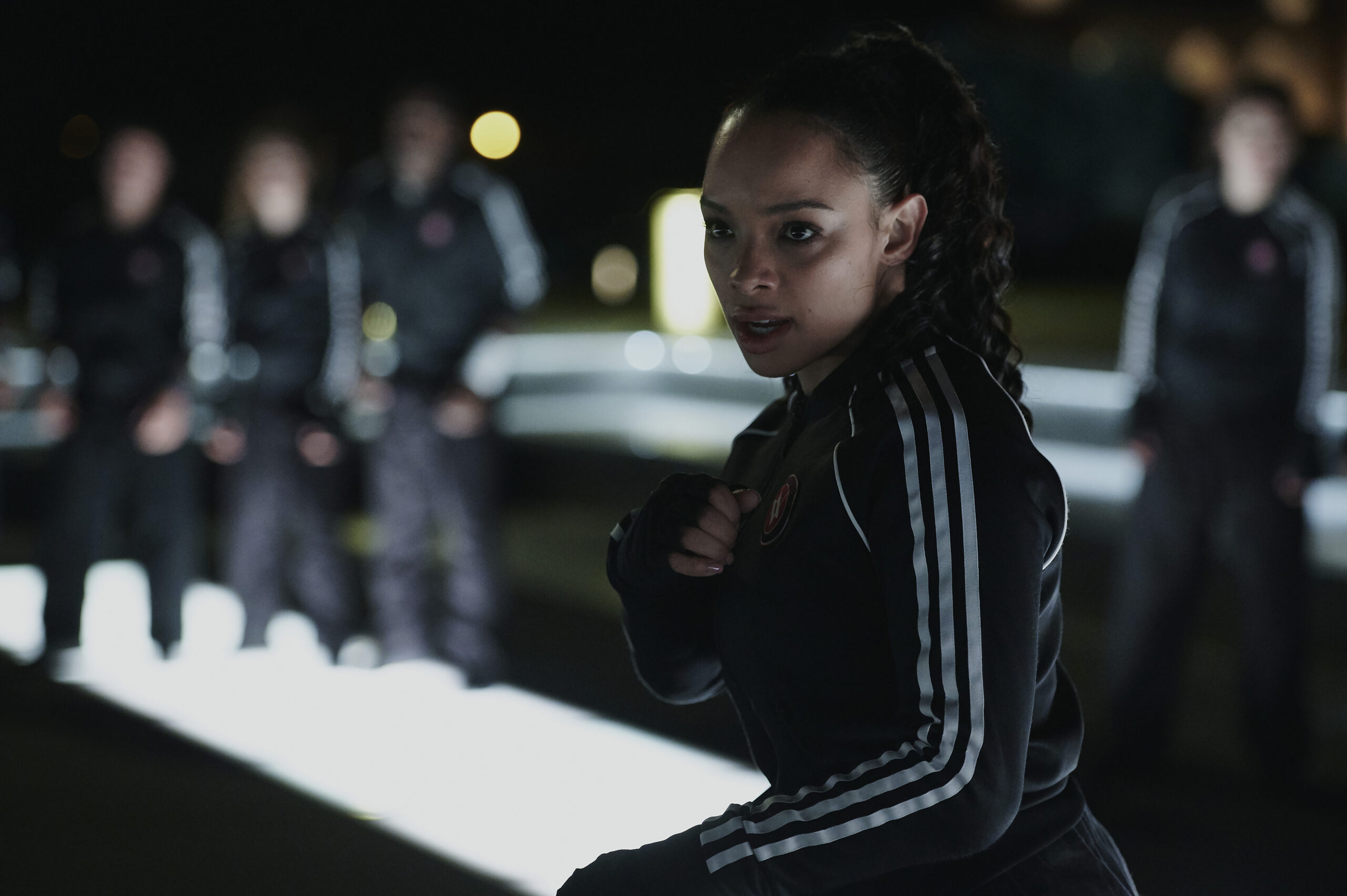 Ahead of tonight's season premiere with four episodes, Girls United caught up with Stringer about behind-the-scenes life, the authentic representation in Vampire Academy, and the sweet Tweets she receives from young Black girl about her roles.
Girls United: How did your role in Mortal Kombat as Mileena prepare you for your role as Rose in Vampire Academy?
Sisi Stringer: "Oh, so much. Obviously, we do a lot of fighting in the show and having that experience was really good and really grounding. However, I must say that because of Mortal Kombat, I was overconfident. The first day I walked in there and I was like, 'Guys, I've got this. Don't even worry,' and then failed. I fell on my face day after day. I'm really glad that out of seven months, I got to pull it in the last two so get excited to see that. Otherwise, it's all the stunt team, the editing, and shit."
GU: We're seeing Black women in some pretty powerful roles. We've seen you in Mortal Kombat, and now we're seeing you in Vampire Academy. We've seen Ella Balinska in the new Resident Evil series.
Stringer: "Absolutely, because we haven't always been included in that fantasy stuff. Having Black people in the new Lord of the Rings made people irrationally angry because there's so many people in the show that have been race-bent. Obviously, we have had backlash and racist vitreal, but the majority of the people who respond to this, respond with compassion and understanding and they're so welcoming and encouraging. Even though there's a lot of negative comments and racist crap, the real fans are there for you and they'll protect you and they'll ride for you. I've gotten letters on Twitter and stuff of little Black girls being like, 'I never saw myself in a role like this and this means so much to me. Seeing you being a strong character and kicking ass and all of that stuff, it's inspiring and it makes me feel better.'
"I'm a huge advocate for representation. I won't get into it now, but let's say I could recite an entire essay on why it's important. I'm really glad to be a part of something like this that's so authentic. We have queer representation on the show, which is always really important to all of us. Different people, different body types, different strengths and weaknesses so it's a really beautiful diverse cast, but in an authentic way as opposed to being tokenism."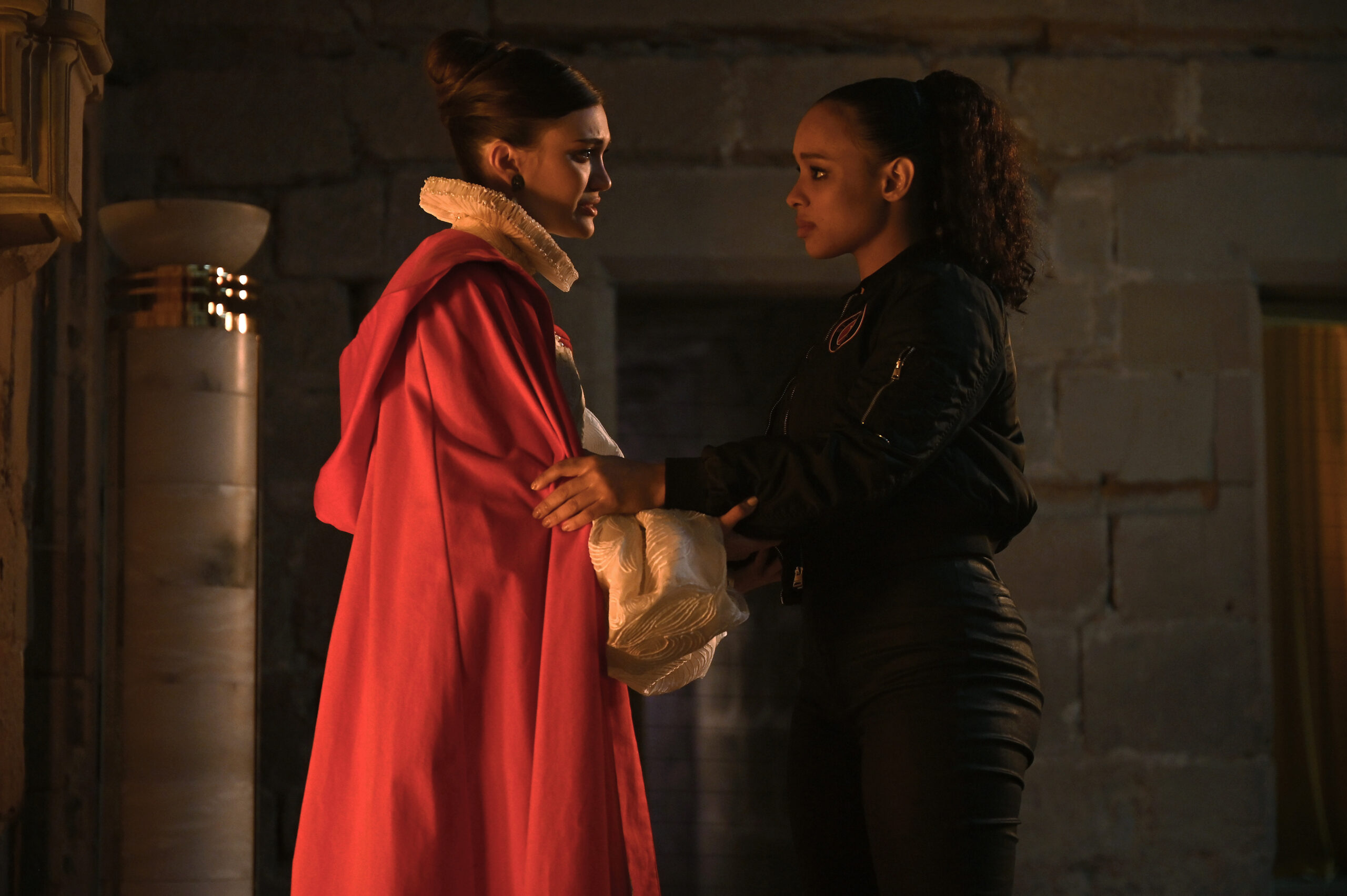 GU: What were some of your favorite memories while filming Vampire Academy?
Stringer: "I have a lot of favorite memories, but let's say my last day with Kieron was one of the final fights in the show. It was the big finale fight, the hero fight. I don't know what it was, but that day, we were on the same page and same wavelength. We were really in tune with each other. In the last scenes of the day we're filming the final fight and lots of crazy stuff goes down, but I nailed that fight. I absolutely smashed that fight. It was amazing. I'm doing all my tricks, I'm spinning around, I'm kicking, I'm stabbing. In the last take, I went so hard and obviously accidents happen, that the stake flew out of my hand, but it was such a good take that I just kept going.
I'd still be doing the stake movements, but I didn't have the prop, but I was conscious of that enough to hide my body so it wouldn't look like I didn't have my stake and somehow it just came together. It just came together and I was so proud of that. Then the stunties gave us all personalized boxing gloves with the Vampire Academy logo and our character names and everyone cried. It was beautiful. The stunties man, they really pulled this off and without them, we would have nothing."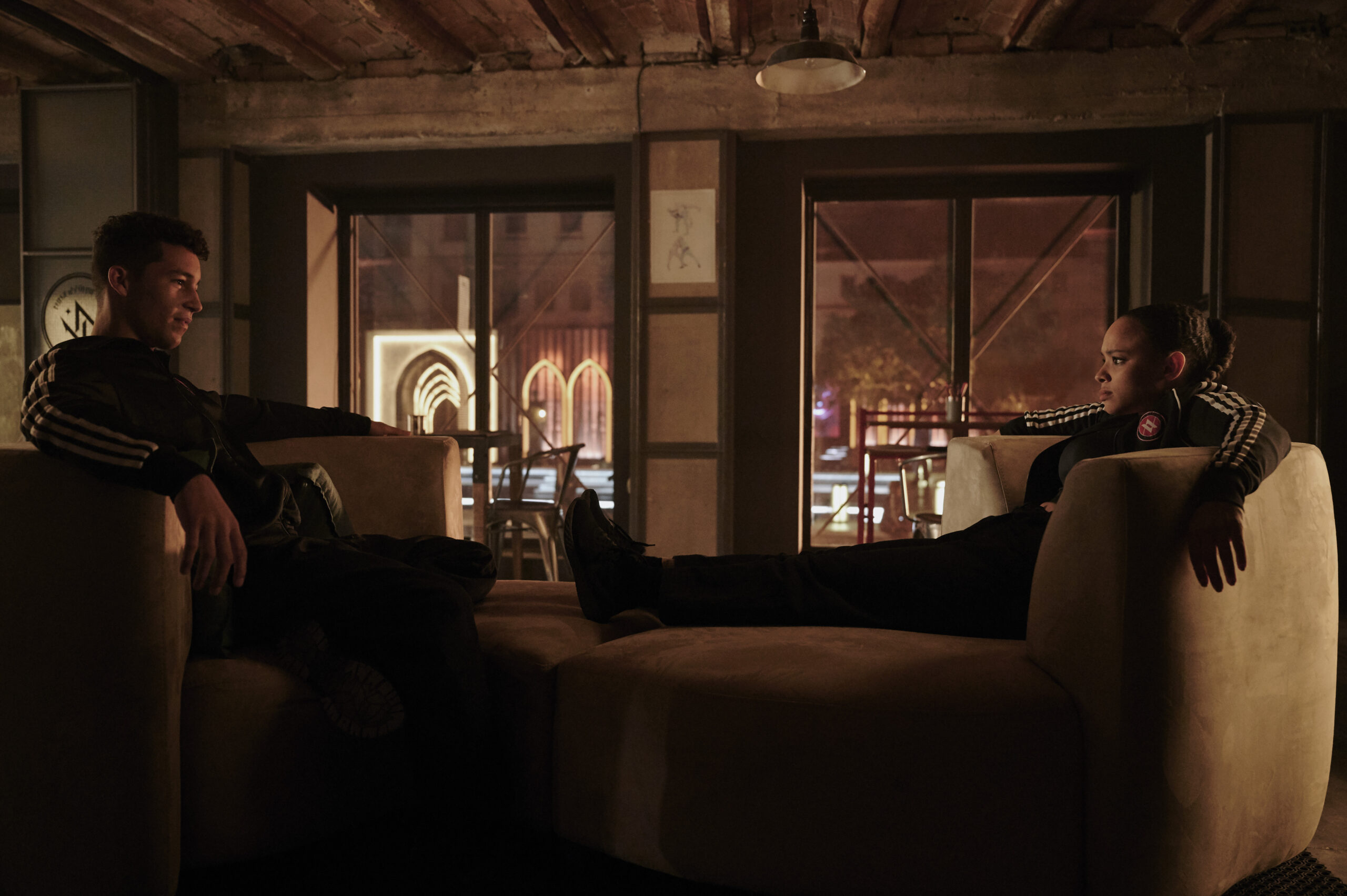 GU: What are some of the most common myths and misconceptions that you've ever heard about vampires?
Stringer: "Well, all law is different, right? Twilight with the sparkling, usually a vampire would burst into flames, but no, he's like, 'This is a skin of a killer, Bella,' and he looks like a diamond. Every version of every story is different. I really like the way that [author] Richelle Mead set up this world because there are different kinds of vampires and also the world exists outside of the human world. Like [Daniela Nieves] was saying before that, usually, vampire shows are structured and based around vampires' relationships to humans, hiding, making sure they're not discovered, feeding, and all of that kind of stuff. Because we live in an all-vampire world in one way or another, it's a totally different dynamic. Because of that, the story develops in a different way, which is really cool to see. I think that's what sets us apart."
GU: What have been some of your favorite horror and fantasy films and shows ever?
Stringer: "Horror, fantasy. You know what? It's kind of messed up, but when I was a kid, I used to love horror. The blood, the gore, the violence, all of it. I used to love being scared. Then I grew up as an adult and I realized that that is actually the reality of the world and that that stuff doesn't just happen in fantasy. I can't watch horror anymore. I can't. I can't do it."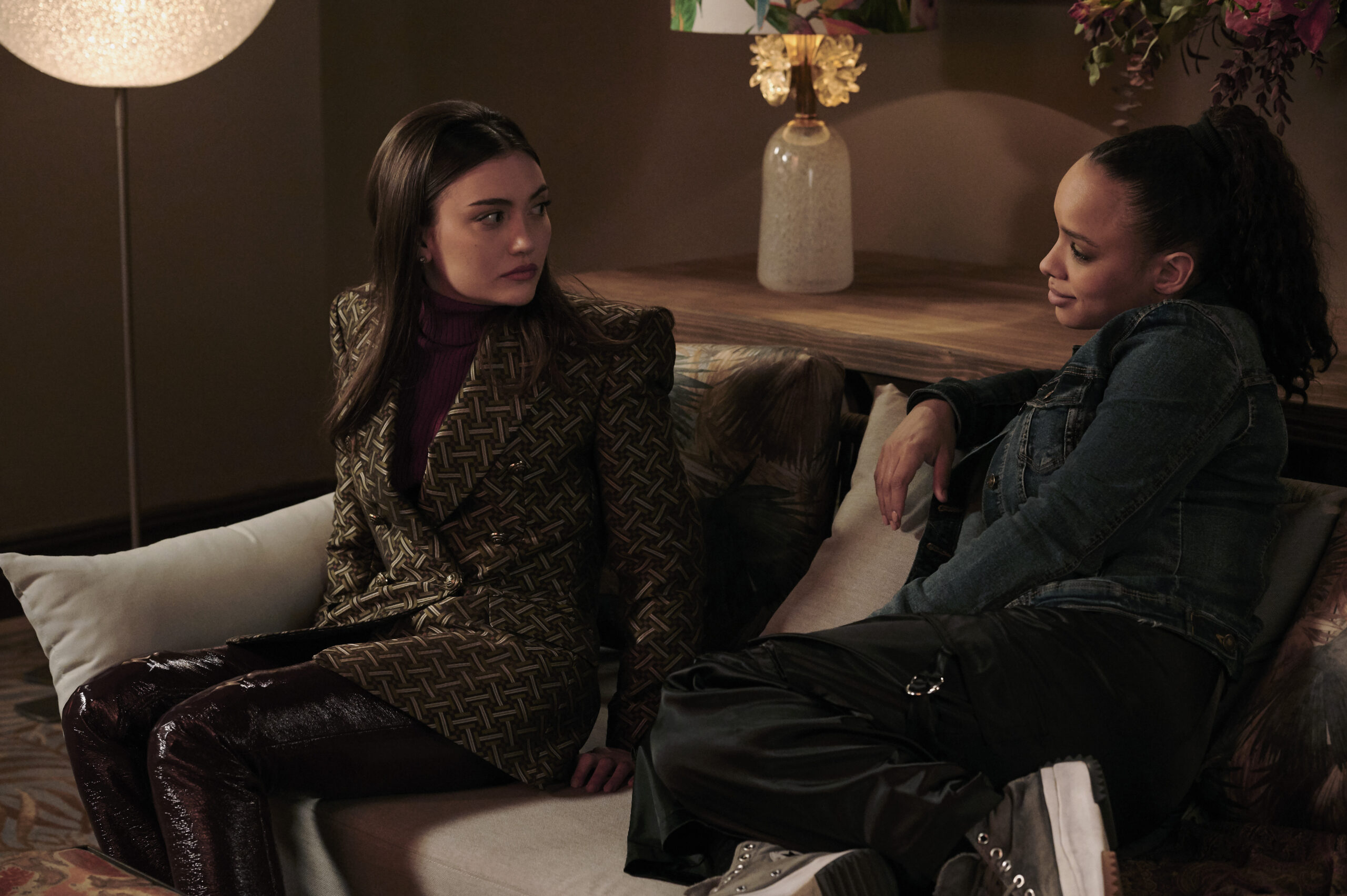 GU: What can we expect from the first season of Vampire Academy, and what're your hopes for how the audience will receive it?
Stringer: "I hope everything because a show would be boring if it was only one thing. There's so many things and I really love that we do have all of the action stuff and it's not just action when people are actually fighting in real life. It's also the type of action you see when people are training to fight. It's a little bit different and it's very cool to see that focused with love, romance, and passion. At the center is this beautiful soulmate type of female friendship, which is beautiful to see that you don't see often with love triangles and incredible costumes. Thank you, Sonya Grande for the incredible costumes.
"We were filming in a literal castle and they built this entire set on a monastery in Spain. It's all really practical and you get to see these beautiful locations, the way that they've done everything, and the way they aesthetically represent the difference in the classes as well. The royals, the non-royals, the dampiers, and all of that. I think because everyone did such amazing work, there is a lot that you can find and enjoy in our series. You might cry, you might laugh, you might get angry, you might hate some characters, but that's what we want but please don't hate me or I'll get upset."
Peacock's 'Vampire Academy' starring Sisi Stringer premieres tonight on Peacock. Watch the official trailer below before the debut of the first four episodes!
Photo Credit: UNIVERSAL CITY, CALIFORNIA – SEPTEMBER 08: Sisi Stringer attends the Halloween Horror Nights Red Carpet Celebration at Universal Studios Hollywood on September 08, 2022 in Universal City, California. (Photo by Momodu Mansaray/Getty Images)
About D'Shonda: Born and raised in Brooklyn, NY, D'Shonda Brown is the Associate Editor at Girls United. When she's not interviewing or writing, she enjoys running, dancing, buying sneakers, and binge-watching Lifetime movies.