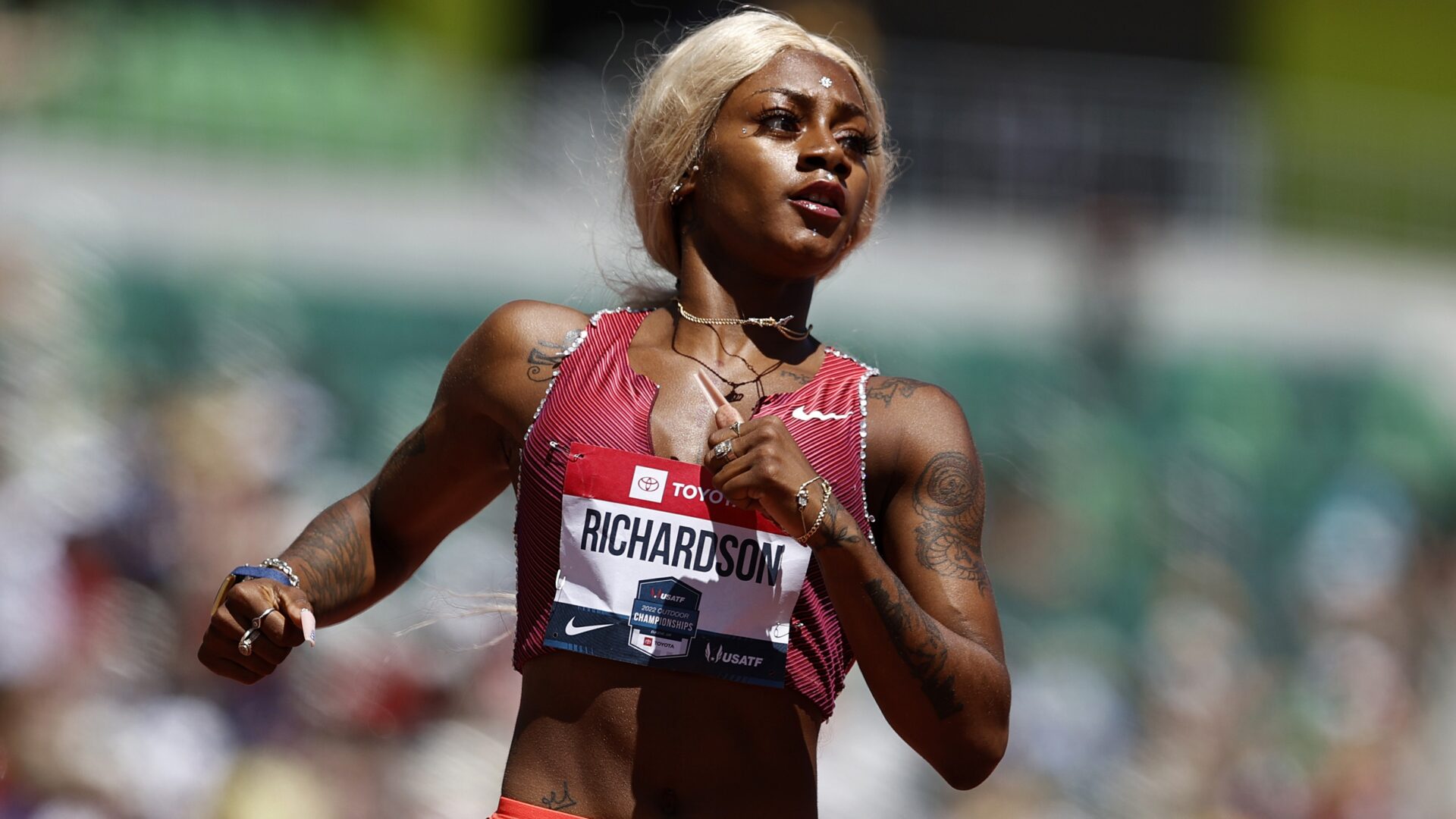 Sha'Carri Richardson Arrives In First At 100-Meter Race
She beat Olympic champion Elaine Thompson-Herah from Jamaica.
Sha'Carri Richardson is back – and she's winning. The 22-year-old track and field athlete arrived in first place in the women's 100-meter race at the Spitzen Leichtathletik meet in Luzerne, Switzerland.
On August 30, Richardson raced on a wet track and under strong wind conditions. The weather didn't keep her away from victory. She beat Olympic champion Elaine Thompson-Herah from Jamaica by one-hundredth of a second, according to Reuters. Richardson had a time of 11.29 seconds, with Thompson-Herah arriving in second at 11.30 and the American Celera Barnes arriving in third at 11.40.
The Spitzen Leichtathletik meet is a World Athletics Continental Tour silver competition, the second level of the tier below the elite Diamond League, reported The Root. 
It was Richardson's first race since the American Outdoor Championships last June, where she failed to qualify for the World Athletics Championships in both the 100m and 200m. At the time, Thompson-Herah had won bronze at the world championship and took home the gold at the Commonwealth Games.
On September 2, Richardson also competed in the 100-meter race at the Memorial Van Damme Diamond League meeting in Brussels, where she arrived in fifth with a time of 10.93, according to CBC.
Her fans took to social media to celebrate her win. "Sha'Carri Richardson got a whole lot of hate when she was going through her situation & when she loss those races , now let's reverse that & show her the same amount of love for winning," tweeted one user. Another wrote: "Sha'Carri Richardson win should be talked about a lil more than it is… she won give her her due."
Congratulations Sha'Carri Richardson!
Photo Credit: EUGENE, OREGON – JUNE 25: Sha'Carri Richardson competes in the women's 200 meter first round during the 2022 USATF Outdoor Championships at Hayward Field on June 25, 2022 in Eugene, Oregon. (Photo by Steph Chambers/Getty Images)
About Kyra: Kyra Alessandrini is a news writer at Girls United and a freelance journalist. Her work has appeared in publications such as Time, The Hollywood Reporter, InStyle, and Elle. Born in New York and raised in Paris, France, she is passionate about culture, street photography, and travel.