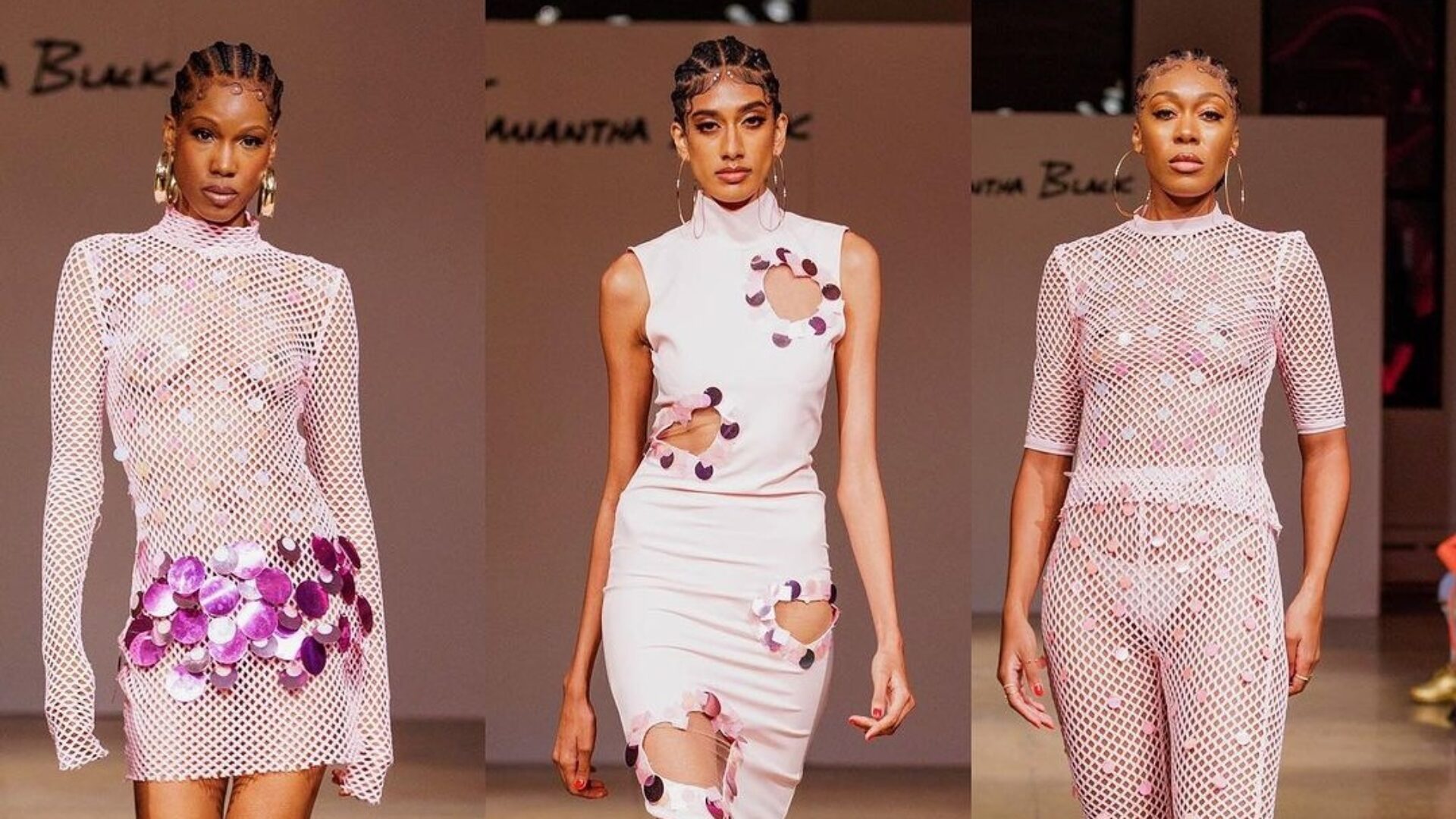 Sammy B Races Down Lovers Lane For New York Fashion Week
GU goes behind the seams to the spring/summer 24 show in Lower Manhattan.
As fashion week reached its midweek peak, GU was headed to Lower Manhattan to grab backstage and front-row access to the Sammy B NYFW show. The pre-show was bustling with models tuned into their playlists while hairstylists and makeup artists worked to create illustrious looks. The space was a nonstop machine three hours before the show, from intricate stitched braids to soft glam faces. Within the same vicinity, volunteers and showrunners were doing last-minute fittings and product shots on the lower level before the crowd brimmed the area for the afterparty.
Sitting next to LaDonya Sierra, a model who's had a booked and busy last few days, she offers the makeup products that's gotten her through the week, like Makeup By Mario's Master Matte's Eyeshadow Palette, $50 to not only work on her lids but to do a light concealment. Sierra also gave high reviews to the latest addition to the Fenty Beauty family, the Eaze Drop Stick Blur + Smooth Tint Stick Foundation $35, saying it completely hid an unforeseen yet inconvenient zit.
Entering the last hour of backstage madness, preparation calmed down to head upstairs to grab a seat for the show. As time passed, the Hudson Mercantile studio was full of Black creatives hopping off the elevator in their best street and fashion week wear.
The opening is an eye-catching sequined two-piece checkerboard look cut into a mini skirt and bandeau. The collection titled Racing Down Lovers Lane is an ode to the motions of love. "It's fast and emotional and then it's slow and soft, like a roller coaster," founder Samantha Black tells GU. "It's like racing. You don't know what direction love is going in. Sometimes it's amazing, and sometimes it's not."
The next few looks followed were a blended color scheme of yellow and black, including maxi dresses, skirts full of movement, and intricate tops with cutouts as the central theme. From there, the collection turned into a ballet core with soft pinks of sheer and net garments gracing the runway. A few worthy highlights include a fish net-like mini dress with mega sequin embellishments brimming the bottom and a circular wired bralette, a must for next summer season. Like love, the assemblage reverts to its initial yellow arc as it transcends to a few sultry sheer pieces with graphics of the Sammy B logo and then concludes with swatches of Black from its leather button-down maxi and dark blue in a racing graphic turned midi dress and co-ord. The finally spotlighted Sierra's daunting and lace-savvy micro top married by an elongated leather train maxi.
"I always try to make things wearable," says Black. "It might seem a little cool but it's so easy to actually wear. You just gotta put it on and then let it rock, just like caping the emotions of love."
The show concluded with Black racing down the runway to backstage as models, production, and herself shouted with support, "SammyB! Sammy B!" The afterparty commenced right after heading to the lower level, full of a lounge area and drinks powered by Appleton Estate and Liquid Death. The show was also sponsored by Kiss Colors & Care to ensure guests stayed upright. A few products from the latest hair care line, which included an edge control brush, edge fixed, and braiding gel, were gifted for a flawless remaining fashion week.
As GU continues to uplift today's disrupters, Black closes out, sharing how she's caused disruption in the fashion industry and heightened it by being a Black designer. "I can't go out without people knowing that I'm a black designer. I'm very forward facing as well and have longevity and just like continuing no matter what the circumstance is good or bad and just like pushing my art out there is very important to me," Black says. ". I feel like that's disruptive and to be passionate and consistent in an industry. Let's just stand our ground and keep pushing what we do effortlessly."