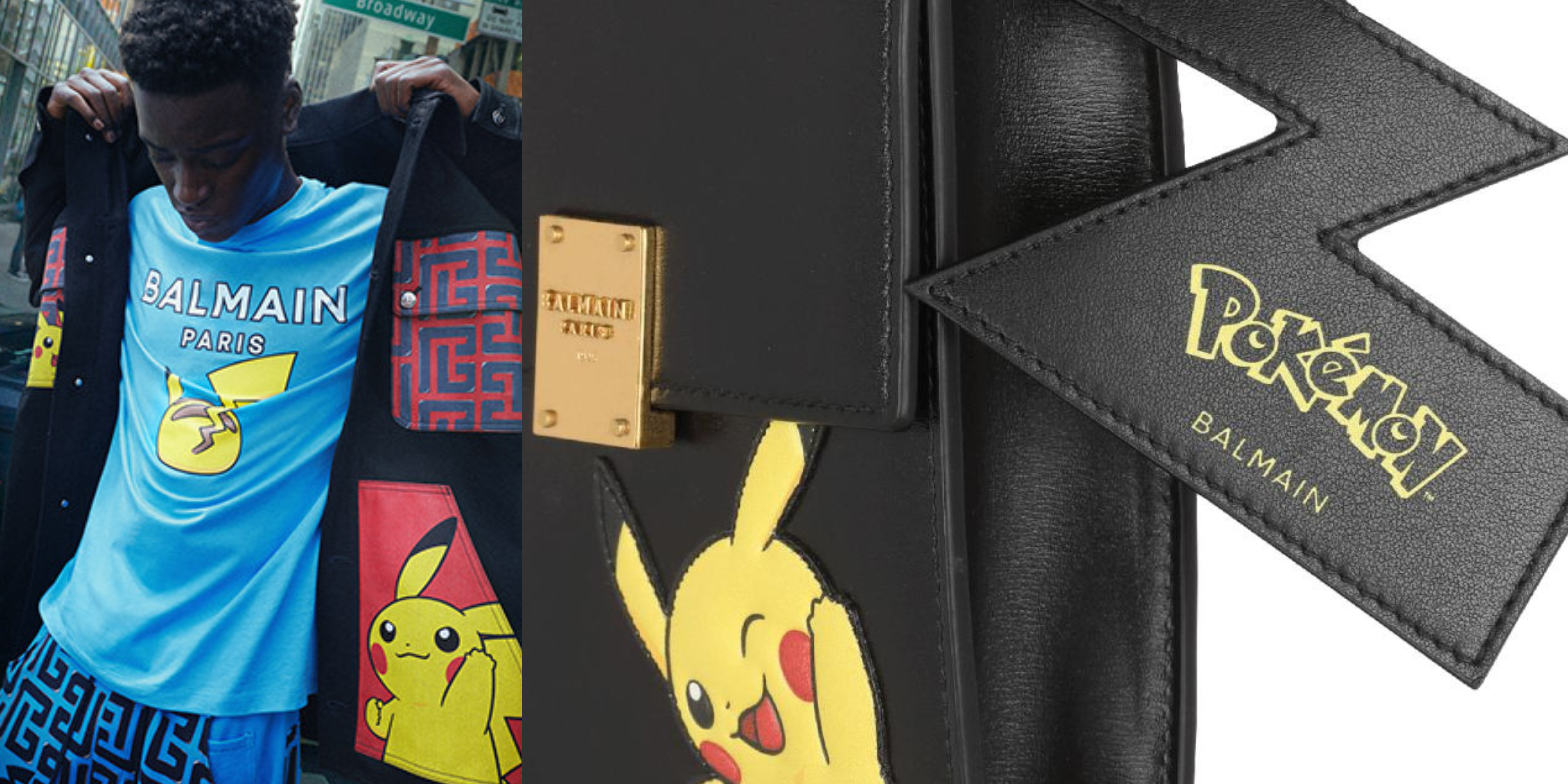 Pokemon Takes Over The World Of Fashion With Exclusive Collaborations
Comme des Garçons and Balmain are celebrating Japanese pop culture through their designs.
Pokemon is taking over the world of fashion. In September, brands such as Comme des Garçons and Balmain announced exclusive collections in collaboration with the beloved Japanese animated characters.
Comme des Garçons unveiled a collection of 30 items featuring Pikachu. The brand's essentials including T-shirts, sweatshirts, and varsity jackets now include the yellow animated character. Pokeballs were also added to some designs, stamped under the Comme des Garçons logo. Accessories are also an integral part of the collaboration, with Pikachu featuring on sneakers, clear handbags, and black backpacks, as well as scarves and chain necklaces.
The full collaboration will be unveiled at a pop-up shop in Tokyo, Japan from September 14 to 20, reports Hypebae. It will be available to shop online on September 23 at 11 a.m. JST on CDG's website.
Pokemon is also collaborating with the French designer house Balmain, with its "Pokémon x Balmain Trainer Fashion Set."
"Pokémon's bright pop aesthetic and captivating creatures have always appealed to me," said Olivier Rousteing, Balmain's creative director, according to Hybebae. "Today, they make me think of an earlier, simpler time, when we all shared a rosy vision of all the positive changes that we were certain that digital innovations would make possible. And that's a key reason why I'm so happy to partner with Pokémon on this collection — because, right now, we could all use a reminder of those past moments of hope and optimism."
Balmain's signature "Labyrinth" motif now includes Pokemon characters. Pikachu was also added to items such as T-shirts, pants, and bags. The collection draws from the Pokemon color palette of yellow, red, black, and cream. The collaboration is now available to shop on Balmain's website and on Pokemon's UNITE app.
About Kyra: Kyra Alessandrini is a news writer at Girls United and a freelance journalist. Her work has appeared in publications such as Time, The Hollywood Reporter, InStyle, and Elle. Born in New York and raised in Paris, France, she is passionate about culture, street photography, and travel.