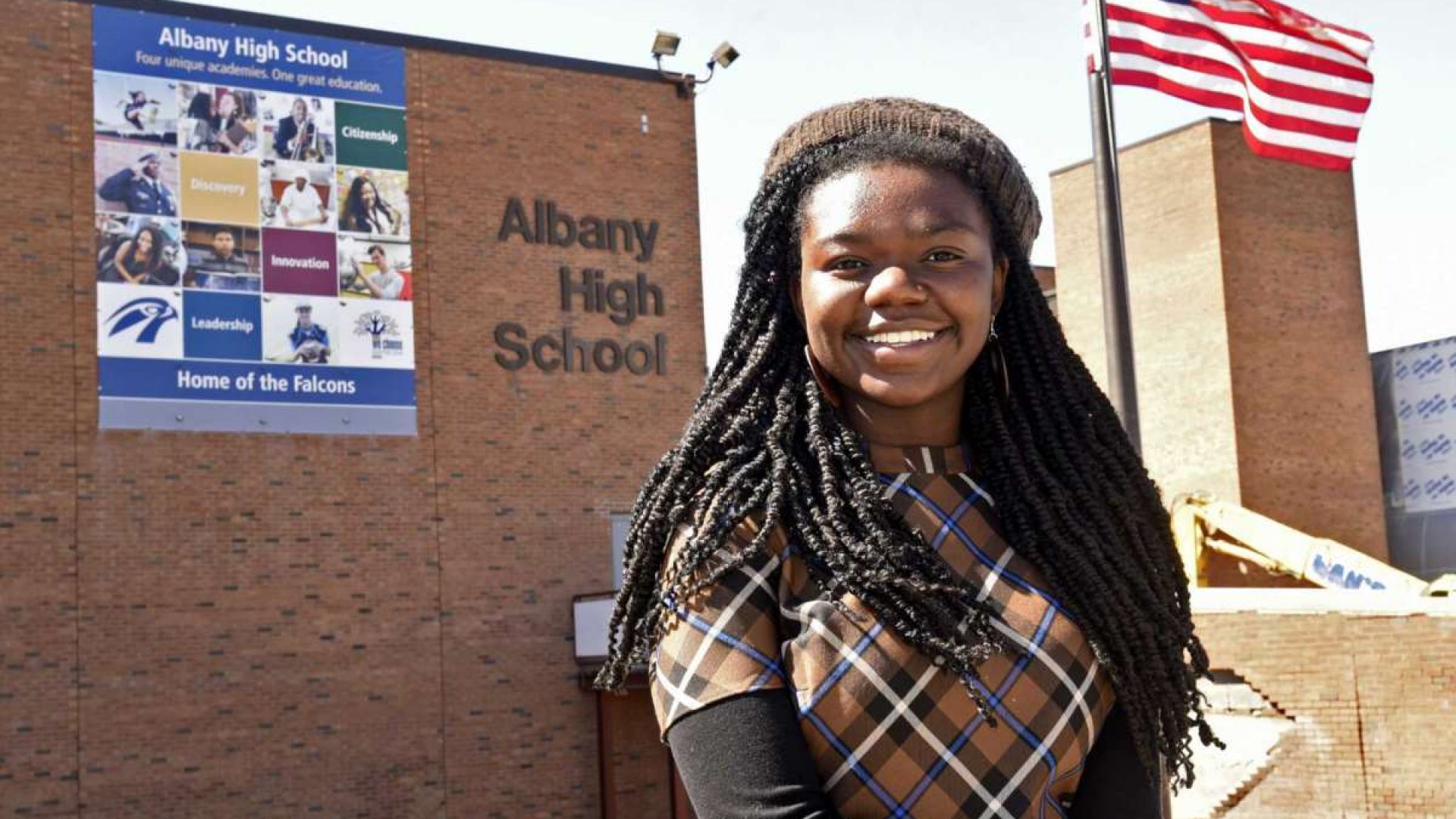 This NYC Senior is The First Black Valedictorian in Her High School
Albany High has never had a Black valedictorian in its 153-year history
Third-generation Nigerian student Onovu Otitigbe-Dangerfield  has officially been named the first Black valedictorian in Albany High's 153-year history. The high school senior was also named valedictorian in the eighth grade and has received prestigious admissions offers from top schools such as Yale, Harvard and Cornell University.
"I think that just being able to be valedictorian is an amazing accomplishment," she told the Albany Times Union. "I'm very privileged to be in that position but to have some historical meaning behind it, to have a position where in my school there's a lot of students who look like me, now I'll have an opportunity to live by that mantra –if you can see it you can be it."
When she first gauged interest in Albany High's robotics club, she was initially uncomfortable with the fear of not fitting in and noticed that there were "mostly white men in that club," but that didn't discourage her from her "passion for the field and being able to create."
She is currently the president of the Robotics Club, President of Key Club, an active soccer player and the Editor-in-Chief of her high school's online newspaper. Otitigbe-Dangerfield is also invovled in the choir, jazz band (as a piano and violin player) and a volunteer at the local nursing home.
"I realized I can't allow other people to dictate my future … I wanted to go into this field and I had to come to terms with the fact that it's not going to be 100 percent easy as a Black woman," she continued, as reported by Albany Times Union.
From an early age, her mother Jessica Otitigbe took notice of her daughter's passions and talents for the STEM field and enrolled her in science and robotics camps throughout their region. According to Otitigbe, her daughter won her first engineering competition when she was just a toddler by building a bridge made out of gumdrops and toothpicks. Talk about innovation! "She's continued this streak of always wanting to excel while maintaining this value of humility and respect and compassion," her mother praised.
The high school seniors hopes include specializing in pediatric robotic-assisted neurosurgery and becoming a "surgineer," which infuses the practice of robotic design and surgery into one career field.
Photo Credit: Albany Times Union/Lori Van Buren