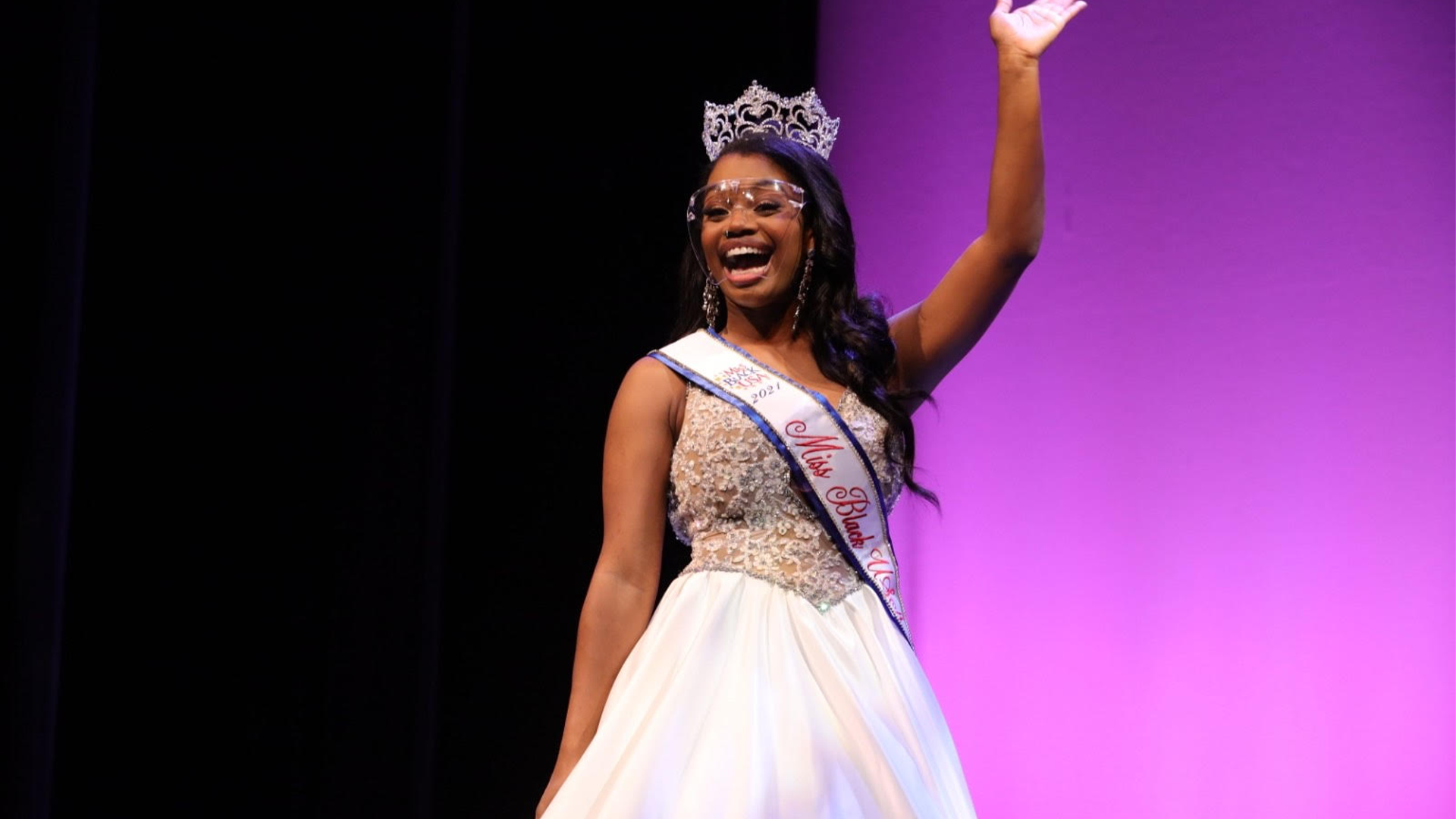 Former Miss Black USA Talented Teen Launches Full-Ride Scholarship For Her Successor
A true queen is using her royal influence to positively impact the next generation of princesses to come
You might recognize this queen from our Girls United web series Girls United Beautiful Possibilities when she was a curious young mind learning about the science behind the cosmetics industry. Now, Jacqueline Means is building her own empire of queens and princesses as she uses her platform as the former Miss Black USA Talented Teen.
Jacqueline Means has been known to make history-making moves and is now passing her crown – and the gift of knowledge – to her successor. First, she broke barriers by becoming the first Delaware holder of the Miss Black USA Talented Teen in Washington, D.C.. Now, she has launched a full-ride scholarship to the HBCU Delaware State University for the first time to her successor Angelina Aubain this past weekend.
"Congratulations to the newly crowned 👑 Miss Black USA Talented Teen, Angelina Aubain from DELAWARE 💙💛! So proud to crown the second-ever national talented teen from DE! It's so cool to have back-to-back queens from Delaware! It's a repeat – more like a DE-peat!! Best of luck on your reign Angelina, I know you'll do great," read Means' heartfelt Instagram caption to her successor. "I'm so excited to see what you accomplish with this year! 💕So happy to be apart of your pageant journey! We did it!! 🥳"
Means is making sure that she is leaving her mark on the world, one young girl at a time. Throughout her reign, she has been tirelessly working to introduce young girls in underserved communities to the world of science, technology, engineering, and math (STEM) with her Wilmington Urban STEM Initiative, according to AfroTech.
Inspired by her introduction to STEM at a young age, Means moved forward with her desire to pursue a career in the sciences. Today, she is working toward her goal of becoming a pediatric neurosurgeon as a University of Delaware college student with Medical Diagnostics major on the pre-med track while minoring in neuroscience.
Means has continued to use her platform to advocate for young women and girls in the STEM field including larger mediums such as Access Hollywood, The Steve Harvey Show, The TODAY Show, and The Kelly Clarkson Show. Recognized widely for her work and advocacy, Means has managed to rack up numerous accolades including the official proclamation of Women and Girls in STEM Day by Delaware Lieutenant Governor Bethany Hall-Long on March 24. Furthermore, she was awarded the NAACP Youth Visionary Award, the Governor's Youth Volunteer Service Award, and the title of 2019's Miss Delaware's Outstanding Teen.
"It has truly been an honor to serve my nation as Miss Black USA Talented Teen! The opportunities I've had, people I've met, and memories I've made are all things I know I will never forget. I could not have been more proud to have worn "Miss Black USA Talented Teen" across my heart for the past year. While I am closing this chapter of my journey, I can't wait to see what the next one holds!," Means wrote on Instagram as she wore her crown for a final time in a recently posted reel.
Congrats are in order for the STEM queen and we can't wait to see what she has in store for the world next.
About Deidre: Deidre Montague is a writer who enjoys focusing on Race, Social Justice, and all things celebrating Black girls, Black women, and women of Color. When she is not writing, she loves watching Ziwe and Catfish, along with listening to music from Gospel, R&B, and Pop. She can be found on Twitter @dthejournalist1, IG: @deethejournalist, and FB: @DeidreMontague.