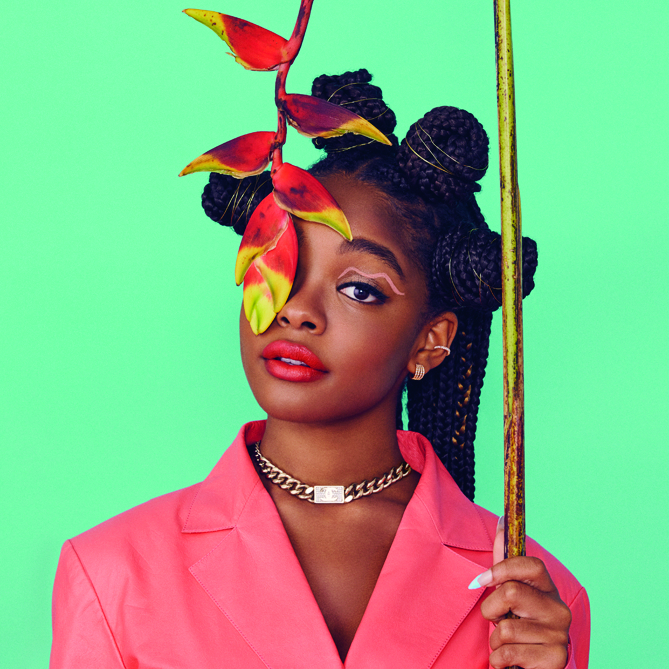 Marsai Martin: In Full Bloom
For Gen Z's creative class, "Black-ish" star Marsai Martin rewrites the rules—and we're taking notes.
It's hot summer weather in Los Angeles on the day of Marsai's socially distant cover shoot with Girls United, Essence's Generation Z platform. Her mother is present, as is her personal stylist, Jason Rembert. Throughout the day, both refer to Marsai by her given name, Caila. It's a subtle reminder that though she's a Hollywood star, she's also still a teenager backed by adults who truly know her.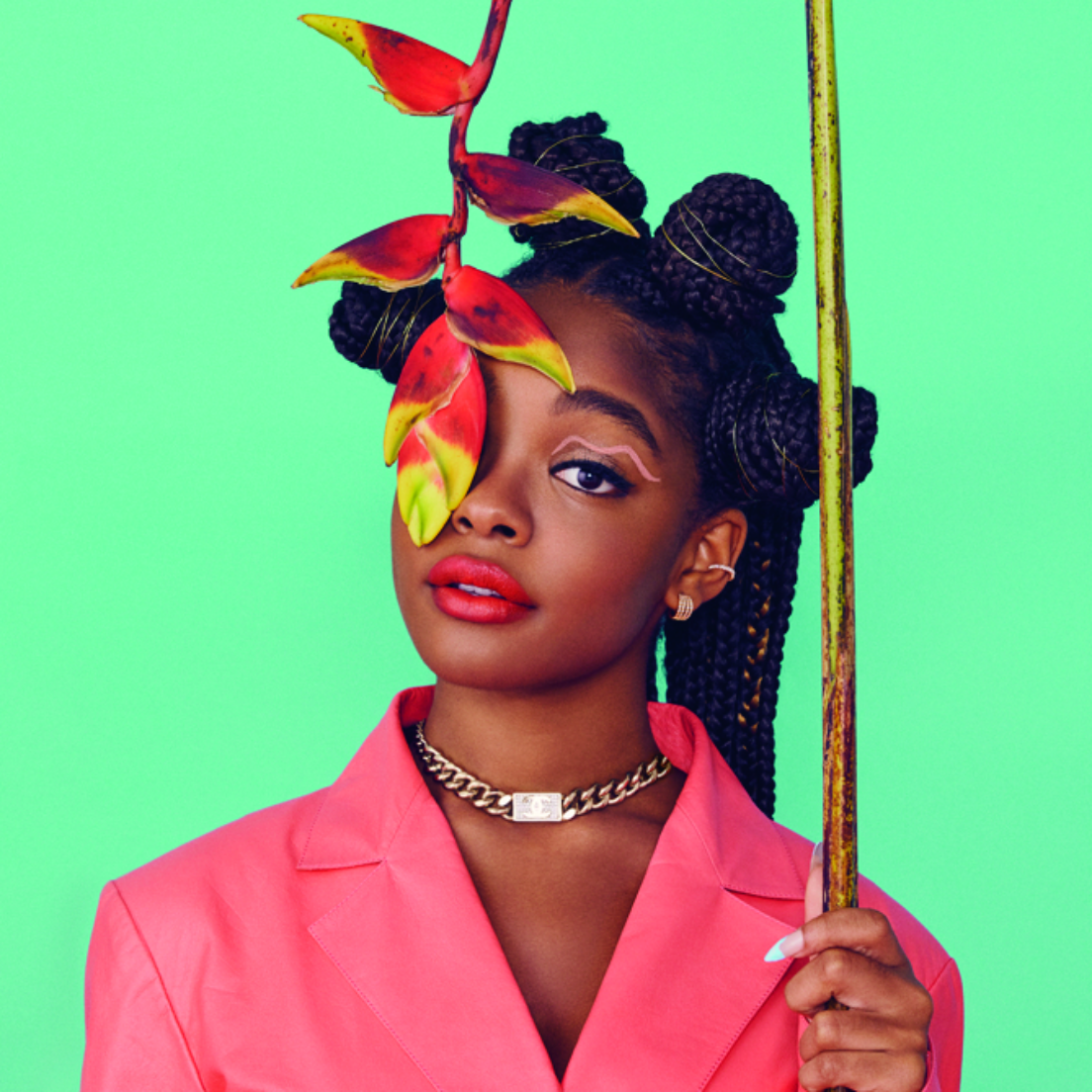 Marsai wears Chanel jacket and bracelet (worn as a necklace); Celeste Starre's Sunken Treasure earcuff Celestial Halo cuff earrings.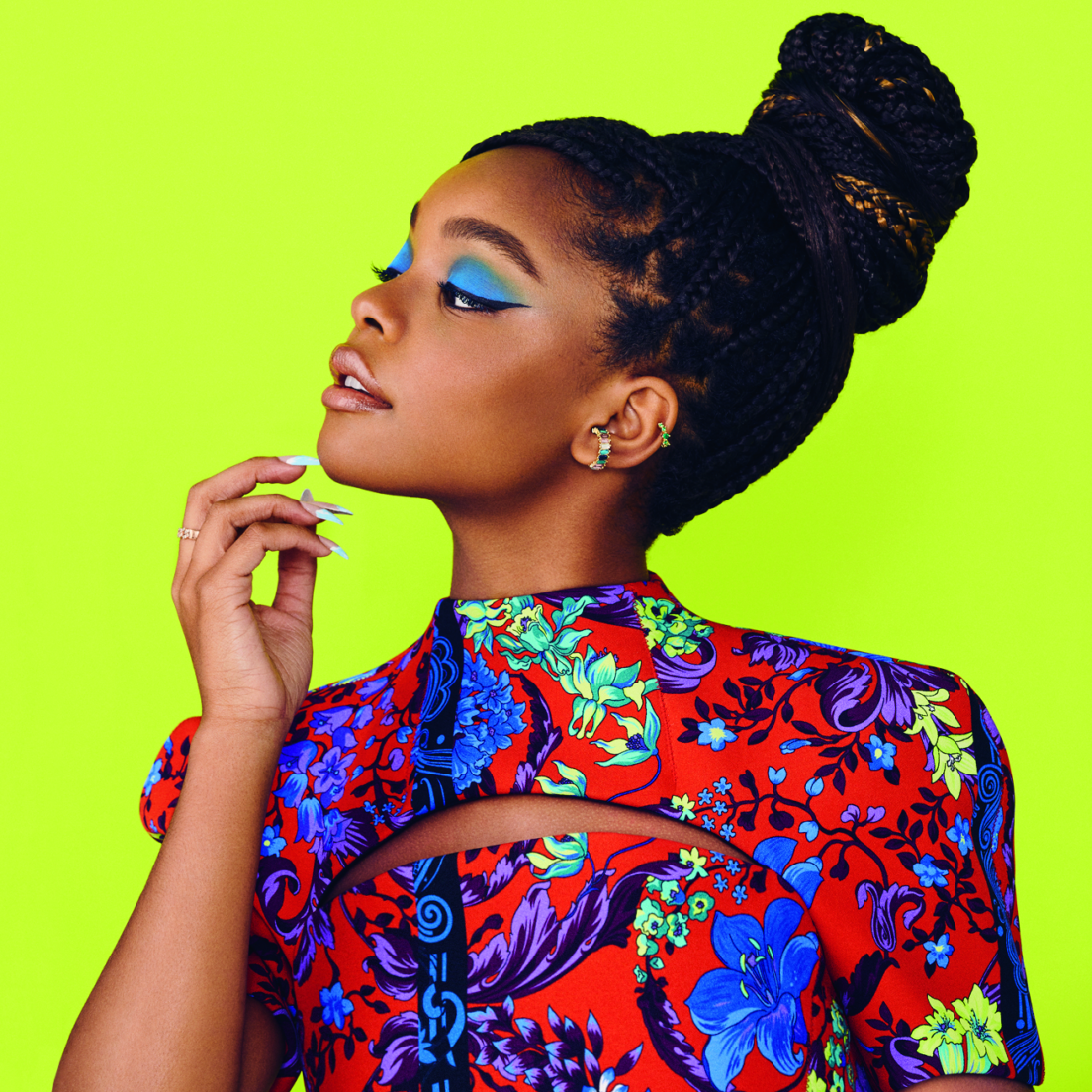 Marsai wears Versace and Celeste Starre's Maldives earcuff and Melinda Maria's Stella cuff earrings.
"It really sucks to say, but people are just now starting to understand that we as Black people have very creative minds and we won't stop until we get there."
Marsai's mother, Carol Martin, has told the story of a few agencies who initially turned Marsai down because they already represented a Black girl and didn't see the value in having another. Though representation has become the rallying cry for companies and institutions in recent years, Black people know that inclusivity can often be a marketing tactic—or simply something to say. But when it's genuine, Marsai wholly believes in it, as people recognize its power.
"It really sucks to say, but people are just now starting to understand that we as Black people have very creative minds and we won't stop until we get there," Marsai said days before the shoot.
And that's exactly the motivation that fueled her when she presented executives with her idea for Little, the 2019 comedy she executive produced and stars in. The movie, which also stars Regina Hall and Issa Rae, made history as Marsai became the youngest person to executive produce a Hollywood film. But when it came to unveiling her big proposal, she wasn't consumed by fear. In fact, she felt right at home in the room.
"Honestly, when I pitched the film, I thought about it as a whole bunch of dudes sitting around a table talking about our projects and what we have in our heads," she quips. Of course, two of those "dudes" were executive producers Will Packer and Black-ish creator, Kenya Barris.
"Math equations scare me a lot more than public speaking."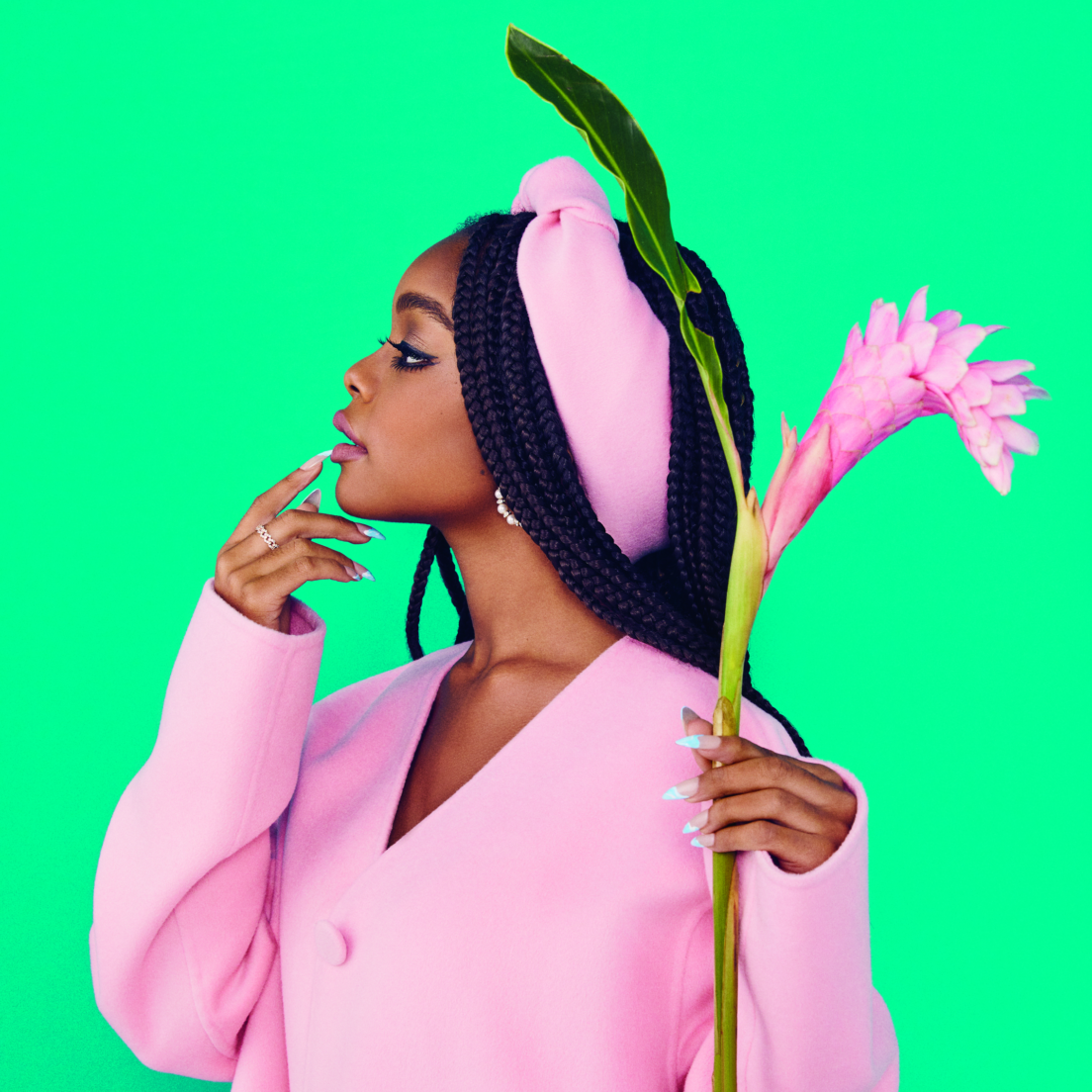 Marc Jacobs dress, jacket and head scarf, Chanel earrings. Ring, stylist's own.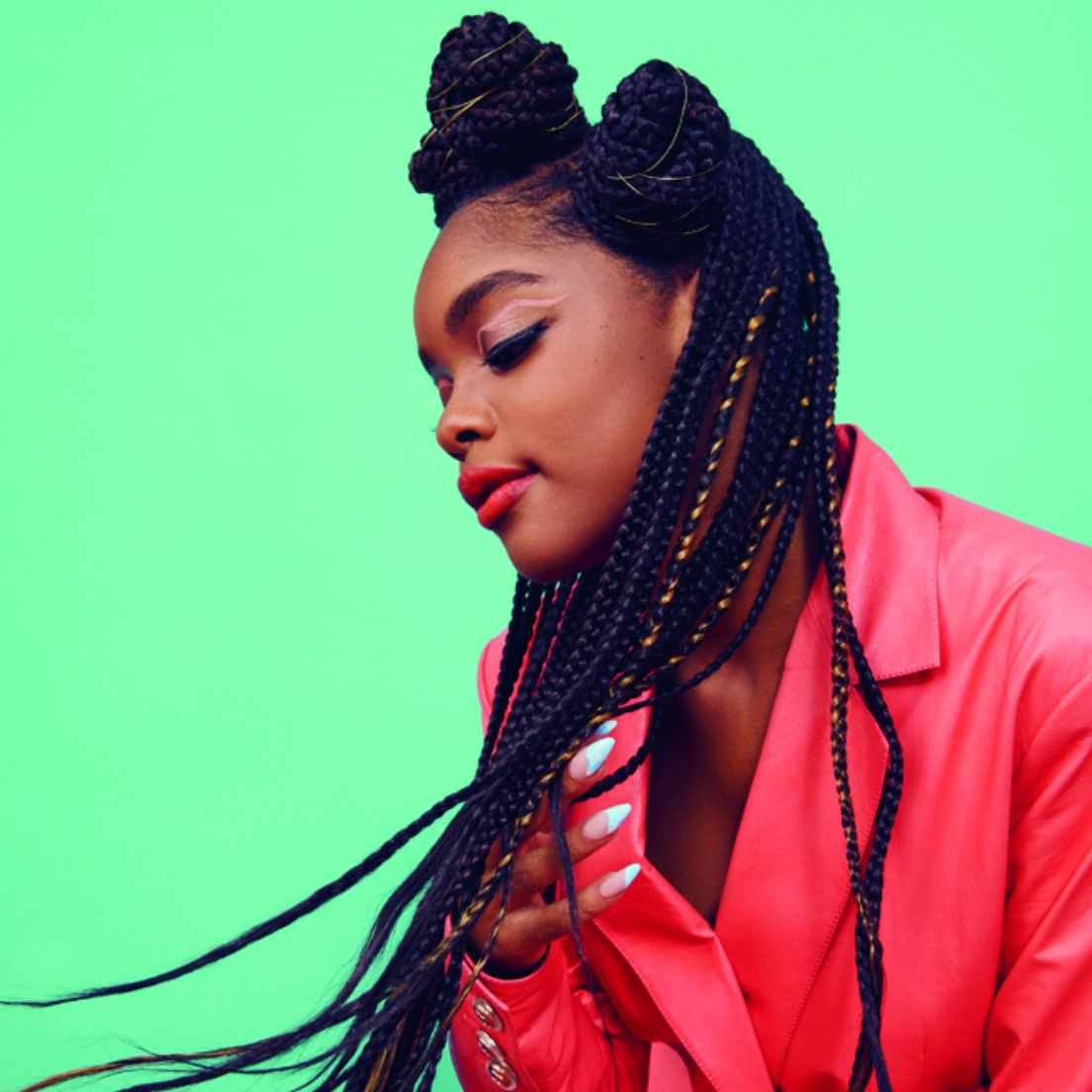 Marsai, who's been praised by Oprah and Ava DuVernay, also notes that she's a professional and doesn't feel inclined to mute her personality to get any points across. In an industry where Black women and girls are encouraged to make themselves small, she does the complete opposite. "I really didn't think of it as a nerve-wracking thing," Marsai says. "Math equations scare me a lot more than public speaking."
Another place where she feels comfortable is in front of the camera. Her relaxed demeanor is earned: Marsai has spent the past decade transitioning from starring in national commercials and ABC's Black-ish—which returned for its seventh season last month—to working on her own talk show for Quibi. Aptly called the Tiny Talk Show, it began filming this month. "I never want to pretend to be someone that I'm not," she says. "Every step that I take is true to me."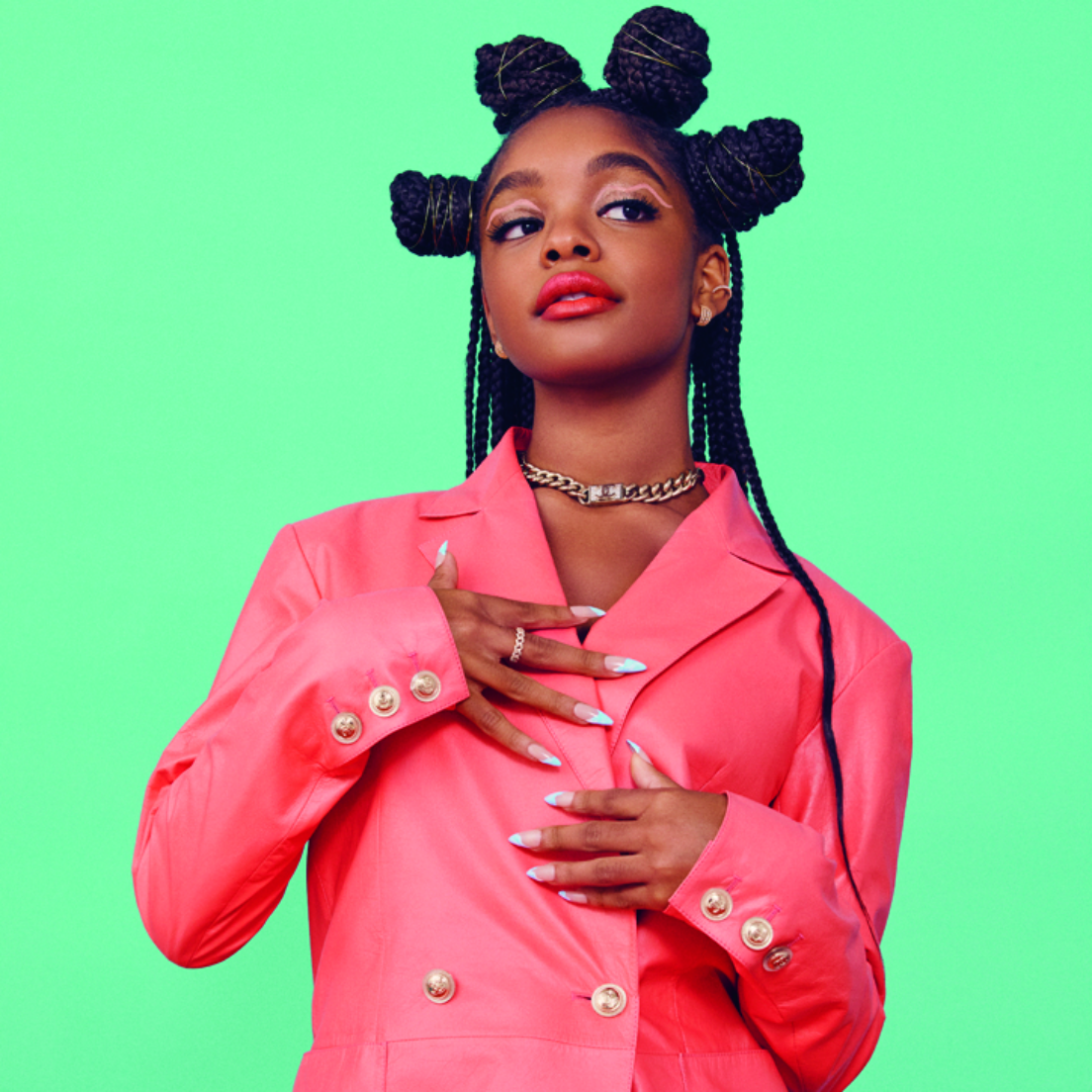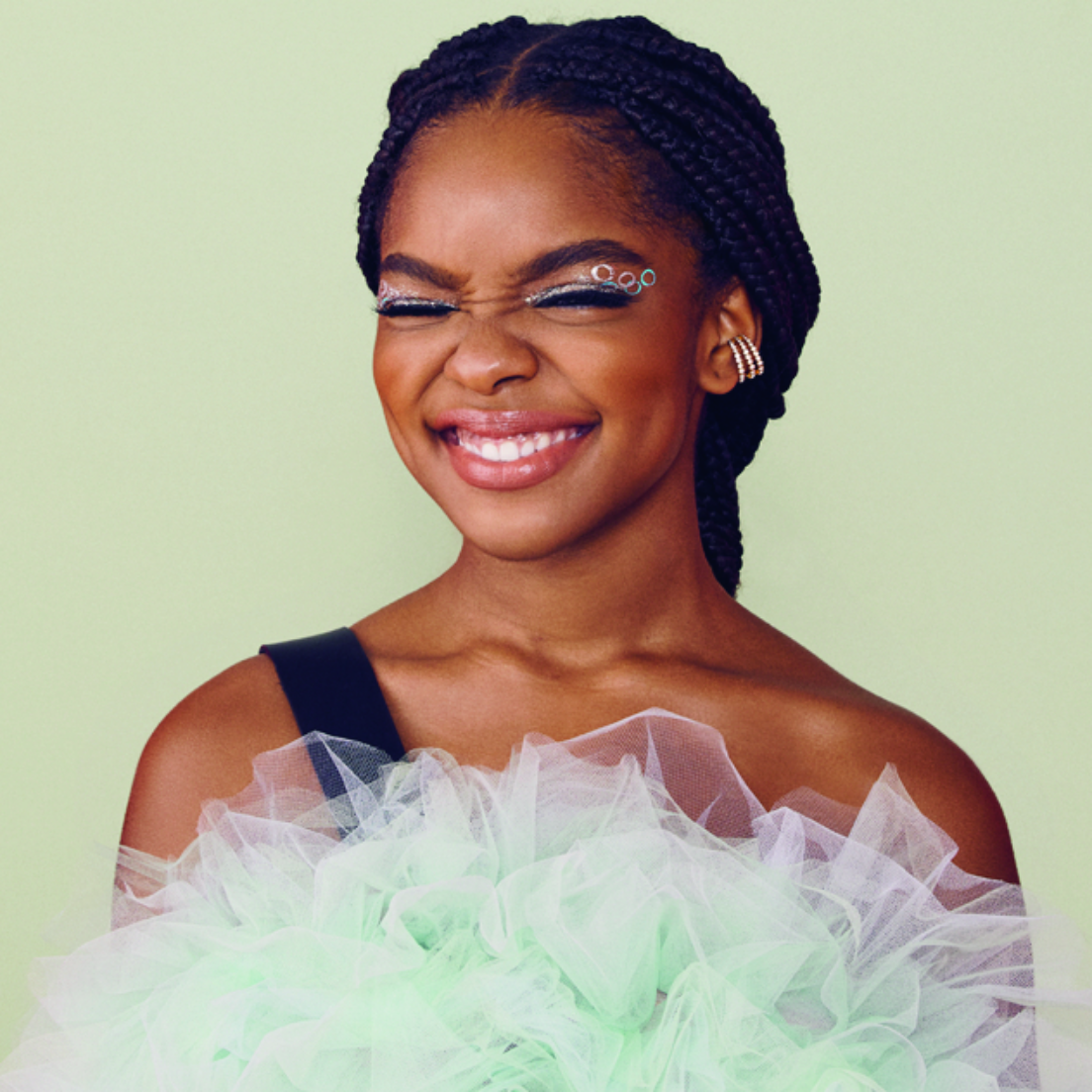 Marsai wears a Vera Wang gown and black wool sleeves; and Celeste Starre's Sunken Treasure earcuff and Celestial Halo cuff earrings. (Not shown: Giuseppe Zanotti leather booties.)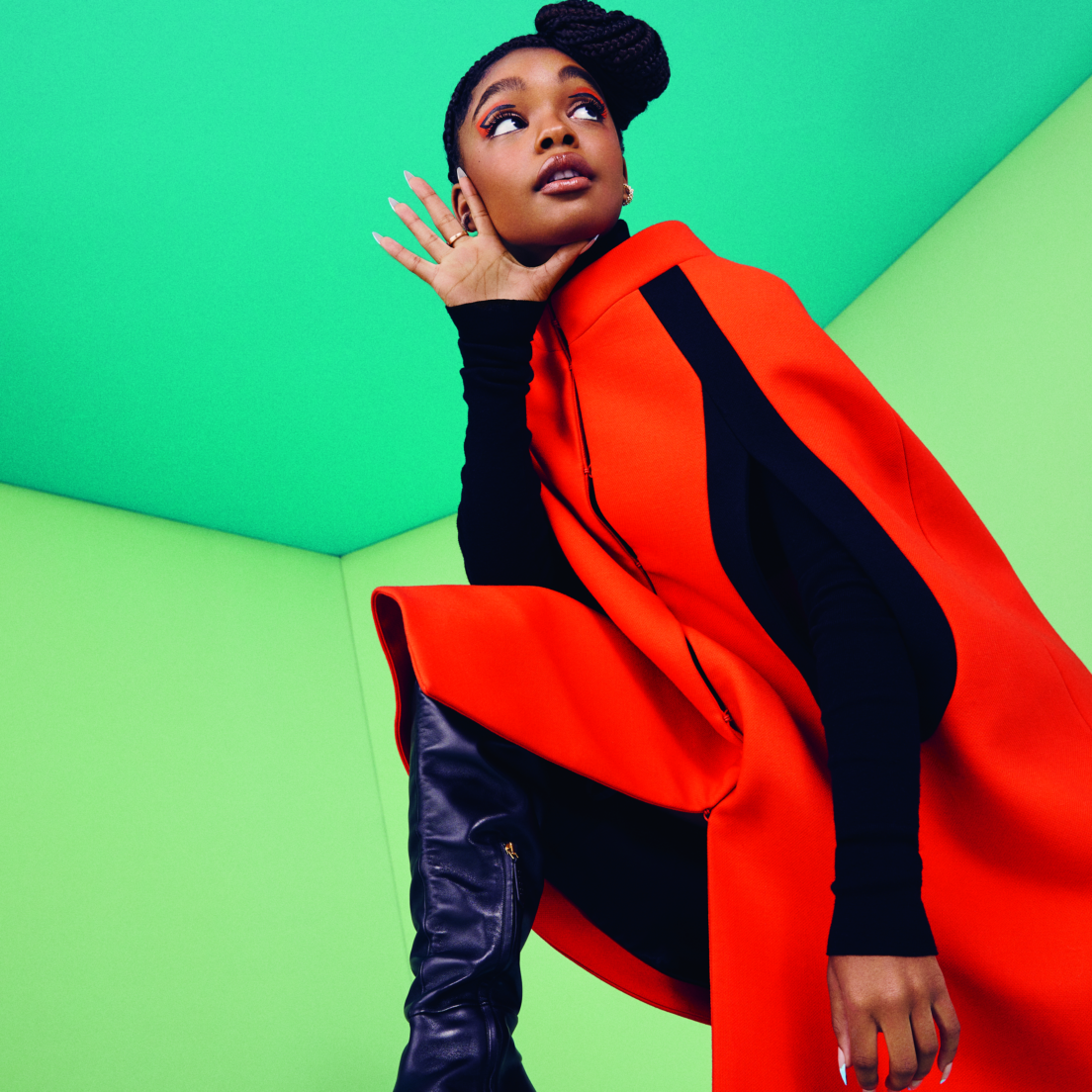 Marsai wears a Gucci wool coat natté cape over-the-knee leather boots; Bondaye Jewelry's Emani earcuff; Melinda Maria's Lia earcuff; Celeste Starre's the Maldives cuff earrings and Celeste Starre's the Tiffany ring.
The young producer, who signed a first-look deal with Universal Pictures in 2019, is also working on her second film, StepMonster; but production was halted earlier this year due to COVID-19. The movie is about a teenager who does everything in her power to break up her father's new romantic union. The pause in the film's progress has proven to be a good thing, as Marsai and her team used the extra time to their advantage, retooling the film so it's perfect. She's also participated in "a few" animated series, projects she describes as "theatrical"—while exploring other ventures and brewing ideas that, she says, will take her beyond TV and film.
Marsai is positive proof that the teens of today are an inspiration to those humble and wise enough to note their influence. They have launched and sustained multiple digital movements, including political and ecological ones, broken records and flat-out encouraged us all to be more empathetic and involved. Like Marsai, they continue to motivate people across the globe to pursue and realize their wildest dreams with the tools that they have.
Proudly leading the pack, Marsai Martin has clearly figured out how to live large while living life on her own terms. "I'm always myself," she says. "I'm in the space I'm in right now because I was just always unapologetically myself."
Cover Subject: Marsai Martin @marsaimartin
Story: Associate Editor Brooklyn White @brooklynrwhite
Photography: Ramona Rosales @ramonarosales
Stylist: Jason Rembert @jasonrembert
Hair: Ashley Noelle/Texture Management @hairbyashleynoel
Braids: Twy B/The Braid Bar @_thebraidbar
Makeup: Shannon Pezzetta/Fenty Beauty/a-frameagency.com @shannonpezzetta
Manicure: Victoria Hendrix/Cali Free Nails @califreenails
Set Design: Nick Faiella/Art Department @nickbot
Production: Natalie Gialluca and Naydea Davis @nataliegialluca @yepnaydea.nddm
Executive Producer: Essence Video @nonepix
Videographer and Editor: @khomariflashfilms