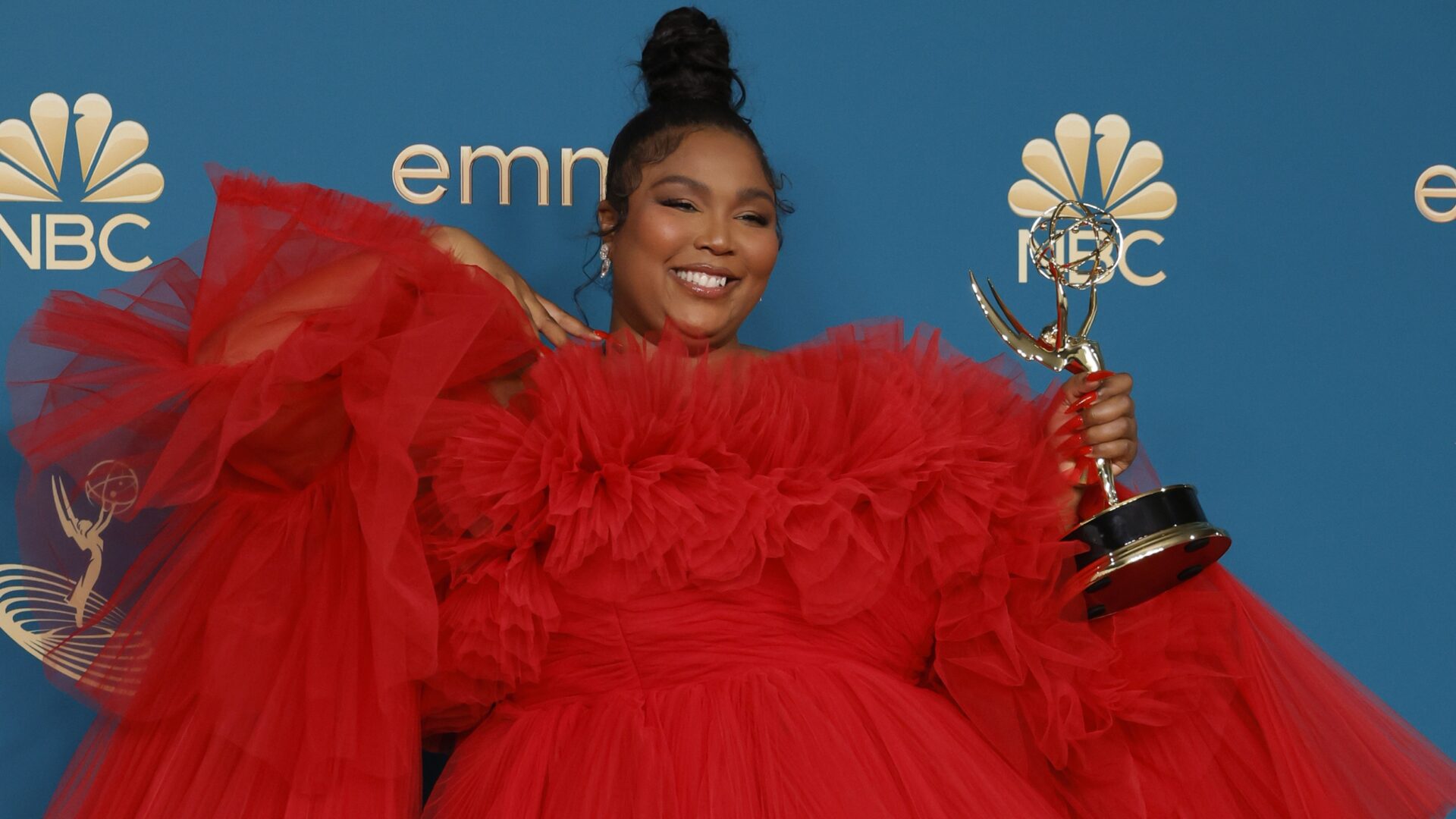 Lizzo Dedicates Her First-Ever Emmy Win For Competition Series To 'The Big Grrrls'
Lizzo is a shining example that our dreams can become reality – if we work hard and believe in ourselves! The artist won the Emmy for the outstanding competition program for "Lizzo's Watch Out for the Big Grrrls," an Amazon series that documented her search for backup dancers, according to CNN. 
In her speech, Lizzo pours her heart out to the audience, sharing her childhood dream of longing to see someone who looked just like her in the media world. 
"When I was a little girl, all I wanted to see was me in the media – someone fat like me, Black like me, beautiful like me," an emotional Lizzo said when she took the stage to accept the award. "If I could go back and tell little Lizzo something, I'd be like, 'You're going to see that person, but b***h, it's going to have to be you," she said. 
The "About Damn Time" artist also shouted out and thanked her 'Big Grrrls,' backup dancers who were sitting in the audience cheering her on. 
"One year ago, these women were filming this television show that would change their lives forever! They are Emmy Award-winning superstars who are going on a world tour! Make some noise for my Big Grrls!…God Bless Ya'll, this is for the Big Grrrls! L-I-Z-Z-O B-I-G-G-G-R-L-S! We the best! Hey!," Lizzo exclaimed. 
This Emmy win means that the "Truth Hurts" singer is one step closer to achieving EGOT status, which represents the Emmy, Grammy, Oscar, and Tony awards. With three Grammy Awards under her belt, including Best Pop Solo Performance for "Truth Hurts" at the 62nd GRAMMY Awards, Lizzo is continuing to show the entertainment industry that she's here to stay.
On her Twitter page, Lizzo posted a caption with her acceptance speech. "This is for the big grrrls who now live in a world [with] a little more representation. Where they are treated [with] respect. To not be the punchline of a tiredass fat joke. To be loved. To be talented. To be great. We do this because representation changes the culture & can change lives," she said. 
Congrats Queen Lizzo for making all the 'Big Grrrls' feel seen, heard, and loved. We stan you forever, sis! 
About Deidre: Deidre Montague is a writer who enjoys focusing on Race, Social Justice, and all things celebrating Black girls, Black women, and women of Color. When she is not writing, she loves watching Ziwe and Catfish, along with listening to music from Gospel, R&B, and Pop. She can be found on Twitter @dthejournalist1, IG: @deethejournalist, and FB: @DeidreMontague. 
Photo Credit: LOS ANGELES, CALIFORNIA – SEPTEMBER 12: Lizzo, winner of the Outstanding Competition Program award for 'Lizzo's Watch Out for the Big Grrrls,' poses in the press room during the 74th Primetime Emmys at Microsoft Theater on September 12, 2022 in Los Angeles, California. (Photo by Frazer Harrison/Getty Images)