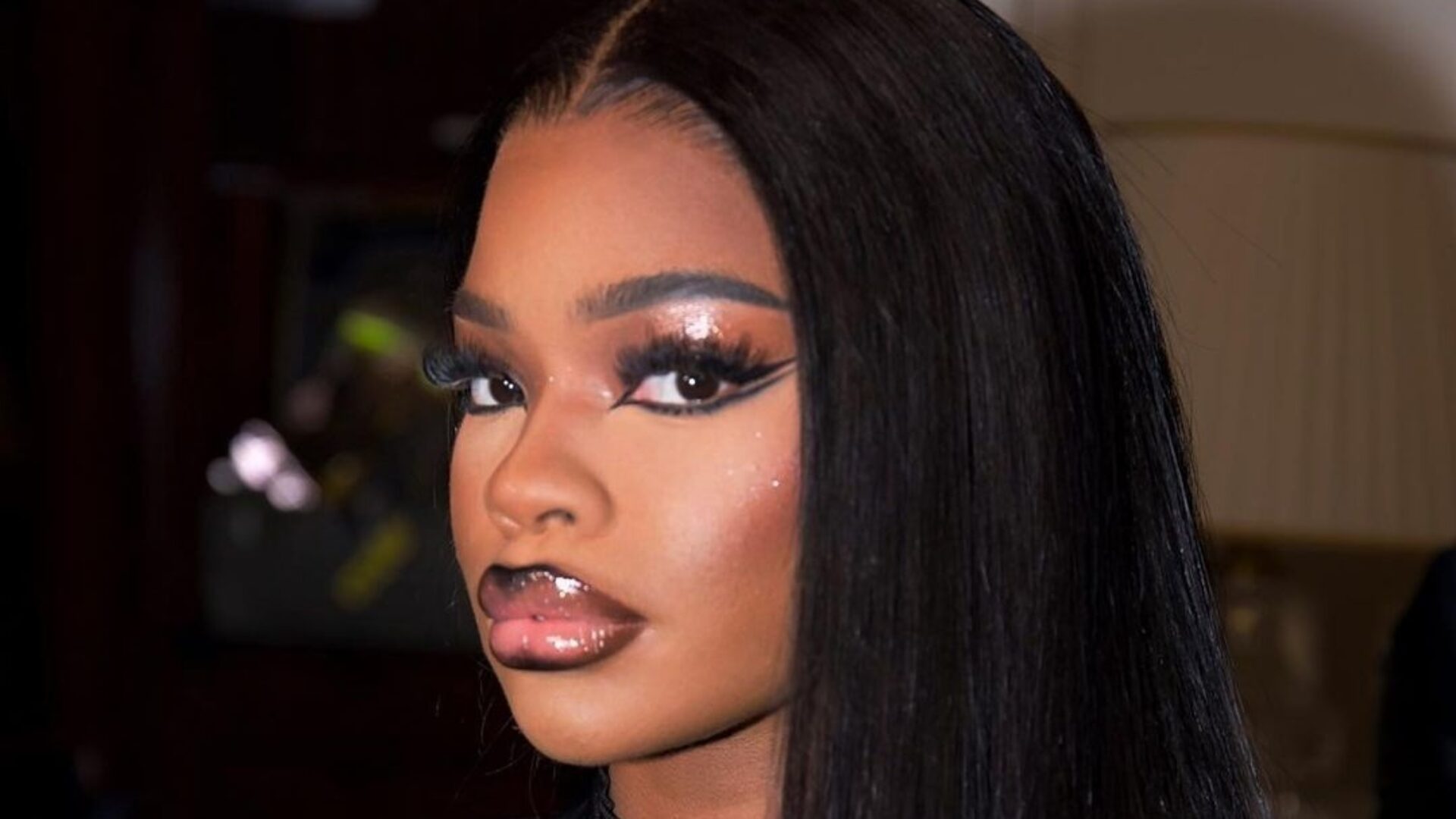 Here's Everything You Need To Recreate JT's Viral Mugler Lip
The glossy ombre is high fashion solidified.
If you've been on Twitter these past few days, you haven't been able to escape Mugler coverage from their Fall Winter 22/23 show. Media personality Ziwe and model Anok Yai smized at the cameras alongside a fierce catwalk on the runway. While the show was a success, social media was mesmerized by one thing: JT's ombre lips.
Done by European makeup artist Sophia Sinot, JT's glam featured an exaggerated double wing liner, shimmery brow bone, and an ultra glossy, pillow-like, black lip. Sinot took to TikTok for a full tutorial on how she achieved the look using products like Huda Beauty's Lip Contour in Rich Brown ($19), Glisten Cosmetics Black Wet Liner in Cola ($7), 3ina Black Longwear Lipstick ($18), Wonderskin Clear Gloss ($19) and Kiko Milano Hydra Gloss 26 ($12).
Sinot first lines the lips and uses a q-tip to smudge out the liner to help frame the look. Then using black shades to emphasize the middle and sides to create a pillow-like effect, and tops the look with gloss. 
There's been many recreations of the viral glam, including London TikToker Aisha, whose video has garnered over 100 thousand views. Her version is a bit more simplified using brown lip liner, black eyeshadow and Fenty Beauty's Hot Chocolit Gloss Bomb.
Sinot's mood board-worthy creations have also been flaunted by Doja Cat. Last October the pop star sported an edgier version of JT's glossy ombre lip, shimmery nude eyeshadow and swapped arched brows for studs. The makeup artist has the magic touch for virality with her futuristic, yet Y2K inspired looks.
Read 'Doja Cat Is Breaking Boundaries At Paris Fashion Week'