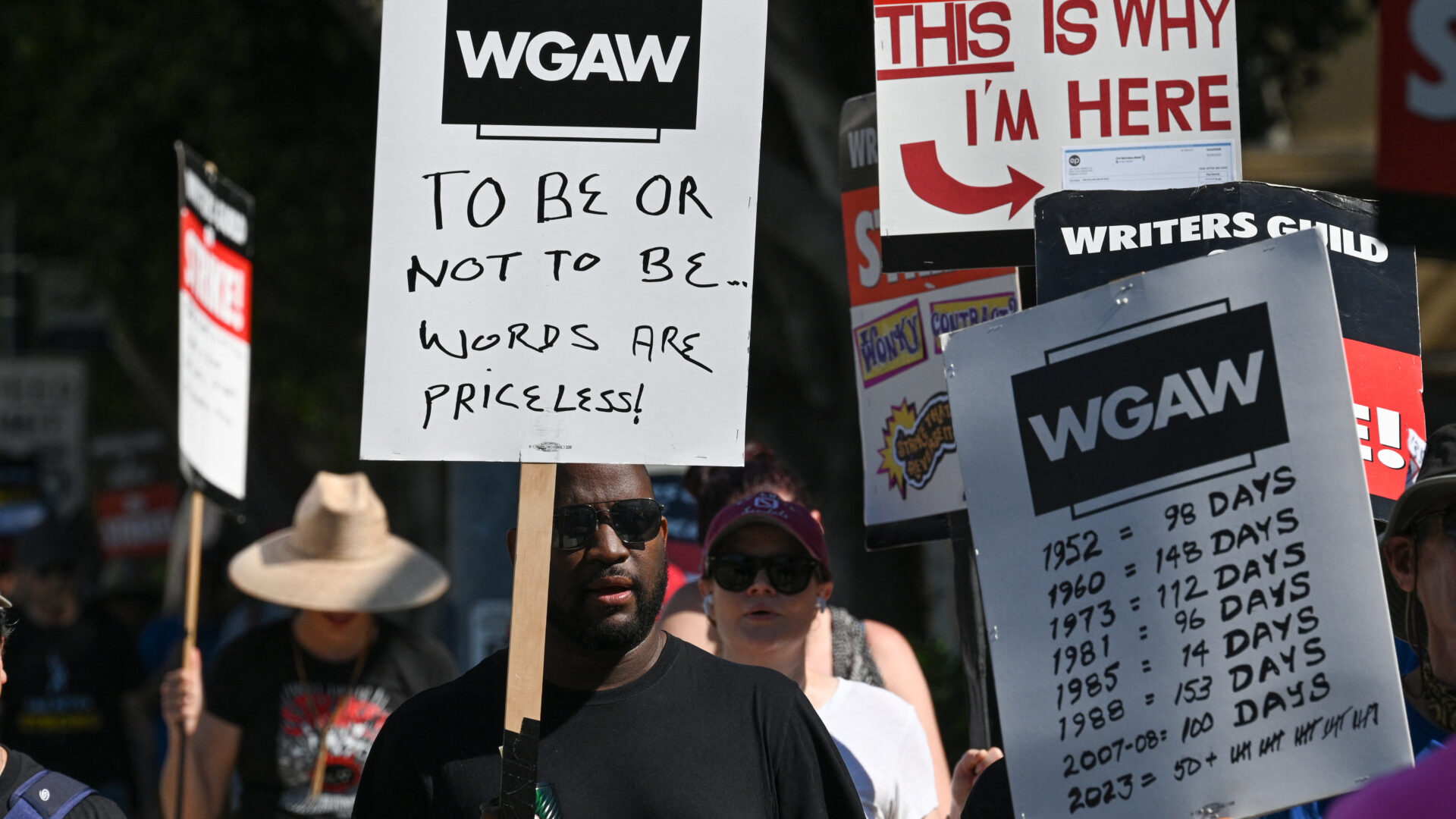 Here's What The Writer Strikes Mean For Gen Z Creatives
WGA Captain Caroline Renard spoke to GU on the importance of young writers knowing their worth.
The 2023 writers strike is shifting the entertainment landscape on a larger scale. Many young creatives either have a passion for being in front of the camera or behind the camera wanting to create memorable moments that'll live on the screen forever.
Caroline Renard always knew entertainment was her calling. Initially wanting to be an actress, the Florida native always wanted to make people laugh through her art. While attending her performing arts school in Miami, she realized she wouldn't have the same opportunities as her white classmates.
That realization was also when many women comedians were on the rise. She then saw her path to make her way into acting: writing. Stars like Mindy Kaling, Tina Fey and Amy Poehler became examples that she could be an actress and writer.
Years later, Renard became a notable writer for various shows and discovered her deep love for storytelling and directing. Now living in Los Angeles, Renard has seen growth in her career and, in totality, her worth as a creator in Hollywood.
On May 1, 2023, after the writer's contracts were up, The Writer's Guild of America and SAG-AFTRA decided it was time to renegotiate their contracts. For Renard and her colleagues, the goal was better wages as writers. On May 2, 2023, when their needs were not met, the only option they saw was to strike.
"Streaming has changed the business, and we wanted our contracts to reflect that," Renard told GU. "If something is not how it was three years ago when you signed your contract and your contracts offer negotiations, you should be able to renegotiate and change the parameters."
Why Are Writers On Strike?
In the entertainment business, it's standard for your contract to renew every three years when writing for TV and film. For the writers, it was time for their wages to reflect the time. Though the industry constantly evolves, events like the COVID-19 pandemic greatly impacted how working-class people live. "As the business continues to change, our contracts need to change," Renard said.
The CEO of Disney, Bob Iger, shared his disagreements regarding why the writers want to strike to see change and have an adequate income. "It's very disturbing to me. We've talked about disruptive forces on this business and all the challenges we're facing, the recovery from COVID which is ongoing, it's not completely back. This is the worst time in the world to add to that disruption," Iger said on CNBC.
With the strike, many productions of upcoming shows and films are on hold until an agreement is granted for writers. For Renard, this strike is more than a pay raise; it's a standard protection for creatives in an industry where stability and security can be fickle.
How Has Streaming Changed The Industry?
In March 2023, the WGA released a report about how streaming financially affected writers. "While company profits have remained high and spending on content has grown, writers are falling behind," the report stated. "On TV staffs, more writers are working at a minimum regardless of experience, often for fewer weeks, or in mini-rooms, while showrunners are left without a writing staff to complete the season. And while series budgets have soared over the past decade, median writer-producer pay has fallen."
Thanks to streaming, we're seeing a trend of shorter episodes and, unfortunately, faster pay for writers and actors. According to the report, 33% of all TV series writers were paid minimum; now, half are working at minimum. Increasing numbers of seasoned writers, including showrunners, are directly paid no overscale premium for their years of experience.
"If you created 100 episodes and 20-30 years from now it's still making money for that network and studio, you as a creator [and] actor, you still get a piece of that pie because you're working on that [project] that made [money]," Renard told GU. "But when streaming came around, [companies] were like 'well, you don't get that money' because they weren't relying on ads."
Numerous actors and writers have come forward about their experience fighting for livable wages during the strike. "You have no idea how hard it is," said former child star Giovonnie Samuels. "We just came out of COVID, and now we are going into a strike. I used my 401K, my nest egg, and my savings to survive."
How Can Gen Z'ers Maneuver Through The Hollywood Evolution?
According to the WGA report, In addition to falling weekly pay, most writers on streaming shows earn less per season because of shorter work periods. With many Gen Z'ers graduating college and entering the workforce, a time like this doesn't seem very comforting. "We may have to boycott some of these companies," TikTok user CJ posted. "Some of them are going to sit on their hands for this entire [strike]."
As we see younger leaders coming together to fight for a change in our political climate, it's also up to them to look for a change in entertainment politics. "Community is a big thing," Renard said. "In this business that you can't control because that's above your paygrade, but you can control your community."
According to Renard, being a Black woman in the entertainment business comes with various obstacles, so having the right foundation surrounding you is key. At a time like this writers strike which reached a complete three months today, It's up to Gen Z'ers to realize their value in the business.
"When I was in school, the 2007 strike was happening, and that was a scary time but trust that what they fought for made it way better for me when I finally was able to make it into the industry," Renard said. "So what we're fighting for is hopefully going to make it better for [Gen Z] in the industry."
About Kenyatta: Clark Atlanta University and Medill School alumna Kenyatta Victoria is the Girls United writer covering everything from news, pop culture, lifestyle, and investigative stories. When not reporting, she's diving deep into her curated playlists or binging her favorite comfort shows.