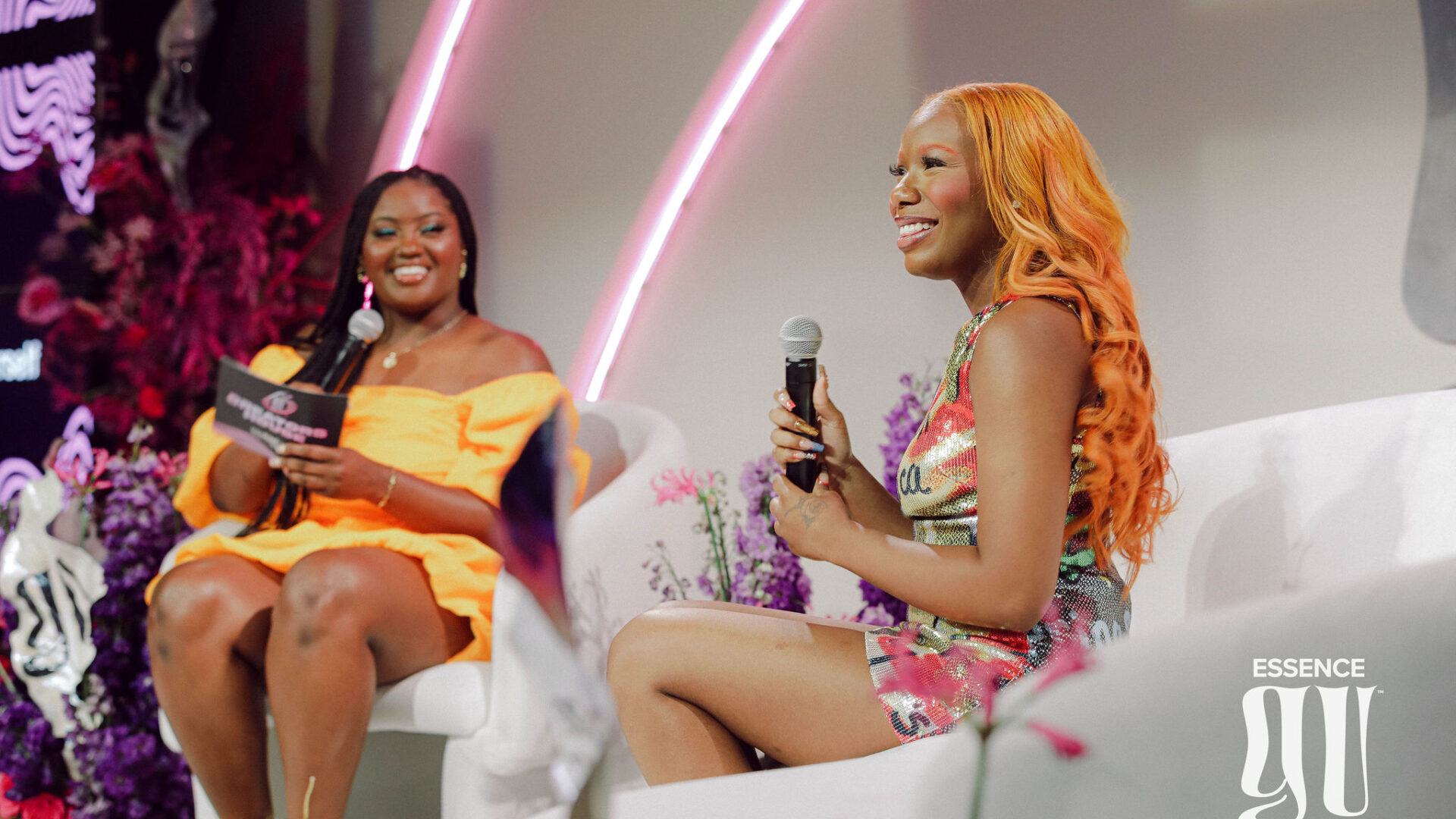 Talking Sh*t With PR Maven Ah-Niyah Gold
The princess of PR spills the secrets of how she helped the success of Black fashion and beauty by betting on herself.
Black fashion is rightfully at the forefront, but who exactly is partially responsible? Ah-Niyah Gold. You might end up exhausted staying up to date on the busy schedule that she shares through social media. With an impeccable Rolodex of clientele, including the founders of Topicals, Black Fashion Fair, Brandon Blackwood, and Theophilo, Gold is the industry maven to know.
Taking on Sunday's GU Creator's House, Girls United social lead Rhyann Sampson chats with the princess of PR about all things business. Whether you want to take your brand to new heights like the shelves of Sephora or be on a first-name basis with the CFDA, fashion, and beauty mavens to be sat in on the conversation. Plus, who better to sponsor than legacy cosmetic brand Olay?
Read "GU Creator's House Goes Behind The Seams In Black Fashion"
The panel begins with Gold revisiting her career journey for us to understand why she dove head first into fashion pr. From being a part of the Lion King cast in the early aughts to working with Pyer Moss in the late 2010s, she quickly learned that being a Black woman in these industry spaces would be challenging yet rewarding. What made her become the CEO of herself? "Being a black woman in fashion, in general, has its automatic nuances," Gold opens. "Before I started my own thing, I didn't see anyone who looked like me or was doing things on the level that (A Gold Consulting) is doing. I can add to this space; I deserve to be there. The opportunities there are lacking and still are for black fashion."
As Gold stated, Black brands are her bread and butter, but what goes into shaping her clientele? Sampson raises the question of how Gold continues amplifying these brands while maintaining their authenticity. Brandon Blackwood has been seen with McDonald's and Saweetie, Cup Of Stars has been spotted on Olivia Rodrigo, and Black Fashion Fair's debut Volume 0 editorial is nearly a historical artifact. But, like any successful relationship, her clients are friends first. "I'm close with my clients, probably too close," she laughs. "It's important to me that they're represented authentically when they're stepping into these rooms. Knowing exactly what they want, I can advocate for them in ways they don't feel comfortable." Gold goes on to express how unapologetic she is in said rooms, to ensure that her predominantly Black clients get the same treatment as other founders, designers, and brands.
Article continues after video.
When your work largely depends on other people's success, it might be challenging to find time for yourself. Especially as CEO and an eponymous moniker, Gold's name is always on the line. Winding down in the conversation, Gold gets candid about her sacrifices by catering to herself and prioritizing her mental health for her well-being. She recalled her Teen Vogue feature of herself and her team, and while being recognized and added to her list of accomplishments, she was exhausted, tired, and completely over it. During fashion week, one of the year's highlights, the parties, shows, planning, and phone calls were getting to her. "I battle with high-functioning depression and anxiety. I always have to balance working days and days where I'm inside," Gold reveals. "I was super overwhelmed, but I had to put on a strong face for my team, and seeing their faces so happy about the accolade that we were receiving got me across the finish line, but when it comes to my mental health, I have to do a better job letting people know I need a day to myself."
Read "GU Creator's House Drops Gems On Friendship And Business"
Sampson brings the conversation to a close with the final question of what makes Gold so excited about the next generation and what they're cultivating, to which Gold replies is community. She expresses that Gen Z has pushed the creative community for eons by being resourceful with each other, recognizing the genuine camaraderie in her community and professionally. "It's so different from when I started; everything was super cutthroat. Now I foster having a point to harvest community no matter where I am. It truly pushes us ahead."