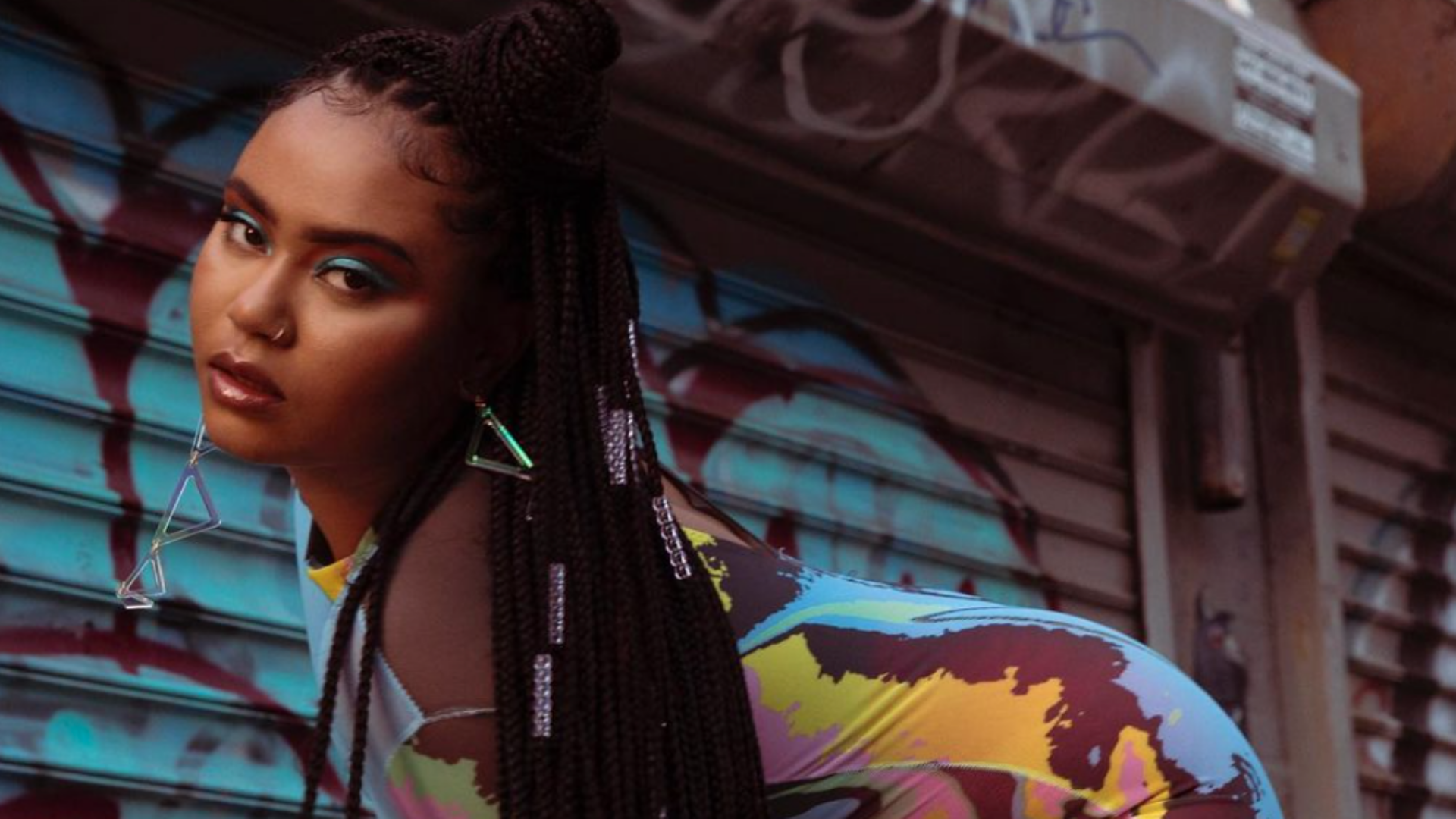 This Ghanaian Superstar Wants To Empower Women With Her New EP
"Sad Girls Love Money"'s Moliy opens up about her new EP Honey Doom, her dream collaborations, and more.
Molly Ama Montgomery–better known as Moliy– knew from a young age that the 9-5 life wasn't for her. "I was really confident about music," the now Orlando-based artist tells Essence GU. "It was the one thing I never got bored of. I knew I could be successful at it if I stayed consistent." And her hard work is definitely paying off: whether it's her feature on Amaarae's hit single, "Sad Girls Love Money," her 2020 EP, Wondergirl, or working with M.Anifest and Vic Mensa on "No Fear."
Next up, to end Libra season on a high note, she's released her EP, Honey Doom, on October 20th. "It's all about the bittersweet nature of relationships," and the heartbreak that often comes with them. Her ethereal voice is laced over dance-inducing beats on tracks like her single, "Hard" and her favorite one, "Freak." "I wanted this song to serve as a voice against physical abuse towards women. It's painful to see someone you love to experience something like that."
Moliy says her musical passion "all started with praise and worship." While her dad played guitar, her mother sang in the church choir. "In my house, after you pray, you sing," she says. "That's just how we did it." This eventually led her to burn playlists onto CDs and find new favorite musical artists, like Eminem. "I used to listen to his songs and memorize every single melody and rhyme perfectly. That's when I knew I really loved music."
Currently, Moliy has a few dream collaborations in mind; Rihanna being number 1. "I don't care in what capacity we collaborate. Whatever she needs, I got her," she says with a laugh. Until then, Moliy wants you to enjoy Honey Doom. "I'm so entirely consumed with bringing this out to its fullest potential," she says. "I really want it to empower women to feel in control."
Below, Girls United caught up with Moliy to discuss her biggest musical and beauty inspirations, the story behind the name Honey Doom, what it takes to create dope visuals, and more
Girls United: What was your relationship with music before you put out your own projects?
Moliy: My mom used to sing in the church choir and also in a band. My dad used to play guitar. Music runs in my family. I also used to listen to it a lot. I used to get CDs to burn and scour blogs to find what was new and popping. I would get bored of them in two days and have to create another one. That was my thing for a hot second until I started wanting to create my own music when I turned 18. I started trying to write my own melodies and lyrics. I finally wrote and released my first single, "Johnny" in 2018.
GU: You mentioned Eminem being a huge inspiration for you. Did you have other musical inspirations growing up? Who are they now?
M: Later, I really got into Afro Beats. I loved Mr. Eazi, Figo the DJ, and Wizkid obviously. Lately, I'm really inspired by SZA. I watched her perform live at Global Citizen Festival and it was so beautiful.
GU: How would you say you've grown as an artist since putting out your last EP?
M: Everything we go through helps us grow. I like to think the last two years have made me stronger. I always find a way to make whatever I experience– whether it's good or bad– inspire or empower me in some way. I have to come out better. I think with Honey Doom, people are going to see a different side of Moliy. I've matured and I've definitely put those experiences into the music. It's how I've healed through it all.
GU: How did you come up with the name Honey Doom?
M: I had the idea last year. I knew I wanted to work on another project because it had been a while. The name Honey Doom came to mind because I wanted to say something similar to 'bittersweet,' but in my own way. I wanted the album to comment on the fact that a lot of my sadness stems from things that are supposed to be positive and sweet, such as relationships and friendships. Honey Doom also reminded me of the word honeymoon, and how it's supposed to be this amazing moment in your relationship, but imagine it turning into something sour.
GU: Do you have a favorite song on the EP?
M: "Freak" is definitely my favorite. I wanted to be a voice against physical abuse towards women. I know people really close to me who have dealt with it. Many people feel like they don't have a way out. It takes a lot to overcome that barrier and feel like you can have a life outside of it. I'm hoping to create a space for more conversations about this. People hear it nowadays and it's almost like no one is surprised by it anymore. I don't think there's really enough being said to stop it or done to create bigger repercussions. I hope people can actually understand it more and maybe discuss how to solve it. This is my way of doing it because I know I can use my voice.
I also really love "Hard." I'm so used to hearing records from male rappers, or male artists in general, telling a woman what to do. I thought, what if we flip the script here? How about we bad B'S tell you what to do and what we want? Then, you either have to do those things or move along. I always like to see women making decisions. I feel like that's how it should be in an ideal world.
GU: I know you're dropping visuals for "Freak." How involved are you in the creative process?
M: In general, I love to create content. I love thinking about where I want a storyline to go, how I want people to feel about it, and the message I want to put into it. From there, I'm open to see what a team can build behind it based on my initial ideas. I think it's important to be very collaborative throughout these processes. For this song, I knew I wanted to depict abuse in some way, but I also know I wanted the woman to be the victor in this situation. We pulled a lot of old Hollywood movies as inspiration.
GU: What was it like collaborating with Amaarae on such a successful song?
M: It was pretty cool. It was an in-person session and those are usually the best. We also did it at a studio in Ghana. It was a quick session and we managed to do 2 records in 4 hours.
GU: Where do you draw your fashion and beauty inspiration from?
M: I really like colors and cute things, so maybe cartoons, animation, and dolls. Honestly, all women and girls give me inspiration. When it comes to my style, honestly, I feel like I pick what I think looks good on my body. I like to wear things that make my figure look great. I like color and I like to show off my curves.
GU: I'm sure you're super busy these days. How do you usually practice self-care?
M: I really enjoy sleeping, so I get some extra hours when I can. I love getting my nails done, that always makes me feel like a bad B. I also like to listen to meditations and things that will make my mind feel at peace. I do that almost every day to get my mind right. Sometimes I'll also unwind with it at the end of the day.
GU: Where do you see your career heading in the future?
M: I want to get to the point where I can work with all my favorite artists: WizKid, Timbaland, Rihanna, etc. That's a big dream of mine. I also want to be able to grow my brand because I feel like I really love music, but at some point, I think I would be a great actress. I would love to do voiceovers for animations. Once Moliy becomes an amazing, successful artist then Moliy's going to become successful at other things, too.