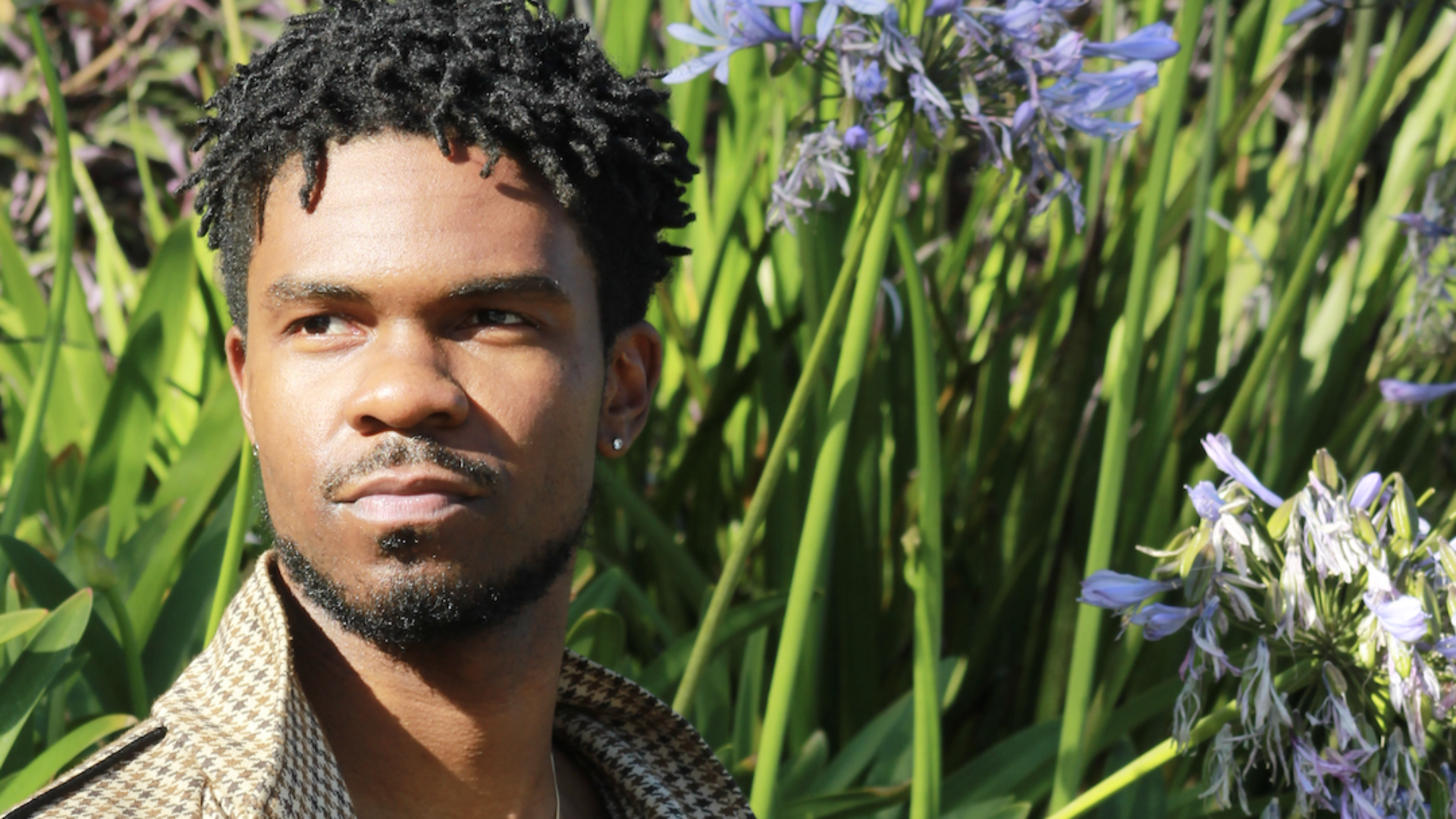 George Lovett Talks Learning And Loving The Technical Side Of Music
"I believe a big part of success in your field is learning about it," he says.
In honor of Black History Month, we are excited to announce our partnership with Purple Innovation! Together, we will be showcasing the unique contributions of independent R&B artists through On Purple — a mini concert series from Purple and You Betta Sing.
Baltimore native George Lovett knew that making music was a part of his life's purpose, as he was born into a family of singers. "I remember being young and watching my grandmother. She used to do singing competitions back in the day," Lovett said to GU. "She used to do this Billie Holiday competition and would get up there with this big sparkly dress with a rose or a flower in her hair. It just inspired me."
After watching his grandmother, he was sold and attended Savannah College of Art and Design (SCAD) to learn more about the intricacies of music.
Lovett is one of the artists who has been highlighted in Purple Innovations' Black, Gifted and Independent campaign, for his work as an independent R&B musician.
In 2014, Lovett was named one of the top 20 finalists of popular singing competition American Idol. After he was eliminated, Lovett went back to school at SCAD for a master's degree in performing arts, but his passion for the stage never wavered. He worked diligently to secure performances as a wedding and cover singer, with his efforts landing him on Showtime at the Apollo in 2018.
Lovett managed to adapt as the music industry shifted with the rise of social media. In recent years, the singer began sharing videos of him singing original and cover songs online. Having a consistent presence on social media is something Lovett believes is a key in developing and maintaining a sustainable career. "You can live in the farthest corner of the earth and upload a video on Instagram and YouTube and have millions of viewers watching," he said.
We talked with the singer about his partnership with Purple, the importance of preparation and using social media to reach goals. Read the conversation below.
What does it feel like to be recognized by Purple Innovation for your work as an independent artist?
I've been working in music and singing my whole life…It's just a good feeling. I feel like I'm living in my purpose and it's nice to be recognized for my efforts.
If you could close your eyes right now and pick, who is your favorite singer?
I can always listen to Brandy. No matter what mood I'm in, where I'm at, what's going on, Brandy is always a good go to for me. It's just the texture of her voice, her choices and the earnestness in her voice.
What advice would you give to someone who's looking to put their talent out there?
Social media makes it so easy to just put yourself out there. Even now with what I'm doing, I'm taking advantage of social media and I'm uploading videos and tagging people. Tag your favorite singers in your cover videos. And hopefully, if they like it, they'll share it or repost it on their page.
You've appeared on both Showtime at the Apollo and American Idol and you're known for delivering strong live performances. Do you prefer to perform live or listen to taped recordings of your music?
I have a lot of musical theater training and it's just something about being in a theater, or just being around live people, and getting that immediate response. I like the immediate gratification, but I'm also a perfectionist, so I enjoy being in a studio and I enjoy recording something and stopping it and starting over and just making it perfect. There's something that I get out of that too, but mostly if I could perform everyday live for the rest of my life, I would be satisfied.
Speaking of your background, you went to Savannah College of Art and Design. How did attending the prestigious performing arts school help you on your musical journey?
After graduating high school, I didn't know what I was going to do. I ended up getting a full scholarship to Savannah College of Art and Design. I learned things that I didn't even know that I needed to know—from auditioning, how to walk into a room, how to walk out of a room, how to be present and how to connect to the people you're performing for.
I graduated with three degrees from SCAD. I did performing arts and I also did sound design. So, you know, I just wanted to learn the full spectrum of music, from recording to being on the stage and being at SCAD definitely helped me out with that.
How does your technical experience set you apart?
I believe a big part of success in your field is learning about it. Knowledge is power. I went to a performing arts high school, where I studied classical music. I went from classical music to musical theater and then I did behind the scenes stuff with sound design. I just think that makes me a more well-rounded artist. I think that it helps me to communicate with other artists or collaborators.
Watch George Lovett perform "Ruby" live for Purple x You Betta Sang below.
Photo credit: Source