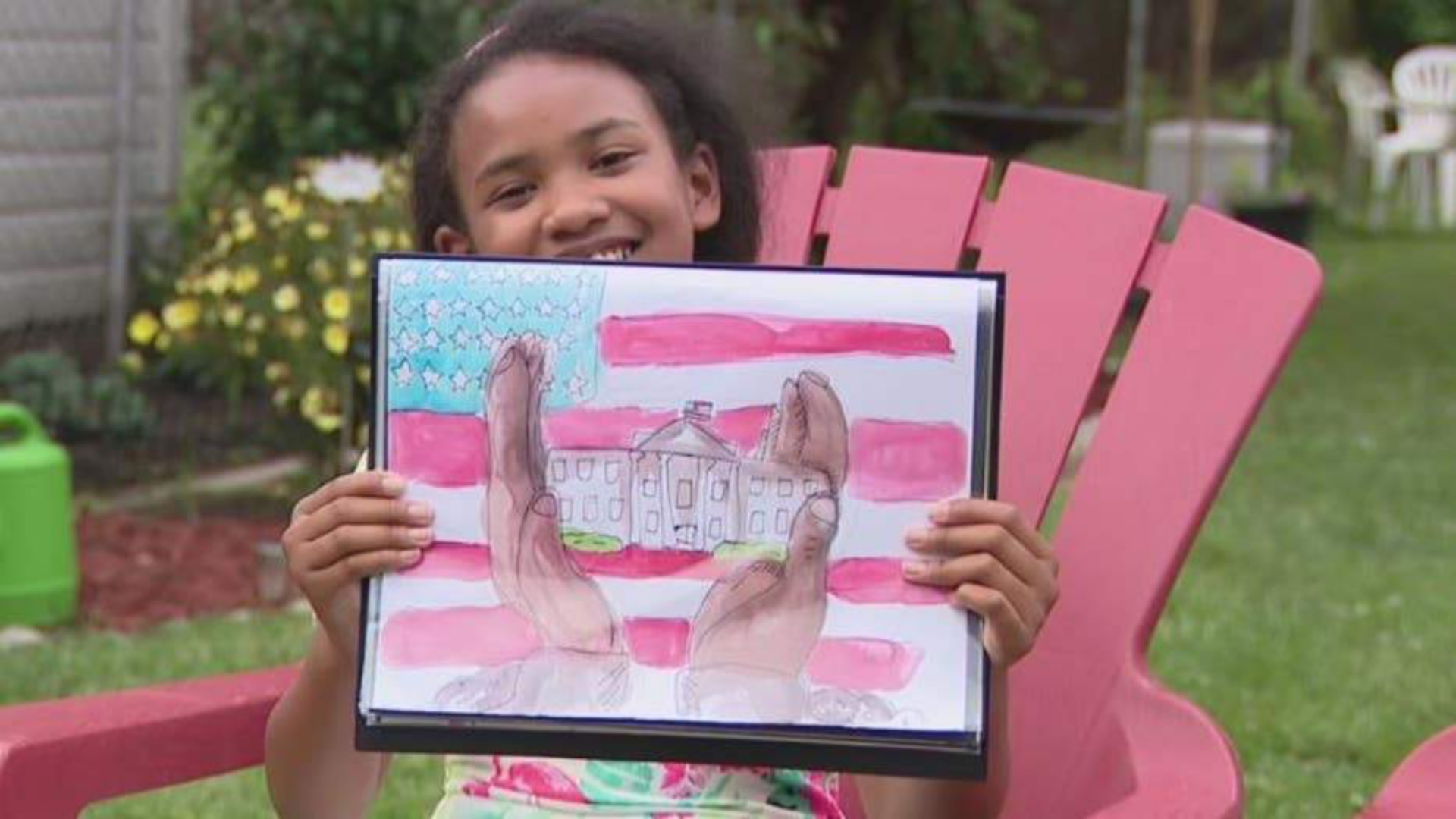 9-Year-Old Black Girl Wins The White House History Association's National Student Art Competition
Congratulations, Gabrielle Faisal!
This young Detroit native is painting the world with color, aesthetics, and freedom. 9-year-old Gabrielle Faisal was recently crowned the winner of The White House History Association's National Student Art Competition, as reported by Fox 2 Detroit.
The winning piece titled, "Enslaved African Americans Built the White House" is a painting of Black hands surrounding the White House, with the American flag illustrated in the background. "The Black hands holding The White House, that means the enslaved Africans built the White House," Faisal said as she explained the symbolism depicted in her artwork.
"The Red Stripes symbolize our struggle for freedom. The White Stripes symbolize the purity of our struggle," Faisal continued. "Blue is the symbol of justice for all people no matter what color. The Stars represent the unity of all people coming together."
Inspired by the history lessons taught to her by her own father Rashid Faisal, Gabrielle wanted to put together an illustration that communicated the meaning of the White House which she said: "is a symbol of America that was built by enslaved African Americans."
Rashid added in praise for his daughter's unique talent and abilities at such a young age. "When I think about the large hands holding The White House, the hands are symbolic of our people, collectively, our history," Rashid told Fox 2 Detroit, according to Because of Them We Can. "And you have the background with the flag, and that is the unifying factor for all of us as Americans. Black history is not just for African-American people, it is for all people."
Amongst nearly 500 students nationwide in her age category, the young Black girl swept the competition and came in first place. The competition was judged by a panel of professionals including portrait artist Simmie Knox on originality, interpretation, and historical relevancy.
For her win, Gabrielle will receive a $1,000 cash prize and her work will be displayed in The White House's visitors center through Sept. 22. Congratulations, Gabrielle – this is only the beginning!
To watch the full story, tune into Fox 2 Detroit at their tweet below!
Photo Credit: Fox 2 Detroit/Because Of Them We Can