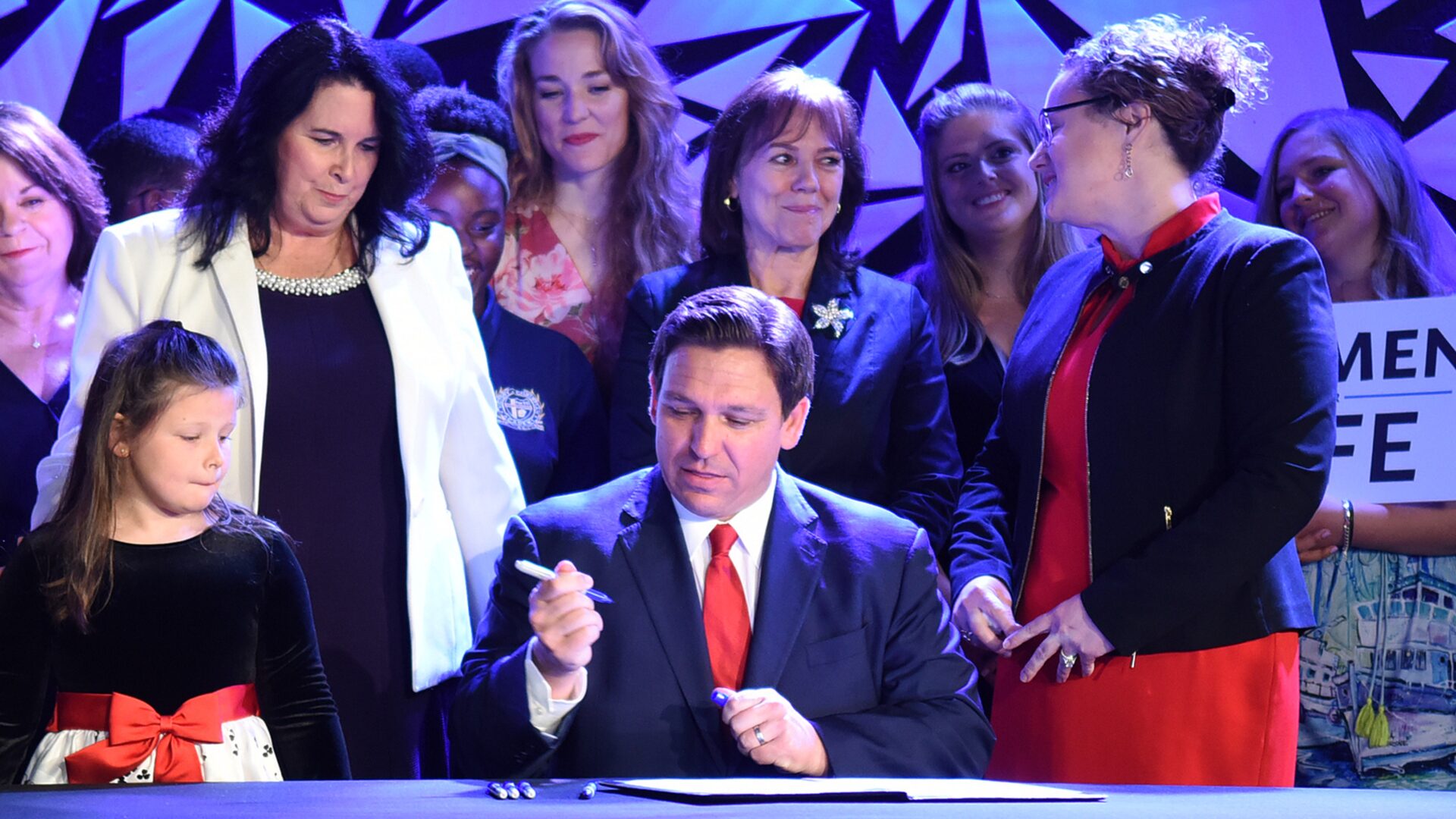 Florida Signs Law Banning Abortions After 15 Weeks
It is the latest state to impose restrictions on a woman's right to choose.
On April 14, Florida Governor Ron DeSantis signed a law that will ban abortions after 15 weeks, scaling back the current limit of 24 weeks. The law, which will go into effect on July 1, prohibits abortions even in cases of rape, incest, and human trafficking. Exemptions can be made if pregnancy is deemed life-threatening for the mother or the child, as reported by the New York Post.
"This will represent the most significant protections for life that have been enacted in this state in a generation," said DeSantis when signing the bill, according to the New York Post. "We believe that all these kids deserve an opportunity," he added. "We're not just giving lip service to that, we're actually signing legislation."
The newly signed law stands in direct opposition to Florida's constitutional protection of women's right to abortion. In 1980, citizens voted to amend the Florida Constitution in order to include a right to privacy, which protects women's right to choose, according to NBC News. "Every natural person has the right to be let alone and free from governmental intrusion into the person's private life," reads article I, section 23.
Florida is not the only state to sign abortion restrictions into law. In recent months, a flurry of states signed similar legislation. On April 12, Oklahoma Governor Kevin Stitt signed a bill making it illegal to perform abortions except in cases of medical emergencies. Providers now face up to $100,000 in fines and 10 years in prison if they go through with abortion procedures, according to the New York Post. Also this week, Kentucky passed a bill that would require providers to report each abortion procedure to the state. The reason for the abortion, the person's address, age, race, as well as the age of their partner will have to be disclosed, according to Axios.
In Arizona, abortions are now banned after 15 weeks except in cases of medical emergencies. In West Virginia, legislation was proposed to also ban abortions after 15 weeks, except in cases of rape and incest.
Texas has taken a step further when it comes to restricting abortions and have made abortions after six weeks illegal – a timeframe in which many women may not know they are yet pregnant, according to NBC News. A 26-year-old woman was even indicted in March for inducing her own abortion after medical staff at a Starr County hospital reported her to the police, Vox reported. Although the charges were dropped on April 10, this stands as an example of the length to which some states may go when it comes to restricting abortions.
In Mississippi, newly introduced legislation banning abortion was ruled unconstitutional by lower courts. The Supreme Court will have the final say. This could overturn Roe v. Wade, the 1973 landmark decision that ruled that a woman's right to choose is protected under the Constitution, according to NBC News.
Photo Credit: Photo by Paul Hennessy/SOPA Images/LightRocket via Getty Images