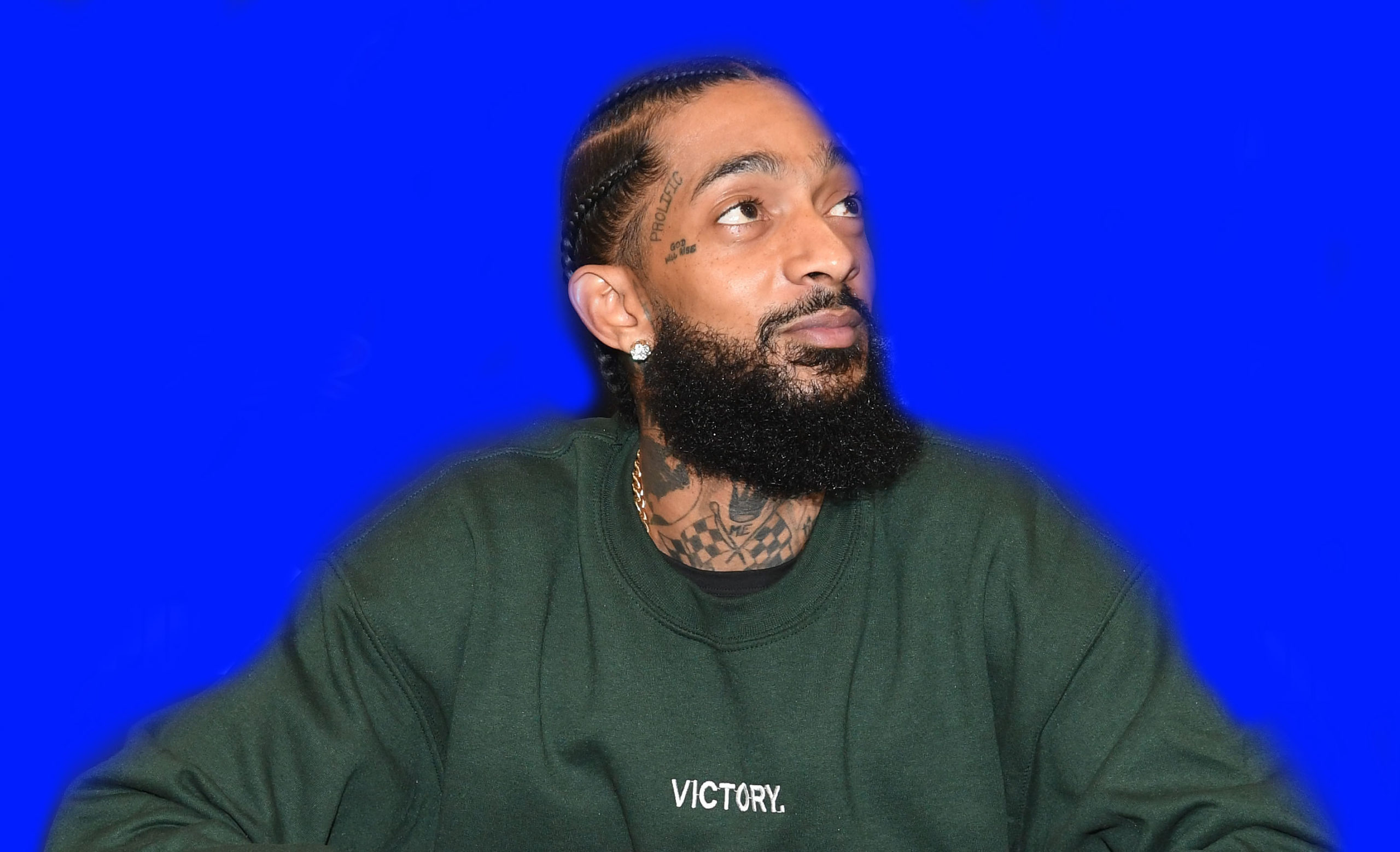 The Marathon Continues: A Look At Nipsey Hussle's Legacy
Though rapper and entrepreneur Nipsey Hussle is no longer physically with us, his impact is still widely felt.
When news broke that rapper, activist and entrepreneur Nipsey Hussle had been shot and killed in Los Angeles, a dark cloud quickly covered the music industry, and the Black community as a whole. It was incomprehensible why someone would take him from us so violently. He was loved by many for a number of reasons, and his legacy lives on.
Hussle was first recognized in 2005 for his work as a burgeoning rap artist. A tall, skinny wordsmith with hair that he often wore in cornrows, he entered the music world with a wealth of traditional, and street, knowledge. His style reminded listeners of West Coast favorites, like Snoop Dogg and Dr. Dre, while his hustle was comparable to Too $hort's. Too $hort famously sold custom mixtapes to fans, and was able to transform his skill into a recording deal and a thirty-plus year career. Hussle sold mixtapes from his trunk, and also was able to ink a deal and enjoy years of success.
But even though comparisons abounded, Hussle made sure that everyone knew that he was unique.
One of Hussle's career-defining moments was when he sold physical copies of his Mailbox Money mixtape for $1,000 — and Jay-Z purchased $10,000 worth. To build a following that's willing to offer up that much cash is much more than luck. It was testament to Hussle's entrepreneurial spirit.
A believer in leading by example, Hussle inspired young people to bet on, and invest in, themselves. After a two-year deal with Epic Records, Hussle returned to his independent nature. "I'ma walk away with all my masters; I'ma walk away unobligated, with my brand built," he told MTV News in 2010. He showed fans, and artists, of the strength that can come with owning your work.
At the time of his death, Hussle was focused on his brick and mortar store, Marathon Clothing. In 2017, he founded the store alongside partners Steve Carless, media mogul Karen Civil, and Hussle's brother, Samiel Asghedom. The location was meaningful — the area in Los Angeles was where he first began selling his mixtapes. It also doubled as a spot for the Rollin' 60s Crips, of which Hussle was a proud, albeit reformed, member, to post up.
Even though now, Marathon Clothing's physical location is closed and fenced off, and there's a sick twist of irony looming over the area (as it was where the rapper was gunned down,) Hussle is saluted for staying true to his roots.
"Watching Nipsey inspired me to invest and own in our own communities," fellow Los Angeles native Issa Rae wrote on Twitter. She was one of the many celebrities who shared the vital lessons Hussle shared through his lifestyle.
"When you hear 'buy back the block' as the narrative, that's powerful," Hussle told Forbes in 2018. "That's a step towards redefining the expectation." He set up shop in the heart of a neighborhood known for violence and poverty. Hussle was invested in his hometown in multiple senses, and wanted to provide jobs, and opportunities, to the people who were like him.
Though he is no longer with us, the marathon continues.