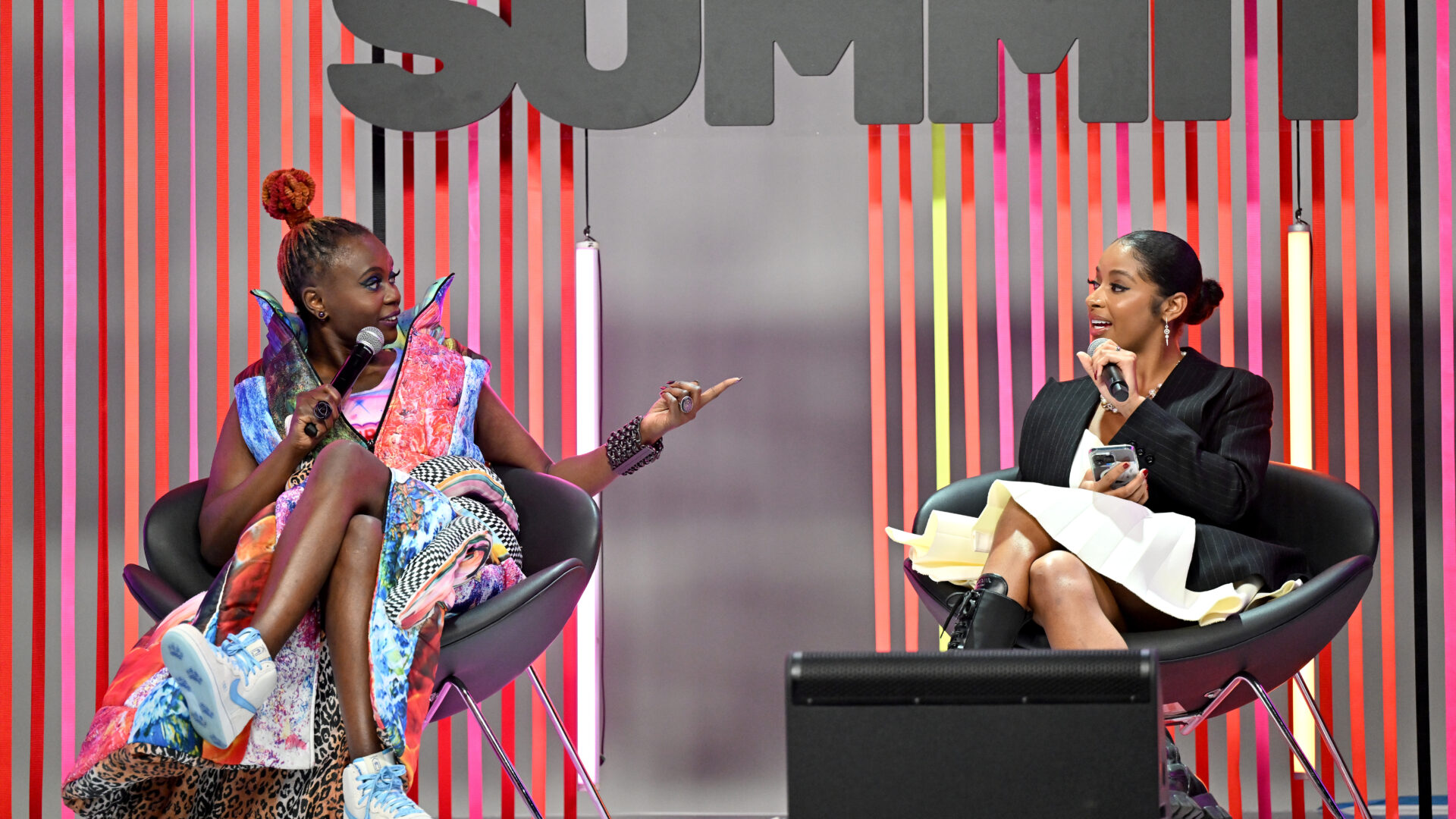 Disrupt Or Be Disrupted With Essence C.E.O. Caroline Wanga
Girls United Founder Rechelle Dennis moderates the gem filled panel.
It's not every day you get to hear the journey and vulnerability of a boss. The GU Disruptor Summit hosted Essence Ventures C.E.O. Caroline Wanga and Girls United Co-Founder Rechelle Dennis for the ultimate boss talk panel. Wanga and Dennis kick off the conversation with light banter, discussing what it means to be an "auntie," which Dennis explains is a state of mind saying, "I have friends that are aunties, you know if you're an auntie, but sometimes you're an auntie to another friend." 
The first question asked is if Wanga has always been authentic, which was met with a loud no. The C.E.O. opens up about how her pregnancy at 17 years old registered as a failure for a chunk of her life and the repercussions that came with it. "I started to live small," says Wanga. "The less noticed I was every day, the better because anytime I was noticed, I was reminded that I failed. I tried to live every day as blended and quiet as possible." Profound words come from a woman who has a beaming presence from afar. She goes into detail about being the least confident person, and what people confuse her confidence for is her courage. To get unstuck, Wanga reminisces on a relatable moment when she was 36 years old, being at an event and getting caught keeping up with a former doubter to ensure she was always one step ahead. The facilitator captured the embarrassing moment, which forced her to question why she was harping on a moment 18 years ago. Then she was given inner homework to catch up her psychological age with actual age, "I want you, beginning today, to choose whatever good thing happens on any given day, whether it's your daughter or you, and I want you to celebrate it like a birthday."
As the panel continues, the audience taps into Wanga Math to fulfill their purpose as the next generation. Rewriting the P.E.M.D.A.S. method, she encourages disruption and disruptors by exponing their authenticity by the second degree, multiplying that with the worst-case scenario, dividing it by systemic participants, adding their personal connections, and subtracting their self-preservation. The point is that movements don't depend on elected officials but can be done with anyone. "All of you have something you want to disrupt," Wanga says. "If you don't have one, you're not fulfilling your obligation. If you don't have something you want to disrupt, you're holding up somebody's seat, and the longer you sit in it, the less they can get to it."
To conclude the panel, Dennis and Wanga offer motivational advice to the audience on why they must continue to disrupt their community, environments, circumstances, and even themselves. The results will continue to be the same by not using your voice to push back on societal issues. "All the people sitting next to you in this room are going to do what they're supposed to do to move things forward," says a stern Wanga. "And you're going to turn around and be the only one in the chair. Sleep on that tonight."
Check out the Disrupt Or Be Disrupted Panel with Caroline Wanga and Rechelle Dennis on Essence.