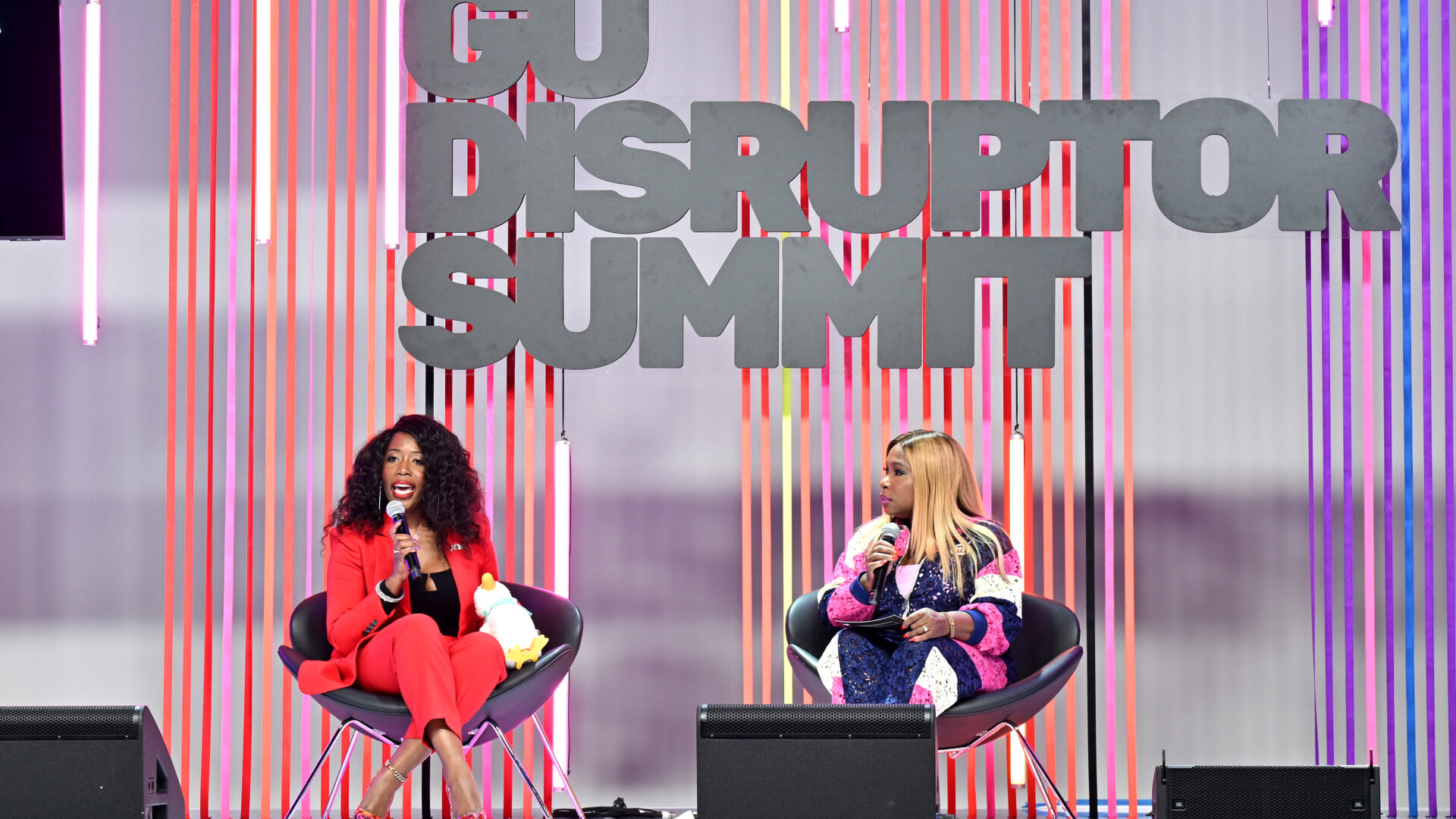 Aflac Encourages Gen Z To Disrupt Adulthood Responsibly
Yes, the duck graced the Disruptor Summit stage.
As we're transitioning into adulthood, there are significant responsibilities zillennials will have to maneuver through—bills, taxes, and, most importantly insurance. Eventually, 26 will come knocking at the door, kicking you out of the financially free life and moving you into the expensive and debt world. At GU Disruptor Summit, Essence Ventures Chief Revenue Officer Pauline Malcom-Thorton sat down with Randi Adkins-Warren, Aflac Corporate Counsel, to discuss how the supplemental insurance company makes an impact on the young generation and her journey to becoming a senior leader. 
As Askins-Warren takes the stage, you can't help but notice the famous Aflac duck, in plush form, looking at the crowd. The panel opens with Malcom-Thorton asking to share a glimpse of a day in the life of Adkins-Warren. The Aflac representative relatably shares that she begins her day with prayer, "Before you can engage in a productive day, you have first to center yourself." She then describes her moments leading up to the workplace, which is never a typical day, so she prioritizes getting ready and being open with her customers, holders, and co-workers. Her duties include reviewing contracts and preparing for speaking events and meetings. 
Malcolm-Thornton pivots the conversation to introduce the idea of changing your mind, not your mission, and asks how the concept aligns with Adkins-Warren's career journey. The corporate counsel-woman then makes the audience ponder what authenticity means. Is it showing up and doing your best? Is it working for a brand that has customer service? Is it dimming your light? These are the values Adkins-Warren upholds working at Aflac. As the attorney continues, she provides examples of how Aflac has always been in their era of disruption, "If you have something that changes your life, you want a supplemental insurance provider like Aflac that will pay the policyholder."
The primary way zillennials know Aflac is the duck. Malcolm Thornton asked the question we've been wanting to know: how did the duck become the mascot for the brand? The supplemental insurance provider has been around for 60 years and offers help for medical bills and benefits for what your primary insurance can't cover. "When you're thinking about Aflac, don't think about our beautiful duck, but the benefits and diversity you see on that stage and community." As the company enters its disruption, Adkins-Warren describes "the Aflac way" through missions of community, ethics, and values of the importance of diversity.
Closing out, Adkins-Warren ushers everyone to give themselves time, take a break from social media, and make silent moves. "You won the rights to your story." She continues to motivate the audience to show up for themselves authentically and how they'd like their legacy to be.
Check out Aflac In The Era Of Disruption with Pauline Malcom-Thorton and Randi Adkins-Warren on Essence.