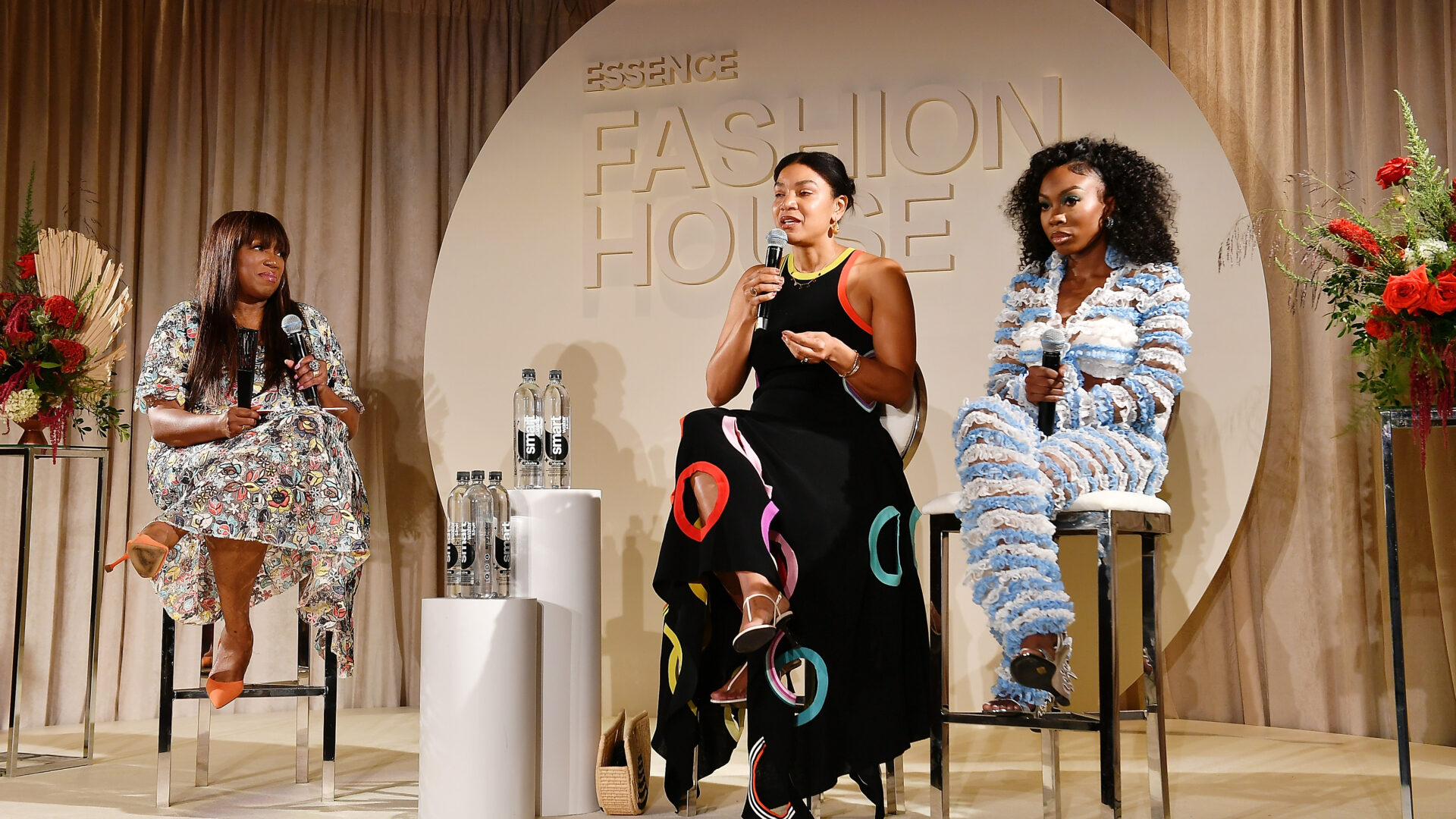 Here's What You Missed At A Night Out At Essence Fashion House
We witnessed a celebration of Black fashion in the culture
ESSENCE Fashion House celebrated the ultimate pioneers behind the scenes in fashion: Black creatives. The night showcased a moment to embrace the influence that Black culture has on the garments we wear. Throughout the night, Fashion House spotlighted seasoned and up-and-coming creatives in fashion. The evening experience allowed attendees to gather, learn, and be inspired.
We started with hip-hop, Haute" Sh*t, & Heritage: The Best of Bed Fellows featuring Caroline Wanga to kick off the night. The conversation emphasized the intersectionality between hip-hop and fashion with panelists founders Tony Shellman, Founder of Blue Deluxe Group Consulting Agency, and Michael Barnett, CEO of BOGARD by MikeB. "Black culture influenced everything," Barnett said. "The street culture of hip-hop, the youth and the creativity of hip-hop [shows] that hip-hop is the Black culture."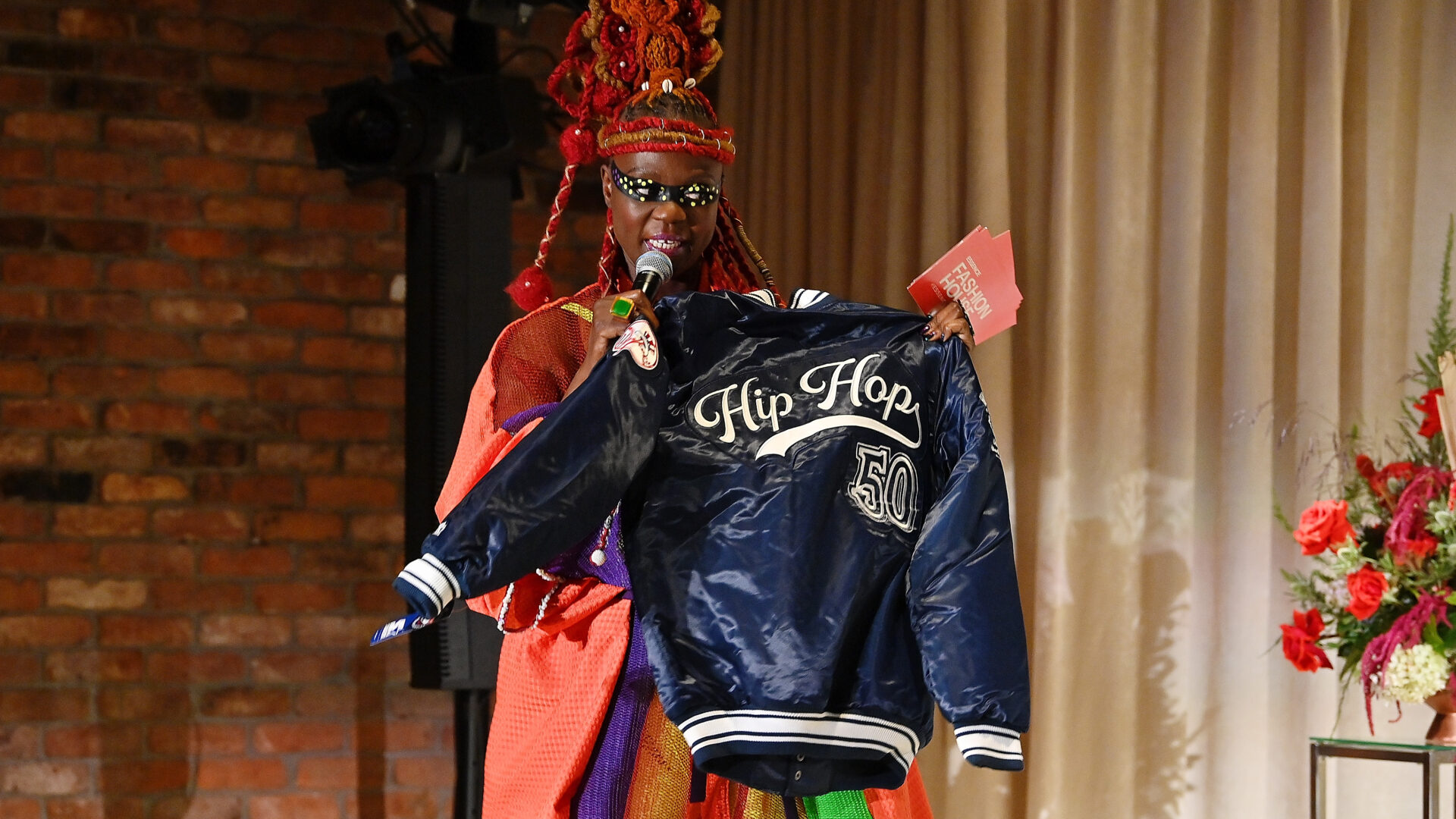 NEW YORK, NEW YORK – SEPTEMBER 08: Caroline Wanga speaks onstage during the 2023 ESSENCE Fashion House at Second on September 08, 2023 in New York City. (Photo by Paras Griffin/Getty Images for ESSENCE)
As we continue to have meaningful and impactful conversations, we then enter our next conversation on Navigating Mental Health And Wellness Behind The Scenes In Fashion with moderator Devine Blacksher and panelists Jamilah Davis Hernandez, VP/DMM of Men's Shoes/ Accessories at Sak and Devan Wallace, Senior Manager of Public Relations at Louis Vuitton.
Being in the fashion and beauty space can come with many demanding tasks and requirements, so it's important to talk about prioritizing your mental health in such a chaotic industry. "You're not going to be successful if you don't learn to tell people what you can do," Wallace said. "Learning to speak up for myself has helped me so much headache. At the beginning of my career, I didn't have the confidence to do that."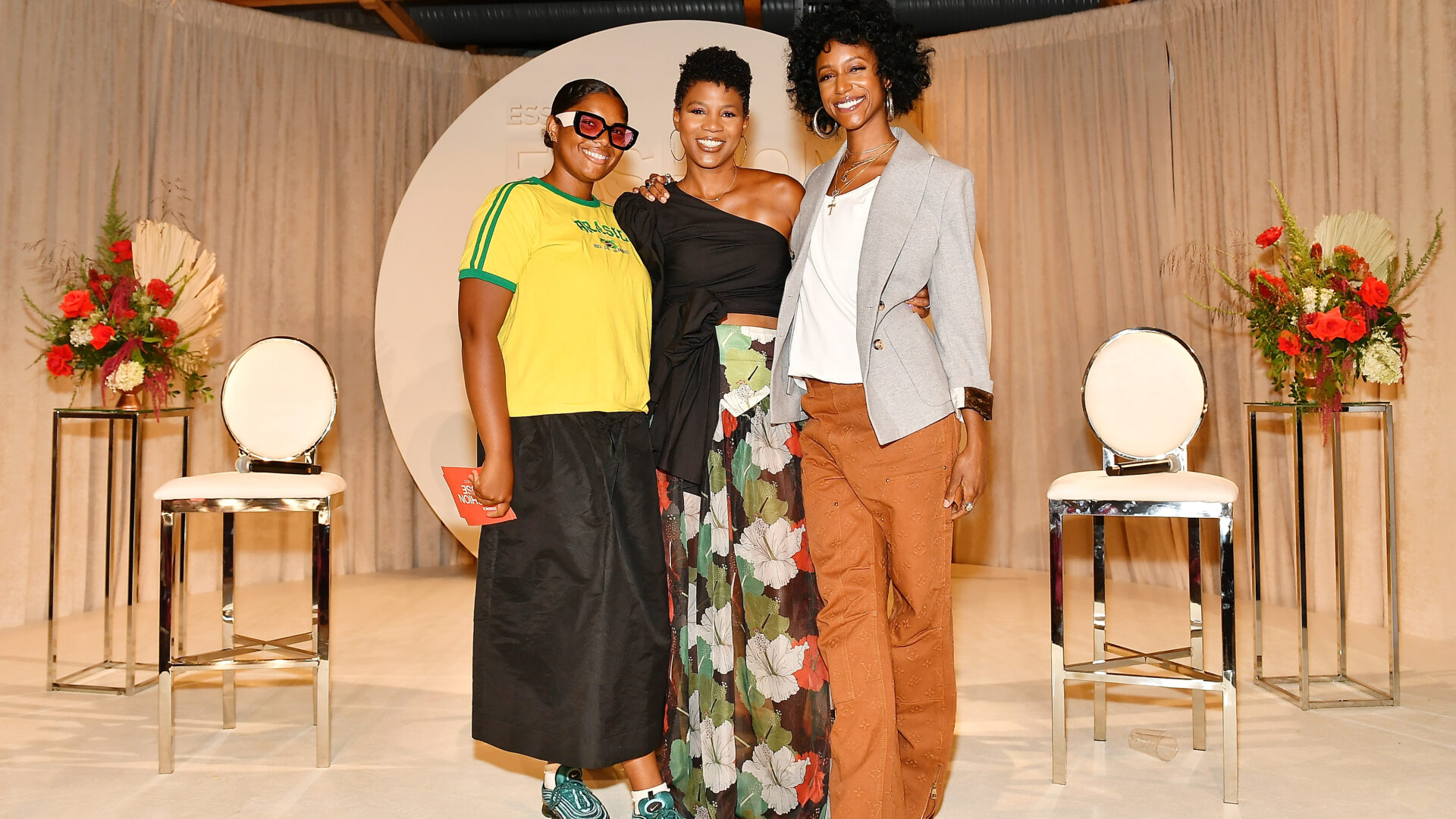 NEW YORK, NEW YORK – SEPTEMBER 08: (L-R) Devine Blacksher, Jamillah Davis and Devan Wallace speak onstage during the 2023 ESSENCE Fashion House (Photo by Paras Griffin/Getty Images for ESSENCE)
As we picked the minds of these established creatives, we touched on old and new topics taking over the fashion space, including sustainability and environmentalism. Through the panel, Green Is The New Black: Sustainability In Black Fashion, attendees explored the concept of sustainability within the context of Black fashion.
We saw a conversation between House of Aama and Tracy Reese moderated by Recho Omondi. Thanks to a new awareness society are gaining about climate change and sustainability, it's important to expose others to the conversation surrounding how they can contribute to being environmentally conscious in fashion.
Throughout the conversation, we learned about understanding that we don't have to contribute to the fast fashion trends and find ourselves as individuals. "There's so many other ways to get dressed," Reese said. "[In college], my budget would be half fabrics, boots and a little shopping, but it was fun, and nobody looked how I look."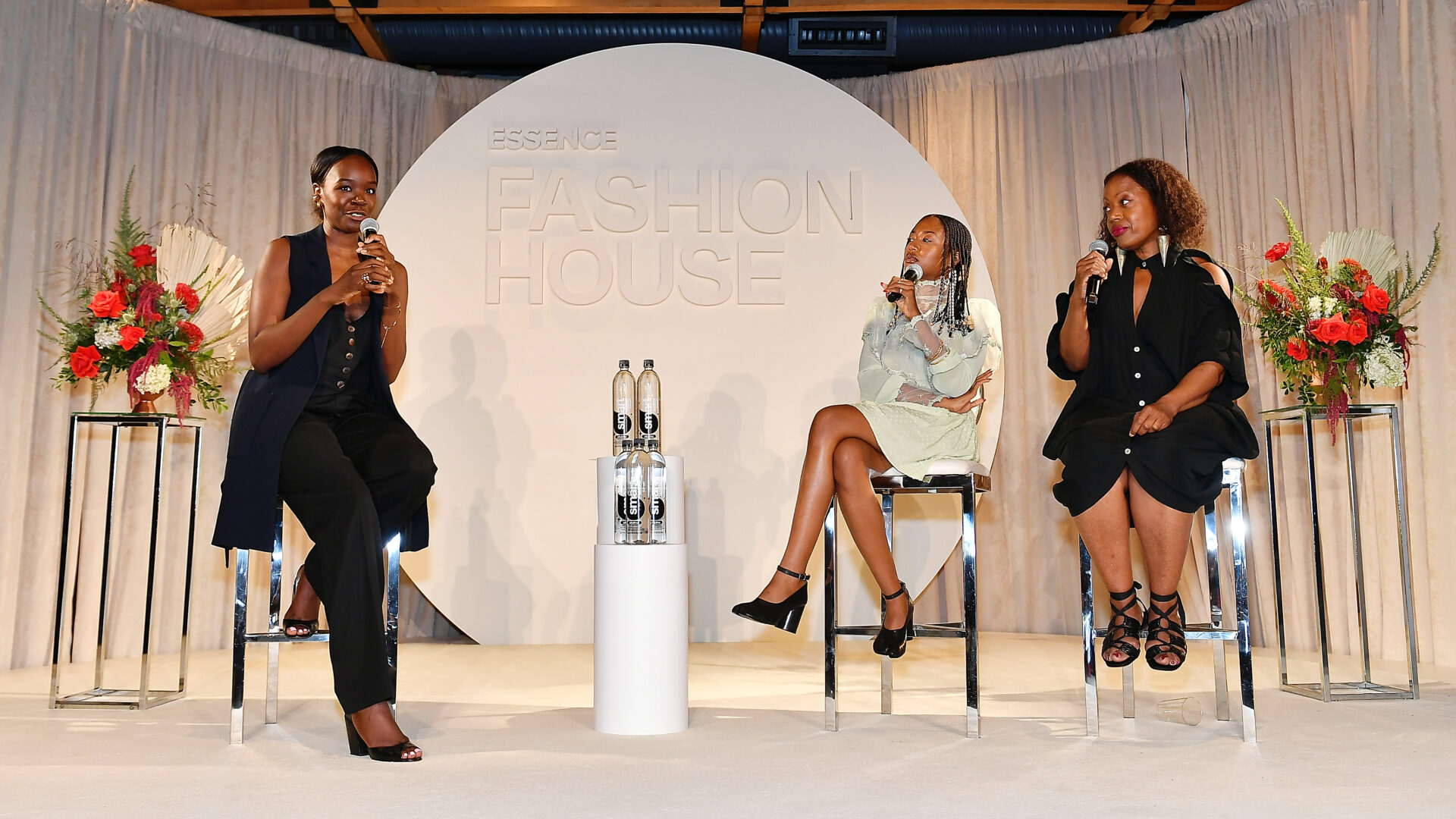 NEW YORK, NEW YORK – SEPTEMBER 08: (L-R) Recho Omondi, Akua Shabaka and Tracy Reese speak onstage during the 2023 ESSENCE Fashion House at Second on September 08, 2023 in New York City. (Photo by Paras Griffin/Getty Images for ESSENCE)
Throughout the night, we also got an inside look into the global impact of Black fashion through The Ecosystem Of African Fashion with Kwaku Bediako (Ghanaian Fashion Designer and founder of Chocolate Clothing), Barkue Tubman Zawolo (Essence Ventures Chief of Staff & Diasporic Engagement) and Amira Rasool (Founder & CEO of TheFolklore) moderated by Nana Agyemang.
With America finally catching up on the wave of African creatives Fashion House opened the floor to a major conversation surrounding support for African fashion brands. "Black is not a monolith, and it starts with us, and it's powerful that we get to have these gap-bridging conversations," said Tubman.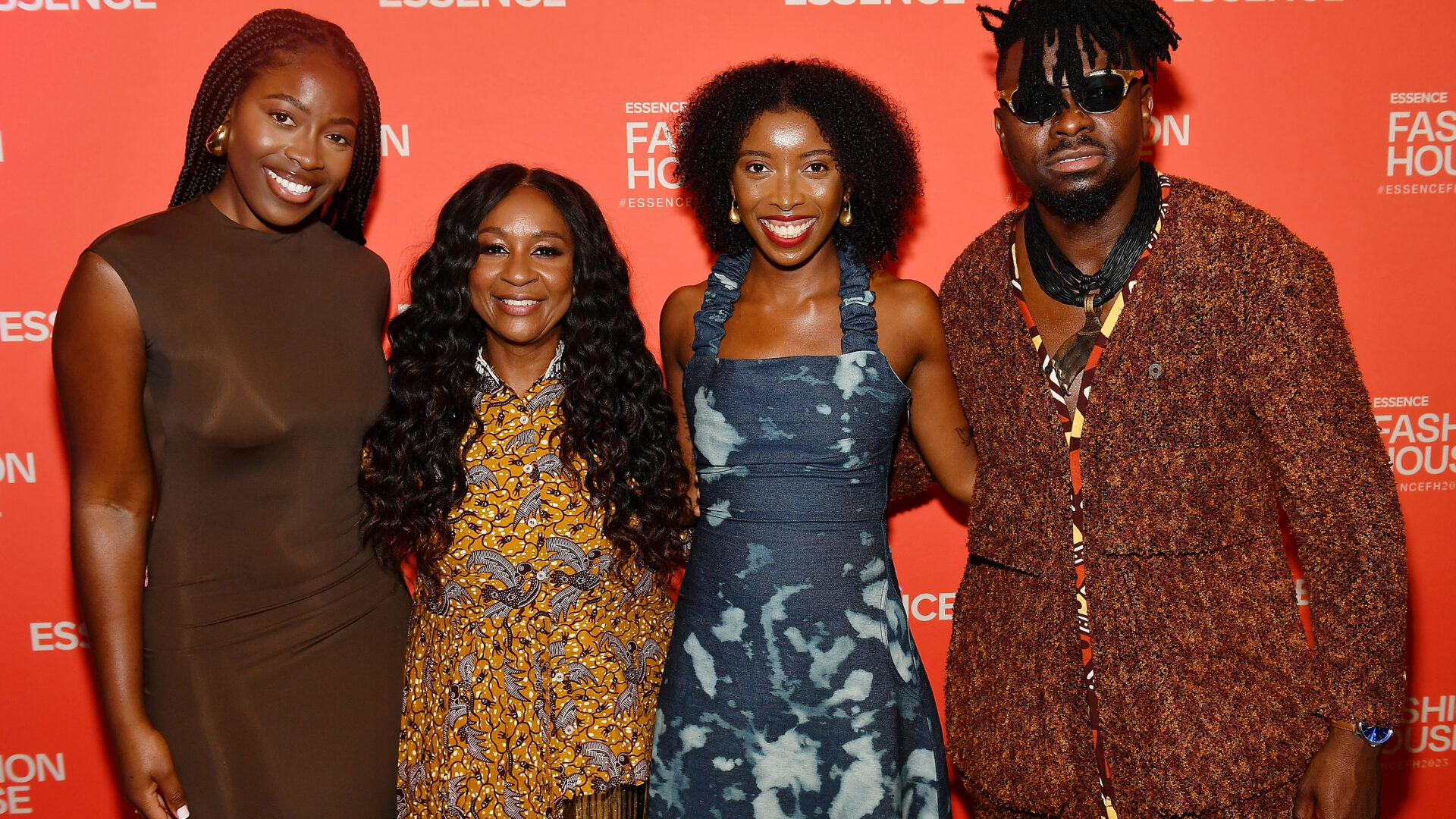 NEW YORK, NEW YORK – SEPTEMBER 08: (L-R) Nana Agyemang, Barkue Tubman, Amira Rasool and Kwaku Bediako attend the 2023 ESSENCE Fashion House. (Photo by Paras Griffin/Getty Images for ESSENCE)
The night kept the great energy going as we closed the night out with an important and prominent conversation surrounding Black Luxury. The Black Luxury: The New Face Of High Fashion panel with Sherri McMullen, Founder of McMullen and Designer Tia Adeola was a discussion about how supporting Black luxury can't just be a hashtag.
Moderated by Mikki Taylor, we shared how the time has come to redefine the narrative and confront our selective loyalty to non-Black designer brands as a culture. "So many designers are looking at Black culture, people and everything we do and are inspired by us," McMullen said. "What I found is that they weren't necessarily giving us the credit that we deserve."
Throughout the evening, the space was brimming with significant activations, including a sustainability section titled A Garment Is Born. The board held pieces of garments alongside shocking facts about the fashion industry like the average salary for a designer is only $75,000 or the global average pay for garment workers is $470 a month. Studies also show that while sustainable fashion is valued at $6.5 billion, 87 percent is disposed to the landfill. The last reveal, shows disappointing numbers in Black fashion as black designers make up 7 percent of the nation.
To help combat, Essence Fashion House hosted their Solo Market to offer support and engagement for Black and women-owned businesses. The designers featured was clothing designer Nia Thomas and accessory line Madamette founded by Quanasia Graham. When expressing the important of Black representation at fashion week through Essence Fashion House, Graham told GU, "I feel excited, I feel like it is like the best opportunity to connect with such a wide audience of Black women and men and everyone who's fabulous. My brand is all about being playful, being powerful and owning your look, owning your style and owning everything that you do and Essence is the epitome of that."
Diet Coke, one of the sponsors for Essence Fashion House, gave guests to chance to grab Tik Tok worthy content of them strutting the green screen runway, while JC.Penny offered personalized styling sessions to teach attendees how to best find garments tailored to their personal style and body type.
As we continue to celebrate Fashion Week, we have to continue to support those who are carving their own path in the luxury space. "My community shows up for me which I'm really grateful for," Adeola said.
The 2023 ESSENCE Fashion House was sponsored by Diet Coke, JCPenney and Smartwater Alkaline. Open to the public for immersive art experiences and a Black-owned designer retail market the Fashion House experience brought fresh conversations surrounding Black creatives in fashion.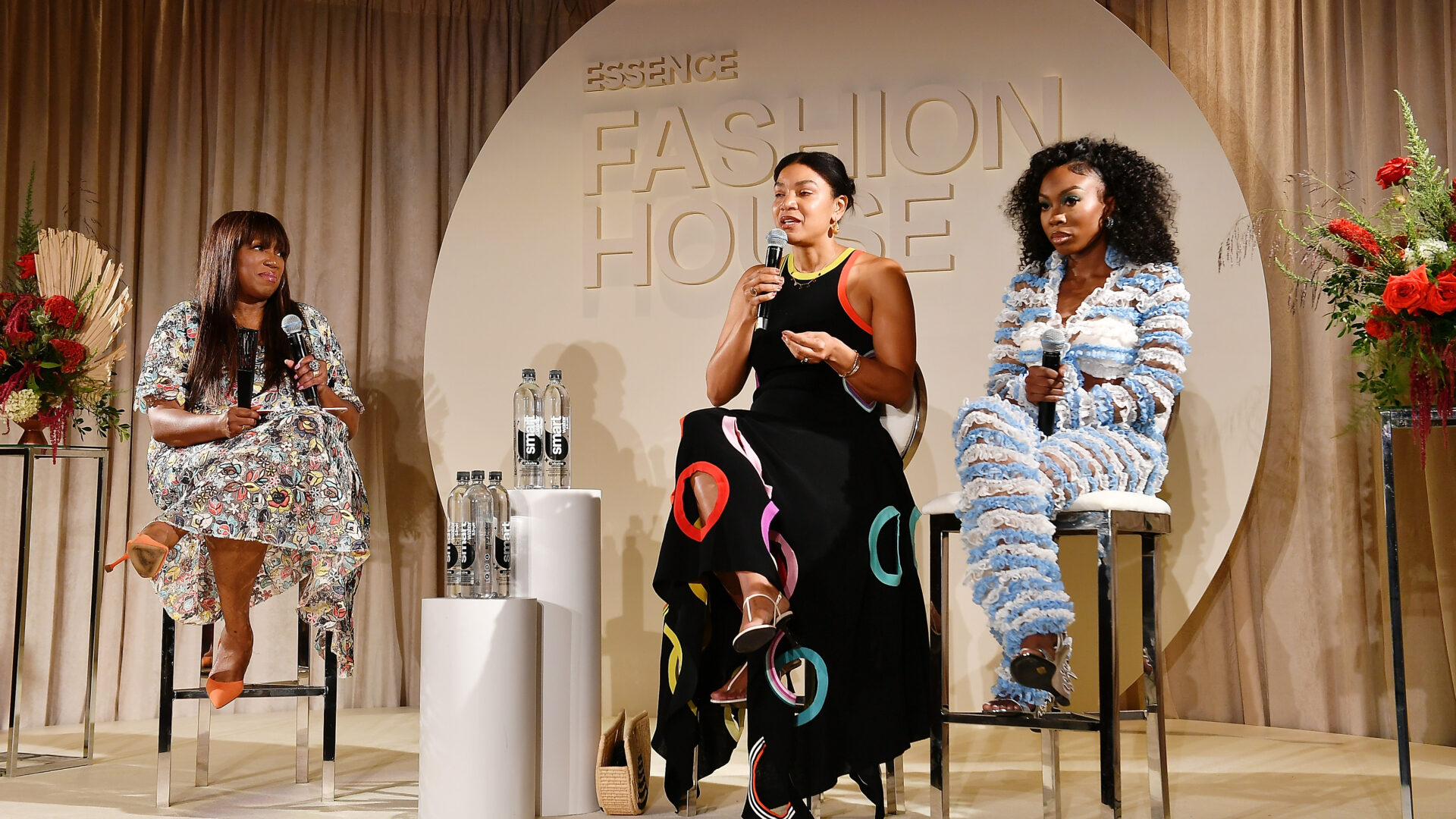 NEW YORK, NEW YORK – SEPTEMBER 08: (L-R) Mikki Taylor, Sherri McMullen and Tia Adeola speak onstage during the 2023 ESSENCE Fashion House. (Photo by Paras Griffin/Getty Images for ESSENCE)
About Kenyatta: Clark Atlanta University and Medill School alumna Kenyatta Victoria is the Girls United writer covering everything from news, pop culture, lifestyle, and investigative stories. When not reporting, she's diving deep into her curated playlists or binging her favorite comfort shows.