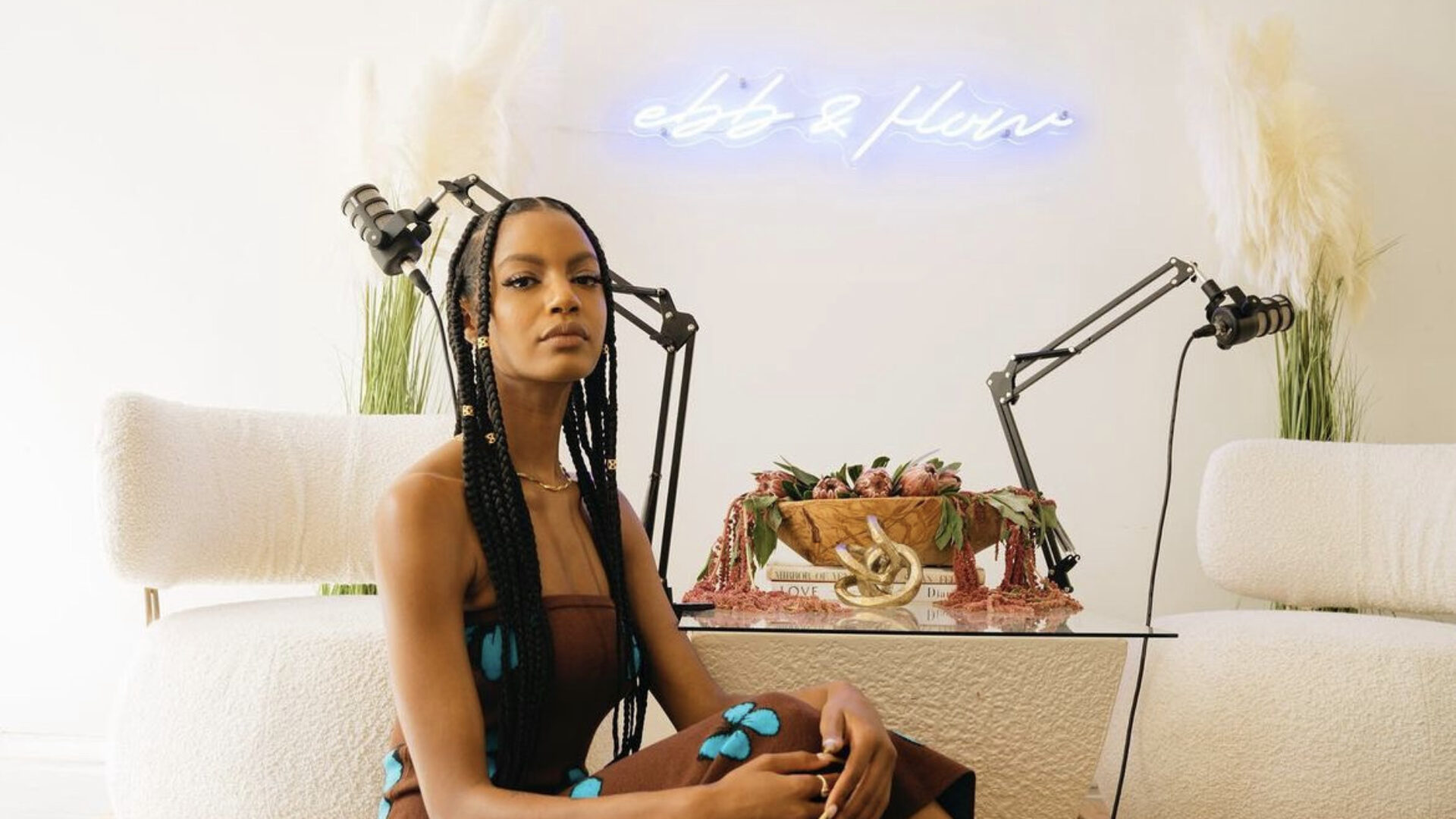 Ebonee Davis Debuts The Ebb & Flow Podcast
Each episode opens a conversation of spiritual healing, devotion, and truth through the vulnerability of Davis' life.
Ebonee Davis is multifaceted. In a running list of occupations and aspirations of becoming a model, actress and poet, the Seattle native is now adding Pocaster to the list. The Ebb & Flow podcast has finally arrived showcasing a vulnerable side to the social media star.
In the premier episode titled "Deprogrammed" Davis gives listeners a rundown of what led her to creating Ebb & Flow. From growing up in Washington with substance abuse parents to moving to New York City with small funds and a dream, the now supermodel to be is making her way around the industry and Los Angeles.
"It's truly the physical manifestation of so much work that I've done on the interior," Davis opens.  "My arrival in this space, is my reflection of my arrival in this spiritual space that I'm in, this mental space that I'm in, this emotional space that I'm in, this is merely a reflection of that. Here I plan to discuss a lot about authenticity."
Read "'Magic Unfiltered': Model Ebonee Davis On Diversity In The Beauty Industry"
Recently featured as our Backstage Beauty discussing NYFW from a models POV, she opens up the conversation by diving deep into her modeling career at 19 years old. From being signed to a local agency in Seattle to the obstacles of being signed to agencies in New York City. Challenges including various no's when trying to get her foot in the door to the stereotypical obstacles of what a Black model should "look" like. Davis highlights how the rising natural hair movement in 2016, inspired her to embrace her natural fro to push back into the agencies who wanted her to conform to usual European beauty standards, calling her natural hair as "roll out of bed hair."
"Something that might seem as trivial as hair, is actually, truly, life or death," Davis divulges. "But I stuck with it because I felt like this was my truth. This is what I have to do to reclaim this part of myself that's been stripped away for years and years and years. Within three weeks of that conversation, I had with my agent, I ended up booking the biggest campaign of my career up until that point which was [for] Calvin Klein."
"Deprogrammed " offers 32 minutes of adversity, reassurance, and motivation through a veritable Davis. Throughout the episode, listeners will develop their own understanding about accountability, acceptance and unlearning in order to begin their healing journey as Davis unveils her own. She opens up about how her exploration to ascension and authenticity and rediscovering herself doesn't stop but is recurring, particularly during quarantine.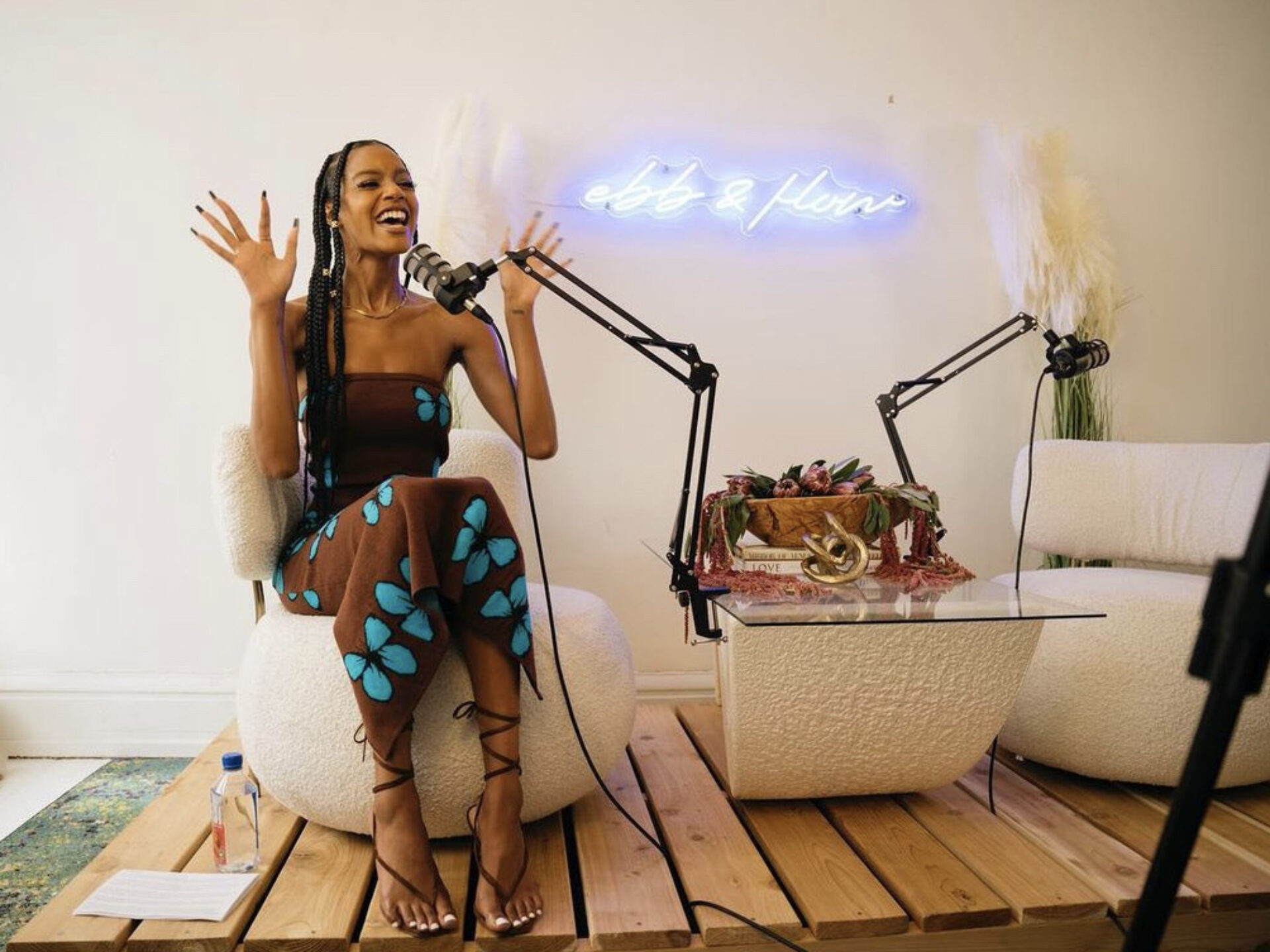 "It felt like all of my success up until that point didn't matter, and what I'm now realizing is, there was another version of myself waiting to be born," she said. "Wanting to be a model was just a manifestation of this energetic imprint which really led me to this next dimension of my becoming."
Read "Backstage Beauty: Getting Ready With Model Ebonee Davis"
The Ebb & Flow podcast is available on Spotify and Apple Podcasts with new episodes every Sunday. For the full episode of "Deprogrammed" listen here.