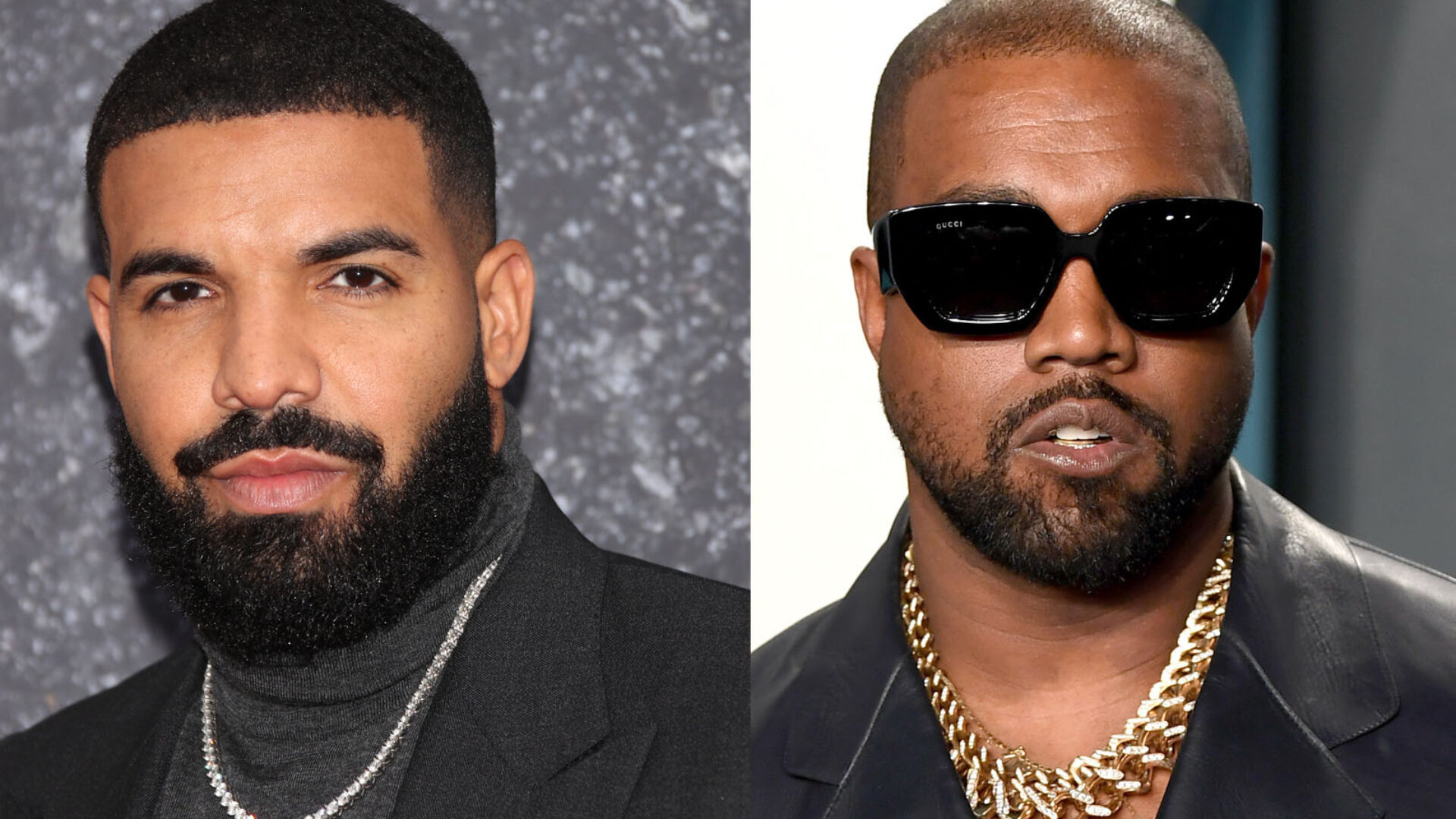 A Timeline Of Drake And Kanye West's Feud
After 3 years, it appears that Drake and Kanye West have finally ended their tumultuous beef. We tracked how they got to this big moment.
After 3 years, it appears that Drake and Kanye West have finally ended their tumultuous beef. The two rappers have had a long and complicated relationship over the years, going from longtime collaborators to taking jabs at one another on records. The reunion has fans and even other artists everywhere rejoicing, making it an event for hip-hop lovers. However, If you're in need of a refresher, here's a recap on everything that went down between Kanye and Drake over the past two years.
May 2018
G.O.O.D Music president Pusha T released his third studio album, Daytona, which was executively produced by West. On the final track, "Infrared", Pusha threw shots at Drake's alleged ghostwriter Quentin Miller. In a response titled "Duppy Freestyle",
Pusha T responded to Drake's "Duppy Freestyle" the same day of its release with "The Story of Adidon". In the track, he relieves that Drake has a son with the French model and former adult-film star, Sophie Brousseau. Pusha T also shaded Drake for allegedly being a deadbeat father and purposely hiding his child.
October 2018
In a later appearance on LeBron James' HBO series The Shop, Drake candidly opened up about the feud with Pusha T and West, pointing out that Kanye had given Pusha information about his child after listening to an early cut of his 2018 album, Scorpion.
December 2018
Kanye West takes to Twitter to explicitly talk about his beef with Drake. The rant reportedly stemmed from Drake asking for clearance for Drake's song, "Say What's Real" which samples West's "Say You Will". After several tweets, West revealed that Drake had spoken to him, assumingly putting an end to the issue.
However hours later, West joined Twitter again to claim that Drake threatened his family. The rant, which consisted of over 125 tweets, consisted of Kanye saying that he is the reason behind Drake's success.
December 2019
In a Rap Radar interview, Drake discusses his beef between Pusha T and Kanye. In the interview, he explained that he has no desire to mend anything with the rappers and blames West for his initial problems with Pusha.
"That's where all of this stems from," he said. "It's all rooted in that situation, yes. I think that he definitely recruited a guy with a similar dislike for me no matter what he says in interviews… I could never ever ever ever turn my back on the things that I've said about [Kanye] in a positive light, and I still feel all those same things." […] Things have changed. I'm not just some kid that's a fan anymore. Now we have personal situations, and like I said, a lot of his issues with me, I can't fix them for him."
August 2021
Drake was featured on Trippie Red's song "Betrayal" where he dissed West with the lyrics, "All these fools I'm beefin' that I barely know/ Forty-five, forty-four (burned out), let it go/ Ye ain't changin' s— for me, it's set in stone."
Kanye responded by posting a screenshot on Instagram of a group chat where he threatens that Drake will "never recover" from their beef.
West even went as far as leaking Drake's Toronto address in a since-deleted post. Drake seemingly responded to Kanye's post with a video of himself laughing while driving around Toronto late at night.
September 2021
Certified Lover Boy and Donda — the two long-awaited albums from both artists — are released 5 days apart. Though he doesn't call him out by name, several lines in CLB appear to take digs at West, most notably on "7AM on Bridle Path" where he discusses the address leak. "You know the fourth level of jealousy is called media / Isn't that an ironic revelation? / Give that address to your driver, make it your destination / 'Stead of just a post out of desperation," he raps.
November 9, 2021
Kanye, who recently changed his legal name to Ye, publicly announced that he was done with the feud in a video posted on his Twitter. "I'm making this video to address the ongoing back and forth between myself and Drake. Both me and Drake have taken shots at each other, and it's time to put it to rest." The video also featured J Prince, a longtime mentor of Drake. West also invited Drake to perform with him on December 7th at his Los Angeles concert in support of Larry Hoover Sr. "I believe this event will not only bring awareness to our cause but prove to people everywhere how much more we can accomplish when we lay our pride to the side and come together." he added.
November 16, 2021
Kanye West and Drake are photographed together outside of Drake's Toronto mansion, appearing to have put an end to their two-year feud. Standing alongside them is J Prince.
Drake also posted a video of the pair together inside of his home during an event hosted by comedian Dave Chappelle with the caption, "You have reached your destination."
No official statements have been made by both parties, but we can all assume that the rappers have finally put their rocky past behind them.